The Cherry Mobile Alpha is a nice lower-end Windows Phone for the Philippines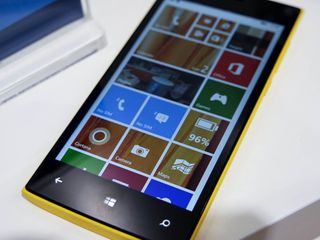 While hanging out with the Microsoft OEM Partners division at Mobile World Congress we got chance to see a bunch of different Windows and Windows Phone devices that are sold by regional partners and retailers. Like this, the Cherry Mobile Alpha (Neon, thanks to John Terence Vidal in the comments for the assist!), a lower-end Windows Phone for the Philippines. And it's not bad.
The hardware isn't anything to write home about, but at the same time it's far from the worst. It has a 1GB of RAM for a start, a 5-inch 720p display, 2000mAh battery and a slightly disappointing 4GB of internal storage. The Qualcomm Snapdragon 200 CPU while not particularly powerful has proven capable enough in other devices, such as the Lumia 435, but all told it's a nice enough phone. It doesn't look the same as a bunch of other Windows Phones as some other competing devices do, and in this shade of yellow it certainly stands out in the crowd.
The real story though is how many partners Microsoft is attracting to Windows Phone. Cherry Mobile means nothing to anyone in Europe and North America, for example, but in the Philippines it's a different story. The "local hero" manufacturers, retailers and carriers may only sell small amounts of phones compared to the likes of Lumia, but every little piece adds up to the bigger picture. And the bigger picture is a lot more Windows Phone devices out there.
Windows Central Newsletter
Get the best of Windows Central in in your inbox, every day!
Managing Editor - Tech, Reviews
Richard Devine is a Managing Editor at Windows Central with over a decade of experience. A former Project Manager and long-term tech addict, he joined Mobile Nations in 2011 and has been found on Android Central and iMore as well as Windows Central. Currently, you'll find him steering the site's coverage of all manner of PC hardware and reviews. Find him on Mastodon at mstdn.social/@richdevine
Denim in Philippines tho?!

Considering the whole package, if it has/had an SD card, this would be decent.

Yes, looks decent - it actually manages to look like a WP phone and not some Android port. It probably also has an SD card slot considering the small 4GB of internal storage. And unlike some other WP phones in India, they got the placement of the back and search keys in the right places. I'm sure they also used a Chinese ODM for this phone but I"m wondering which one since the one used by some OEMs in India have the back and search keys in reverse places.

And what exactly is a WP "supposed" to look like? Because I've been riding this train since the beginning and the beauty of this OS is finding the hardware YOU like running the software we all love. Now lumia-esqe? I couldn't agree more.

Actually it is expandable by a 64GB sd card. And it has 8GB internal storage.

Im in philippines..i got 720..i got denim.

1520 still don't have it.

I just god it a few day ago on my 1520 in the US

use nokia software recovery tool , manually update your firmware

I have a 1520 and got denim

That phone is actually beautiful...

Looks like a Lumia.... Cool❗

Yeah, heck. If that phone had higher specs and was available here, I'd buy it for its design alone!

The phone look solids , the design is quite nice looking too.
The spec quite similar to 640.. But the colour make the phone feel like Lumia
Comparing to 640 , I think this phone is better, yet no description about the camera
To be honest, I didn't expect a quite good looking phone when reading the title

Almost identical to a 1520 in the back.. Look at that camera

Hell, I think it looks BETTER than the Lumia 1520 (design wise, of course).

Just that L1520, the flash is on top of the cam.

Honestly , I would like to buy this one if it costs around Php6,000 or less because of the color YELLOW. All my Nokias are yellow!

Wen is Lumia Corduroy coming to India ?

We've already passed 'C' (cyan') and the next update I guess would be called Emerald for letter 'E'

He was kidding. Denim is a cloth too. So he went corduroy . Lol

Looks great. Phillipines would be a great market to snag. Texting is they way of life there!

It is just a rebranded phone from India.

That's what a lot of the partner program is about. But an Indian maker isn't going to sell its phones in the Philippines. The phones aren't made in India. They're all made in some factory somewhere, probably China.

I have seen the documentary about where and how Apple products are produced in China, their treatment to the workers are bad!

I know. Btw the name of this phone is Cherry Mobile Alpha Neon.

Thanks. Will note in the post. The Microsoft label just said Alpha, and as you probably guessed, we're not that knowledgeable on Windows Phones from the Philippines.

maybe this could help. http://www.gadgetpilipinas.net/2015/03/cherry-mobile-launches-alpha-view-and-alpha-neon-at-mwc-2015/

Richard... The Philippines love connected phones and the windows phones is a new market there and it is catching on. Most have cheap android phones but many think the windows phones is expensive. Now the android market their is about to have some real competition there just they need more phones there and Cherry Mobile is doing that. There is primarily 3 carriers there, Smart, Sun Mobile, Globe. They are getting connected more and more but the market there is still learning and needs that extra boost to make them even better.

Very well said little1on1..I'm Windows Phone user almost a year and I felt very proud of it while a large percentage of filipinos are android user..and now still waiting for Denim update for my Lumia 1520 CV.

Cherry Mobile Alpha is the name of their brand for Windows and Windows 10 Devices

and this is the Direct Competitor of Cherry Mobile Alpha Morph Tablet launched week ago. http://www.starmobile.ph/tablets/engage-10-pro/

'Indian phones' are rebranded (crap) phones from China. Mostly. Lets see if it changes with new tariffs for components etc.

Keep the lows coming! It's the only thing windows phone need right now.

I wouldn't say the only thing WP needs,, rather we can't have too many.

Look at the influx for the past three months. I don't even know what's what. And it's mostly for Asian countries like India. The U.S. have to sit and wait...

But, the average consumer is only feed a little at a time in their specific region... We have to remember that.... While it's confusing to us, they are still barely seeing WP's on store shelves... We just read about it everyday.... Our perception isn't close to the reality of how saturated the landscape is with WP devices.... I wish it was.

Matte screen? That's a first I've seen. Looks pretty decent from a design standpoint. I really hope these smaller OEMs are able to do well.

I'm in the Philippines but will still prefer Nokia/MS brand than..Cherry Mobile. But if I'm going to try an Android maybe I'll choose CM because it's cheap.

This OEM's support sucks big time. I'm in the Philippines and I got their first windows phone, the Alpha Luxe. Experience is horrible, ditched it and got myself a black 930.

Why dnt they make a little bit higher or decent specs than these? :S

These phones are dirt cheap and are made to compete with Android offerings within the same b price range.

If you can afford a Lumia 930, why did you even get yourself a Cherry Mobile Alpha Luxe in the first place. I read some good reviews of this phone and from this OEM from online shoppping portal in the Philippines. Maybe you're justy having 'hatred' in your heart because you are a fan of another OEM?

I get your point. However, I am from the Philippines (third world). And the Alpha Luxe is sold for approx. $113 compared to the 930 which I got for around $600. See the amount I'd save if I settled for the Alpha Luxe? But the experience is horrible: Battery life drain, stutters, blank tiles due to the cpu struggling to render a 720p 5 inch screen etc. Not worth it. So I shelled a huge amount for the 930 which is a more powerful device and it was money well spent.

..not for being an OEM fan or something, I have experienced CM phones before and all I can say is the build quality is somewhat subpar like case/cover cracks, scratched and scuffs easily, painted plastics (when they scuff, they show the real color) and you can't escape the feeling that if you dropped the phone it will shatter into pieces... ...I went to Nokia L1520 because build quality is great, it may be too expensive, but it's worth it... :)

Nice looking phone. Reminds me a little bit of Lumia 720.

Finally Cherry has Show it' "Real" Windows Phone handset after too much making Android phone with WP UI. Good Job Cherry

It's got an interesting battery I must say

looks decent. but i ain't buying one.

If the price range is as such as 520 then it will have its place to my pocket

I could've owned a cherry mobile with windows if I didn't have the Lumia...

Looks like a mix between the 925 and the 920

Any hands-on videos? I can't find anything from YouTube about this phone.

There's another 6incher model called the Alpha View... see here http://geekschicksten.blogspot.com/2015/03/mwccherry-mobile-to-release-a...

Hi, let me clarify the ROM specs, it should be 8GB ROM not 4GB ROM. Thanks.

Im from the philippines with lumia 930 denim ... Smartphone market is huge here.. Microsoft should notice this as trending topics worldwide in twitter are from here implying the active usage online.. Microsoft marketing here is so poor that even there is few demo units and their demoer doesnt know about windows phone

Microsoft's reputation here(yes I'm in Manila) is taking the plunge. E.g. I get irritated seeing Billboards in Edsa with BSOD. Its obvious the electronic billboard is using Windows. They should do something Marketing side to reverse this.

even their demo phones are outdated

I hope microsoft would help optimize apps for lumia 930

Here's a New player here in the Philippines for W10 Tablet. http://www.geekypinas.com/2015/02/starmobile-engage-pro-10-announced.htm... Rival of CherryMobile.....Starmobile

Uhm. Richard, This is Cherry Mobile's most colorful Windows smartphone. Judging from its full specifications below, its processor is identical to last year's Alpha Luxe. Cherry Mobile kept mum about the phone's camera but we're hoping it to be far better than Alpha Luxe's. If this device turns out to have the same camera specs, it's still a great buy especially if it's priced equal or less than PhP5,000. 1.2 GHz Quad-Core Snapdragon 200 CPU 5-inch 1280×720 Display 8 GB internal storage expandable up to 64GB 1 GB RAM microSD, up to 64GB Wi Fi b/g/n Bluetooth 4.0 Camera: TBA Dual Sim (Standard and Micro SIM) 2000mAh Removable battery Windows Phone 8.1

Remembers me of Nokia 500

Nice (: Looks like a yellow HTC 8X.

I thought its 8GB...some of the philippine tech websites are listed the neon 8gb ROM

My wife owns a Cherry Mobile Alpha Luxe (a.k.a. Micromax Win121).. To be honest, it offers good experience.. Camera isn't that bad, battery is good, connectivity is great, and display is bright as fk.. And like a Windows Phone device, it never lags.. However, it has a bad HD movie playback.. No matter what app you use, it'll stutter and you'll never enjoy it..

Snapdragon 200 and a 720p display , they do not cooperate with each other haha

And also their is Cherry Mobile Alpha View...a 6-inch phone alongside with the announcement of Neon

I'm can't imagine how awful a lower end wp would be . I have a 1520 and its the worst phone I've ever had. Now to get onto an htc m9 and back onto android as soon as possible

A rough estimate, around $114 (USD).

It looks nice than the previous one. Good job ms and cherry

Design is very similar to my Prestigio PSP8500DUO purchased in Russia two months ago. Specs are identical. So I presume both phones are identical inside and slighlty different outside. Prestigio design is full-black with "metallic" bezel. I like this phone even more than my previous Samsung ATIV S because of dual-SIM capability, "fresh" design and larger screen. And I'm so much tired waiting 8.1.1 update for Samsung (ATIV still runs 8.0 GDR3) while Prestigio runs the latest software (8.10.14226.359) after OTA update. And last but not least: price for Prestigio in Russia is about $105.

Yes, it's just a rebranded phone

iAm an owner of the cherry mobile alpha style.

I still have the Alpha Style and it does not exhibit any of the issues posted above, fortunately for me. I wouldn't mind getting this one. Add to the fact that the Alpha series of phone got 8.1.1 a month ago is another positive experience.

Kabayans out here, how much will this cost? As a 'die hard' Windows Phone fan, I want to help in increasing our little market share. My teenager relatives would love to have this (Not me as I don't want to step down from a Yellow 1520).

I think around PhP 5000. I would like to buy but I already have a L535. I'll just wait for their W10 phone.

Am I the only one who thinks this looks like a 920?

can't wait to get my hands on this! i've always wanted to go back to WP, and i've been thinking of getting the Alpha Luxe.. and now that they'll be releasing a unit in blue, i'm sold! but fellow kabayans who already own Cherry WPs, what about the updates? that's the only thing kasi that's holding me back.. i don't want to be stuck with a phone that doesn't get updates eh

i live in the Philippines...CM is a huge phone market here and most of the Filipinos owned a phone marketed by CM...I owned that phone and I don't encounter any problems. Performance is very nice, Display quality is very good and it was bright even in the lowest settings. Camera is not bad. Connectivity is nice. And video decoding seems to be good because it can render full 720p. And design is very solid...I love this phone...

Hi Guys I brought that phone(Cherry Mobile Alpha Neon. Color Red) 15 days ago. but yesterday when my battery is completely drained. and then I charge it i got a blue screen with this symbols :( please help me, I dont know what to do..

Even the recovery tool wont recognize it.thats the reason why we cant get TP...
Windows Central Newsletter
Thank you for signing up to Windows Central. You will receive a verification email shortly.
There was a problem. Please refresh the page and try again.