China Mobile officially announces the Nokia Lumia 920T. Coming in November.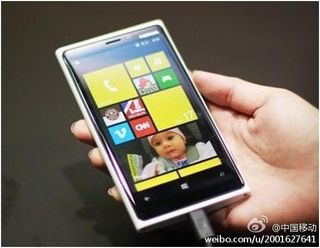 The Lumia 920T for China Mobile
We've seen a lot of the Lumia 920T in the last few weeks as the Chinese variant was getting ready for its debut. Now word has it that China Mobile has officially announced the device for a November launch, ahead of the mid December timeframe originally hinted at just a few weeks ago. Rumor has it that China Mobile (and probably Nokia) want to beat the iPhone 5 to market and to be honest we can't blame them.
The Lumia 920T is essentially the same as the current Lumia 920 but features some different radios to work with China Mobile's network, including TD-SCDMA ( 3G), GSM (2G) and TD-LTE (4G). Not too shabby. One thing is for certain: having the Lumia 920T on such a large network (655 million subscribers) is a very good thing for Nokia.
Source: Sina Weibo (China Mobile), Winp.cn; Thanks, hengxiang32401, for the links!
Windows Central Newsletter
Get the best of Windows Central in in your inbox, every day!
Daniel Rubino is the Editor-in-chief of Windows Central, head reviewer, podcast co-host, and analyst. He has been covering Microsoft since 2007 when this site was called WMExperts (and later Windows Phone Central). His interests include Windows, laptops, next-gen computing, and for some reason, watches. Before all this tech stuff, he worked on a Ph.D. in linguistics, watched people sleep (for medical purposes!), and ran the projectors at movie theaters because it was fun.
China Mobile will single handedly make the 920 a global success.

Not without apps. Every time I return a Nokia I ask the customer why they returning it & guess what they say, "It doesn't have (insert name of app)."

I meant every Time I process a return. Sorry

it doesnt have apps??? Nokia?? are you talking about symbian or WP?? i thought 100k were enough already!! O_o

People are just never satisfied, and they want what their friends have.

Awesome!! Good one for Nokia!!

Not so early but middle of 2013 for sure...

we indians cannot seem to catch a break with these releases..you would think having a population of 1 billion would be a positive somewhere i.e releases,etc.. NOPE!!! always late to the party!!!

I think this is huge for Nokia. since the iphone is not that carrier. and If Nokia convinces China Mobile.(which I think they have) to advertise the 920 and 820. Then I think you'll see a lot of people going for that phone

And lets not forget i goes for half the price of a 32GB iPhone5 and even costs less than 16GB iPhone5!! :-)

The sina weibo source link ain't working. China Mobile deleted its tweet?

Ah all right. It is deleted indeed. Wondering what's the reason...

Give a release date and pricing for India already!!!! Damn.

Its gonna be in next year...

I think they are targeting next quarter(january onwards). We could even have a different device for India like we got the Lumia 800 and US got 900. But be assured that this will come to India sooner or later..I just hope earlier !!! Waiting sucks big time!!!!

People remember this, no matter how good the phone is, if the app gap is not filled up quickly, no windows phones will sell.

I'm quite sure one will sell

This is good news for Nokia's Q4. There are few things that should be noted though.

a) China Mobile is already at almost 700 million subscribes but only 75 million of those are 3G customers.
b) Only 10% of device sales are done through carriers in China.

But even still, if even 10% of those 3G customers are upgrading their devices during Q4 and 10% of the upgraders choose Lumia 920 it will translate to 750k Lumia 920's sold in China through China Mobile. Small numbers, but everything counts at this point.

Do you have a link for these numbers? Very interesting info

When is it come in India?

China Mobile will single handedly make the 920 a global success.

Michael wrote:
I wonder what kind of interest rate these junk bonds will pay. Too bad the article doesn't tell us that. OCTOBER 23, 2012 11:43 A.M.
Anonymous wrote:
the coupon is 4.5-5%. OCTOBER 23, 2012 11:45 A.M.
Caleb23 wrote:
Statement about the bond, it is not as bad as the markets and media say: Statement about the bond (using googletranslate): Nokia will issue 750 million euros in convertible bonds. International investors to provide the loan matures in 2017. - This issue is designed to improve the financial and liquidity position and at the same time take advantage of the current long-term good funding opportunities that the convertible bond market offers, Nokia's Economic and Financial Officer Timo Ihamuotila said the stock exchange release. Senior convertible bonds are offered to institutional investors in an accelerated book building process. The loan can be converted to shares of Nokia. Nokia Corp. has shares of its own 33 972 481 shares. OCTOBER 23, 2012 11:54 A.M.
caleb23 wrote:
SA has blocked me. I hope my friends would catch my message here.
Best Buy still has the links for pre-ordering the Lumia 920.
WPcentral and Wmpoweruser have provided these sub-links.

Time to buy NOK and why: Signs of NOK´s stock price recovery:
NOK stock had already moved back and forth many times between 2 and 3 dollars even before this better-than-expected 3Q announced; Because the stock have been already shorted heavily, bears could not go any much further.
Huge volumes of shares exchanged during days of dips, meaning there are happy big buyers out there, for example Swiss National Bank announced it has become Nokia´s 5th biggest shareholder.
NOK´s average target price will rise soon, because after 3Q results, Societe Generale, SEB, Kepler, Carnergie, Credit Suisse, BZ, RBC, Canaccord, Scotiabank, Baird, Northlands Securities, Wedbush Securities and so on have raised Nokia´s target price. Also Nordea has rated NOK from "buy" to "strong buy", Carnegie from "hold" to "buy" and so on.
There were still a couple of bears even lowered NOK´s target price after better-than-expected 3Q, for example Exane. Bernstein remains Underperform rating and 1.56 dollar target. On the other hand, as you know, these might have been the biggest NOK bears out there. Important reasons: 1. Now when the DOWS and S&P have almost hit all time highs, investors start to think more about cheap and potential value stocks. NOK is now only about 0,8x book value, and usually NYSE stocks are on an average about 2x book value (Apple 7x book value). Therefore, I think NOK is cheap enough for its values. Another reason is NOK has been already shorted massively about 16% of its total shares. 2. Nokia has not lost about 1 billion dollars a quarter like the media says, because Nokia has 5 business parts and 4 of them are profitable. Therefore, the exact number is much much smaller. 3. Nokia´s loss is only 17 million euros any more (compared to Reuters´s consensus 277 million and Nokia´s last two previous quarters about 290 million each), this was much better. 4. Nokia Siemens Networks is doing very strongly (over 300 million euros profit in 3Q. More business to come in the future: 3G in developing countries, 4G in developed and emerging countries) 5. NAVTEQ was also profitable, but NAVTEQ´s number will be better in 4Q, because of the deals with Amazon, Yahoo, Oracle and many car-companies. 6. Nokia´s feature-phone division is doing well, because of Asha phones. 7. Nokia´s patent portfolio earns about 500 million euros a year, and the number is still increasing. 8. Nokia has cut expenses (which saves about 1 billion euros a year) and in the future Nokia does not have to spend so much in R&D either, because it has teamed up with Microsoft. Here are Nokia´s 3Q numbers: Eps: -0,07 euro (better than consensus -0,11 euro) Total loss: only 17 million euros (much better than consensus 277 million euros, and last quarter loss 290 million euros) Net cash: 3,6 billion euros (reconstructings such as closing factory in Romania and building new plant in Vietnam and so on, also because this net cash number was at the end of September, therefore some deal-payments not included).
The net cash is also better than consensus which was 3,36 billion euros (average of 35 analysts at Reuters). Important to note: in 3Q, NSN made 323 million euros profit. Also NAVTEQ was profitable, but NAVTEQ´s number will be better in 4Q because of the new deals like Oracle and many car-companies. Guidance from CEO Stephen Elop: trying to turn Devices & Services division profitable soon, and next year will be the year for good fight against rivals. Good news for 4Q: China Mobile confirmed Lumia 920T, may arrive in November.
Product-launch invitations in Russia for November 6 (Lumia 920, Lumia 820).
AT&T Lumia 920´s exclusivity only 6 months (possibly available on other US carriers 2Q 2013).
Lumia 920 sold out in preorders in Italy.
Lumia 920 tops iPhone 5 in Phonehouse France.
Lumia 920 tops charts at Expansys UK and Expansys France.
Lumia 920 black available November 5 in UK.
Lumia 920 available November 15 in Germany.
Lumia 920 is already on preorders also in many other countries (Canada, Australia, Norway etc. meaning it will surely make for the holiday shopping season this year).
Lumia 800s and Lumia 900s are making the ecosystem growing fast, because the offer-campaigns just started and they are selling well. And to improve net cash, Nokia´s HQ might be cashed in the near future (Nokia will continue dispose of non-core assets). And here are the reasons why bankruptcy is hardly true: 1. Nokia does not only make phones. 2. Nokia´s feature-phone division is still profitable. 3. Nokia Lumia 920 scores the best points among most of the tech sites today when comparing high end smart phones.
(Lumia 920 beats iPhone 5 and Galaxy S III with these features:
Floating-lens PureView camera with optical image stabilization
Wireless charging
Super sensitive and bright screen that can be used with gloves or finger nails
Premium GPS that can be used offline
Augmented reality City Lens
Free music with no advertisements
Lumia 920 also beats iPhone 5 with NFC)
The Verge and Engadget have proven the power and quality of the camera accurate as Nokia claimed (by comparing the Lumia 920´s camera side by side with other high end smart phones, such as iPhone 5 and Galaxy S III). 4. Lumia 920 and 820 hit in time the holiday shopping season this year. 5. NSN is growing strongly. 6. Nokia´s WP 8 devices will hit more markets, for example the middle East countries (Lumia phones have not been in these countries yet till now). 7. NAVTEQ is doing well and even better in the future 8. Nokia still has 3,6 billion euros net cash 9. Nokia has regular incomes from its patent portfolio (right now, this income is around 500 million euros per year, and it is still increasing). 10. Nokia has cut expenses (which saves about 1 billion euros per year). 11. In the future, Nokia does not have to spend so much in R&D, because it has teamed up with Microsoft. 12. If Nokia really runs out of cash, Microsoft will likely lend Nokia
cash for reasonable rates, because Nokia is the most important partner for Microsoft for its Window Phone ecosystem and phone software business in general. Microsoft won´t let Nokia go bankrupt, cause it would be a huge damage for itself as well. 13. Apart from Vertu and so on, Nokia still can sell its patents, since it still has about 30 000 patents in its own hands (in case Nokia needs more cash). 14. If the stock price still goes cheaper and cheaper, one day some rival would bid for Nokia, just for its patents ( Motorola was acquired by Google with 12 billion dollars, this is good to remind people who underestimate intellectual properties´ value). 15. Microsoft will bid for Nokia with higher premium if some company really bids for Nokia, because Nokia is in so close partnership with Microsoft that this also includes business strategies, business secrets and so on. Therefore, Microsoft won´t let any company acquire Nokia than itself. When it comes to Microsoft, it is still the net cash king in the world, after all its debts excluded, it still has a huge net cash about 50 billion dollars. 16. Right now, there is no way to compare Nokia to Apple among most smart phone consumers, but there is hope in the future.
For example, Nokia just signed the contract with China Mobile (who has about 660 million subscribers, which is about 70% of all subscribers in this world´s biggest nation), and even though iPhone is very popular in the US and Europe, Windows Phone OS already surpasses iOS in the world´s biggest countries beside China, such as Brasil, India and Russia. Even though in these countries more low price point phones are sold, but these are the most important emerging giants in the world where Nokia´s position and brand are still quite strong. And it may be sooner than we think when more people in these countries are able to afford high end smart phones. 17. Nokia has not lost about 1 billion dollars a quarter as the media says, because its other parts of business are profitable (while 1Q´s and 2Q´s total loss 290 million each, 3Q´s total loss only 17 million euros any more). Therefore, 3.6 billion euros net cash should be enough for Nokia´s transition period before WP8 phones take off. There is still enough room for a third ecosystem in this world, beside emerging markets Europe has adopted WP phones in a very encouraging way (for example Italy has already over 10% market share for WP phones, considering the Lumia debut has not been a year yet, since last November only. WP OS has already grown a lot faster compared to iOS and Android in their first quarters). 18. If Microsoft really "betrays" Nokia and competes in hardware with Nokia. Nokia will take a plan B as well, for example Nokia will likely make both WP phones and Android phones at the same time.
Nokia´s board and Nokia´s biggest shareholders won´t let the company die without this last fight (if needed). The conclusion is Nokia is for long-term and medium-term play not for short term. Just think about this, even when Apple and Google reach 1000 dollars, that is not even doubling, but in long term Nokia has the opportunity to triple or even more. I know US is very important market, because Wall Street and US consumer trend give directions to market momentum around the world, still you can not neglect the power of BRIC and MIST these days.
You can calculate yourself how many people living in these 8 BRIC- and MIST-countries. In these countries, in Brazil, Russia, India, China, Mexico, Indonesia and Turkey, Nokia´s position and brand are still quite strong (except South-Korea, but you know it is Samsung´s home-country and the smallest country among those important 8 anyway). caleb23
Nokia stock is listed in Helsinki and New York.
Windows Central Newsletter
Thank you for signing up to Windows Central. You will receive a verification email shortly.
There was a problem. Please refresh the page and try again.