The UMi Touch now comes in a Windows 10 Mobile version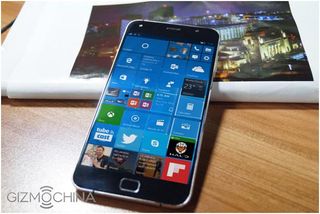 Windows 10 Mobile fans in China now have a new option for their needs. The Umi Touch, which normally comes with Android Marshmallow 6.0, can have Windows 10 Mobile pre-installed instead.
According to Gizmochina, the company is offering customers the option of having Windows 10 Mobile installed on the Umi Touch "based on the number of demands". It's not clear just how much demand will be need to get UMi to have the OS on the phone.
In terms of hardware features, the 5.5-inch UMi Touch includes a 1920x1080 resolution display, a Mediatek octa-core processor running at 1.5 GHz, 3GB of RAM, 16GB of onboard storage, a 13MP rear camera, a 5MP front-facing camera and a 4,000 mAh battery. It also has a fingerprint scanner. UMi is currently taking pre-orders for the phone for $149.99 but again, it's not clear on what the level of demand will need to be before the UMi Touch will support Windows 10 Mobile.
I absolutely agree that a lower price would help the sales.

WhY are markets where windows phones are not popular getting more options than where it is popular :/ Posted from Windows Central for Windows 10 mobile on lumia 930.

Yeah...kinda wondering the same...

Probably because those are countries where the carrier carrels don't operate or have as much power....

India :3 .. Let alone uk.. India doesnt have carriers Posted from Windows Central for Windows 10 mobile on lumia 930.

Every country other than America has a higher percentage in mobile share than America, no surprise really easier to expand in those markets. Americans think there the best at everything and doesn't think that the rest of the world can be better.

Now this is different, and I like this different.

Looks like an early Samsung Galaxy

They said they are going to release a Windows ROM for it and then consider pre-installing it based on demand.

Samsung, HTC, are we taking notes kids

Finally proof this may become a trend. I'm excited

Any word on how this is going to be available outside China?

Does the mediatek support offer continuum?

I just gave them my money! I ordered the gray version.

Where did you make the order? I'm going in.

Why do markets where windows 10 mobile is not popular get more choices than where it is popular... ??? Us got a lot of option japan too joined it and now china also starting... Posted from Windows Central for Windows 10 mobile on lumia 930.

Will have support for Continuum somehow?

I doubt it. I can't see them changing hardware to accommodate continuum on what is basically a device designed for android. I doubt fingerprint scanner will be operable

@Mad Cabbie. On both accounts why shouldn't it? Continuum is the standout feature for WM10 at present and in regards to not being able to use the fingerprint scanner would've stopped the OEM in their tracks therefore no such announcement would have been made.


Boy there was a time when smartphones were actually good quality. Now there are 300 chinese companies that makes them like.....

You'll probably find the '300' Chinese companies have been making a VERY large percentage of phones for years. Most androids and iPhones are Chinese in origin. A large chunk of MSFT phones come from Vietnam. There was a documentary on British TV about the factories and ecological impact that Apple products have in china and around the Indian ocean. Staff bullied and whole reef beds destroyed to obtain tin for soldering!

Now that ain't bad specs for the price! I guess Win 10 m is getting pushed into hard to crack markets. I guess it's the integration with desktop that may appeal! For $150 that's a lot of spec's. Octacore and big ram??

This UMi had better specs than the fierce XL Posted from Windows Central for Windows 10
Using the Alcatel OneTouch Fierce XL for Windows 10

Wow maybe first mediatek that run Windows 10 Mobile

Windows 10 Mobile supports Mediatek processors?

Windows Mobile needs to get to more cheap Chinese handsets to gain some sort of traction. Forget the USA for the meantime because the claws of iOS and Google are clearly buried deep **** and there's no letting go.

It's an android layout with fingerprint reader. All android phones look crap with the large home button.

The button looks good but have u seen the pic of this phone with on screen buttons on? It looks ugly af.. They should've added physical buttons and the fingerprint sensor should work like home button(like one oneplus 2)

You must be stupid Posted via the Windows Central App for Android

So much phone for the money. Make it global.

Sounds like a lot of phone for only $150. I want.

Better specs than the fierce XL and only a few dollars more. Posted from Windows Central for Windows 10
Using the Alcatel OneTouch Fierce XL for Windows 10

Great to see more buy in to windows 10 mobile, hopefully we'll.get more of the same in other countries

This looks like a Samsung knock off phone. Shell design wise. Never did like the galaxy looks though. All the same though because I never liked android either. Windows I will stay.

And those are all low quality iphone clones

With 16gb of on board storage, is there a micro SD card slot?

no its not with windows 10 ..its with android .....it says that may be .. they will release a WIN10 ROM if the demand is good (what the hell that means ?) demand for Windows phones in China is almost 0% ..thats not good news or exciting.

They will release a Windows ROM. They said that if they have enough demand, they'll sell the windows version of it. Doesn't matter if no one wants the windows version. You will certainly get the windows ROM.

Does Windows 10 mobile supports Mediatek processors!?

Yes
But mediatek proccessor doesn't support continuum

Please release it to India
Will definitely buy
But hw will the capacitativr buttons work android style or windows style button

Theres no capacitive buttons..

Looks like a galaxy model Posted via the Windows Central App for Android

Globalll . Want it in Middle East

Dual Sim, but the slot for the second Sim is also for a TF card. So if you want to expand the memory with an SD card then you can only use one sim. See: http://www.umidigi.com/?page-UMITouch_Specification.html

We need these kind of options in the U.S.

It looks like a galaxy s6 lol

Nice specs for a $150 phone. Especially like that 3gb of ram.

LOL ​Nice to see that they used my start screen screenshoot without permission... http://hautamekipl.deviantart.com/art/Windows-10-Mobile-Insider-Preview-...

Wonder why couldn't they put this battery in Lumias 950 & XL. 4000 mAh is what everybody needs..from high to low profile phones.

China might have 0% windows phone share but xiomi one the biggest brand mobile in china also released a rom for windows for MI 4... I am using that phone in India... So need more roms for more devices so that at least we can port then and use the best devices at low price... Definitely Microsoft not going to release some good looking phones... Let the Chinese manufacturers release the Andria phones and make arom so that interested like I'd can use them

Well if that's possible here then sky's the limit on any device.

Oukitel K6000 Pro VS Ulefone power VS Leagoo Elite 1 VS Elephone P8000 VS Umi Touch VS Jiayu S3+ VS Doogee F5:https://youtu.be/32ZLIYQfAfY

oukitel k6000 pro Usd 149.99:http://bit.ly/1qY2AJ3, Promotion Code: K6000Pro30.
Windows Central Newsletter
Get the best of Windows Central in in your inbox, every day!
Thank you for signing up to Windows Central. You will receive a verification email shortly.
There was a problem. Please refresh the page and try again.