Chinese OEM Xiaomi "borrowing" from both Microsoft and Nokia designs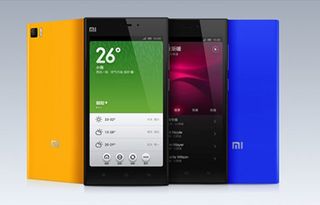 Xiaomi is a Chinese smartphone brand who recently came to international attention by the successfully hiring of Hugo Barra, a top executive from Android. From there, the company went forth with a series of new product announcements to continue the good media vibe. The first item is MI3, the latest of the company's smartphone line. The device is powered by a Tegra 4 processor, and marketed as "the fastest phone out there". Performance put aside, the official rendering of MI3 looks disturbingly familiar...
The picture in the bottom is a MI3. Looks very akin to Lumia 920 (on top), right? Except for different placement of the shutter button, they look practically the same. Xiaomi has adopted Lumia 920's marketing highlights too. If you happen to read any Chinese, please feel free to head to MI3's official site, and expect to see these:
Here it says "enhanced with super sensitive display, could be operated with gloved or wet hands". Well, many OEMs are embracing super sensitive display after Lumia 920's launch, so this is probably nothing. But wait and read on.
Another major selling proposition is superior imaging capability in dimly lighted environments. Big surprise eh? MI3's 13MP camera is powered by Sony's Exmor RS CMOS sensor, featuring F/2.2 lens (a bit weak compared with Lumia 920's F/2.0 and 720's F/1.9), plus "unique dual-flash design which enables capturing of brighter images". So there is no optical image stability of any kind. You get brighter images in low light with MI3 because its LED flash throws a double strong sunburst to illuminate the scene. This does not sound exactly innovative or unique. I reckon the presence of double LED flash could be traced back to HTC HD2 at the very least?
One might argue that low light imaging capability, super sensitive screen, and style of simplicity are the current trend in the smartphone industry, therefore the similarity between MI3 and Lumia 920 is nothing but coincidence. Well, that could make sense indeed. But brace yourself and behold, for along with MI3, Xiaomi also announced its new 47" smart TV, which comes with a gaming controller to turn it into an Android-based gaming console:
[Reminded by you guys, yes, the controller looks more like Xbox 360 controller indeed. So here is one more picture added for comparison. Behold the holy trinity of Micr... WAIT A MINUTE!]
You can tell which is the controller for Xiaomi TV, right? Hint: the logo on the central button.
Since the similarity is beyond striking, I won't make any more comment then. Let's wrap this post up with a beautiful shot of Xiaomi TV's gaming interface and SUPERMAN:
And I think that's Mavio and Magaman standing by the Man of Steel? O hai! Nice to meet you!
Source: WPDang
Get the Windows Central Newsletter
All the latest news, reviews, and guides for Windows and Xbox diehards.