Cisco launches open beta of its AnyConnect Windows Phone app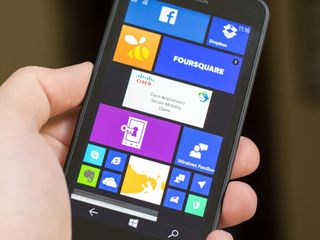 Cisco has launched an open beta of its AnyConnect business-themed encrypted remote networking app for Windows Phone 8.1 devices. As with any beta app, there are sure to be some bugs involved, so try it at your own risk.
Cisco has listed some of the known bugs:
Certificates require administrator changes (noted in release notes) for the current beta build
VPN roaming (WiFi 3/4G) not supported
AnyConnect XML profiles do not update from the head-end
Token challenge messages not displayed currently
AnyConnect Plus/Apex licensing is required for using the app. Here's a quick overall description of the Cisco AnyConnect service:
Cisco is looking for beta users to send back feedback about the app, via email at ac-mobile-feedback@cisco.com. It adds that the app should work with devices that have the Windows 10 for phone preview installed but cautions that it has not been verified by Cisco.
Thanks to Tamás for the tip!
Download the Cisco AnyConnect app from the Windows Phone Store (Free)
Nice! I've been wondering if this was ever gonna happen.

Finally! My uni uses this and finally I can access articles on the go frig lol

Downloaded on to find out that Setting app crashes when you attempt to open the VPN page. I guess I will wait for a new win10 build.

Wish we used WP here at work.

Dammit Added by company policy: No :(

Not working on W10 on my L630. Settings App crashes when I open the VPN Settings.

Holly s##t are pigs flying!!!!

Holly s##t are pigs flying!!!! This is installed on my Lumia icon and it works great.

Oh that's nice!!! But you can edit your comments on wc

Works great for me, I really needed to be able to VPN in to work at a moments notice so this is amazing. I bought an Android phone with free service from Freedompop just for that reason, this will let me not have to carry around two devices when I am away from work. Hopefully they keep developing it.

Hopefully they will offer support for Windows 10.

Finally, been waiting ages for this (since 8.1 original release actually). Time to install and test to max. Now the rdc app will be useful to me...

I emailed Cisco prior to WP8 release asking if there will be a client. They said WP7 wasn't able to support 3rd party VPN and they were waiting for WP8. They sure took their sweet time.

Yay! As a Cisco student right now this is very encouraging. I thought that I may have to jump ship to Android to get networking apps, but it looks like they are coming in just in time!

But read the reviews in the store-app is not working.

I just tested it out and it works great for me.

Those reviews are dated a year or so ago. Not sure how seeing as the beta program just started, maybe it was some limited test or something. VPN has been working for some time with IKEv2 and L2TP with IPSec, I guess it just wasn't official. Adding AnyConnect is a good sign though.

After connecting to VPN via my office VPN account, none of the web pages load, not even my companies. Cisco Anyconnect works perfectly on my lappy.

Much needed.. No signs of Jabber yet..
Windows Central Newsletter
Thank you for signing up to Windows Central. You will receive a verification email shortly.
There was a problem. Please refresh the page and try again.