The classic Snake game is now playable directly in Bing search results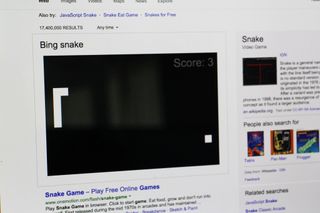 Earlier this year, users discovered that searching for "pong" on Bing included a playable version of the game in the search results. It looks like Microsoft is continuing to add fun Easter Eggs into its search engine, as searching for "snake game" now allows you to play the classic game directly in the search results page.
You can use the arrow keys for navigation when on a keyboard, and control the direction the line takes using side controls on a touchscreen. Interested in reliving the good old days? Hit up the link below.
Play the classic Snake game on Bing
Source: Twitter (David Flink)
Windows Central Newsletter
Get the best of Windows Central in in your inbox, every day!
Harish Jonnalagadda is a Senior Editor overseeing Asia for Android Central, Windows Central's sister site. When not reviewing phones, he's testing PC hardware, including video cards, motherboards, gaming accessories, and keyboards.
Damn you people, instead of fixing windows 10 mobile, you are reinventing the snake!

Some people seem to think that Ms Only work on one thing at a time

Well, Microsoft used to be mr Allen and mr Gates, but we are talking about staff in thousands, teams are formed around different products and you have different countries people live in (like Microsoft in UK), etc. Microsoft would be bankrupt today if everyone said: "All decks relocate to Mobile immediately! Let us forget about Windows 10 PC, all Office products and all Enterprise solutions. Everyone are forbidden to work on Bing - Google is enough already: use Google instead! Outlook is forbidden, so just use iCloud e-mail on the web instead, in Chrome, of course, because Edge for PC has been halted. No one can work on Edge GUI fixes for PC now. Only Mobile! If you must use Bing, Outlook, Office, etc, log on ONLY from Mobile to make sure the GUI code and core programming code works great. No one can develop on the PC until Mobile is done. Desktop PC is irrelevantin the future, so further GUI fixes and tie-ins to other desktop apps must stop".
Not really, no. Yes, it was ironic and exaggerated and partially wrong, too, but it was only to make a point about how business-illogical the strategy sounds about making one thing occupy their entire focus ;-). Not even Apple does that. They have Mac, iOS and Apple Watch, cloud services on web and apps, server OS extensions to OS X and more things.

Is this the same team that ban legit Bing reward users?

Dude needs to learn when not to complain

No, I'm in the UK and I can play both pong and snake on Bing

it hasn't rolled out entirely then . Nice

You're suggesting a reason for "when in India?" comments, bad move!

The only thing now Bing needs to be good at is maps. Rest of the things are almost sorted for me atleast.

What is the meaning of Easter eggs...

Hidden. You have to look for them, like an Easter egg hunt.

Easter Egg Hunt is not a universal custom, it is not common here where I live, we simply give the chocolate eggs to children, like Christmas gifts. I know the egg hunt from watching US films and TV series/cartoons.

I can play it in Internet Explorer, but not in Edge? (The same machine with Windows 10)

A game is there on Oogle also.

Anything like this for Lumia

I like the fact that every writer at windowscentral is now deleting my comments from all posts. This shows the respect and power of truth. Truth wins

wish i could use bing, in English its okay but if i type anything in my own language it is useless

I can only agree. Also living in a smaller country with not much support from MS, finding local results is no way near as good as Google.

ehh blocked by the firewall here in the office... I guess I should just uhm.. work.

Why is this for? Would please fix the store downloads bug guys Posted while running with the ninja cat

Try to move your Photos/Documents/Music/Video/Downloads/Favorites to C:\backup, then create a new local administrator account, log off from your current account, then login into your new local admin account, verify that Windows 10 store now works, then delete your old account, finally make your local account a Microsoft account. THis sounds difficult but it should take less than 10 minutes.

Thanks for the tip, runs great on my work laptop (Windows 7 IE11). This can also be played on 2015 Microsoft phones, my Nokia 106.3 phone comes with this game!

And if you try searching for "snake game" with Cortana, it'll suggest you to download two games from the Windows phone store

stupid game. I always hated it. I never really found fun of it, but I remember playing it many years ago and I always raged. I wish they would bring something less snakey, I like snakes, but there are better games, bring DONKEY.BAS to bing ;)​
Windows Central Newsletter
Thank you for signing up to Windows Central. You will receive a verification email shortly.
There was a problem. Please refresh the page and try again.