Clever advertisement highlights App Social from Nokia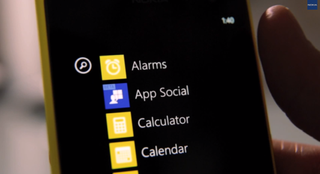 How do you find out about apps? Blogs, browsing the Windows Phone Store, or maybe asking friends? App Social (previously called App Highlights) from Nokia is one of our favorite ways to discover new apps.
The hybrid social network allows for users to create lists of their favorite apps. And like any good social network, you can follow users if you want to see what sort of apps they recommend. It's another tool for users to discover new and exciting apps. App Social itself is fairly new to the scene. So to help promote it, Nokia's made a pretty funny video. Check it out after the break.
Never take apps from strangers, get them from your friends. Pretty clever right? And since we're your friend, you should add us on App Social. Just type in 'wpcentral' in App Social to find us and follow us. We'll be sharing our favorite apps there and you'll be able to easily download them using App Social.
Want to download App Social? Grab it in the Windows Phone Store (Lumia only), use the QR code below, or swipe to the right in our app.
Ahahah! Funny video, i don't have idea how to use it and who's to follow since its first released. Pssst! Doom & Destiny.

Funny. But with how little the market share is this app isn't soo...cool :'(

I think it's more to answer for problem people encounter with sea of apps. Just think like cnet download.com but with social networking, minus news and trolls.

Ahh didn't think of that +1 good point

Not possible to download here in Norway, it's also called App Highlights here.

Change your region to the UK then download it...I also have the version from Nokia beta labs

coldfilter is right. You seem to be running an outdated version. AFAIK, App Highlights was the old name for App Social.

I don't need App Social. I got WPCentral.

Yep... But do your real life friends also use it?

Even WPCentral can't cover ALL the good apps out there. I found plenty of top quality apps in App Social. As a matter of fact, I'll go check it out now.

I can't download it (lumia 920) A1,Telekom Austria

Agreed, not for all areas yet... Changing the region just to download an app is a pain :(

I still have App Highlights since they didn't made this available worldwide. I also got the App Social Migration from Nokia, which seems to be the same app as App Social.
But anyway, I never use them. WPCentral does a better job, IMO. And before I get asked about my friends...no friend of mine uses WP (and if Nokias gone, they never will). So App Social has no advantage to me.

Not for Canada..Lumia 920

Change your region to US. Canadian store sucks.

No download in Norway yet...

I can't login to App Social with my Nokia account. Everytime I try it attempts to create a new account then says my email is already used.

But nobody looks at the lists I made lol
Windows Central Newsletter
Thank you for signing up to Windows Central. You will receive a verification email shortly.
There was a problem. Please refresh the page and try again.