Climb to Everest Base Camp with IE10 and explore the effects of climate change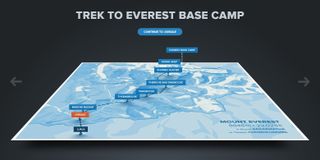 Want to experience beautiful awe inducing views of Mount Everest on your PC or Tablet? Now you can, thanks to Microsoft's partnership with GlacierWorks. The newly launched HTML5 based site allows viewers to see the changes Mount Everest and the greater Himalayan regions have faced over the last 86 years. There is no better day to launch the project than today, the 60th anniversary of the historic first ascent to the summit of Everest.
The site compares images taken by explorer George Mallory in 1921 to recently taken images of the region. The Microsoft Internet Explorer Team, Microsoft Research, and developers at Pixel Lab have worked hard to make the experience a reality. The teams hopes that the images will allow people to finally understand the important impact climate change has on the world.
Breashears, founder of GlacierWorks, commented on the recent partnership and its ability to show the negative impacts of global warming:
You can visit the newly launched site with IE to take advantage of special touch features. In addition, other technological highlights include a gigapixel panorama viewer, which uses the HTML-5 based viewer from Bing to render panoramas containing billions of pixels, and Microsoft's Rich Interactive Narrative (RIN) technology. Built by Microsoft Research, RIN, is a presentation system for building "nonlinear, interactive and cinematic narratives that seamlessly stitch together various media".
You can join in on the adventure here by trekking through the mountain ranges and discussing the impact global warming and other environmental changes have on our future.
Do you use IE or is Chrome/Firefox your default browser? (Personally, I use Chrome on my ThinkPad and IE10 on my Surface)
Sources: Microsoft Green Blog, The Fire House
Windows Central Newsletter
Get the best of Windows Central in your inbox, every day!
It does work in other browsers.

I have always used IE, probably always will. I wouldn't trust Google/Chrome for anything.

Amen. You can't even completely uninstall chrome without the help of an uninstaller utility. Its designed to remain in a hidden folder on your C drive all up in your business.

I'll be checking that out on my new desktop running Windows 8. (Anyone else tired of dubstep yet?)

Just saw this earlier on the Weather Channel! They credited Microsoft with helping to create this project. It looked awesome!

Reminded me of my trip to the K2 base camp.

Why cannot view in phone's ie10