Clique is a very attractive 3rd-party Meetup app for Windows Phone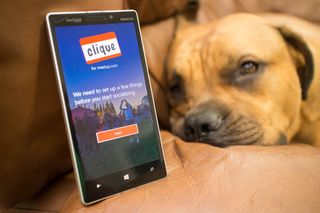 There is no official Meetup (meetup.com (opens in new tab)) application for Windows Phone, but there's a cool third-party app you might want to check out called Clique. The app makes it easy for anyone to find and join thousands of local groups around the world. You can browse and search for groups to get involved in and find events to attend.
We've installed Clique on our Lumia 930. Make sure to watch our hands-on video.
Features:
Browse recommended and nearby meetups or manage meetups you have already RSVP'd to.
Find groups in your area or look at groups Clique thinks you might enjoy
Join groups and RSVP to meetups right from within Clique
Full meetup comment support enables you to comment on upcoming meetups and reply to or like other members' comments
Clique integrates with your GPS or maps apps to get you to your meetups even faster
Live tiles keep you on top of the latest from your groups and meetups
Smart search helps you find groups and meetups with ease
Visibly stunning and beautifully designed for the Windows Phone interface with rich images and an easy-to-use interface
If you haven't heard of Meetup before, it is an online social networking portal that facilitates offline group meetings around the world. Members find and join groups unified by a common interests. They currently have 18.8 million members from 176 countries.
Clique looks great. It feels like an app designed specifically with Windows Phone in mind.
After logging in, it suggests a meetup on top of the screen. Below, you can swipe between groups, meetups, or check your profile. We love how all the information is laid out. The app is not perfect, though. While it looks great, we've experienced some crashes.
Clique is a free download from the Windows Phone Store. You should check it out if you're a Meetup user. If you're not a member, you should sign up. It's free and we're sure you'll find at least one interesting group.
Windows Central Newsletter
Get the best of Windows Central in in your inbox, every day!
I've been using clique for long while now and I love it. There were some really crappy apps that were basically web wrappers and this one blows them out of the water. I just wish the live tile worked.

Can you leave a group via this app? Because I can't leave a group in some, the web included.

Yes! You can join and leave groups as well as make/change RSVP to meetups.

Sweet! Now I just need friends to meetup with..

Reminds me of Foursquare UI but there is nothing wrong with that.

The dog wanna meet up the vet?...(clique)

I've been wanting a good meet up option the mobile version is ok,but I can't upload pictures. Hopefully you can with this app. I'm not sure if it's a feature that's shown in the video above because I haven't watched it yet,or checked out the app yet,but I'll do so shortly.

Unfortunately, you cannot upload photos yet. You can change your profile photo though. You have the option of cyclying through old profile photos or uploading a new one.

Another 3rd party app getting sick of this now

It's not that good. The stupid banner takes up half the screen. It crashes alot and it does not work with here maps

Thank you for making a meet up app that's finally worth using.
Windows Central Newsletter
Thank you for signing up to Windows Central. You will receive a verification email shortly.
There was a problem. Please refresh the page and try again.