Cloud Raiders updated with new Treasure Island and more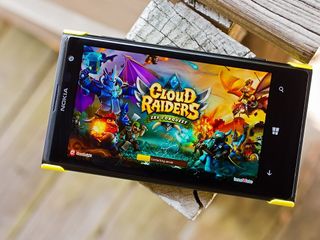 Cloud Raiders, the highly popular fantasy action-strategy game from developer Game Insight, got a new update today for the Windows Phone version that adds a feature called Treasure Island, along with more additions and improvements.
Here's a quick change log for the new 0.4.0.420 version:
Treasure Island - Once a week, a treasure-filled island will drift within raiding range of your base. Smash through the defenses on Treasure Island as fast as possible to win prizes, earn a spot on the leaderboards complete with a replay of your raid, and more!
Valor PvP Challenge - A new global weekly tournament to prove yourself the best raider in the isles. Visit the Top Players leaderboards to find out more!
Matchmaking improvements
Lots of other fixes and improvements
Are you a fan of Cloud Raiders and if so what do you think of this new update? Thanks to nikhil for the tip!
Cloud Raiders – Windows Phone 8 – 84 MB – Free – Store Link
that reminds me of crack kid. yaahhh. yaaaaahhhh!

Yaaaahh yaaaah my favorite game just got updated

+1520 best phone game in ages

Hey cap Gogetaxyz here xD :D

Every time I would open the app to collect my gold I noticed I have lost a ton of gold. Once collected it equaled out to about what I had before. Could not really progress

This is because some one must have attacked you n must have stolen your gold...

@darkest.white I have exactly the same problem. Have updated everything except the main building (the name had just escaped me) but can never get enough gold to update it to level 7 and I can never get enough clouds to build a dragon academy

Yea, it's rigged to make you buy the resources for it.

Definitely addicted to this game. So many hours of waiting... All worth it lol

They should work on a Windows 8 app too.

It reset my score a few weeks back :'( There was no option to log out of my FB account and try another one. Had to reinstall it. Will wait for AOE version of Clash of Clans

That was unlucky. Why did that happen? I did a hard reset the other month and it was the only game that I didn't lose my progress when I reinstalled it.

They should make the Text bigger. I can easily play games like this on the tiny iphone 4 screen but have to squint to play this one on my L920. Ridicilous!

Is the troop glitch fixed? I hope not >_

What is the troop glitch?

Still not .....You can still Cheat

Nope, still getting losses with nothing destroyed or troops lost.

I just can't get into this game. Yet at the same time, I can't get enough of Clash of Clans. I steal my wife's iPad every morning and evening to get some play time in on Clash, yet I have this on my phone with me all the time and I haven't opened the app in a month or more. I'm not sure why it doesn't appeal to me like Clash even though it's essentially the same game. That being said, they've done a great job of keeping it updated and at least interesting. I may jump in and give it another go.

Yeah it is a great news but we want clash of clans

Yeh my name on the aricle..

I hate this game. It is too expensive to change the name.

I changed it for free. The first time it was free for me but the second time needs 500 diamonds

It is also my first time changing my name but it costs me a lot. Approximately $5

Don't change the name in a day change it once leave it for 2 days and its again free

Thanks for the update ...keep improving with new features....

It is available in selected countries !

WindowsPhoneCentral2 is the best clan in this game :)

+520 been to a lot of clans but I always end up joining wpc2! Way better than any other clan. Here people aren't rude. Kudos to the leaders and his officers! :D

I play this and clash but prefer clash since its almost impossible to read any text in Cloud Raiders. I use Lumia 930. They should improve the zooming function

I just love this game but very difficult to get stronghold 7 without in app purchase. Is royal revolt 2 better than,this?

Lol no most of us got SH7 EASY

You really don't need to buy diamonds for progressing.....you need to buy them if you want an extra builder or two..

Yes if you are playing whole day

I wNt to reset my play but i just don't know how. Lol..
Windows Central Newsletter
Thank you for signing up to Windows Central. You will receive a verification email shortly.
There was a problem. Please refresh the page and try again.