Become pro with Coach's Eye, now available on Windows Phone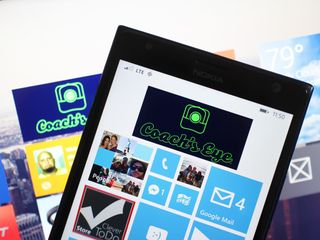 Coachs's Eye is a very popular app for iPhone, Android and Windows. And as of yesterday, it's now available for Windows Phone. Coach's Eye is a video analysis app for all kinds of athletes. You use the app to perfect moves like your golf swing or your squat form.
Serious competitors will want to check out Coach's Eye. You're able to get instant feedback when training thanks to the various features within the app. Here's what we get with the first release of Coach's Eye for Windows Phone:
VIDEO CAPTURE AND IMPORT
Record video.
Import video from your device, email, or other apps.
INSTANT VIDEO ANALYSIS
Slow-motion video review is easy using our flywheel for precise video scrubbing.
Zoom and pan videos during analysis to see the details that matter.
Draw on videos using lines, arrows, circles, squares, and freehand tools.
Compare and analyze two videos.
Create videos that include audio commentary, annotations, and slow-motion.
SIMPLE VIDEO SHARING
Email
Text Message
Facebook
Twitter
YouTube
Device storage
Other Apps like OneDrive
Use Coach's Eye on the big screen for optimal video analysis in a group setting. (Uses TV / projector through an HDMI connection.)
Free online account gives you web access to videos you have shared or liked.
Coach's Eye is sitting in the Windows Phone Store with a solid 4.5 star average review out of 56 reviews. Looks like people are digging the app so far.
If you've been waiting for Coach's Eye to drop on Windows Phone now is your chance to get it cheap too. Until October 8, it's just $1.99 in the Windows Phone Store. No trial, but you're probably going to want this app if you're a coach or someone with a serious athletic hobby. It is a Universal app, so buy it for $1.99 and you get it on Windows Phone and Windows 8.1 Since Windows Phone doesn't have a trial, take it for a spin on Windows 8.1 to see what the app is about. On Windows Phone, it doesn't work on phones without a front-facing camera or with 512 MB.
Windows Central Newsletter
Get the best of Windows Central in your inbox, every day!
im so impressed, being first is being a god

...and you ruined it for yourself. :/

Guys spread the news: the most typed comment is wtf Microsoft / Nokia

This is awesome for the platform and proves that even complex, proprietary apps can be ported.

I need Hudl for Football :/

We have Hudl for football. Third party app called Huddle. Has a dew bugs but I can play video just fine. No telestration however.

Wanted this for so long my daughter is a gymnast... All the other parents have this on their ipads and iPhones... Now I can join in...

Anyone having trouble buying or installing it?

Yes, when I click the app link it tells me the app isn't available. I have the app for my surface and have been waiting for the WP version. Hope this is fixed soon.

Ok, I get the same issue, although I am able to purchase it through the web based store.

Sweet just downloading now! Whoop

Windows Phone Store reports that the app is not available. The Windows Phone website does show the Coach's Eye logo, but then displays the same error.

Those of you having trouble"finding" the app in the store are you using Icons? Having just heard back from the publisher, there seems to be an issue with the Icon finding the app, they are working on a fix.

That would be me. I purchased the app but it hasn't/won't download to my Icon.