Cocktail Flow update brings a beautiful new design and features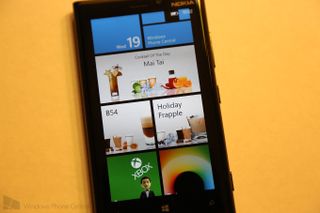 When I got my Dell Venue Pro over two years ago, one of the first apps I would show off to people was Cocktail Flow. It oozed the Metro Microsoft Design Language principles left and right. Beautiful typography, fast and fluid motion, and no chrome in sight. It was a beautiful app. Well Team Distinction, the developers behind Cocktail Flow, have updated the app to version 4. With that bump comes a completely new design and some new tricks.
When you update you'll notice the app has a completely new design. The team went back to the drawing board and started all over. The result is another stunning example of how applications can shine on Windows Phone. Read the other new features and check out some screenshots below:
Completely new design
Support for new resolutions
Daily updated main tile (Cocktail of the day)
Support for new tiles
Voice commands
The way drinks are classified hasn't changed, they're still organized by base drink, type, color, or event. Some new features for Windows Phone 8, besides the support for higher resolutions, is the ability to use voice commands. You can long press the hardware Start key on your device and speak "Cocktail Flow Cuba Libre" and it will take you to the drink page for Cuba Libre. A nifty addition if you want to quickly look up how to make a specific drink. Right now I'm having fun looking at all the Chirstmas cocktails in the app.
Some complaints from past versions of the app have been the number of drinks in their catalog. You can download or update and rest easy knowing that the dev team has announced hundreds of new cocktails expected in January.
So tell me, what's your favorite drink in the app that we need to try?
Hit up the link right here for the Windows Phone Store to download Cocktail Flow or use the QR code below.
Windows Central Newsletter
Get the best of Windows Central in your inbox, every day!
When WPCentral will be updated too ?

I'm partial to Jäger Bombs, though I'm aware that's something more suited to doing in rounds with friends at a party. Mai Thais are also quite tasty!

Man all this WINDOWSPHONE 8 apps are driving me fucking nuts

Its an app for WP7 too ya know.

Not the update though, that's the issue.

This is probably the best looking app on all platforms (including all apps on iphone, ipad , android and wp)

word. The Android version on my Vibrant is crap.

I got it free when I jump on the early WP wagon as it launched. This apps is wonderfully designed, but I've read some complaints on the comments in the Windows Phone Store.

I only used it once or twice to fix some drinks but above all, as many have said, I used to show it to my friends so they could see how well apps on WP can look.

I'm now on WP8 with an 8X but I will pass on the app itself because I don't need it. I'm now just showing my friends the fluidness, camera and features of WP8 :)

I love this app!
(I hate it on sundays tho ;P )

One of my favorite apps on WP7!

I love this app, it's the first app that I use to show people windows phone.

Not showing up on WP7 in Spain, still on version 3.4

Excellent app, and the update looks really nice too - I just updated mine.

The news of more cocktails coming in January is a welcome bit of news for sure. While the app does have a decent amount of cocktails, especially once you download all of the available packages, it would be fantastic if they offered more, so I'm looking forward to that for sure!

Beautiful app,, I think the first one who has to learn from this app is Microsoft itself,, i wish to see start screen, Setting, programs list, contacts... just like this design (Icons, wallpaper and metro for sections).

Awesome update! I love WPCentral best app for Windows Phone News!