Collaborate is a new white boarding Windows Phone app from Microsoft Garage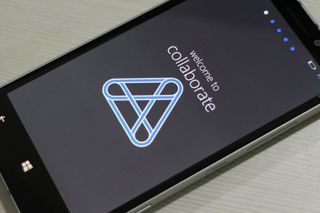 As part of their explosion of new apps today from their Microsoft Garage division, the company has launched Collaborate, a new white boarding app that's exclusive for Windows Phone 8.1 devices.
Here's a look at what this app can do:
It looks like the app is still propagating in the Windows Phone Store and thus may not be immediately available in all regions. The app is also supposed to be launched for Windows 8.1 as well but at the moment it's not available in the Windows Store. When that happens we will update this post. In the meantime, which is your opinion of Collaborate?
Windows Central Newsletter
Get the best of Windows Central in your inbox, every day!
There are some words you rarely hear together. Microsoft / Windows Phone/ Exclusive.

And in this case it severely limits its use. I don't understand the appeal of exclusives like this when collaboration requires people with different devices. I understand the desire to be first and to have compelling reasons to switch, but exclusivity for its own sake is not good.

I have to agree with you on this one.

Exactly my thoughts on this app!

It's coming to other platforms. It's still nice that they're releasing WP first. Not sure where you got the idea that it was exclusive...its just debuting on the home platform, as it should.

Maybe because i actually read the article and it states "a new white boarding app that's exclusive for Windows Phone 8.1 devices". So yeah that's where i read exclusive.

Us-only is something You hear way too much!

The word of the day is "Propagating" :-) Used in both articles.

While this is likely something I won't use but i will download to check out,maybe this will appease DJCBS. This is the 2nd app from the Garage, so we only need 2 more so we'll be on par with Android. LOL

I was just about to comment the same thing. God forbid the world doesn't bend to that asshats whim, lol.

Never heard of this Garage thing, some pretty cool things are coming out of it though.

They've been around for a long time though I think it might have been a different name.

No same name... but it's been an internal only incubater where staff can work on stuff in their own time. I don't know if the motto is still the same but when it opened the motto was "make sh.t happen" which I though was cool. Another prototype project was combining NFC with your skins natural electrical field so that you could swipe your finger at NFC points (think paywave/paypass) with your phone merely in your pocket to pay for stuff or at security check points etc. Plus there has been other little bits and pieces make it into the media over the past couple years - they have just been really really really low key until now.

But why can't I download it? Phone is updated and all. Us only?

Yeah, change your region to get it.

The article says it is still being released.

I read from the other source that it will also support the other platforms and not only wp. Good job MS.

Work in my Lumia 1320 india

It seems I must set my region to us permanently ... Half wp's work are concentrated in us region ... What have we bought the phone for ... ??

Read the article once more...

Cool just like the other app

That looks so promising :O

I keep reading Microsoft Garbage. Can't help it. Actually I found out after 5 minutes that it was Garage.

We need some hands/on videos of these Garage apps.

How is it really any different than a shared OneNote folder?

Good to have such a great application.

WP needs exclusive apps but I hate to say it, this app needs to be supported across iOS, Android, and Windows to be succesfull.

Is still in development and word is that it is going to be on all platforms.

And what word would that be? The article says nothing about it being released for other platforms.

Awsome! Its great to see WP get 1st release then!

Nein... how many times do you see people saying "we need more exclusives" or "our platform first", then when it happens people are all like "it needs to be cross-platform". So either it's exclusive and becomes another reason to make others want to join the platform, or it's not exclusive and WP keeps being the 3rd child who occasionally gets the hand-me-downs. I vote for the first - the more exclusive stuff we get the better - everytime it happens it just gives another item with which to be all like - well if you have a WP we could do this - but cause your on crappy <insert other platform name> what with it's lack of useful apps and all we can't. :) Plus this stuff is incubater level stuff - it's not meant to be mainstream, so especially should stay exclusive to re-inforce that WP gets all the cool prototype toys that the others will have to wait for :)

When I first saw the headline, I thought it was about water boarding. Had to read it through a few times.

THIS is an app that would benefit from being multiplatform. Hence its name.
We want platform parity.. Not platform exclusivity Microsoft With that said, ill def look into this app to see if worth using :)

It will be when it's finished

Ahahah US only. I mean, really.

looks beautiful i wish could add more applications or widgets but i like that can access to an stopwatch without unlock my phone or even watch my appointments for later too, i wish that could incorporate sound recorder, access to cortana from there an notebook for quick notes even using an stylus pen, also an e mail counter and even going to extreme the data sense counter of how much data have remaining if have the feature on for disable my data if i watch that am reaching to my plan limit quickly

Live Lock Screen Beta is good. But, this takes the lock screen to another level! Love that I can check my current location and swipe through my calender on the spot. And couple it with Glance Screen makes it great. 5 stars.