Comcast jumps into wireless with Verizon-powered 'Xfinity Mobile' unlimited plan
Comcast is launching cellular service through its Xfinity subbrand in partnership with Verizon.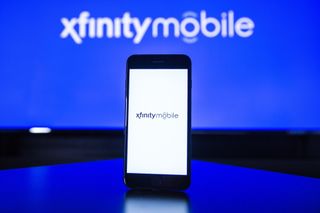 Comcast, the enormous cable, internet and content creation behemoth, just launched cellular service, despite the fact that it owns no actual wireless spectrum.
The company, which owns NBCUniversal along with its massive Comcast Cable division, will offer 4G LTE service under the Xfinity Mobile brand, in partnership with Verizon Wireless, which powers the actual cellular part of the proposition. The other part is automatic access to Comcast's 16 million wireless hotspots peppered around the country, which will be open to all Xfinity Wireless customers through a simple authentication process that uses the other Xfinity apps and services to verify a customer's identity.
But Xfinity Wireless will not be available to everyone; it's a bundle-only deal for existing Xfinity cable or internet customers (pdf) and will differ in price per line, depending on how much one already spends with the company.
The idea is pretty straightforward. Existing Xfinity customers can sign up for unlimited wireless service for $65 per line, up to five lines. Top-tier Xfinity X1 customers, though, get the service for $45 per line, but at this point it's not clear what that minimum spend is. Despite being called unlimited, wireless service is throttled after 20GB per line, which is lower than Verizon's own unlimited throttling policy.
The other way to get service is by the gigabyte: each line can spend $12 per gigabyte, which works out to be cheaper if the user stays under 5GB per month. Users can go back and forth between the two options, so if it appears that one line is going to spend more than $65 per month in a la carte data, it can switch to the unlimited option with no penalties.
The offering is, technology-wise, very similar to Google's Project Fi in that Xfinity Mobile is acting as an MVNO, facilitating a mix of wireless and easily-accessible Wi-Fi hotspots around the U.S. The major difference, though, is that Comcast is generally disliked by most of its customers (it was voted "the worst company in America" three years ago), and plans to bundle its bevy of entertainment options with each phone.
Comcast says that customers will be able to manage all of their mobile services, including adding and removing lines, buying more data or switching plans, or canceling service, through the Xfinity Mobile app.
Advertisement
While the company is entirely a wireless MVNO right now, working exclusively with Verizon, it has bid in the now-closed 600MHz wireless auction, so it's possible it could launch 4G LTE service of its own in the near future, at least in some parts of the country.
When it launches in the coming months (no word on a specific launch date yet) it will offer a range of phones, including the latest devices from Samsung, LG and Apple, according to a press release. It's unclear at this point, due to the tie-ins with Xfinity services, whether you'll ever be able to bring your own phone. Unfortunately, it doesn't seem like there will be support for Windows Mobile.
Are you into this? If you're an Xfinity customer, are the prices preferable to your current plan, unlimited or not? Let us know in the comments.
I have the best plan! Pay as you go!

Re: Jozef jurcisin,
I agree. No contracts and flexibility to change service at any time.

April fools was a few days ago.

We have so many problems with Comcast, the company. The customer service representatives are nice people who are helpless. Comcast always wants us to respond to a survey about the quality of the service "from the customer service agents". The questions are always worded in terms of "did the customer service agent do this or that". It seems like Comcast wants to blame their technology problems on their Customer Service agents.

Seriously, Comcast is in the running for most hated company in America, and Verizon is no slouch when it comes to gouging their customers. Get these two titans of customer disservice together and who knows what might happen.

Agreed Comcrap sucks as a company. They charge arm and a leg comparted other providers and getting someone who actually has a clue when you need help is almost impossable.

Ya Verizon.sucks at billing.
My bill always Fluxuated on both mobile and landline, I switched to AT&T in 2012, and switched to Comcast internet 2 yrs ago.
Plus i just canned my landline last month from Verizon.
I'm all done with their BS on billing.
I've got DTV for TV been with them since 1999, love my DTV.
Just wish they had Apps on Win 10 Mobile though.
And at least AT&T bills are consistent no flux.

Why would anyone want wireless service from literally the worst company in US? When service goes down, do you schedule a tech to come in 3 days between 12-5?

5 hour window, luck you. 8 hours here. Switched to RCN, very happy. "Bundling" with Comcast would be as good a decision as going to proctologist Tom Brady, who never takes off his superbowl rings.

Yes he does in the shields MRI commercial we the women say's we're gonna need to get you bigger locker, Tom Says (Roger That) ha ha ha, 💘 it.

This seems...not terrible. However, I won't touch it after Verizon announced it is going to start testing pseudo-spyware in its phones going forward.

That's hilarious - the company that's a direct competitor with Verizon for Internet/Phone/TV is using their service to offer cellular.

Comcast: You think we're, wait until we hook you up with Verizon".

Comcast: "You think we're bad, wait until we hook you up with Verizon".

It would be nice to have one bill; however, the consolidation of media power in Comcast is very disturbing and I won't support that with expanded support through their mobile service. T-Mobile has the best plan right now and I will stick with it as long as it remains competitive.

Unlimited talk and text with 200 megs of data free. Looks good to me. Strong xfinity hot spots everywhere. I'm onboard.

I use Ting with my 950xl and the wife's 640. Last month's bill was $49 total for both lines.

Don't need anything that ties me more into Comcast... 😝

Anything related to Verizon is quickly a no for me. I refuse to subsidize their media properites.

Consumer Cellular: MVNO using ATT towers. Cheapest plans I have found!

Their already data mining my Internet History, why would I want more personal information collected? Screw Comacast.

Never. Absolutely never. They probably should work on not being one of the most hated companies in the USA first

Ugh what a horrible combo, Verizon's network sucks. Can't get a signal with them anywhere! Literally worst combo ever.

I've had nothing but awesome service from Comcast for 15+ years. Awesome internet, good TV service, and I like the home security. I have everything through them-- no complaints. Would consider this but need a BYOD option.
Windows Central Newsletter
Get the best of Windows Central in in your inbox, every day!
Thank you for signing up to Windows Central. You will receive a verification email shortly.
There was a problem. Please refresh the page and try again.