Condor launches first Windows Phone, the Griffe W1
Condor has launched its first Windows Phone. The manufacturer alongside Microsoft announced at a press conference in Algeria the Griffe W1, a new dual-SIM mid-range Windows Phone.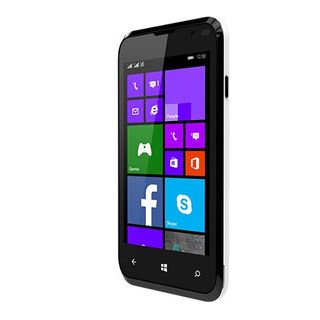 The handset isn't the most powerful kid on the block, but the specifications are powerful enough to get you through the day. There's a Snapdragon quad-core on-board, as well as 8GB of internal storage (with microSD expansion), 1GB RAM, 5MP rear main shooter (with front-facing camera), 1950mAh battery, and a 4-inch IPS display.
It's an interesting, yet rather sleek design for an affordable Windows Phone, and one we imagine will sell well in targeted markets. The Griffe W1 will set purchasers back by 8800 DA ($90).
Via: AndroiDZ
Rich Edmonds is Senior Editor of PC hardware at Windows Central, covering everything related to PC components and NAS. He's been involved in technology for more than a decade and knows a thing or two about the magic inside a PC chassis. You can follow him over on Twitter at @RichEdmonds.
Ten points for Gryffindor

Did anyone else guess the specs without even reading the article?

Pretty much, not the battery.

I wish manufacturers would lose those massive radii on the corners. Same for laptops. They look awful IMO and make them look like kids' toys.

Don't agree. The radii (radiuses?) at the bottom are essential to the holding comfort, especially single handedly. The sharp, non radius, corners if the 1020 and X8 are a constant (literal) pain of these devices. I really prefer rounded bottom corners.

Radii, yes. ;¬) Design and looks over comfort every time for me. I don't get this pain people have from corners. It's not like its a sharp 90°. It's easier to hold too. I hope the new flagship Lumias stay true to the original Nokia design language of the 800 and 900.

I have a 730, the design just WOWs everybody everytime!

I've never once experienced pain using my 1020.

I did, when the corner was in the middle of my palm for a long time. Not a big deal.

No pain when holding the 735, it actually helps with holding. But, the 735 also has a soft material for the housing, which anihilates any possible discomfort

What country is this selling in ?

Never heard the name before but 1950 mAh for a 4" display can easily make over a day! (This also suggests the phone may be a bit heavy on weight and thickness)...
Anyway, good to see more OEMs joining the party :)

This could be a nice phone for those people wanting a small (and affordable) phone.

I read the name as Giraffe.

It looks kind of nice. I'd be curious how it would look if it were higher end.

http://www.condor.dz/fr/telephone-portable?p=346

Holy Crap. Am I the only one who read , "Gondor lanches a windows phone Giraffe"?

How?
A Giraffe is selling Condo m o.0

Who's at build mumbai 2015???

Nice to see physical buttons!

but no 'real' camera button.

Do you mean capacitive buttons? It kinda looks like there's just one button on the right side?

Yes looks like volume rocker has gone. With further work MSFT could get rid of all physical buttons. Would like to have device like that.

I very much prefer physical buttons for stuff like volume. don't want to have to dig the phone out of my pocket just to adjust the volume

The lunch of this device, and it even comes with a 4 inch display shows that there is still hope for support for devices with 4 inch screen size

Not dinner? (Bad joke, yes) ;-) It is great to see third-party hardware (non-Lumias) show up around the world, since more choice will probably benefit consumers and the Windows platform overall.

Your source for WP news is AndroiDZ? :s

Already released on the market? Would love to have this as my secondary phone...

Nice for who's living in Algeria just like me.

Condor is getting more serious about this!! First they launched a set of affordable laptops and notebooks, then they launched 2 windows 8.1 tablets.. And now they launch a windows phone.. I love where this is going!!!!

For who don't know CONDOR. It's a local OEM who takes over 30% of smartphone and tablets markets in Algeria. And it'll begin to export smartphones to France soon

Great .....but I am wondering they are used to rebrand geonni android phones this one I don't know exactly it origins!

This is the reincarnation of the legendary lumia 610

More of a Lumia 510 reincarnation.

How did you hear of this. I'm from Algeria and I've been longing for one to be released.

just a question i'm from algeria and i just wanted to khow if this phone is compatible with windows 10 ?

Well, I guess so but I don't think Condor is going to update it. Do you have a windows phone?

Hey, at least it has a gig of ram which should be mandatory on even the lowest end phones. Just sayin.

512mb just doesn't cut it in this day and age, no matter where you live.

For Windows Phone OS, 512MB is not an issue. Besides, it is not a flagship device and you won't probably play big XBox games in this phone.

Is it made in Algeria ?! :)

Ok i live in algeria and i would buy it if it is upgradeble to windows 10

Very generously rounded corners.

That ACTUALLY looks like a really beautiful phone.

Well it looks Good i will try it even i don't like windows phone pretty much
Windows Central Newsletter
Thank you for signing up to Windows Central. You will receive a verification email shortly.
There was a problem. Please refresh the page and try again.