Continuum will be built into Windows 10 for Phones, turning your phone into a PC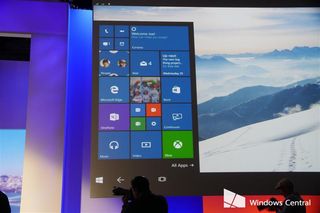 During its Build 2015 keynote today, Microsoft announced that Continuum will be built into Windows 10 for phones, allowing users with "select premium phones" to connect their phone to a keyboard, mouse, and external screen for a desktop-like experience.
When users connect their phone to an external monitor via HDMI, along with a Bluetooth keyboard and mouse, they'll essentially be working from a desktop environment. The UI will adapt to fit the larger display, start-menu and all. As far as apps are concerned, it looks like this is where the universal model is going to pay off. During the demo, Microsoft showed off Office running from a phone on an external screen, and it looked very much like the PC app.
Overall, this looks like an amazing use of Continuum, showing off the universality of Windows 10 across devices. Given the right equipment, you're basically carrying a PC in your pocket at all times. It is important to note, however, that Continuum for phones will be limited to "select premium phones." So it's unlikely to come to low-end Lumia devices.
Dan Thorp-Lancaster is the Editor in Chief for Windows Central. He began working with Windows Central as a news writer in 2014 and is obsessed with tech of all sorts. You can follow Dan on Twitter @DthorpL and Instagram @heyitsdtl. Got a hot tip? Send it to daniel.thorp-lancaster@futurenet.com.
Holly S*it ...thats what I have been asking ... I even opened a ticket on user voice :D

I've been asking for this for a few months... It's cool to see that MS is thinking like us....
........
And, Joe wasn't lying back during Build 2014 when he said WP would be the most capable devices out their..

Any developers out there know if there is any way W10 for phones cam run ShowBox, or Bluestacks❓❓

Bluestacks is a win32 app ie .exe so it wont run on windows phone ... unless they decide to make a universal app (not sure if its possible) we are still waiting for more details about sucky APIs

Right, right... What about Showbox❓How does that work on Android❓ I know you download it from a website.. Is it side loaded❓

looks like showbox is an app for android ... so thats how it runs ... developer of the apps should port it to run on WP thats the only way ...

Well.... It's a possibility, but I don't think SB is even allowed in the Android store, less known than the Windows store... But, but, but,,,, MS says that in W10 we can developer unlock our phones, so that might be a workaround.

There were tears in my eyes. :-) WP finally has something going for it besides the Live Tiles.

Speaking of live tiles... I'm kinda disappointed that there wasn't any big WP start screen features.. No customization revealed like "Mixed View, exploding tiles, of music controls on the start screen, and action center.....
..........
Now, that the keynote is over when, and where would MS reveal such features❓ Is this it❓

Very very likely you won't be able to run Win32 programs, RT is alive in that form then!

Maybe not. See an earlier article about win32 software.

But think if they build a Lumia with a "Cherry Trail" Atom processor in it! I would buy that so fast. Friends would be like "ha ha, you don't have Snapchat" and I'd be all "yeah, but I can run full Photoshop CS6."

maybe you can compile or port win32 to windows store which can be downloaded across all devices and then the app in your phone seconds as the desktop app when you connect to the PC

you will be able to port a win32 program to a windows 10 universal app which will then run on all devices.

Didn't think about it that way. In a way it's like they realized that RT failed in the tablet space. Most phones are ARM based. It's a smart move to attack it from the other end! Release "RT" for phones, get apps created, try tablets again!

Except rt was much more powerful api-wise

Unless we see an Atom powered Lumia...
But I agree, I don't think that current gen SD chips are powerful enough to emulate x86 in real time while giving a good experience or killing the battery in mere minutes.

Actually its very likely. The next generation of hardware might be able to. Watch the video.... He explains that these features require future hardware that will ship with Windows 10. He mentions Qualicom's new hardware as a way to multitask two full screen apps https://www.youtube.com/watch?v=-oi1B9fjVs4

Why not if Microsoft uses the new Intel atoms on there phones like there rumored to to be doing then they could use win 32 apps.

That's still a W10 for phones OS and it certanly does not support Win32 apps, just Universal apps. Think a little bit logically. :)

like i said with MS's new tools you are able to port your existing win32 app into a universal windows 10 app

Windows RT was fully compatible to Win32...it had all the libraries on-board. Of course you still had to recompile your Win32 apps for ARM.

YES YES YES! I've been saying this should be done since Miracast was added and people here told me it would never happen. To them I say: Told you so!

A HDMI cable is required. L940/XL may have a micro-HDMI port.

Do current generation wp have mhl support to connect it directly to hdmi ports?

Actually, for me the killer screen would be HoloLens. Think about it. Phone, that small bluetooth foldable keyboard and a pair of glasses instead of a screen. Talk about mobility and privacy.

I was wtf wtf wtf wtf!! that whole segment


I was thinking, please allow this directly on note-style large devices that include a built-in stylus.

So, basecially we get windows RT tablet funcationality on phone. I will take that :)

Could be x64. Windows 10 runs on Intel and Intel has chipsets for phones!

Agreed. This looks sick. That flagship cannot come soon enough!!

Based on these capabilities, a flagship might have dual USB-C ports. Allow charging on one while the other can run to a hub with monitor, keyboard hooked up. Biometric lock, 20 MP camera, Dual usb ports, 5 inch screen, expandable memory. What more could I ask for?

Just need an universal dock where you can plug in phones with USB-C.

Actually for me is killer function of this would be to have Holo Lens act as the monitor. Pair the phone with the new foldable bluetooth keyboard and now you have real mobility.

What a completely worthless comment. At least say something to back that up, otherwise what's the point other than wasted bandwidth?

Don't get too hyped expecting a desktop view on our mobile phones

What I hope, really hope, that Microsoft does with Windows 10, is allow me to send and receive texts on my windows 10 computer that is not a phone. Please, I would pay for that service.

I've been hoping for integration like this since the WP7 days. I think it'd be neat if there was a way to make the phone's UI show up in a window on one's PC and be fully interactive. Like if you're at work, and your phone is in your pocket or charging on your desk, and you could interact with it without even touching it, right from your PC.

Honestly, WP7 and 8 don't deserve to have the "Windows" name in them, since they never really had much to do with the actual Windows. It was pretty misleading.

Same kernels as other versions of Windows, (subset of) the same API, etc. I'd say they have pretty much in common with regular Windows…

That's up to your phone company. And you know how they get.

Why does a phone carrier need to get involved with that ability? IOS does this on Macs automagically without carrier intervention.

Yes, but only inside their own ecosystem and to other iDevices. iMessage..

Maybe. But the initial post talked about texts, which i assume is SMS texts. You could of course argue that Windows could easily make their own "iMessage" That only worked on Windows 10 devices. But that is not the Microsoft way... :P We use Skype for that, or any other messaging app.

Yes, IOS can push an actual SMS to other apple devices. You're able to send from them as well. "But that is not the Microsoft way... :P" Damn shame isn't it? lol

Why can't it be done for SMS texts? I was doing that on my crappy Android back in 2008 via a 3rd-party app. Connected my phone to my PC and used my keyboard to compose and send text messages. Why can't Windows phones do this?

Was about to say, while I'm not intimately familiar with iOS, Android has had numerous apps combined with web services that allow you to send/receive SMS from a web browser on a laptop/PC, and other Android devices outside of your Android phone.

Nokia Suite can do it with old Symbian Phones. Microsoft just need to ask to his own employees !

It's not automagic... They pretty much use the mac very cleverly as a Bluetooth headset/device. Very smart on their part. Carriers don't matter.

Wrong dram30! Any text that comes to the phone (not speaking just iMessage but an actual text) hits the apple servers then gets pushed to any IOS and Mac device that uses the same linked phone number/account that's connected to a wifi or cellular network. Bluetooth is not used. That's the automagic I speak of.

This I can agree on. But, does it work the other way also, sending texts? I am asking out of curiosity, i really don't know.

Absolutely EmolaT. You can make/receive calls on other Apple devices as well.

Well if they can port websites into apps and Verizon has a web app that already lets you send and receive SMS from a browser then its just a port away

I believe Symbian did also.

Not if there was a way to, essentially, remote desktop to your phone.

Blackberry has had this for 6 months now with Blackberry Blend. It connects over Wifi or Mobile network and allows you to email, text, and BBM from your computer, along with see notifications, incoming calls, and transfer files back and forth. No carrier interference, no limited bluetooth range. It's amazing

What about getting a skype number?

That costs money and Skype doesn't do MMS. Why pay for something like this when the alternatives give you all that and more for free? Never mind it doesn't allow you to move the calls around the way iOS and OS X does.

universal messaging app makes it possible. universal apps makes everything like that possible if they just want to do that

Does anyone remember "Pocket Controller" on Windows Mobile?? That was exactly it. Plug in, and your phone screen is in a window of its own. Launch apps, read SMS, etc. It was really neat. I really miss WinMo for several things and this is one example.

The point is to be able to leave your phone in the bedroom and still be able to take and receive calls and do Carrier based messaging from your Laptop or Tablet on the couch. Having to plug stuff in defeats the purpose and only ups the clink factor bits why I couldn't care less about continuum. The people at Build have laptops. They probably didn't care either, Lol.

I used to do that on my Symbian ;)

This would essentially be like iMessage and I would support that. It would really be useful. Plus, it'd be offered on iOS and Android too because MS does it like that. Not like stupid iMessage's walled garden... er jail.

How does Microsoft plan to pull this off on iOS? I'm not sure if it's possible since nothing else accomplishes it and other developers would have jumped on it if so. The only developer that has done it is Verizon with their Messages app, but it requires them to be able to archive and propagate the messages from their servers essentially turning SMS into an IM service. They have a Windows desktop and iPad (as well as Android) app available. But it doesn't work like iMessage. Verizon is a carrier so people are less alarmed by them doing this. Not sure if they want a company like Microsoft storing their SMS. Apple doesn't do that. It relays it between machines via a wireless protocol so it never touches their servers unless it's an iMessage, which is something totally different and a lot more secure than Skype or any other consumer messaging product Microsoft has ever run.

I wouldn't want to pay for that service. Blackberry has this feature already.

Be nice if this comes to my HTC one m8

I have an M8, so I hope it does, but how can you be so sure?

Belfiore stated that for this new continuum for phones to work (Multiple screen), they need to use new hardware.. so, probably no.

Nope, it won't. Joe was very clear that this requires new hardware. Therefore, it will not come to existing devices.

That sucks. Hopefully they'll release a new 6" device so I'm able to get a new phone. No way I'm going back to any smaller size.

It's not as bad as you think. I'm def getting the next Phablet out there, but I broke my 1520 and I wasn't going to spend a bunch on a new one just to have a new one come out later this year. I ended up with an 830, not terrible other than the damn side buttons are so sensitive that I keep opening the camera and locking and unlocking the phone when I don't wanna.

I've broke my 1520 screen three times now...finally gave up and sold on ebay broke screen and all. I'm on my old 920 waiting for next flagship and agree, it's not as bad as I thought going back to smaller. Had you asked me a year ago I would had scoffed and laughed at you. But at $200 per broked screen, the only one laughing is the Palco repair center...

Take my money.. I want this now lol.. Posted via the Windows Central App for Android

Blifiore said "new hardware is necessary", so it probably isn't

Yeah, 'new hardware'. i.e. you'll have to buy one of the new flagships.

Your 930 will NEVER be ready!

Yeah, I heard that, but why so? I understand, they need new hardware for dual screen output support. But why not make it output just to the external screen on current generation, the current computing power is enough. I think we should wait the final release before coming to a definite conclusion. They clearly have many more surprises before RTM. Plus remember that they demoed the feature on a Nokia Lumia 920, so everything is possible.

I doubt it's a processor issue. Maybe one issue would be when running the bluetooth devices and HDMI output to screen your battery will burn up in minutes and as such, may require a second connection, one for screen, one for battery. Just a guess.

How do you connect your phone via hdmi? Is there a micro-sd to hdmi adapter

Your phone would have to support MHL over its MicroUSB interface.

I have a lumia 930. Does it really not support mhl?

Nice phone! No idea about MHL support, though. Adapters aren't expensive, and can be found on Amazon.

they said it requires new hardware, what they did was simulate it on stage. So, chances are, current hardware won't be able to do it. My 920 is ready to retire :)

No, he said we need new hardware because he was holding a tablet. He put the tablet down and picked up a phone. New hardware. Edit: Scratch what I just said

He later stated that new hardware was needed for the multi screen ability to work.

He actually used a 920 for the Continuum demo. I was for a moment every excited that this was enabled in my beloved device :)

Really? How did he connect it what do you think?

He connected it to a regular usb cable. However the other screens were simulated.

I believe it will use the new usb-C ports (probably the new phones will come with that port)

Walk it back, folks. They said 'new hardware required.' I suspect it'll the new USB-C port, as others have pointed out, that Apple is already using on the new Macbooks. I'm guessing when the flagship devices do come around, they'll have USB-C

Nokia 808 has HDMI out. Windows10 upgrade? Old/new flagship. Lol.

Now say that Windows Phone is dead and i will beat the crap out of you! :P Gonna take time and we will surpass others soon :D

Yeahhhhh! Talk to them ashkachum!

Yeah, now cry babies are hiding behind their moms

Windows phone is dead. Switching to the far superior iPhone. Have fun everybody cause windows is awful. /s

Oh good, the 13 year old left the room. Bye!

Honestly, nothing is certain. While this is certainly reason enough for me to upgrade, it's still a pretty geeky thing, and not a reason for many others to upgrade.The Android/iOS -code announcements will mostly affect the European market where companies are already much more interested in WP thanks to a higher market share. 2016 will be quite interesting.

Well, at sub-3% market share.......it kind of *is* dead?

What about Mac OS vs Windows OS ? Does low market share of Mac OS make it dead?.. Grow up man

But that's when you do analytics and dig into the numbers. The 3% of Windows Phone users are in emerging markets using $50 devices...... vs. The percentage of >$1000 Macbook users and their purchasing power. It's all about the make up of your consumers, which is why OSX development is still vibrant; they have some of the most desirable consumers on the planet.

I'd say that although 3%, you're still talking some, what 50 million customers? Or more? It would be stupid to just *give* away 50+ million customers just because you only boast 3% market share. Percentage of market isn't important, profitability is.

Belfiore mentioned that it requires new hardware and what they did was simulate the experience on stage


No he copied a text from the phone and pasted it, unless that was simulation

That was simulation. The whole thing was scripted.

The new flagship Windows Phone!!!

Of course he did, he isn't going to give away the new flagship yet. I highly doubt that was a standard 920. Much like car companies create false outer shells when testing new cars so the magazine photogs don't see them and give them away before big announcements.

Now this is what we've been waiting for for the last 6 years.

Between Continuum and the easy porting of iOS and Android apps, not sure why you would buy anything but a windows device now. We were all worried about android apps, when really, MS just leveraged Windows traditional greatest strength, that it can work with anything.

Developers still must port them though, so the battle isn't won yet

Bingo. We'll see how many developers actually go through the trouble to port their apps.

It's still essentially the same battle. Microsoft still has to go to the developers of every new hot mobile app that pops up month to month, and convince them to port their app to Windows.

Not necessarily because its not enticing developers based on Windows phone sales alone. Its based on sales of Windows 10 devices Surfaces, XboxOne, laptops,desktops PC upgrades etc. There's a lot more of those users than Windows phone users alone.

If having your app on Hololens doesnt entice em...either they are brain dead or Steve Jobs.

People said the same thing about Google Glass. Holo Lens will never leave the house. IPhones, iPads, MacBooks leave the house all the damn time.

What application is going to be used on a phone, xbox, and laptops/pcs, besides a game ?

Because there is more to ecosystem than just apps. Unless iTunes Store is coming to Windows Phone I want nothing of it. I buy my eBooks at iBook Store now. I buy my Music there. I rent my movies there. I use iCloud PIM now and it syncs perfectly. I get my Podcasts from there. Also it works flawlessly with a Mac and since my Windows laptop get little use (and I don't expect Windows 10 to really change that) there is no way I will cripple my eLife just to use some rush ports.

Yes, and yet we don't expect this from an lg90

1520, 930 and up. I hope!

He said new hardware is required. Probably no phones currently on the market will support this, only future premium phones.

i just want to be able to attach a small external keyboard via bluetooth to my 1520... that would be enough for me... I don't need it to emulate a full pc.... just give me a bluetooth keyboard built into my leather phone case.... Then I can type everywhere without the soft keyboard taking up the screen... especially in landscape mode (where you hve about 4 lines visible when typing...) that's all I want... don't need to project my phone to an HDTV (although, I can do that... and hve with the Lumia app...over wifi)...

Well looks like I won't buy a Lumia 930 then since it's not supporting Continuum for phones :P

Anyone noticed the circle photos on the People tile? They are serious about it. aww

Anyone else notice the four rows of live tiles? That leak was real.

Ok 940, I will be patiently waiting for you, knowing I would be purchasing a mobile device that can function as PC.

940 XL for me! Can't wait!

the next windows flagship phone will be powered by an atom x5 or x3 processor. there's no real reason not to go to an intel architecture for windows phone at this point.

Intel still hasn't solved the battery life issue for the most part.

and for the record, the video msft released specifically says they're working with qualcomm on a new processor for this.

Oh no, unless it's a special x86 qualcomm CPU, it's going to be Windows RT all over again :( Bring on the Intel x7 phone!

They also said it was coming after W10 launches. Possibly need an 820 Snapdragon?

So this is for flagship !

Nice!! I have been waiting for this for years!!

Lumia 940 (or maybe finally a Surface Phone?) with Iris scanner and Continuum, holy sh*t! Shut up and take my money, Microsoft!

Great. When can I buy the 940XL?

And just today I thought that for Windows phone flaships to be a killer like iPhone and Galaxy S are it needs to have a killer feature that those to won't....TA DAH "a kind of pc emulation!" SWEET STUFF!

Good work! I love Microsoft!

Why that People app tile is so ugly??

This looks so impressive.

Yes, round pics in a square tile. I hope it won't be like this in the finished OS

What I need to know is, what currently available phones support HDMI output?

None that I know of, but many support Miracast which I assume would also work for this purpose.

The Adreno 320 (used in the Lumia 930) supports HDMI output so perhaps it just needs software support. And if you take a close look at the phone used during the demo I think you will find that it is the Lumia 920.

None. I suspect their new phones/devices will use USB-C, thus their point of needing 'new hardware'.

Cherry trail Windows phone incoming

So if intel makes an atom chipset that is low power/energy enough to go into phones, we can have windows 10 on phone with x86, and when connected to external monitor you have full desktop like experience. This probably requires the phone to be charged and used simultaneously. This is very much possible, all we need is phone support in Windows 10 for x86 (which exits in some form already). While Intel atom chipset has two modes: phone (low frequency, with some services deactivated, for keeping the phone cool and longer battery life) and desktop mode (higher frequencies and full services). Intel already demonstrated a PC in a HDMI stick.

In other words, it won't be available to the majority of WP users...

Yes. But I don't think there will be any complaints. It's going to be another feature reserved for high end hardware just like quick charge 2.0

Can't get everything for free. ;-)

They way i see it, neither will the majority of WP users need it. We have Miracast for that :) I see a future where every hotelroom has a docking station next to the TV (which can do more than just charge), and a BT mouse and keyboard on the table. :P

Maybe on Windows 10 native phones (phones released with windows 10) Or maybe we'll get "pro" variants of phones.

Does this leave the possibility of having phones with x86 processors like Intel Atom? It'd be amazing if such a device was made and you could run Win32 apps.


Select premium phones? I didn't think they were making flagship phones anymore, lol. They have been busy flooding the market with countless low end devices. Perhaps there is something actually in the works!

They said forever ago they were working on a flagship. What rock have you been under? Or was that sarcasm? Hard to tell over the internet.

WOW. IT IS FINALLY HAPPENING. COOL COOL COOL.

He'll yeah, this is freaking awesome

This feature is insane! It will definitely drive Windows phone sales if correctly marketed, especially in emerging markets where everyone doesn't have a PC. I'm really excited to see this in action.

The people tile goes to show how HORRIBLE is the idea of having freaking circles for user pictures. I have seen a lot of feedback about this in the Preview but it looks like they are sitcking to that disgusting change.

I thought it was horrendous too.

Phones with Intel processors confirmed?

I wouldn't say confirmed just yet. I would say possible in upper end models, but they did announce something about being able to recompile the code for full desktop applications. It may have something to do with this. I suspect we'll know in July-August

I don't know what to say after today..... there is nothing wrong with anything they showed...I am so relieved about everthing microsoft now.

So this is where Windows RT went.

That's why I luv MS they always for the future

My precious! One ring (err device, WP with Windows 10) to rule them all!

And then would be nice the Padphone-like hardware.....

Will we need computer processors the phones to run desktop apps? Interesting...

Microsoft had said that desktop apps will not be on phones and phones will not have a desktop. What Microsoft showed at Build was how the universal apps on a Windows phone will look when a larger screen, keybroad and mouse is attached to the phone. They will look and function the same way as if your launched to same universal app on your desktop. For example, you will not be installing Office 2016 on your phone. What you will have on your phone will be Office Touch. When a larger screen, keybroad and mouse is attached to the phone, Office Touch will look and function the same way as the Office Touch installed and launched on your PC,. As a side note, remember the Palm Foleo :-)

My wish has been granted! I'm so happy!

What would be epic is to have x86 programs stored on your phone. Then you connect it to a larger screen with your BT keyboard and mouse being the keys to unlock, running the software from your phone! Geezus!!! O_O

Now the question is how they market their phones and its products. Hope they do worldwide release and not limiting to US market crap.

The x7 or x3 intel chipset phone coming.

This is what i call innovation and reinventing the phone. Some real progress has been made people. Hope my 1520 supports this. If not my contract will end soon and I will opt in for the highest end big screen Windows 10 phone device :)

Yes, exactly. Apple may believe they have just re-invented the notebook or whatever, but Microsoft may be about to make the notebook computer obsolete. You don't get much lighter and easier to carry than a phone. Connect via Bluetooth the Keyboard and mouse, Miracast to a big 70" screen, and you've got that new Macbook beaten SO terribly bad.

Except now no one can watch the television. Those emerging markets where people can't afford a budget laptop but have multiple HDTV right? Don't make me laugh. Also Apple doesn't target the same market with this. You can already AirPlay to an AppleTV and that's about all their users ask for or care about. Also this doesn't help the Windows PC market, where Apple pretty much has a reputation of being better by default and only limits their market share due to their premium pricing. The true test will be in sales. How many new users will buy a new Windows Phone for this and how many current users on $80 phones are gonna pay $500+ just to get this, when Laptops with HDMI ports are cheaper and run the same plus more powerful software applications?

It took you 5 days to come up with that rebuttal? Hahahahah! Sorry, couldn't resist. We aren't talking about emerging markets here. We're talking about people who want to do this for the convenience. For the college student coming from class back to the dorm room, it's ideal to use the same device. Remember, space is an issue for college students as well as the cost of multiple devices. There is just too much convenience for this as far as cutting down on the number of devices owned. It's worth even an extra premium price as far as I'm concerned. Besides, how many people will do it because they can pay for it on a payment plan through their carrier, but can't afford to purchase the laptop up front? For me, I've got a sub $50 Windows phone right now. My wife also. Now, we also each have our own laptops, our own desks, and our own setup to hook up mouse, keyboard and large screen monitor when we get home with the laptop in a docking arrangement. If we were to buy a new $500+ phone when this comes out, it actually saves the price of that laptop. The flagship phones are actually quite a bit more powerful than the laptop my wife is currently using, and about the same as the one I'm using. I think we'd be better off, considering 98% of what we do is either exploring with IE, using MS Office 365, etc. I play a few games, but they are all WIndows Apps. No desktop only games, they are all apps. Even if we decide we still need a laptop for a few rarely used x86 apps, we'll be a lot better off cutting down on the number of devices we buy and only get one laptop instead of 2. My wife makes frequent business trips, and it's a lot easier to pack a phone, wireless keyboard, and wireless mouse. There is always a big screen TV or monitor to hook up to in the hotel room. I'll just get her a HDMI Miracast dongle.

Except that $500 phone will eventually go on sale. Or, if the current history of promotions with WP is any indication, someone will end up giving it away for free. I wouldn't pay retail for that phone though, whatever it is. Leave it up to Microsoft and you can get the phone with a free Fitbit thrown in, or 2 years of Xbox Music Pass or some other freebie. Just have to be patient and wait.

They said no current Windows Phone will support it. It needs more powerful hardware. But this idea is not new. Microsoft is just first to make it happen. (Ubuntu came up with the idea first I believe).

YES PLEASE PLEASE PLEASE x86! I've been dreaming of this for years

This made for Surface phone people?

Microsoft is all we love here and this was the best thing demoed there

Yes x86 phone finally come

Now thats what i Imagine a Windows Phone must be like

Dang! And here I thought I would remain contract free! I'll probably have to get a 2yr for one of these phone if this isn't for existing devices. The 1520 is being pulled. Hmmm. I'm ready!!

LOVE your profile pic. Best damn album EVER!

That's a new build with Microsoft edge (new good looking logo)

Well time to save up for a 1520

Lumia 520 support ? I kid...

Windows 10 Phone with Intel M processor! This will replace my phone and Laptop.

Presumably this means we might be getting some high end phones eventually? :D My 1020 has been patiently waiting for an upgrade for...a while now. :(

This is Microsoft and Intel at work to help one another to gain back some market share they lost .

So how will all those iOS and Android apps look within Continuum? They obviously don't have any large screen support built in like native apps.

many ios and android apps have ipad/tablet support, so it should scale mostly fine.

recompiled code for easy porting. not actual copy and paste. it'll work fine after minimum coding to get apps to work.

How? You would need to develop a complete new interface for the app first. That's nothing like "minimum coding".

This should work on a 1520 right?? Since the 1520 already does miracast. So displaying 2 srceens already works on the 1520

they won't make it work on our beloved 1520s, because they only have 4 cores operating at 2.3ghz (turns sarcasm off).... pretty sure they will use features like this to try and get us to punt our 1520s and buy the next flagship... I won't. only had my 1520 for a few months.. so it's staying around...

Phone can be powered via the attached cable.

So happy to see that MS is nailing this so perfectly! This is exactly what I want in a 'next gen' phone. I don't want a new laptop in a few years, I want a phone that can be expanded to take over the inputs and outputs of my other devices. Next step is to have phones be able to off-load tasks to other hardware. For example, having a PC in the basement running some sort of win10 server that can do the heavy lifting for video editing or games that are 'hosted' from my phone. The important thing here is that everyone in my household should be able to have access to such a server at the same time. I know it is a lot to ask for, but that is the next step to what was shown off today.

Thinking too small dude... I'm pretty sure that what you're imagining will be on the road map for cloud computing... no-one will need a personal server when MS has thousands across the world available for your ad-hoc utilisation. :)

This is madness!!! In a goodway! I love Microsoft! I watched Build 2015 little and BOOM they blown my mind with hololens and all this other stuff! Proud Lumia owner :)

Now THAT is awesome! The true definition of a pocket PC!

Amazing stuff happens. I`m still in shock. WOOOOWWWW

NOOOO it will be Qualcomm, it was too good to be true

940Xl :) :* Microsoft, you beauty. :*

Well, this is fucking awesome! I know that my 720 won't get this, but it's surely awesome!!

Obviously there's a need for a lot of computing power so it's totally understandable to keep it just for highends

Lol. I so hope they keep Lumia brand for low end devices and make the SURFACE PHONE as a high end device. This would ensure they maintain the quality of the surface brand and the popularity of the Lumia brand. Come on MS announce the Surface phone soon.

If they add this to Win8 I'm in, but Win10 looks to be a train wreck for all but legacy pre-touch devices on the UI front. There's no point in making my phone act like a PC if the PC in question is an unusable mess.

Actually, they demoed some of the tablet UI improvements at /Build and they look great.

This entire segment was proof that new kickass Windows10 flagships are indeed coming and they will support this awesome feature. Talk about BOOM.

Dear Santa/Satya, here's what I want: Lumia 5.7" screen with pen input Supports Continuum Pureview cam HDMI out Intel RealSense FFC

Wow, this sounds awesome!

This is what I was hoping for but not expecting so very happy. Microsoft strategy is making all other options look old school

THIS right here. I will never have to carry a laptop with me ever again after this bomb was dropped. This will allow companies to issue phones instead of laptops or desktops but still offer screens at desks to plug into and get to work on. Belfiore also mentioned that he was "supposed to have new hardware" today but didn't. I wonder if it's the long rumored Surface Phone!

Exactly! I wonder how many companies are currently drooling over the prospect of issuing a phone instead of a phone AND a laptop for travel AND an expensive docking station for the laptop to hook up to keyboard/mouse/monitor at work. Now, just keyboard, mouse, monitor, and phone. No docking station required, though I wouldn't mind one for some external storage or something. Of course, it won't be a replacement for engineers that need AutoCad for serious drafting work, or for heavy duty video editing/encoding, but it would be able to replace what 90% of users do with a laptop/desktop. And how about students! Imagine classrooms where they don't provide the computer, just the keyboard/mouse/monitor, and the students bring a phone to connect. Awesome!

The phone in the video is a Lumia ICON, mine is ready +929.

Now we are talking...we back in business...

Which phones will be supported??

"New (phone) devices available after Windows 10 is available in the Summer."

Thank you!!!!!!! Microsoft you are awesome!

To all of the naysayers asking why would anyone pick up a windows mobile device, THIS IS THE ANSWER. Name another platform that is even close to being capable of pulling this off. It seems Microsoft finally looked in the mirror an took advantage of its own potential instead of chasing other platforms.

Closest thing I remember was Ubuntu doing this for the phone dock -> desktop, although I haven't heard much about it lately. It's great to see Microsoft putting a lot of effort into doing this with Windows 10.

This just continues to ruin everything I love about Windows Phone. Microsoft is one massive collage of idiots.

Legacy phones? Bring on the new flagships.

Anyone else noticed that people live tile?

Windows RT is alive??? Or select new flagship phones with Intel X86/64 processors?

Has anyone commented on the homescreen of the phone during the android presentation? Looks like two wide tiles next to each other.... Check out the build presenetation at the 3:31:08 mark.

AT LAST! IN YOUR FACE A PHONE IS A PHONE PEOPLE :-)

Looks like the gf will be getting my 1520..3 soon...

If you can see and send texts via the Band, why wouldn't I be able to see my phone's texts and send them out from my PC via Bluetooth. This continuum feature is awesome, but I really want this feature as well

Flagship! Flagship! Flagship!... YES! M$ has pried open my bank account.. again

I'm kind of pumped! Just need to see a great flagship wp please

just pray it comes to my 925

NIIIIICEEEE!!!!! I want Win10 NOW (not the beta software)!!!!

Flagship! Flagship! Flagship!... YES! M$ has pried open my bank account.. again

I'm freaking ecstatic! Sharing this Good News!

Finally some differentiating features coming through

Flagship! Flagship! Flagship!.. M$ Has gone and outdid themselves.. and everybody else.. BRAVO!!

This is absolutely perfect for BYOD for businesses! And create a much cleaner and greener office environment

Game changer, so who wants an android phone now? They're so old and dated you can't even connect a mouse and keyboard.

Yes you can actually. This is the best implementation of this feature I have seen. Hope they are not too long in releasing this before I have to upgrade my phone. This is what I have been waiting for on a phone for years and my money will go to whatever platform gets this out first, be it Windows, Android or iOS. Posted via the Windows Central App for Android

No need for Continuity and Handoff-like features for Windows when you can just have it all in one!

What Windows phones have HDMI?

OMG OMG OMG... finally MSFT throws the ace of spades...!!! The reason why I cannot leave the platform is simply because they think and do things differently... Super news..!!

P.S. I hope 1520 supports it..!!

This sounds freaking great! Finally MS, finally. I think I see their next flagship.

Waiting for that Intel cherry trail flag ship. Posted via the Windows Central App for Android

This is just amazing. This will turn a lot of people to Windows phone. Every nerd's dream.

This is really surreal! oh gwad i jizz a little bit

Even more reason besides how old the current flagships are that they aren't worth the upgrade.

So, crapping all over Metro and Windows Phone is complete. Microsoft sucks beyond any ability to express it.

So glad I never upgraded yet.

Lol so much for low end crap, oh the irony.. It's highly unlikely that someone who can afford a high end Lumia won't have a bunch of tablets and laptops and desktop PCs laying around

Yes, yes, YES!!!!! I have been so waiting for this, I called it here 2 years ago, maybe someone heard... Maybe I was part of this development in some small way? I love this community :D

THIS IS WHY THE SURFACE MINI WAS PUT ON HOLD! YASSSS!!!!

Hey, did you all note..
In the beginning of continuum announcement Joe said he will have the hardware in Thursday keynote?
Smells flagship revelation*

haha it's goodbye continuum for my lumia 735 then :p only those on snapdragon 800 would probably get it.

Only with new hardware folks! This is sound because it is business, you don't go make a great tech and say oh by the way it will run on the old 286 chips as well! This is the reason why they keep changing the look of Optimus Prime in Transformers the movie because if they don't how can you sell a new toy from the new movie? This is fucking business quit whinning because it only shows you have no money. I've had it with all these people saying why do you need new hardware why why why? Because its business morons!

HOW ABOUT LUMIA 920 is it called premium phone or not Posted via the Windows Phone Central App for Android

Not even SD800.
Possibly 810 and further.. They are capable of docking abilities and USB type-C.
Already getting vibes about next keynote... :)

Cool, so it'll be like my Nokia N8 back in the day with hdmi on one end and usb-on-the-go on the other. :)

Heck yeah... How I miss n79 with AV out and 'FM transmitter'
Why can't they bring em back?

So if phone apps can scale to any size screen and use a mouse and keyboard why can't Microsoft let my Surface 2 run Windows Mobile again?

Sign up for a good unlimited 4G LTE plan already...and let the cord cutting begin!

Would be awesome to just have a little docking station on your desk thats hooked up to a charger and a screen and you just put your phone in it and you can use your phone as a normal computer.

I'll wait for the 'selected premium phones'..

Microsoft will release an Intel powered Lumia device, or maybe rebrand their phone's Surface, and it will be you PC. Imagine a Surface 3 in the PALM of your HANDS.

Are you sure its hdmi? As in the videos Joe wirelessly connects.

Not in the video I watched. But he did say they would be trying a wireless demo on Thursday. Probably use miracast for display and Bluetooth for mouse and keyboard. Posted via the Windows Central App for Android

"select premium phones"!!! What does that mean?

This looks awesome, however I really hope it can be paired with Holo Lens. Pair it with the foldable bluetooth keybard and you have true mobility on the large screen.


This is an awesome feature. Did anyone notice what phone was being used for the demo? Is it going to be based on the processor (400, 800) used in each device?

While I really sure that this won't run desktop programs on ARM, maybe Microsoft should give a chance to x86/x86_64 Phones to run desktop programs. Actually I waiting this kind of phone, maybe Asus would participate.
Windows Central Newsletter
Get the best of Windows Central in in your inbox, every day!
Thank you for signing up to Windows Central. You will receive a verification email shortly.
There was a problem. Please refresh the page and try again.