Core77 and Windows Phone join forces for design competition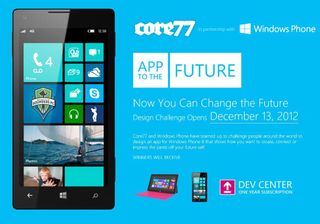 Fire up Photoshop or Illustrator because design magazine Core77 is running another design competition for Windows Phone. The contest is similar to one a year ago that Core77 did in partnership with the Windows Phone Team, this one is also a joint effort. Back then the contest was called "Fast Track to the Mobile App" and this year is going under the name "App to the Future". Winning submissions will have some nice prizes to look forward too! What's also unique about this contest is that it isn't restricted to North American residents, it's open to every abled designer on the planet.
The name isn't the only thing that's different, the format has been switched up from the previous contest as well. Here's out it works:
You'll need to submit your email to be notified when registration opens up on December 13th.
Then get the fundamentals of the Windows Phone Design Language by watching Design Boot Camp on Channel 9. If you haven't done much design with Windows Phone or need a quick refresher this is a great series.
Sign-up for a Lighting Design Review. These take place on four Thursdays over the next month starting on the 13th. You'll submit your app design the Tuesday before each session. It's first come, first served for each session so you'll want to make sure you read all the instruction the site to get set up. This is where you'll get live feedback from experts on Windows Phone design. Each session will be streamed and available for viewing so that others can follow along.
Now, whether or not those Lighting Design Review sessions are where they chose a winner or not I'm not sure. The full rules haven't been posted on the site and might not until the 13th comes closer. I'll reach out to Core77 and see if we can get the fine print. Either way, getting a winning design is a step in the right direction to seeing that app in the Marketplace. Winners from last year were teamed up with developers to make their ideas come to life. This time around, App to the Future will also have a developer directory to help pair the winners up. For developers lacking the creative spark this could be a great opportunity to hook up with a good idea and clean design.
Check out the contest page right here and start sketching your wire frames. Winners will receive a Surface, Windows Phone device, and a one year subscription to the Dev Center. Is it Surface RT or Surface Pro? Don't know. Is it a Lumia 920 or 8X? Also don't know. I'm sure we'll learn more when offical rules come out in a few days.
Thanks Corey G. for the tip!
"every abled designer on the planet" - what happened to equality?

Haha... Paraplegics are not allowed to submit.

It says "abled designer"...which means: anyone with the ability to design. It didn't say "able-bodied designer".
It helps to have a working knowledge of the English language before you start reading things into statements that aren't there.

Looking in a dictionary: Abled; having normal physical or mental abilities; not disabled. YOU FAIL!

And for God's sake, have a sense of humor, it was a bad choice of word from the writer; which made it a little funny.

Can I not just draw it with some colouring pencils instead lol

These contests and prizes won't bring the developers. Only thing that's important for them is people downloading apps.
Microsoft need to do what Google is doing with their nexus 4, and nexus 7.
Spending a billion dollars on marketing also won't help. Instead they need to tie up with Nokia/htc and sell phones for $400 - $450 in countries like China, india, russia, and Europe. In US they need to bring 920 to all carriers.
The fact is for nokia/Microsoft and for windows phone its now or never.
If the same situation (less apps) continue for another year its game over.
With almost 80% of market Google is selling nexus 4 at 300$ to 350$. Why not Microsoft? There is still chance for Nokia/microsoft in countries like China and india to sell these phones at 450$ to 500$ because nexus 4 wont be sold there.

Its a good job then that Wp8 phones range from 250 to 700 usd then isn't it

It depends on what you're talking about. On contract prices are irrelevant as you pay far more than RRP in the long-run. If I look at mobicity we have Nexus 4 $460, OneX $450, 8X $650, 920 $800. So outright WP8 phones are NOT under $500. So sri_tech raises a fair point

Actually Lumia 620 - WP8 tobe released in January is going to cost $249 only. So Nokia is trying.

See the phone in the image ? Yet it isn't real, I bet it will soon be.

I didn't really get it.
For instance can I choose a theme (exemple: chess) and design an app without having actually the ressources, the attention and the knowledge to build this app?

Same question. Its just the layout of the app as images but not working?

Yes. Because designers just make pretty pictures... I think it's this miss understanding of the practice that leads to a lot of bad products and interfaces.

You didn't get. Because I do understand what designing means, I didn't get this article. I am sorry but MS or Wpcentral isn't clear at all, that I didn't get it. They could simply say that you have to make an app with an important attention to design. But no. The article and MS go on and on without explaining clearly what they expect. It's ironic since they are highliting the importance of simplisity

Well, now we both know where to go to get more information, even if the article isn't terribly well focused.
Windows Central Newsletter
Get the best of Windows Central in in your inbox, every day!
Thank you for signing up to Windows Central. You will receive a verification email shortly.
There was a problem. Please refresh the page and try again.