Cortana can now help plan your trips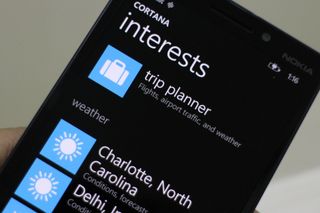 Cortana already had the ability to surface information about upcoming flights, but a recent update allows the service to offer more tools tailored to assist you in your travel plans.
You will now be able to access all your travel plans by asking Cortana, "show me my flights" or "show me my trips." Should you have multiple flights, you can use natural language queries such as, "show me my flights to Hyderabad in December", and Cortana will serve up that information.
New features include the ability for the personal assistant to remind you when online check-in is available, with Cortana surfacing a link through which you can go to your airline's check-in page directly. On the day of travel, Cortana monitors weather information, letting you know the ideal time to leave for your journey. Once you're at the airport, you can browse through the venue map to figure out where to drop off your bags. There's also a currency converter available should you be heading to a destination outside your country. Once you make the switch to Windows 10 Mobile, Cortana will be able to hail you an Uber to take you to the airport.
The new additions give Cortana a distinct edge over Google Now and Siri, at least as far as travel planning is concerned. If you're interested in the feature, head to Cortana's Notebook -> Interests, and then tap Add -> Travel -> Trip Planner. What do you guys think of the latest additions to Cortana?
Source: Bing Blogs
don't. Know how many of u know it but cortana can also show u the lyrics of songs. Like type rap god lyrics, annd she'll pop up with lyrics

How do you do it? Mine is the Australian version that hasn't surpassed the alpha yet :/

I'm using US cortana, may be MS have updated this on US Cortana version.

Cortana is shit overhyped in Australia. Maybe Cortana should be officially renamed to Cortana USA.

She does just type the name of the song followed by lyrics

Don't in uk, does a web search.

That works in Bing as well.

This isn't the only thing that 'gives cortana the distinct edge over google now and siri'

I just wonder that how monumental task it is to make Cortana&Bing to work in other languages and regions at least as well as in English and US. I just wonder... :|

They need that country specific data, which they'll never get unless they release full Cortana and Bing in that country or bought it from somewhere

Once she's on android and ios and PC that should help ...she'll have so much data.

I wish Cortana was available in South Africa. Any idea when it will be released here?

Maybe it will expand within the windows 10 timeframe

If w10 really is the last windows that may be true.

Edge over Google now? Google now trip planning is superior in any way to cortana. Also the information about currency conversion has been there for years as well as informaion about to leave to the airport and information about your distination. Cortana cant even read my UK inbox for flight information based on easyjet, wizzair or ryanair.

Check out "FlySmarter" for Windows Phone http://www.windowsphone.com/s?appid=7c7c3f36-b0e2-4ccf-8f9f-da76df8f56c0

Flight info is basically useless for the rest of the world, we might use an aircraft to go on holiday once every 2 or 3 years... Ms continues to make American software with limited use outside of the USA, wm10 will get no better reception than 7,8,8.1

Not sure where you are from but in Europe I fly at least ones every month

Where do you live in 19th century? :D

You think all Americans fly frequently? I do, but its for work. That's what these features are really meant for.

Too bad they're giving Cortana to Android and iOs too.

Its not bad at all MS is software company and its good there doing this to gain more data so Cortana can grow more further... Wp users are very less to do that... And for Android and IOS its just an app not full software

Well is not, is just an app, and besides google now just got updated with some cool stuff, even Siri is going to get some good features with IOS 9

So MS better up their game for Cortana both on WP and on windows

A rising tide lifts all boats.

Sigh. Only for US and the UK? Cortana is still unable to track parcels, or indication of time ("tomorrow", "22nd of June", etc.) in mails/texts/etc. in French I don't care if Cortana can tell jokes or trivia, I want her to increase productivity (so integration with outlook calendar&mail, etc.) Still waiting cortana FR alpha to upgrade to beta, hopefully with W10.

Hear hear! All this is being develop for the US market where WP is pretty much a non player. How about focussing on countries where WP has more than a 3 % market share?.

It's not JUST about market share though. It's also about the number of users. A seemingly small market share in the US can represent millions upon millions of consumers.

More market share doesn't mean more users overall.

Good! I'm planning to visit the US later this year, hope she helps me :D

Hate Cortana, nothing works.

Exactly, it's very unreliable. They should focus on making the features it has to work instead of coming up with more broken functions.

Nice, keep making her better, cause Siri and google just got some new features recently

Cortana has new features! Great!!!
Wait...honestly this personal assistant is only for USA, how Microsoft can tell that is the best one, if nothing happens in the rest of the world. Siri and Google Now are worldwide...Come on!!! Yes...Windows 10 is coming. But someone thinks that all the features will be available in the 180s launching day languages?
I just see...Cortana now can do this, now that...but when in hell will be available for more countries?????? I'm talking for Latin America!!! La queremos en nuestro español YA!!!!!

Ditto, useless for us here in Canada too.

Same shit here in central Europe too.

Yeah it's been in alpha in Australia for a while now and missing so many features.

1. Google Now's trip planner is still superior, giving you sightseeing tips and what now.
2. They better make sure to bring non-US Cortana up to date with Windows 10. It's really annoying that for the Alpha versions nothing has changed since their introductions.

Cortana gives you local interests and restaurants etc. You just need to enable that in the Interests. That is how I found out that Al Pacino was in Montreal doing a show of some sort this past weekend. Cortana showed me this as soon as I landed at the airport.

cortana trip planner does show you local interests. Did you checked cortana after reading article. It is supirior to google now in every way.

It's been a while since trip planner is there. Unfortunately, somehow I removed my trip when it tracked it from my email and now I don't know how to add it back *facepalm* -_-

Just ask her to search for the flight number and you can add it back quickly

Yea this feature has been here for quite awhile, not sure why the article is making it seem like its new. I used it last month on my trip to Miami

Cortana crashing in windows 10 tp no solution for it so far

How do I actually set flight numbers and such with it though?

Type in your flight number in the search box, then search. It should return you with the upcoming schedule where you can tap 'Show updates for [flight number]'. Tap on it and the next time you go back to Cortana home, you will have the option to track that flight.

The Netherlands? Dutch language?

Hasn't there been a post mentioning that Microsoft will concentrate on other regions support in 2016?

And still it sucks in india

Still no Cortana for Europe:( Not fair Microsoft!!!!!!!!!

Would be amazing if Cortana could alert about flight delays. Sometimes I run from home to get a flight and when I get to the airport I see that my flight is delayed.

give that as feedback i will too sounds nice

You are right Cort ana does not notify you of any delays. But if you go back and check right before you leave Cort ana will show you the latest at the time. Posted via the Windows Central App for Android

She does. I just flew a few weeks ago and she gave me a flight delay notification hours before the airline sent out an email about it.

She alerted me of my flight being delayed last month, actually thats mainly how I keep track of several delays

Idk about this but definitely I have seen it before , its not that new

What would be really impressive is if Cortana could distinguish between, say, London, England and London, Ontario. I was all excited to see this feature on my flight to the UK last week, but Cortana ignored my flight numbers and the trip planner was then set up for DTW-BOS and then BOS-London, Ontario instead of LHR. And there's no way way to edit or correct it, either, save for manually adding a different trip, but it takes a long time to go in the trip planner. Also, she missed my Spirit flight that I just purchased on Sunday, so I manually added it. All in all, the trip planning seems to be regressing for me.

She has stopped giving me flight status updates in the UK. Wft

Will Cortana pop up with my boarding pass 30 minutes before departure? Can I say "Give me my boarding pass"?

Siri seems like gone way advanced , on IOS 9 , using same backend Bing from past few years .

But Cortana STILL can't set a timer. Such a basic feature... And the one thing I miss most when I switched from iPhone..

She can set a timer...you just have to call it an 'alarm'. As in 'set an alarm for 30 minutes'

Not an 'alarm'; a 'reminder': "Remind me to take the pizza out of the oven in 10 minutes". Boom. There's your timer.

Same thing, different way of doing it

I appreciate the suggestions, but they are awkward work-arounds. And you can't set an alarm to go off in 45 seconds using Cortana. Seriously, when I'm grilling steak, I need a seconds accurate timer, not an alarm. I'm a huge, dedicated Windows Phone convert, but this is a major flaw in Cortana...

Remind me to (task) in 10 minutes. Within 10 minutes you will be notified by her. Or you could get a timer app with Cortana integration. Or you could do what the guy said above

Thanks for the suggestions all, but seriously, an alarm is not like a timer. You can't set an alarm to go off in 45 seconds using Cortana. As far as a timer app with Cortana integration, if that means I need to open an App in order to accomplish this, that would be a fail. Do you guys honestly think Cortana does not need native Timer support???

...45 seconds?! In the amount of time it'd take you to ask her to set a timer for 45 seconds and for her to think about it and set it, you'll have passed 45 seconds...sometimes, simpler is better. Get an old-fashioned egg timer and just set that. Lol

Cortana, as many of Microsoft products it's nice but has "something". For example: I am from Romania, I live in Italy but I keep my phone in English since I had Nokia 5110. To use Cortana I have to change my phone language in Italian or change my region to States so, for me it's useless.

Microsoft has a bad habit of tying language with countries. I can't play my Xbox games in english unless I lie to it saying I'm in an english speaking country and thus screwing my payment options. I can play in english AND in Brazil with my Nintendo consoles just fine, and use Google Now in english also in Brazil. It's not hard, MS is just short sighted.

Using Cortana UK in Finland. She has never ever picked up any of my flights (even though this function has been there for a while and I have it turned on, together with the fact that she is "authorised" to check my e-mails). I have recently flown AA, BA and Finnair and have an upcoming flight with Turkish Airlines, but no notification about any of them at all from Cortana... Same for the delivery tracking. Had a package delivered by FedEX just the other week. Outlook.com correctly showed the status just by opening the e-mail, but Cortana did not notice it at all. So sick of seeing all these "US-only" functions...

cortana is better day by day. I like it.

I fly every week and Cortana does nit grab my flights from my email very well at all. She also mistakes Charlotte for Charlottetown. She needs work. If she was my real personal assistant, I would have given her three days off for punishment multiple times.

Another problem is that most trips are four segments and she will only pick up the first and third or the second and fourth. She never sees all four. She needs major work. No way a frequent traveler can rely on her at all. They should work with frequent flyers when testing her.

I'm having the exact same problem. My latest trip is in July. Cortana is only recognizing my RETURN flight info and is totally ignoring my trip TO where I'm going. When there are multiple legs of a trip, Cortana is hit or miss. She sometimes catches my connecting flights, she sometimes misses them. Just b/c WP has the ability to track your trips doesn't mean it does it very well. They REALLY need to work on this (and other) features. I love Cortana and all, but she can be frustrating as a personal assistant sometimes. When she works, she works well. But that happens very sporadically.

Fyi for those hoping the savior Windows 10 will improve availability - Cortana will only work in 7 countries. And yes, only the US version will actually work as shown in the fancy adverts.

This makes me feel really bad. Its probably a lot of work to record all the different languages. Hopefully they can make this feature available worldwide soon!

This Trip Planner stopped working. My settings are intact and I even have 2 flight tickets in my mail and Cortana refused to acknowledge. I have this feeling Microsoft may have pulled the switch on certain Cortana features.

I fly every week and this is a welcome addition! Already enjoyed most of the features listed!

No Cortana in Canada yet.....

dont know about anyone else, but when i went to add this, it was already in there and was showing as added on 4/17/2014. Not sure how that is possible as i have only had Cortana since Aug 2014... But i know i have added this trip planner back then... location : US

Cortana still can't delete or cancel a reminder. Look at Cortana uservoice and there are a lot of great suggestions for Cortana. Hoping they are working on a lot of the features with high votes. It also seems that they need to work on worldwide distribution of Cortana per the comments above. I thought they were updating Cortana twice a month? Why does it seem like she was put on the backburner?

I noticed this recently and it's great. I recently took a business trip abroad and Cortana had shown me several things about my destination before I left. I realized in a meeting, I was the only American in my group familiar with the exchange rate. Thanks Cortana.

Still waiting for Microsoft to get that there is more countries than just the USA on the planet...doesn't work in Australia..

As long as Cortana keeps talking to me in Chinese every time I go to China, she is useless. It's because the internet conexion. If I use the VPN to USA, she works fine. Not sure if it is a MS issue or some local issue, you know what I mean...

Would be great if I actually traveled!

Flight tracking hasn't worked for months.

I'm sure it works well as long as she initially discovers your trips. It's failed several times lately.

I have Cortana, the US version, but it never seems to pick up on my flights with Ryanair and Wizzair, even though the emails are on my phone, and I set everything right in Cortana's notebook... Anybody else that has this problem? Or is there a way to ''manual'' add it to Cortana?

Not working for me. Att 1020

Do any one have problem with remind me section on Cortana

I've used it in the past and was surprised when the reminders came up. I also received notification when my flight was delayed and then eventually canceled. Really, really good.

I've used the flight tracking since Cortana was released. I really like the check-in reminder. I'll be using it in September! I hope she tells me a bit before the 24 hour check in time, so I can get a good boarding position though :)

Still waiting for package tracking. A bit dumb she can't do that yet.

oh man it sounds fun. dont have a windows phone but cant wait for the app for android to come out. currently i am trying hound. itsvery smart and shes funny and other app called assisant. the thing about the latter is you can create an avatar and i made myself a cute one lol. she jokes too

Perfect timing, I have an international flight in less than two weeks. Excited to take advantage of this...

Cortana has never tracked any BA flight I have ever used. Send the same email to google and Google Now works every time....
Windows Central Newsletter
Thank you for signing up to Windows Central. You will receive a verification email shortly.
There was a problem. Please refresh the page and try again.