New Cortana features rolling out with evening glance, flight tracking, and more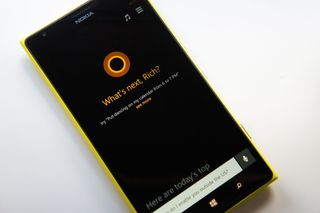 Cortana is becoming more helpful with a new set of features for your Daily Glance, recommendations, and more. The Daily Glance section will now show you travel times to home and upcoming calendar items at the end of your day, and Cortana will now keep track of flights, for instance.
Concert recommendations are being added. Cortana will recommend concerts to you based on searches made on Windows Phone, Windows 8, and Bing.com. Results for events within 100 miles of your home address will then be available in Cortana. You can also ask Cortana about artist tour dates and more.
If you search for a particular flight twice within a week either through Cortana or on Bing.com, Cortana will recognize that it might be important to you. Once you confirm that it is, the flight will be added as an interest in Cortana's notebook, and you'll see updates on the Bing homepage carousel, in addition to Cortana. This feature is US-only for the time being.
Cortana will also gain the ability to recommend apps based on your location. Cortana will let you know if an app that is already installed is relevant to your location. If you don't respond to a particular app recommendation, Cortana will stop showing it to you after a few times. This feature is available in both the US and UK.
What do you think of these new additions to Cortana, and what would you like to see next? Sound off in the comments.
Source: Microsoft
Windows Central Newsletter
Get the best of Windows Central in your inbox, every day!
Alt + F4 Posted via the Windows Phone Central App for Android

Will it be an ota update?

Cortana is server based so you wont notice anything :)

Cortana already can look up flight info and alert you on its status.
I found out about it sadly when I searched for flight Mh17

we are talking about cortana's glance features , not the glance screen.

It's not glance screen, it's a feature in Cortana, like the news, weather, etc.

You are right. But "Glance" word still hurts lumia 930 owners.

But that is actually a fantastic idea. Integrate Cortana's glance features directly into the Glance Screen.

Hell yeah! I'm loving having weather show up but that gets old after you've already seen the current forecast a couple of times. Context sensitive data from Cortana on Glance would be superb.

Cortana us superb! Landscape support is the only thing I really miss.

Exactly...I refuse to use Cortana until they make that change.

That's a poor decision. You should at the very least use Cortana just to send feedback to Microsoft about this request. I'm doing it now but you should as well.

I actually which it could still have the bing daily image, but still do all the cortana stuff

I just want it to be faster. It was so easy to use TellMe to call or text someone. For some reason Cortana hesitates when switching to listening mode.

That's the time it takes to create a socket connection to Bing.

Yeah, and more terse. I don't need the fluff she gives. Also, why do we need a full screen circle when talking to her? There are times I need to look at the information on the screen while talking to Cortana.

I really miss being able to use Cortana via Bluetooth without it unlocking my phone still in my pocket, like the Tell Me used to work. Without it, Cortana is more a gimick to do things I could do with the touchscreen on.

Actually you can on Windows Phone 8.1 GDR1. Add Cortana: 555-555-9876 in your address book, and the say "Call Cortana" from the blutooth headset. Cortana will respond. http://dev.windowsphone.com/en-US/OEM/docs/Customization/Cortana_phone_number

That's not what I meant, I mean that when I activate Cortana over my bluetooth earbuds, which I already can with a single button (my bluetooth earbuds dont have voice commands, cortana does), the phone unlocks the screen inside my pocket and that's a huge problem. I have to take it out of my pocket, defeating the purpose of using a voice command over bluetooth.

+930 on this. I used to use the old TellMe Bluetooth behaviour a lot when walking home from work. Can't really do this now...

Exactly, I walk to work everyday, since it's too close to bother take the car, but then I can't use voice commands anymore. I sent feedback about it via the Cortana's feedback feature, in hope they see this obvious problem, I advise everyothe to do the same.

GDR2 at's Hey Cortana. is this you require?

Not exactly. I just need to be able to use cortana while the phone screen is still off. I would push the Call button in my bluetooth earbuds to trigger Cortana and ask her to "Shuffle my music" and it just start playing. I would ask her to text someone (would be waaay more usefull by email/whatsapp, but...) and she asks for the person and messege in my ear, via bluetooth earbuds. I used to do this while walking with Tell Me, but since Cortana, the screen unlocks in my pocket and my leg start using my phone without my consent. It's so simple, cortana answer most qustions by voice, just do the same with the screen off...

You right it should work with screen off even when headphones are connected/Bluetooth.

Cortana had landscape support?

Post the suggest on user voice and give us the link to vote

Why do you need landscape mode is an app that is based on vertical scrolling? Think about it.

I hate typing in portrait. What's there to think about?

I really appreciate the fact that Microsoft is doing its best to make Cortana as unique as possible and eventually a raving success.

But for US which has low market share?

This!
That's my main problem with MSFT
They sabotage the WP platform in the US via exclusivity. Then try so hard to make Cortana superb for the same market, quite ironic unless of course MSFT decides to make it cross platform(which isn't impossible)

Low market share (percentage) but most total users. Also, you know...it's their HOME market. That makes is easier for them to TEST new features.

Would really appreciate the ability to filter news sources. There is nothing Huffpo or Salon can print I would ever be interested in. Rather tired of seeing their propaganda eating up listings.

HuffPo has propaganda? All I've ever seen on HuffPo are ridiculous stories not unlike you read in a supermarket tabloid. But I don't think I've ever seen propaganda from there.

As an example of one pushed at me from Huffpo by Cortana... Republicans are to blame for Ebola in Texas for cutting the deficit.

Like I said, consider the source. HuffPo like foxnews is supermarket tabloid level crap. But I do understand the need to not have to get tabloid crap with your news.


Waiting for a half decent flagship phone from Microsoft to compete with the competition. I'm getting bored with their mid range offerings Posted via the Windows Phone Central App for Android

I already got the travel time to home on the live tile a few days ago, with a spiffy new animation to go along with it too.

Me: "Cool, lets try them!!" Reality: "Sorry ashole, you are living in the wrong place to use this cool feature, Germany isn't that important to us!" :/

Switch your region to US? It's what I did. And off course don't forget the language US English

Have done this. Not the best idea. Losing local apps, having all in this strange farenheit, dollars and miles isn't also great for your daily use. E.g. Search for a flight, it shows you the costs in dollars. Search engine shows english results and not the local ones. And so on... Its great to try it out, but not more.

Yeah thats an real problem gave to me. My Vodafone UK app isn't working any more.

Just change your region back to where you actually are, download the app, and then revert back to US. The app will still be there. I did this with the BBC app, and a couple banking apps, they work fine and I have Cortana. Cake eaten. One little quip is that I have to put on an American accent with some words. At least im learning a new language ;)

Here's the problem with changing your region....now I can't buy any apps in the marketplace. On the plus side it also means I'm saving money haha.

Did you set your regional formatting to German? I only see Fahrenheit in Cortana's weather forecasts; have yet to run into any other issues. My lock screen for example perfectly tells me that it is Freitag 17. Oktober. As for the local Apps, you can find and install them when your region is German, if you switch back to US the local Apps persist and working fine.

I wonder when will at least have the alpha version of Cortana for Spanish Spain?

this is good. waiting for Microsoft to update cricket scores and schedules

It would be nice if they add F1

I hope they add support for Super GT.
Of course, that means that MSN Sports would get that addition too.

The flight one caught me off guard. I had been tracking a relatives flight the day they were flying in, and coincidentally I had purchased a flight for myself that same day. Cortana asked me if I wanted to track flights x, y, and z. I assumed they were the flights for my relative, so I said no, then realized they were the flights I had just purchased. So it must have pulled the info from my email and then asked to keep track of them for me. Nice feature.

The flight info from your mail that is something Cortana does since the very beginning (they might have added support for more airlines ever since); however, that Cortana is suggesting to track them based on recent searches across devices is new.

She didn't ask to track my United itinerary last month and not remotely interested in my FlyBE email.

one thing i feel they forgot is to get back bing images. i have to turn of location for that. hope if they could get that again.

CANADA! BRING THESE TO CANADA! I want to switch my region back to Canada with full functioning Cortana. The USA version is working fine here!

The flights thing is really nice although I haven't noticed it pulling anything from my email.

Concert recommendations should tie into Music app and show recommendations based on artists you listen to the most in there. Also need College Football for sports teams to add!!

I send in NCAA as a recommendation in feedback from time to time. Thanks for the reminder as it's been a few weeks! :)

Agree on the college football! Have sent that feedback a few times.

Good stuff. But why won't she can me by name?

She'd call you Mad Scientist 2... :P

I want to be friends with Cortana

The coolest thing about Cortana is the fact that she can be updated and improved upon without software updates. Keep it up Microsoft!

Yeap. I'm really surprised that she is so dang functional. I use her mostly for reminders and controlling music while driving, but she is a useful gal, no doubt. The flights, concerts, and commute time (which I also rely on) are great augments.

Please, hurry up with things to make Portugal an avaliable Region!! When that happens, Cortana will be my new BFF!

Yes. Waiting for denim. Good show Microsoft

Can it tell me my distance to the nearest Ebola patient?

Just use the preview for developers, I got a NKIcon from verizon about four months ago and is working just perfectly fine. I don't complaint at all and it does worth it. Drastically change WP experience!!! Do it!

Lol would be a nice function

If you're on a plane or cruise I'm sure you're next to one. It's the first thing someone does after getting the virus.

I work at an airport; I think I'm gonna get a HazMat suit for PPE next!

I recenly bought a Lumia Icon after years of being an iphone user. I passed up the HTC with WP 8.1 because I liked the Lumia better and figured it would be upgraded soon. Now I'm wondering if I'll ever see Cortana on my Verizon phone....

Just use the preview for developers, I got a NKIcon from verizon about four months ago and is working just perfectly fine. I don't complaint at all and it does worth it. Drastically change WP experience!!! Do it!

Daniel says every sign indicates the Icon will get cyan soon...so don't worry about it....the rumours are in your favour and they usually are right when it comes from these guys...:)

Hands on video for those who don't have Cortana

Can we get the commute thing to work for those of us that our still doesn't work for???

Yea, it still doesn't work for me. My work is saved as a favorite in here maps and drive so I tried using its name in on my calendar first but that didn't work so I manually put in the address in calendar. Still doesn't work.

Thank god I never saw the morning glance bcuz I wake up when its afternoon lol

I fly every week and the flight tracking and ability to find them in emails is not good at all. She can't find my flights, but she can sing I guess. When will Microsoft quit trying to be a repeat of blackberry with marketing, updates, and design.

When will people realize that a beta is a beta?

I tried the flight tracking the last time I flew but Cortana tracked the same flight number for a few days up until my departure date. Even then I didn't get a reminder to leave for the airport or directions. Just the flight info.

When is package tracking coming?

Anyone here with legit news on the availability of Cortana for additional countries other than the ones that already have Cortana running?

Yes they will roll out when available, sorry couldn't resist!

My very reliable sixth sense tells me Cortana will be speaking Danish sometime in late 2019...

Cortana will never be a global thing. We just need to accept that

When will we be able to see all these features by Cortana possible in the Dutch language.

Loving the updates just wish they would update the uk Cortana to give us Jen Taylor. Please Microsoft uk Cortana sucks

Great! The more features Cortana have the merrier.

Shit, still sounds like a robot in the UK

Last time I checked out a youtube with the British Cortana, she sounded just fine... Well, at least you've got her, unlike the rest of us!

Oh well, forgive me for having high expectations towards one of the richest companies in the world. She doesn't sound fine, she sounds like she chocked on a tea cup.

Dunno what your listening too. She sounds great to me. Much more human sounding than the USA Cortana.

Ugh, I would KILL to hear her without the American accent... Girls in the UK rule! =P

Urge en Español YA!!!!!!!!

The flight tracking feature has been available already (tracked an AA flight and had Cortana updates on 13.10.14)

She's so helpful. I just wish she'd learn to say my name. ;)

you can do that. it came months ago

How? I have it checked but it doesn't actually do it????

She's never said my name either, just the one time when setting her up

And then when I ask her to say my name she says the text in the DLL. (\username\)

None of this stuff is new.

Cortana just keeps on improving, would be great if WP ends up beating off the competition from Apple and Android!!

here i ask again y beating android and apple?
Microsoft earns a lot through android.
Microsoft has many users on Apple who use bing
i know wp should get promoted and have a good market share. but it will also indirectly harm Microsofts earnings through their services. i want Microsoft to concentrate more on pc to get the whole world now to windows 10. and with that wp will also get a good market share.

No, no... He said beating off the competition, which means getting intimate with them. He wants them to be open with each other to new experiences and free with everyone, it can only lead to a much better consumer options. =D

Hasn't it done flights for a while? If I get an email confirmation a flight cortana automatically adds it to her notebook.

This is if you search a couple of times for a flight... it adds it then. Not a booking email.

What would be great is if T-Mobile/MetroPOS would get off their ass and give us the official 8.1 release. As it is I had to go the PFD route to get 8.1 on my Lumia 521. Cortana works great and looking forward to these updates.

But Alpha version is still just an app

Reminders are also saving the audio clip along with the event now, which allows you to play it back to hear the original message

I just want her to show me unread texts messages.

Amazing! Can't wait for these features to come

What would be really cool is when they add a new feature to Cortana, to have her tell us it is available so we can choose to add it or not. As it is now, when we read about music interests, I had to keep digging in settings periodically until it finally arrived on my phone an add it. Maybe a weekly or monthly summary of new additions would keep it from being annoying.

Did you use the Feedback option to tell them?

I wish I could set reminders for upcoming sports events.

If you search for a specific team, or a certain event I guess, she should have the option among the results... "Update me on..." No?

How do we know Cortana is updated? I'm new to WP and still learning.

It's a continuous evolution. If you go in through a pinned Start icon rather than just using her to search, sometimes she'll ask or show you new stuff.

Basically, there are very few features that are processed locally on the phone. Most of the stuff happens on Bing, in Azure, and then your phone is notified when the server side changes. Most requests go to Bing for analysis and instructions are returned back to the phone to perform her various capabilities.

She learning just like you are... @_@

Ty media.. I didn't understand dead's talk. Windows central needs a dummies section for newbies on WP

Ok, first thing is, almost everybody here access Cortana frequently so, for them is easier to detect any changes on her configurations options and stuff related. Cortana is also restricted to english language and country setup on windows phones. If your phone language is set to spanish or portuguese, e.g., you won't even be able to use Cortana. These news reported are related to Cortana's Notebook (click the three stripes button inside "her" app on top right corner) section called Interests. There, under Daily Glance you should have it on and checked the box that says "show calendar summary view". Once you get this, everything else will be working just fine because there is almost nothing about Cortana running in your phone, things are integrated between Msoft's cloud architecture and your phone. So, my advice is: from now on, sometimes go to her notebook and check if there are new check boxes unchecked and so on. Cortana is called a "personal assistant", and her engine is a kind of artificial intelligence device running in the background, that learns your routine too. Future is here. Best regards!

More features for the 5-10% with access to Cortana, and the bird to the rest of us - customer alienation at it's finest...! :-/

Well, it's called building a BETA. I don't expect it to leave beta until next year with Windows 10.

Better optimized for battery (at least on Nokia 1520), more offline possibilities...

That's right. That's why I had to let her go... :(

I had to ler her go... Too much of an expensive girl....

Cortana just keeps getting better and better, and yet she is still only in BETA! Wow! Siri who?

Way to go fanboy. Now have a wank before you have a hernia. Posted via the Windows Phone Central App for Android

But we want YOU to do it... U_U

I still don't have coin toss or dice updates I guess they forgot about me :'( Posted via the Windows Phone Central App for Android

Cortana improvements = Always welcome.

Weren't most if not all of these features available in Cortana from the beginning?

- I've been getting evening traffic alerts for how long it'll take to get home daily since day one.
- I've used flight status tracking on several occasions before
- I've been getting app recommendations since at least August

I'm not going rewrite the whole article, but flights have only come from confirmation emails of booked flights. This will ask you if flights that you search for, multiple times, are flights that you want to keep track of. Traffic will be more than alerts, it will show up in your Daily Glance.

Yeah, it's been one of those days... At least it's Friday. =[

We need cortana here in the Netherlands REALLY BADLY

I had some friends in last weekend. Prior to departing for the airport, I was searching for the flight info when Cortana popped-up with "Time to leave." That was awesome. As I got closer to BOS and sat in the endless Boston all-stopped traffic, Cortana alerted my that the plane I was headed to meet had just touched down. I called my pal, who was on board and told him I'd be there in 20 minutes. His first question: "How did you know I had landed?" Yes, Cortana is awesome!

Here in England we have information boards that tell us the current state of flights, such as delays and whatever. Posted via the Windows Phone Central App for Android

At your home, in your car, on the metro... How does THAT work =/

We have those too here in the Colonies. They are just so damned hard to see when you are driving to the airport.

I Would Want Cortana to Read all Incoming messages for Eg. Whatsapp Not Just Texts.

API is there, tell WhatsApp to get on it... =P

Beta. New name for MS assistant.

At least it's an actual beta, meaning that there is testing and updating and real improvement work going on. There are other apps that should be called "abandoned".

Cortana is still garbage compared to the competition. Maybe in another 12 months it will be on par with its peers, but I'm not holding my breath. Posted via the Windows Phone Central App for Android

Dear friend, look beyond your little brain... Siri with years don't do half of cortana, Google now, it's old like my grandmother... So cortana with almost 1*year it's Damm good Posted via Windows Phone Central App

While Google Now easily surpasses both Siri and Cortana, it's almost terrifying how purely robotic it is and sounds. No personality, at all. Siri is fun, but it's not actually that useful and pretty lacking feature wise when compared to the competition.

Cortana doesn't answer as many general knowledge questions as Google Now, but when it comes to more personalized things, Cortana kills the competition. And it is much more personable.

Love Cortana She's Awesome.

And put that sh... In Portuguese? That is stupid. Microsoft only cares about the Americans, the rest is only numbers. Posted via Windows Phone Central App

Let us have this girl talking and listening in English its OK

Its a great update. But, the Alfa version of Cortana for UK and India should get at least get the basic daily glance. This is missing since then! Going good Microsoft but, expecting that too..

These things are all well and good, but they need to sort out more fundamental things first. Cortana needs to open more quickly. She needs to recognise music faster (Shazam is MUCH faster). And, most pressingly, they need to tweak the functionality so that when you speak to her and she says "Sorry, I didn't catch that" (which is annoying enough in itself), she then initiates listening again to give you another chance rather than the app just closing altogether, which is INFURIATING!

WORD! That's my single pet peeve with her right now... THANKFULLY, she now accepts feedback, so I need to get on that right away, bye

Great features. Unfortunately for me, Cortana now implements a feature for an idea I had for an app.

Do it anyway! Choice is always preferable and who knows, you're operation might just be a winning touch...I mean, she also does what Shazam does but some prefer the app to the way she does it. ;)

Waiting for a verbal response to "What time is it?"

So she can go, "It's time for you to get a watch..." 8-)

Won't happen until Microsoft starts selling a smartwatch.

Still no Cortana in India

Want Cortana to read mails.

Punctuation during dictation, and being able to shorten her responses to lengthy, normal, or single word responses (where you can interrupt her with what you want to do next). Also, it'd be nice if she repeated with "pardon" or "repeat".


+This. Like the wife sometimes she just needs to stop talking and listen for a sec!!

Are the travel times coming to Canada?? I'd love to know what my morning commute is looking like without using inrix traffic or Here's My Commute

I noticed things creeping into the UK version, for the fist time I got up the info card when I asked for a word meaning and she offered me an app because I use the train once a week and the app gives me all train times from my local station.

Why does Cortana always reset my Bluetooth volume to 13 on my Lumia 1520? Should it not use my last volume setting?

Off topic... Please help my Lumia 930 didn't get the latest update firmware 14353..... This is my rom info .... 059W1L4 VAR IMEA 3M CV WHITE ...... Which country depends?

Can I get USA Cortana in India??

Things I'd like to see added to cortana: First off I agree 100% with Purge_GT. Having to listen to the long prompts is annoying. I'd also like to say some more personalized things like "Read the most recent text from <contactName>" Also I don't like the way Cortana censors me in texting dictation. I should be allowed to curse to my friends if i want. (Maybe this is tied to Bing search preference [safe search: on], I don't know) Also, include a geofence in the translation request. This would assist with location matching. Right now Cortana doesn't translate town / street names at all in the cities I frequent. Instead she uses literal dictionary words. This becomes frustrating to the point where I've all but stopped using it for texting. I'd like Cortana to be able to create ad-hoc group texts.

Did she not track flights before? I seem to remember that being one of the key features early on... =s

I'm glad that they keep adding more things. The flight tracking isn't all that new. Back in the spring my wife flew out to California. I searched for flight info and Cortana picked up on it and added the flight to her watch list. Bing even added it to the start screen.

I have been seeing the route to home for couple of days now. Love it.

Well the Australia Alpha has had no updates. It has been rather disappointing.

Cortana doesn't want to chat with me. She doesn't even answer to I love you, she just makes a web search. Does anyone know why is this happening to me?

cortant is only a program it can answer ony some preprogrammed questions. other wise it do only a plane web search

I might not get these features for now but playing cortana a few mins ago found out that she will listen automatically to your voice instead of pressing the mic button, by pressing and hold the search button. Same even if tour screen is lock. Geez! Am i late on this feature?

Hello MS.... When r u goin to release ur fancy Cortana to Asia specially Malaysia??? Wooow!!! Wht an ignorance. By the time Cortana comes to Asia, Im holding an Android phone alrdy... LoL!!! Btw, Lumia 925 is an amazing device but lack of software update to Lumia Denim makes me feel abit annoyed.

Could you just decouple Quiet Hours from her please. Seriously, this should be a basic OS feature, not tied to one that most of us don't have (or want the downsides of switching our region for).

i don't think spending time on cortana will any matter support microsoft or windows ecosystem i and my friends never used cortana or will never use. I know this is same for many people around, what we need is more OS improvements( improved action center, more versatile start, more customization and so on).

Pls focus on improving the voice recognition accuracy. This is basic before you can do more.

Its awesome but it should be a default one..not a update ..We need these features ..but as amal m Nair says we need more improvements in OS and customization

These are rolling for aplpha version too ?

Bring Cortana to Asia and we'll talk.

Waiting for Cortana to come to the Netherlands!

Guess Cortana will be avialable for minor languages by the time I'm switching to Nexus 15. I don't even have ordinary speech recognition in my language (Swedish).

More countrys support like Sweden

Can she track parcels too?

Not having Cortana in Australia is a bummer, are we expected to get it with the next major update? Hopefully that'll be before I decide to go back to an iPhone :)

Still ain't go basic cortana in uk on my 1520..nvm note 4 on order

Nine of these features are new? I don't get it, these options have been around for months??