Cortana is coming to Windows 10 IoT devices with a screen in the Creators Update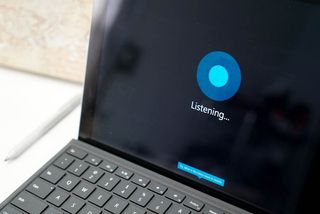 Cortana has already made her way to a number of different platforms, and Microsoft is working to add another to that list soon. Announced in a WinHEC session (via ZDNet), Microsoft revealed that Cortana will be coming to Windows 10 IoT devices with screens with the release of the Windows 10 Creators Update.
With the spread to IoT devices with screens, we should start to see Cortana pop up in a number of new and interesting places. In the slide shown during the presentation, for example, Cortana was shown running on both a refrigerator and a thermostat. As noted by ZDNet, it's possible Cortana's rollout to Windows 10 IoT Core could come later than the Creators Update for PCs and phones.
Aside from Cortana on IoT devices with screens, the WinHEC session included a detailed look at far-field voice support, which is also coming to Cortana in the Creators Update. This feature will allow Cortana to work at a distance of 13 feet with ambient noise. Another new feature, Wake on Voice from Modern Standby, will let Cortana wake a PC from a screen-off state. Both features would certainly come in handy on IoT devices with Cortana.
While there's no firm date yet, the Windows 10 Creators Update is officially due out in early 2017. For more, be sure to give the full session a watch.
Windows Central Newsletter
Get the best of Windows Central in in your inbox, every day!
Dan Thorp-Lancaster is the former Editor-in-Chief of Windows Central. He began working with Windows Central, Android Central, and iMore as a news writer in 2014 and is obsessed with tech of all sorts. You can follow Dan on Twitter @DthorpL and Instagram @heyitsdtl.
Maybe she could show up on a band 3

I really hope you are correct! I have been weening my loyalty from MS since they announced no Band 3. I've just had enough of their lack of commitment to their own products. I can't commit to them if they can't commit to themselves...

If MS does decide.to do another wearable, it will not be called Band 3. Surface Band, maybe? 😊

Yeah, they do love to rename things. And rename them, and rename them, and remove features, then add them back, then remove others and add those back...

How I miss my Band 2. It worked so well until July 2016 and then suddenly everything about it went downhill fast.

When cortana in Poland? In 2020? :D

There's not even a basic voice recognition for Polish language, as it was on Windows Phone. You can't even tell your phone to "call... to... Janusz", as you could before. In my opinion, Polish market has become completely irrelevant, and until a *successfull* premiere of a Surface Phone, a microcomputer with Windows on ARM architecture, there will be no investments in licensing or different technologies for Polish market. Of course, nobody will tell you that officially, and the only thing you can do is stay frustrated and clueless. Or forget about it and switch to Android.

It's not like there is an infrastructure in Poland that Cortana could tie into. I mean public APIs for public transport etc. I'm surprised so many people in here haven't realized that already.

Fortunately I'm among people who have known that for a long time. That, and also the number of services that are exclusive to Cortana, but do not require any public API whatsoever. Removed Polish voice recognition in Windows 10 (that worked on Windows Phone), and no Cortana means a lot of disabled features, even so old that my Nokia E72 could handle them. Cortana isn't just for tracking packages or finding your nearest tax office, which I couldn't care less about. It does a lot more, and there is no other way to enable a lot of these exclusive features on a Polish version of Windows 10.

I wish they would open Cortana to iOS in Canada as well. Just opened it to UK and looks great.

Totally Vishvaraj! I want it on my iPhone and ipad.....and make it totally replace siri. Home button activiation etc.

Don't worry buddy wasn't me.

There are a few immature children (fanboys) here that cannot handle that windows 10 mobile is terrible (have a look at sales and user base), and they cannot handle when I say this. That's where all the downvoting comes from. Even when I make 100% perfect sense and defend windows 10 on desktop they downvote...because they are children. It's fun tho!

So also for a Raspberry Pi with screen?

Makes sense, as that would be running Windows 10 IoT.

I can see this everywhere. Walk into the mall and everything responds to hey Cortana. Play rick Astley never give you up. rick roll everyone at the mall.

Hopefully they'll have the "learn my voice" feature on it still. Mine does a great job at only responding to me. Maybe they'll allow multiple users to add a voice just like they do for fingerprints.

I wish Cortana could control my WeMo lights. Or my garage door opener. When will Cortana be as good as Alexa ?

Hey Cortana," Unlock my car "via Lumia.. This feature has to come in 2020

Didn't they already have that feature with the ms band 2 and Volvo? https://youtu.be/j5z6-5OYVh8

So where's the smart toaster?

You need to set your toaster to us region to work 😩

No... It works regardless of region and has since anniversary edition...

Not true its doesn't work over here in the Bahamas

When is she coming to my car though

All IoT devices will run Android, so what's the point anymore? Cortana's great, but I've had enough of Microsoft's lack of commitment to mobile. They should have released a Surface Phone with the Surface Studio. No new Lumia devices. The platform is just dead right now.

They are committed to Windows... Mobiles run Windows.

99.7% of new mobile devices do not run Windows.

So? 90% of all new computers run the same runtime as mobiles.

But they are not mobile devices and do not drive app development. The mobile market is also quite a bit bigger and the PC market is shrinking rapidly. Microsoft not having any mobile presence will make future growth tough.

You are confused. The runtime is what attracts developers and the PC market is not shrinking "rapidly" either. Sorry, I know how much you would like it to be true, but not everybody is brainwashed by Google.

What does Google have to do with the shrinking PC market? https://www.statista.com/chart/4647/pc-shipments-worldwide-sales/ Engaged users attract developers! The runtime is irrelevant without engaged customers. Apps have been available on Windows desktops for 5 years now. The app store is still barren. Desktop users haven't been interested enough in apps to warrant development.

It is not rapidly shrinking and most are saying it will make a comeback during 2017. Doesn't change the fact that 90% of PC's use the same runtime as mobile, iot, Xbox one and IoT.

I don't think Cortana will make a a big impact on iot support outside the US. Microsoft still needs to prioritize language support first. If Microsoft truly wants this to be a thing and a conversation starter and making things better for everyone, all languages for Cortana should be their number one priority.

Time to get another Raspberry pi

Cortana should come to Hungary!

The data mining assistant is spreading around the home. This is literally welcoming 24/7 surveillance into your home...

You again. Turn around and observe the Google Home and Amazon Echo units (that can do literally everything you tell them to do) behind you and tell me with a straight face that MS is "welcoming" something.

Cortana "flush and analyze"

Many love verbal interaction with machines, but I don't. I'll stick with a keyboard. There's also a part of me that doesn't like the idea of technology listening in all the time. Maybe I should curse George Orwell for that, but... *shiver*

Of course.. Cortana will only be available in USA IoTs. Like Cortana for Android etc.... I wish MS would get over their Geoblocking everything they make.

See the post that I made on 11-21-2016 I don't want Windows Phones to succeed because of some nolstalgia (sic). I have only been using Windows Phones for about a year (Maybe a year and a half), the reason I love Windows Phones is largely because of PC and W10....I believe Microsoft has the best OS in the world and that should be available on all platforms! It should be in Car navigation systems, it should be in fridges, it should be everywhere...if it were up to me. http://forums.windowscentral.com/microsoft-lumia-950/442526-lumia-950-mi... I mean this is just Cortana, but I love this nonetheless.

I say it everytime but MS doesn't seem to realize that being able to activate Cortana on ALL our devices with the same command is a not thay smart. Every time I turn on my XB1, my phone complains that it cannot do that yet, and my PC (when it works) does the same. Even better when I ask to open an app or do something that actually means something for all of them...

This is a genuine problem. Google claims to have addressed it with Google Home, and I belive that the Amazon Echo does too - they can both triangulate the position of the speaker to select the nearest device - but the nearest device isn't always the one you want to control. As you say, if your phone is sitting next to you but you want to control your Xbox, the nearest device probably isn't the one you're trying to control. This is just one of the problems that all the tech companies creating digital assistants are going to have to fix. Another is supporting multiple user accounts.

Anyone else noticed? If I asked Cortana where am I. she used to reply with the street or road of where I was and the village name and a map. Now when I ask the same question all i get is a map.

Soon in the morning, I'll just talk to my cooker or coffee maker and Voilà! Straight to work! 😍💗💗💗

I love the translator's huge sigh at 1:28 as she realises she's got 45 minutes of translating a presentation about Cortana ahead of her...

Keen to see something like this in action

Keen to see this in action. They key is to allow basic offline commands when disconnected from the internet for whatever reason
Windows Central Newsletter
Thank you for signing up to Windows Central. You will receive a verification email shortly.
There was a problem. Please refresh the page and try again.