Cortana is currently crashing with text inputs for some Windows 10 Mobile users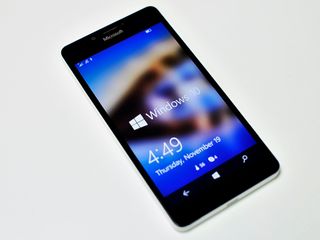 Update: As of 7:30PM ET Microsoft now says the issue has been addressed and everything should be okay
If you have Windows 10 Mobile installed and are currently experiencing issues with Cortana you are not alone. Many Windows Central readers have tipped us that Cortana is now crashing when it uses text inputs for searches (voice work just fine).
The issue seems to be affecting owners of the Lumia 950 the most. However, members of our forums have also reported that the same crash bug is occurring on other phones like the Lumia 920, 925, and the HTC One M8, which have Windows 10 Mobile installed. We have contacted Microsoft to find out if they are aware of this problem and if they are working to solve it.
The issue is almost certainly a backend server one, which is the good news. A fix could come at any moment and make the whole thing go away. The bad news is, well, it is New Year's Eve (meaning many Microsoft employees are likely off), and this error demonstrates just how fragile a Cortana update on the server side could be.
We'll update this article if any new information comes forward.
Thanks to everyone who tipped us along with our forum members!
Happening on my 735, too.

Hey, speaking of, how is W10M on the 735? I had it on my 928 but just picked up a 735. I'll admit, I'm reluctant to go back to 10 at this point because 8 runs so smooth.

Happening with my 735 also. W10M now runs pretty smooth with mine, but for instance, on the present build downloading speech packs has been impossible. This, if you upgrade via the hard reset method. Edge still lacks some stability and the current camera build has been buggy, with videos sometimes ending with freezes. Other than that though, it's fast and stable for the most part.

What he said ^. haha Overall I've enjoyed it very much. It obviously will still have some bugs as it is a work in progress, but it's leaps and bounds above what W10M was when they first released it to insiders (which was when I first tried it on my 822, and immediately backed out.)

My 950 is having major problems accepting voice input via Cortana. She is always have a problem and wanting me to try again in a little bit. Getting to the point where I am waiting on her to say, "I am having trouble, please try on a Iphone as that is where we are focused right now."

I'd guess there are exponentially more iPhone users with MS apps than all the WP and WM users combined.

Was happening on my laptop this morning. Couldn't tell her to send a text

As a work around, start Edge and type your search query in the location bar. This will perform a Bing search.

It's not only Cortana, Bing crashes too (L950 xl)

Crashes for me too in Cortana, and crashes using the URL input line in Edge (950 XL). However, if I open Edge and type in Bing.com and use the webpage search, it works.

Works fine searching from edge 950 here

No problem with my 730 & 520 here.

Me too also on my 830 (with Denim).

It was doing it to me all night yesterday. It seems to be back now.

I have the problem also with voice input. 950xl

Yea, me! Cortana is completely useless on my 950 since yesterday...

Bing crash, not just Cortana more people in forums with issue and reported on other sites yesterday

Using the 950, no problem on my end. Though it makes me wonder if it has anything to do with the firmware update I haven't gotten yet?( on .29)

I just set an appointment using text input, works just fine for me. No crashing. #Lumia950At&t

Poorly titled article, problem reported by majority mainly concerns search engine usage

Yea, you're right. When I search, it crashes. I noticed that yesterday.

Been crashing for the last 2 days now.

It crashed for me a month ago like stated in the article but with voice searches too. Then I reverted my phone back to 8.1.

No issue here on my 830, just did all my mobile Bing search for today was all good.

I can't use Cortana at all. :( She needs the same voice language as the phone (Spanish) and it is stuck on "downloading" [1020 fast ring]

I also had that issue on my 1020. Fixed it by going into the "Phone Update" setting then it just started downloading in there.

Was having an issue with this last night, even a soft reset didn't do anything. And again today until I did a soft reset which made it work again. Might try rebooting it again today if you haven't done so today.

Was happening to me last night on my 950 XL. I was getting frustrated. It's working now though.

Already reported via Feedback as Cortana crashing on 10586.36.

Apparently not on my phone. Just did some searches with no problems

Started crashing on my M8 last night. This is really frustrating

As I had mentioned as an Insider, right before I reverted back to 8.1, WM10 is bringing the entire OS down to total failure my friends. I have been a Nokia lover for years. But this horrendous MS work on the mobile aspect is just an embarrassment to community. Start looking into other OS's.

I'm not. I ain't giving up. You can though, if you wish. It's up to you. But I'm staying.

Dude, I had Cortana other apps and even windows 8.1 os crash on me before on 640. So your preaching sounds like nothing but hot air to me. Currently I haven't experience any of those problems, and I'm running the .29 version that was released initially.

You just try being on build 36. You'll see.

I have opposite feelings, got 2 950's on launch and this search issue has been first real problem on either to date and I know it's fixable.
Also a Nokia owner for years

Nokia made their hard and software like it was meant to be....rigid and reliable. Things have deteriorated. Too bad.

Agree. I think I will get an android phone next. I've always been a Microsoft fanboy having used WP since 7.5. I'm sure I'm not the only fanboy that is going to switch. This is not good for Microsoft but the are asking for it.

Issue occured last night for me too (Lumia 1520.3). It seems to be working for me now 0810 PST.

It's fine for me, I'm using a Lumia 950 and it's working fine.

Glad I'm still on W8.1...

Tell me about it. I'm glad I returned to it. 10 sucks.

First thing to go wrong on my xl lol.

Yes, Cortana has been crashing on my 930 (10586.11) since yesterday ... Even the search feature with Cortana off is crashing. Bing on Edge is working fine though...

It was doing this to me last night but is working again. I'm on the Lumia 950.

Broken yesterday, fixed today 950xl

Windows 10 mobile needs some serious work, I had to go back to windows 8.1. It has to much errors. Really hope they can solve these issues in January. Happy new years to everyone.

Same here. I wonder how many people are thinking of switching to android like I am.

Wondering how many people did a hard reset, then ended up reloading their 8.1 profile.

Crashing for me on my 950XL, I put a thread in the forum. Hopefully it'll be fixed soon.

Type "Hey Cortana" (minus quotes) into the search field when she comes up. That fixed it for me. Not sure why... but she's working fine now.

OMG This fixed mine too! WTH???

Lumia 950 XL, Build .29, working just fine. Nothing unusual. Edit: I'm suddenly recalling having this issue a few days ago, seems to have been fixed for me, but I had to deal with it on the 29th.

Been crashing for the last two days. What's weird is it won't crash on things like "lol" "k" or "why". But it does on anything I actually want to search.

Works now, server must've been fixed, wasnt working last night. US, 950 Xl unlocked.

+730 dual SIM. Started today. Have to search from the Edge bar.

This started last night for me.

Not sure how to say it, Al through Windows 10 mobile has some nice upgrades over 8.1...It's a piece of crap... buggy crap..

My HTC One M8 is working now. Yesterday it was crashing

Working OK on my L930 with latest build of W10M.

Ugh......soft reset doesn't work. You can only Bing through Edge. I noticed it yesterday, but since I'm using the 1520, I really didn't think anything of it. I just sent it through Windows feedback. [Insider Slow Ring, Nokia 1520, Cricket/AT&T]

It was happening last night at 10:00 PST on my Lumia Icon. Hella annoying.... I just wanted to figure out how long it takes to tame a doedicurus on Ark:Survival Evolved.

Yes. It's happening here.
950xl. India.

yup i broke it :| I searched a restaurant last night, closed Cortana (it worked), turned off my screen and re-opened immediately to try to search again (it didn't work) and ever since text inputs stopped working. before that they worked fine all day yesterday

It happened to me, I just had to launch outlook and reenter my credentials and it's been fine since.

This is also happening on my Icon. :(

I think its fixed. It was crashing on my 950 but this morning its working.

MINE FIXED ITSELF AUTOMATICALLY. my Lumia 950XL dual sim on ATT,US build 10586.29 had the same issue yesterday upto 2300 PST 30th Dec.

So this was happening to me on my 640. Then I tried selecting one of the suggested searches that came up as I was typing, rather than tapping enter. That worked, no crash. Then I tried again to type a search and hit enter and now that seems to be working again.

Never worked in my L1520 or W10. Not available.

Had the issue with my Lumia Icon last night. Tried again this morning and it is working.

Happening on Lumia Icon as well

HTC one 8 works on and off. But mostly crashes

Happened last night on my 930, lasted until this morning, working fine now......

Been crashing for a day on my 830, but after turning Cortana off and then on again it's been working fine for the last few hours.

Cortana has been hit or miss since I got the 950 using voice.

Yep since yesterday....950

Cortana needs an update. She keeps calling my contacts mobile or other numbers when I request the home number.

On 950 it doesn't always crash for me, but it does happen a few times a day when using Bing from Edge URL. Started over a week ago when I got the phone. For me it crashes the whole phone, not just Cortana

Whew it wasn't just me! This is incredibly annoying I was thinking of doing a hard reset but glad it's an issue of this caliber with all the attention, sounds like on the backend.

Same problem here on 950 XL with .36 build. Not too serious on the phone side but using Cortana from the Band just doesn't work

On L640XL Cortana is working fine until she is asked to play/pause music with text command. Then she does it, but crashes immediately. Otherwise everything works okay even with text commands.

Not just Cortana. Regular Bing search (where Cortana is not yet available) is also affected. Happened to me in Austria a number of times today already.

Cortana not working on my M8 for my text messages

There was nothing wrong with 8.1! Here it is, w10m (stupid name by the way for an OS), issue after issue! MS must of fired all the original creators of the OS, and hired the Facebook team to take over. The incompetence is just unbelievable! No wonder Samsung, HTC, and LG doesn't want to hop on the "w10m" wagon. It's just not worth it!

Man, you're just so right! I totally agree...but the rest are simply blind. The whole 10 experience is a total failure and nightmare! MSWM is crumbling!

By the way, cortina is worse than Siri. Never understands what I'm saying!

On 8.1 Cortana had witty responses and would even predict the winners of NFL games when i asked. Now on 10 she just gives me Bing results and mishears everthing I say. Cortana went from being used all day everday to never using it at all. I asked her to start a text the other day. I tried to text my wife "What is Collin doing right now? Does he want to see a movie tonight?" and Cortana wrote "Why peterpan.com when many tights will do?" I screenshotted it and sent it to my wife becasue I knew she wouldnt beleive me.

12/31/2015: Seems to be fixed today. Yesterday all day on 950XL 10586.36 crashing using Cortana and Search (Cortana features turned off). Strange that L830, L1020 on same build were not.... Seems fine on all 3 devices today.

Really? NOW users are reporting this? I had this problem on my 1020 a month ago but with voice searches too. I reverted my phone back to 8.1 because of that. Just look at the video I uploaded. https://youtu.be/xILUjhhSiGk

It seems that it's working now on my 950

I just tried it on a 950XL, no problems. (I haven't had any 950XL problems since I got it two weeks ago)

WP10 Insider Fast Track - Nokia 1020 works fine

Was not working for the past two days but tested it now and it's working. Lumia 950

Also happening on my unlocked Lumia 640XL with W10 Mobile installed (.36 update).

Just crashes here on L1520, turned off Cortana and still happens

My 640 and Lumia 520 are doing the same

I noticed this last night around 8pm on my Lumia 1520. Good news it is fixed today!

Had the problem on my 950XL the last couple of days, but just tried Cortana with typed in query and it is functioning normally now.

I was affected by this issue, but a simple restart of my phone fixed it for me.

Oh thank god I'm not the only one. Been driving me nuts for the past couple days. Having to resort to Google search right now... EDIT: Seems to be fixed now!

Soft reset or reboot didn't work on three of our phones (640, 640XL and 920). What did work was to go into quick settings, disable Location, do a search, then enable location again. All three phones worked fine since that.


I have a 950 and for the past two days I haven't been able to look up anything on the internet. I wonder if my problem is connected to the issue described in this post.

Wm10 is just filled with bugs