Cortana is now offering predictions on who will win Dancing With the Stars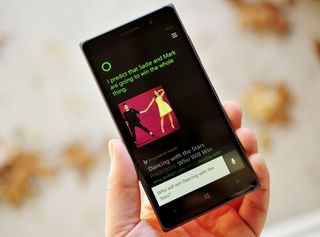 Microsoft has been making a lot of server-side updates to its Cortana digital assistant for Windows Phone lately, and now the company has announced that users can ask Cortana predictions on who will survive and who will be eliminated from ABC's reality competition show Dancing With The Stars.
This is just the latest update for Cortana, which has added features such as tracking college football teams and local concerts in recent weeks. Today, Microsoft said:
We did just that and, according to Cortana (linking to Bing's prediction engine) it believes that the team of dancer Mark Ballas and Duck Dynasty's Sadie Robertson will win the current season of the show.
Source: Microsoft
Windows Central Newsletter
Get the best of Windows Central in your inbox, every day!
I don't need wife anymore again.

I do think my girlfriend is better then Cortana. My girlfriend can kiss me and sleep with me in bed. But Cortana is really incredible! Hope for more support of the European football league UEFA.

Yeah, Cortana can do a lot of things for me that my wife cannot do, like help me remember things I tend to forget (usually things my wife tells me to do.) However, Cortana CANNOT keep me warm in bed on a cold night. For that, you need live interaction that you just can't get from a machine.

LOL, the comments you see people post on WCentral sometimes

Lol right, but they are so true.. Except for the first comment... I don't know what they are talking about.. I need my wife.

Lets just face it... How about we just let our wives know that we've been seeing another women. (Jeez...it just hit me. Cortana is a slut)

Lol that may be so, but I'm not crazy.. Yeah Cortana definitely gets around.. Go ahead and take one for the team and let us know how that went lol..

unless, Bing service connects to escort services. How about that?

Wow, another useless feature nobody wants or needs. What about supporting more languages for our non-US customers?

How I love this breaking commercial news.

Can Cortana predict when it will move from alpha to beta mode for Canada and other countries still in alpha mode?

Probably with a GDR update

Can Cortana predict when will the Denim update arrive?

Ya cortana or may I say microsoft should be more relevant and tell its consumers about denim and gdr 1 and 2 update rather than wasting its time on this bull shit called dancing with the stars..really dissapointed off it still hasn't arrived in India, Canada and Britain properly..wonder how much Tim it will take..

Just need Cortana to talk more and less web search results

When are we going to get some of the newer features in Canada? Cortana still has almost nothing. If I flip the region to the US I see all this stuff, but I do not wish to do this. Come on MS.

Ditto. I tried tweeting @marcusash to get an update but got no confirmation.

Microsoft, stop with the inane shit, and improve Cortana in meaningful ways, and bring it to more countries. This doesn't amount to squat. In a recent comparison with Google Now and Siri, Cortana came in last in query accuracy. That is embarrassing to come in behind Siri.

+1. One seriously wonders what the hell their priorities are. Still can't off an alarm properly and this is the crap they ad?

Just keep it coming Microsoft... Cortana will be the crowning feature of Windows. Just DON'T PUT IT ON ANDROID or IOS and spoil it!

Cortana seems useless to me. I can't used it in my motherland.

What a complete waste of resources. International sports like Formula 1 are left in the wind while this mind numbing pap is what Microsoft works on. Just astounding

Agree. Stupid Klingon, dancing with stars, I mean really? Surly there are other things we could use her for.

And the thing is, who is going to know she even has this functionality besides us nerds.

Absolutely true. If not for reading it here, who knew?

To be fair I think Microsoft is aiming at a larger demographic. More ppl watch DWTS than Formula 1 racing

Really? Is that a known fact? I don't know myself, but I would have thought the contrary.

Yeah, that's the interesting news for you in the US. Not that cortana offers now information about the major soccer leagues like Germany and Spain, that could mean cortana for more regions....

She's been doing this for a while now.

How did you do that?
okay, got it.

Nah, using an app called 'fonts'

Here, "Cool Fonts Free".
They're similar I guess.

Both generate a Unicode Character rendered in a specific font (the MS DOS font in this case). This can be easily done through HTML, too.

Yeah but I'm using phone, can't use HTML. Yep Gautam, they're similar

Since it's John.. I was hoping a question at the end of the article.

Wow, you just blew my mind... I would give him a hug right now if I could. He must have not received the office memo from Mr. D to make sure every article ends in at least two questions! :P

It's very cool Microsoft introducing that "super awesome and so needed features" instead rolling out Cortana internationally!! Way to go Microsoft!!

Hello Cortana? How about Asia Pacific?? Huh!

Give predictions on when Verizon will release the .1 update

When will Cortana be as good as usa in uk?

Now that Cortana is into the predictions for that show, guess I've got to watch it now :|

No support for cricket matches predictions?? Posted via the Windows Phone Central App for Android

That might come to Indian/UK Cortana in 2015.

windows 10 will speak till then se indians need be paitent as we ahve been for so long

Ya at least she could predict cricket, football, hockey, basketball, badminton, tennis etc..rather it I bust in predicting girly things..yucks!! Only if we could have had octopus Paul Instead of her..things would be soo much more cool in my Lumia!

I'd rather they fixed get so she would call me by my name. Still way more important to me than DWTS.

Should be cool to have the same feature for the french version (DALS - Danse Avec Les Stars) ... But ... oh wait ... We don't have Cortana yet ... :(

Make it worldwide first before implementing these Easter eggs...

Woohoo another useless addition while it can't turn of an alarm properly.

amazing, how about Cortana rollout in other countries/ languages, that would be much appreciated

Very cool, but do we really need Cortana to tell us that Alfonso Ribeiro will win?

I would have thought getting it out of Beta across the world would have been at the top of the priority list but apparently predicting the results of horrendous reality shows in the US is just as important to those great folks at Microsoft. No wonder the UK version is a joke, not even a funny one.

O Wow, Cortana is also answering to Who will reach dancing with the stars finale? and Who will be runner-up of dancing with the stars?