Cortana now tracks your favorite college football teams for you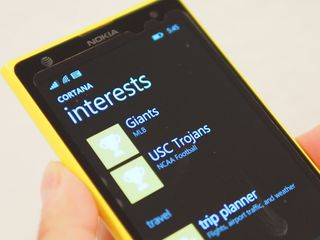 If you're a fan of NCAA football, Cortana will help you stay on top of the latest college football scores. Microsoft has rolled out an update to Cortana on its end, which means no action is required on your part, to allow the Windows Phone digital assistant to give you the latest college football updates. You can track your teams by going into the Cortana settings and adding them.
Some users are reporting that they they don't even need to add their teams manually. If you track your favorite NCAA football team via the MSN Sports app, your team may have been automatically imported into Cortana for you.
What do you think of the feature? Which college team are you cheering for?
Thanks to Jack for the tip.
Get the Windows Central Newsletter
All the latest news, reviews, and guides for Windows and Xbox diehards.
Chuong's passion for gadgets began with the humble PDA. Since then, he has covered a range of consumer and enterprise devices, raning from smartphones to tablets, laptops to desktops and everything in between for publications like Pocketnow, Digital Trends, Wareable, Paste Magazine, and TechRadar in the past before joining the awesome team at Windows Central. Based in the San Francisco Bay Area, when not working, he likes exploring the diverse and eclectic food scene, taking short jaunts to wine country, soaking in the sun along California's coast, consuming news, and finding new hiking trails.
While I don't like football (The game of hand-egg we silly Americans call "football," for you international folks), I do like Cortana improvements. Keep up the good work, MS! Cortana improves daily, I love it!

Hopefully F1 and MotoGP will be next.

I'm really hoping for SuperGT to be added soon.
I want to track the progress of Goodsmile Racing as much as possible.

Soccer can be added in the same way :) just download the msn sports app and select a fave team and competitions. Then the times an scores will show up when you open Cortana

Hell I'm an American and proud but I hate American Football.

The football argument is misinformed. Soccer is from association football and American football is gridiron football. Rugby is also football. The reason these sports are football had nothing to do with using your feet. It's all to do with playing on foot since the nobles played on horses.

That is interesting. Didn't know that about playing on foot in contrast to playing on horseback. That actually makes sense now.

Yep, peasants enjoyed football very much.

You were home schooled anyways.

This stupid conversation is stored on repeat, everytime football comes up. Someone thinks they're clever with the "hand egg" comment. It's awful boring.

Its a shame that something always has to be better.

As bad as my team is doing im not sure i want too.

ROLL TIDE!!! Wish they could have added this two months ago, but glad it is here now!

Sweet the aggies were there already (I follow on MSN sports)

Awesome! I've been waiting for this.
Go Dawgs!
...
Now just waiting on the MSN Sports app to show the College Football Playoff rankings along side the pointless AP & Coach's Polls.

Wouldn't Mississippi State be a much better bandwagon? I feel like Alabama is actually weaker this year than the last two.... so jumping on to them now would be pretty weird :P

You're assuming game knowledge, and most of the Bama bandwagoners jumped on 4/5 years ago and claim to be life long fans, etc.

Just wanted to give a HOTTY TODDY shout to my fellow Bama fans! Although im waiting for an LSU fan to have something in return after Ole Miss just flat out blew that game, with many opportunities given to them on a silver platter. It was a "Bad Bo" type of game, really Bad Bo!!!!

Hey, another Iowan! Although I cheer for UNI primarily, but the Hawks and Cyclones get my support too

Lived in West Des Moines for two years. Nice place. EP True Parkway biatches

I wonder when will this voice assistant gonna be available worldwide... We do speak English here in Malaysia by the way... Hmmm...

Language is only a small part of it.

Yeah you would think Zune devices had left a lesson about making stuff US only... It's a beta so the more testing worldwide the better I would think - especially for English speaking countries - just give it the US voice after all aside from F/C differences for temp most people won't / don't care if colour is spelt color etc :) just as long as they get some Cortana action. My guess is there'll be more release with W10.

Mine was added already. Pretty cool. All we need is a scientific calculator, and I'll be happy for now.

Hold our calculator app sideways.

Hold it sideways, one side is Scientific Calculator and the other side is Programmer Calculator

Sort of related: Why does the "simple calculator" not follow the order of operations? It doesn't make sense to me that you have to use the scientific calculator to get that right.

I have had this for a few weeks now sorry I did not tip y'all

I want MLS soccer ! Please Marcus Ash and company

The fighting condoms. Hope they don't leak as bad as the defense.

Im using HTC 8s WP but cant use Cortana..? WHY Help me..

My Region is Turkey but my phone region is USA . i changed

yep i have WP 8.1. last update is installed

have you also changed your language as US english. and the regional settings, if that doesn't work?

Woo! Now I'm just hoping I get push notifications for score updates.

GO GATORS!!! It was being tracked already for me. Cortana knows too much!! <puts tinfoil hat on>.

Lmao you should of seen my foil hat when she asked me if that was the location where i worked cause i spent many hours there i was like :-o:-o:-o:-o:-o:-o:-o

Package tracking would be nice too. Go Irish!

Been waiting for this to come to Cortana. BOOMER!

All we need is MLS now and I'm straight.

I don't think there is NCAA Football in Botswana.

...and Cortana is becoming more and more helpful. If she can pull up unread text messages and email, I'm good. I feel like that's only thing missing!

Maybe you should just read your stuff.

YESSS! it was an awesome surprise this morning. I didn't even have to add the Miami hurricanes. Because i track the dolphins and Heat she assumed the hurricanes too :)

Yeah...Go Blue! We need something to cheer about! Hoosiers should help :)

Girls beach volleyball. Please!!!!

War Eagle! couldn't resist

Awesome. Great stuff happening

I like this and find out useful. As an improvement I would like to see this link to the Sports app, not the website. Go BYU and Pokes! (unfortunately, neither are doing well)

Noticed this today, it added Northwestern even though I am an MSU fan...must be something odd in my history, haha. Oh well, Sparty On, Go Green!

Im happy for Miss State, ive always pulled for them, that is until the EGG BOWL. Gonna be a great game this year in Oxford, MS.

Makes me wish I could afford the tickets to personally watch Ole Miss lose to Mississippi State.

Opened up Cortana right after reading this and Notre Dame was already loaded. GO IRISH

Yup, she's already tracking the Buckeyes for me. Had them as my favorite on MSN Sports

A lot to like about Cortana. Just recently I remembered I had put an entry on my calendar to call DirecTV to drop a 3 month add-on. I knew it was close but I did not recall the exact date. Not expecting to get what I wanted, I tried asking Cortana to check my calendar just talking direct. "Cortana, do I have anything on my calendar about DirecTV?" I expected to get a list of articles about DirecTV. But I'll be damn if Cortana didn't pull up the calendar entry, tell me what it was and show it to me in the calendar. This to me is pure GOLD. Its development is progressing nicely.

It's impossible to like Cortana because Verizon won't release any updates.

Ya that's why I got dev preview on my 928

Wow! What's really cool is it pulled the college teams I follow from the Bing sports app. I'm becoming more and more impressed with the WP experience.

They'd better bring Cortana to Europe!

I really hate Cortana being region locked.. Here in Greece, Bing search (instead of cortana while pressing the search button) is way worse than google search. Microsoft is out of focus in my opinion in this huge aspect. They should really invest some time making Cortana AND bing search able to work worldwide. They said that they are working to make it happen but all I can see is adding practicaly useless futures for a minority of users in the USA. Then I thought '' why don't I make it a future request in their request site?'' But after seeing all this similar requests from all over the world with minor votes, I understand that is only up to Microsoft to make it happen. Hell, google's voice search and Siri are working perfectly fine in Greece, why Microsoft can't pull it of ? Someboby sould tell Microsoft's employees that the world is waay bigger than the USA alone!

There's some tissue on the table.

Been waiting so long I am starting to think this Cortana thing is a myth!

What MS needs to realize is all this Cortana assistance needs to work with all functions in other countries other then USA! Like Siri and Google Now.

The world's smallest violin plays for you.

Yeah, and my Blue Devils are nationally ranked!?!

football season is almost over, they should have done bball season first, that starts in 2 weeks. as an NC State fan, I cannot forget football season soon enough, i feel like duke of old.

How about favorite Hockey teams

So now Cortana can provide detailed information about why my Orange are losing? :) Sadly, it doesn't look like it tracks college basketball yet.

I follow my team in the MSN Sports app, but I had to manually add it in the Cortana settings.

There is a bug on Cortana UK,
sometimes when i receive a txt message & i say "read" to Cortana after she had asked whether to read or not, she answers me me back saying "who do i want to send the text message to" instead of reading the message. this happens a couple of times such that i am longer answer back by voice as i am now afraid to be embarrassed when i am among some friends e.t.c. Am i alone who is facing this challenge?

No, you're not alone, this is happening to me as well. Quite a few Cortana bugs or hiccups have recently surfaced, at least on my end. Cannot get Cortana to track a flight in which the itinerary has been emailed, text message and even searching the flight info on Bing. Yes its turned on to track flights within Cortana's notebook/settings.