Microsoft's Cortana is becoming a seamless research tool for scholars early next year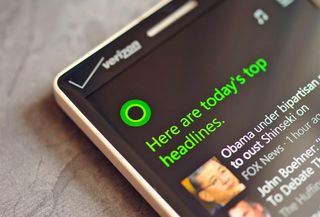 Microsoft's foray into the personal assistant business with Cortana opens up many opportunities including integration with other branches of knowledge. One area that may be unfamiliar to the general public is Microsoft's work with Academic Search http://(academic.research.microsoft.com (opens in new tab)), which is a general search tool for finding articles on particular types of inquiry or the people in those science fields. Indeed, Microsoft Research used to have a Windows Phone 7 app to use this service.
Microsoft Research just published a new video where they discuss how Academic Search and Cortana are merging in early 2015. The demonstration was given at the annual Microsoft Research Faculty Summit where the presenters asked how they could turn Cortana into a research assistant and it follows upon the revelation of Project Adam, which we detailed yesterday.
The difficulty in the task for Cortana is discerning names e.g. Yu Dong, a researcher at Microsoft. In a demonstration question about Microsoft researcher Yu Dong, Cortana recognized him as "You don't" or "U Dong." However, in a newer test version of Cortana, the AI can distinguish the difference, bringing up Yu Dong the researcher, including professional and biographic information. Delving down deeper, Bing brings up a detailed about page, publications, citations, coauthors and how a person is associated to you, a sort of "seven degrees" connection.
Cortana can use this information to recommend talks that academics should attend, or give a personalized schedule based off of research interests. In fact, through Cortana's Notebook feature, which lets users specify interests, scientists can enter in precise research topics for Cortana under a new Academics category. Cortana then recommends papers and talks to the user without them searching for it, much like how Cortana's news works now on Windows Phone 8.1
The goal of this project is obviously to make Cortana significantly more useful search tool for professors and researchers, by letting Cortana map the academic world on a lexical and information level. Consequently, someone doing research could inquire within Cortana about other scholars or have topics brought to their attention, all powered by Bing and Microsoft's Academic Search engine.
Microsoft hopes to have Cortana, Bing and Academic Search integration by early 2015, and they are asking professionals in academia to head to https://www.microsoft.com/en-us/ (opens in new tab) to build up their scholastic profile to build "the most accurate representation" for their search engine.
To watch presentation yourself, head to the 36-minute mark in the video.
Source: Microsoft Reasearch; Thanks, @shashank_green, for the tip!
Daniel Rubino is the Executive Editor of Windows Central, head reviewer, podcast co-host, and analyst. He has been covering Microsoft here since 2007, back when this site was called WMExperts (and later Windows Phone Central). His interests include Windows, Microsoft Surface, laptops, next-gen computing, and arguing with people on the internet.
Yeah, just got 8.1 for my 625 but now waiting for Cortana

As an Australian I'm bloody eager for the UK release. Tired having the American date format, spelling for things etc.

This would be extraordinarily useful for my classes

Too bad I'm about finish my bachelors w/o Cortana. Hopefully she'll be available in my region by the time I start my masters.

I got more luck, seems like I will get some help from Cortana on my PhD ;)

I've used her a bit with my doctorate (PhD) when in a pinch writing papers, but nothing was available like this article describes. I still have my dissertation to do, so we'll see.

Very interesting, cant wait to get hands on 8.1 and then at some point Cortana (also UK) I remeber Cortana being described as something that improves the more other languages are introduced, perhaps MS need to shove it out to everyone and see that happen.

Yeah in the us. They should spend more resources on extending Cortana to other markets.

Awesome news! Looking forward to it. It might make easier to find publications that I would be interested in.

As a PhD Research student...this is sounds AMAZING.

Will be very much helpful for my studies. Will suggest these to my friends too

Where was this when I was at University, but im not Bitter, just Happy this will be coming to my Phone and other windows devices soon!!!!! (Hopefully Sooner than later) also im surprised im not one of the first people to get the update having a 1020, because I was last time (Lumia Black), also seems they are focussing on the Icon, and 1520, with extras other phones aren't getting, is that because they have Quadcores???

I tweeted this idea as part of the #bingfeedback campaign last year :)
"@bing Access to academic/peer reviewed databases would make research easier for students & knowledge more available to all.#BingFeedback"
https://twitter.com/BinsonS/status/304990224637886464 Glad they are expanding on it with Cortana.

Cortana has become the single most used thing on my phone.

I love cortana, but it is backed by bing data. This means bing maps. this means bing's maps version of the world from the 1800s where nothign existed. Why bing maps is so far behind google when they are supposed to have a "challenger mindset" and specially now that it hinders cortana...is quite honestly beyond silly.,

But... But... I would like to refute that but the traffic reporting is inexcusable.

Too much faux news on Cortana for my liking. Of course that's my opinion, but I wish there was a way to filter where we got the news from, Times, CNN, etc...

I wish that, too. Maybe after a couple of updates...

No Cortana on my WP 8.1(Developer).Help!!

Try changing your region to the US, as well as the language to English (US).

Watched the entire video, was extremely enlightning and educational. Can't wait for the public release of project adam and the Academic search.

Thank goodness. This is badly needed. Microsoft Academic Search (on the Web) and the accompanying WP7 app are really behind the times. It's really the only area where I think that evil Google is better (Google Scholar). I hope merging with Cortana can rectify that.

I don't get it Cortana sucks...

This is really exciting as a phone feature

I was surprised that this MSR session included a "dress rehersal" for the German-English translation demo which appeared to be truly amazing during Satya Nadella's keynote address. I thought the translation was occuring in the moment, but now know it had been scripted well in advance. I know Steve Jobs also rigged the connectivity for the first iPhone presentation, but this was like Toto pulling back the Wizard of Oz's curtain in the eponymous 1939 classic film.

How can Activated decortana device
Windows Central Newsletter
Get the best of Windows Central in in your inbox, every day!
Thank you for signing up to Windows Central. You will receive a verification email shortly.
There was a problem. Please refresh the page and try again.