The Cortana team takes your questions about going international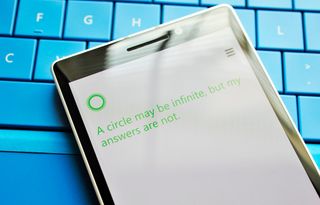 Microsoft's Cortana is one of the hottest topics that we cover these days for Windows Phone. Between the constant updates, improvements and its long-term potential, Microsoft's digital personal assistant is making waves across the globe. This response is even more impressive considering that Cortana is still technically US-based, though talk of imminent launches in China and the UK are heating up, in addition to other countries.
Speaking of expanding Cortana, Marcus Ash, Group Program Manager for Cortana on Windows Phone, recently commented that in expanding Cortana to other regions they "…learned a lot about scaling" and that it has been a "tough project." Ash's responses pose some interesting questions about the process involved, and we are itching to find out.
Marcus Ash and Sandeep Paruchuri, Program Manager at Microsoft, have volunteered their time to try an answer some of your questions about the process of expanding Cortana. Therefore, here is your chance to ask them in comments.
Ground rules
This is how this Q&A works, so read carefully!
Please keep your questions limited to Cortana going international e.g. the kind of issues they had to face in regionalizing Cortana, different cultures, etc. (The Cortana team cannot not answer about specific country release dates or plans, so no need to ask)
The Cortana team picks the five best questions that they can answer publicly to keep things concise (though they can pick more if they choose)
Post your question in the comment section of this article
Answers will be posted soon in a follow up article on Cortana, so stay tuned! (We will close comments sometime early tomorrow)
Daniel Rubino is the Executive Editor of Windows Central, head reviewer, podcast co-host, and analyst. He has been covering Microsoft here since 2007, back when this site was called WMExperts (and later Windows Phone Central). His interests include Windows, Microsoft Surface, laptops, next-gen computing, and arguing with people on the internet.
Once again, please do not ask "When is Cortana coming to..." as that is beyond the scope of this Q&A session. There is no need to be first, as the Cortana team will only answer the best, well thought out questions, so please take your time before asking and make it count. Thank you!

How much time do we have to think?

When is Cortana... Oh okay...

My question is, since Cortana itself is on beta version, so why not able to be available for certain countries which speaks English or English is their native language? Eg: Canada, UK, ausee, India, etc. Since beta is for testing right, so we would have got list and piles id data mining and collections of questions based tecnically, good opportunity.

Exactly my question, too. If we can already "fake" region to get Cortana, why can't we get it in our real regions, too? It is not like it is hard-locked to US (by checking phone's physical location through network and/or GPS). All that was achieved this way is that I am delaying purchase of some apps as I couldn't bother switching region back and forth. I might change region to purchase multiple apps at once, but then I will probably lose interest for some of them while waiting for numbers to build up, and in a process it is only hurting WP developers and ecosystem in general. Give us Cortana Beta in other regions, please. Put disclaimer on screen that it is Beta - or even Alpha - so that people don't get grumpy if it doesn't work 100% to expectations... but make it available. Then remove Alpha/Beta status for each region as your development team gets to conclusion that Cortana is ready for primetime in each specific region.

I'd like to second this question, but forumlate it somewhat more provocativly: I live in Switzerland, a country with four official languages (none of them English), yet I also speak English pretty well. Cortana understands me just fine. A lot of my collegues at work were born and raised in the U.S. Cortana understand them fine too. Although I live in a country that doesn't officially speak English, you meet English speaking people here every day. I actually know more people that could use Cortana just fine, than I know people that couldn't. So, at what point will MS realize that we live in a globalized world, where English speakers live all over the place? IMHO national borders really shouldn't matter at all in terms of Cortana availability. If I set my phone to U.S. English (nothing more), Cortana should be enabled. Period. Why is this not the case? I realize that Bing isn't as useful in Switzelrand, Germany, France, etc. as it is in the U.S. I realize that Cortana will be somewhat "crippled" as a result, and not be able to answer the same types of questions (i.e. local sports teams) or recognize none English names, but why disable it entirely? Cortana can still fulfill a lot of useful functions. Why?

That is exactly what I thought, apologies if I didn't express myself clearly. Give Cortana Beta globally, not only for English speaking territories. Then drop Beta status for individual regions as Cartana reaches targeted polish level for that region. Everyone happy. I live in New Zealand for the last 13 years, but I'm not born here, nor is my native language English. I have very little to no problems with Cortana, even with my accent. Speaking of which, it's not like whole US have exactly the same English accent anyway.

Place like yours for eg, you say bing is not that useful at the first place. Imagine if Cortana is globally availabe, then don't you think so, you are left behind with the services. And because of that, do developers, providing cortan on beta version would have arrouse to gain heavy data and further would have work on it to show you reselt.
In case what will happen, now of developers would plan to provide your region Cortana, ofcourse it would be beta, right! Then why not now, that's my question? Its would be irresponsive and annoying at first glace, but would have somehow helped these developers to take responsiblity.

Probably because as you can see, a lot of people are whining about the developer preview. Everybody was warned that there could be issues but now you have tons of people who don't care about that. They are very angree that they have to downgrade to get Cyan and so on. If Cortana was released for other countries and Microsoft punched everybody who got Cortana outside of the US and told them it was in beta and then picked up a baseball bat with "Cortana is in beta and will be focused around the US" written on it and beat those people repeatedly they would still not understand and would whine all the time about how her accent is american, how it's unfair she can find stuff relevant to the US but not their country, it finds McDonalds in the US but not in UK? Why?!?!?!. By letting people use a kind of work-around to test Cortana shortly people would be annoyed that it's not available on their country but that would still be the same boat that a lot of people are on already anyways.

I wouldn't mind if that workaround isn't interfering with basic tasks like WP Store; but it does. And some people will eventually complain about everything and anything. You cannot make everyone happy; but you can do the right thing within the reason. Cortana running on NZ region will work just as well in New Zealand as Cortana running on US region, but I will benefit from having functional Store. I will have less reasons to complain, really.

Except that since the workaround isn't something MediocreSoft is telling you to do then you really don't have a valid reason to complain. Like I said before you can test it for a while, but then you have to leave it and go back to your region. You are not supposed to use it, just like people from any country, regardless of the language they speak. So your reason to complain now is easily discarded, whereas if Microsoft had allowed Cortana then people would whine, like they always do, about how Cortana isn't working properly at all in their countries, at least for the tasks that are location sensitive, and MediocreSoft would get more shit and more people reporting on those issues.

No, not if Cortana is clearly marked as Beta or even Alpha, with disclaimer that explains what it means first time you run it. I'm pretty sure Siri Beta was available mostly everywhere, while being clearly marked as "work in progress". Did some people complain? Sure, some always do. People complain when old Halo games get re-released on XBO, or when The Last of Us gets released on PS4, for Christ's sake. On average, we are spoiled, whiny species. But MS should show some backbone by saying "it is Beta, it is there for feedback gathering, don't use it if you don't like it". And... MediocreSoft? Really? That sounds very... early-teens, mate.

Imo it properly reflects how the company is working right now. I will say though that it is getting better.

This, however I'd like to expand on this question with being able to select Metric/Imperial/spelling languages. If I could have English UK dictionary, with English US Cortana voice and metric system, I wouldn't really care when Cortana was being "localised" for Australia. I use Cortana now, however the American spelling and imperial system get quite frustrating. I could never go back to Tellme now though.

Ok, Daniel. Will not ask when, but IF Cortana ever will come to Norway? And yes, with region and language set to Norwegian.

I think that asking about Cortana & the Norwegian language is Okay. I'd like to find out about Cortana & dialects & accents too. I think that's an interesting topic for any smartphone, not just WP8.1...

Seeing how Norwegian, Swedish, Danish and a shitload of other countries are not supported by WP8 I'm going to guess you are out of luck. Sure Norwegian is supported when you go under Settings ->Language, but not on Settings -> Speech. WP's TalkMe or w/e it was called never supported much languages which sucks because I really liked it when I could send text messages in English and Spanish, but I also wanted to send messages in Swedish most of the time but couldn't. Who knows, maybe MediocreSoft will step up it's game with Cortana and allow more languages.

Problem is, that at this point "When is Cortana coming to my country" is the only question most of WP users are interested in ;)

Will you guys make Cortana's accent native to the respective English speaking country? If so, it'd be pretty terrible for India.

It's a terrible idea in general unless they put in an accent option. The ONLY reason my friends are envious of my Windows Phone right now is because THE Cortana speaks to me. Doesn't matter that she doesn't sound Australian. It's CORTANA.

I thought I had posted my question, but it seems I didn't... Weird... In any case my question is simple: Will south-america ever receive regionalized content? Most of the frequent visited placed are all mapped out in Foursquare.. So it doesn't seem entirely impossible :) Just let Cortana have access to that information

Have you tried Here Maps also? Does Here Maps work well on your country? Sine Here Maps is owned by Nokia and Nokia by Microsoft it shouldn't be then difficult to use the places found by Here Maps.

Haha yes Here maps is actually one of the reasons I fell in love with WP and I use it regularly, but it would still be nice to get the info straight from cortana :)

Actually, check this out: http://www.wpcentral.com/cortanas-foursquare-support-goes-live-more-wind...

Oh.. Lol i missed that One! Well hope to see this in action in the coming days :D

What does getting Cortana ready to role out in another country entail? Or in other words, for any given country, what criteria must Cortana meet for MS to consider her "ready for service"? Is it primarily a matter of improving Bing, so as to be more useful outside the U.S.? Is it primarily a matter of speach recognition, despite MS having had superb speach recognition technologies in place, for practically all European languages, for almost two decades now? If so, why? Anything else? Is there anything we can do to help speed the process along?

How can anyone be first when you posted the first comment before the article was published? Anyhow, my question is: What's the reason Cortana is released in China, UK and other countries before Canada?

Is there a reason why we need to enable Cortana access to location to use non location based features, like quiet hours, or task scheduling?

I second this question. As gps is heavy on battery life.

Like this question...why can we have quiet hours without cortana, could be 2 different apps...

Didn't quiet hours already become part of the OS rather than Cortana itself?

This is because Cortana doesn't know which questions you might ask. Some questions may require the GPS (weather) and some may not (jokes, quiet hours). The team decided that having to switch on the GPS mid-app instead of before might cause slowness, inaccuracies, and errors. That is why location must always be on.

Doesn't convince me really. Still doesnt apply to quiet hours. I am not asking Cortana any question when setting up quiet hours (still don't understand why quiet hours is managed by locked in Cortana. Do you really need a cloud-based AI to silence the phone between xx:xx and yy:yy ??? Besides, if quiet hours require location, will quiet locations require an alarm to be active to function ? ;-) ) I fnd alsovery frustrating that time-based reminders suddenly disappear when location is off.

This question had been answered by Joe in a q&a round 2 months back..

Is Ireland included when you say that Cortana is coming to the UK region? Or will we still have to use some location trickery to take advantage of it when it rolls out?

I second that, the Question would be, how much different would the back-end be for Cortana to understand Irish as compared to UK English.. I would think the Irish dialect is about as easy or hard as some of the UK ones..;) Also, why would Cortana need to speak UK english and thus no longer be Cortana really?

Here's a question......
Why does Android get OneNote Ink Support first, and WP doesn't??? http://www.phonearena.com/news/OneNote-Beta-for-Android-now-sports-handw...

The Cortana team are very at replying to any question asked, must don't be a dick when asking questions.

Is there any chance that Pakistan will get Cortana along with India? Hindi and Urdu are pretty similar when spoken.

Dnt hold your breathe.... It's not coming any soon.

I don't think it is coming to India anytime soon.. obviously because the utter lack of supporting services.. like: 1. there is no actual transit navigation services in India. cortana will need to do a lot of work to track buses and trains in India. 2. we have more than 18 languages, that's more like 18 different countries and woud be difficult to regionalize. 3. then there are other things like restaurants, theatres etc. these are just some quick examples. there are a lot of things that don't have a unified catalogue/database in India so launching Cortana without first taking care of these factors will render it a mere gimmick IMO

Whats the problem in regionalising cortana to india??

Probably that Indian accent is not easy to understand for example

Us cortana recognised my deep indian accent

I don't think you know what the modern Indian accent is. We aren't all from Simpsons you know.

You are wrong here dude!! I've been using cortana since day 1 and I've never faced any accent problem even though i speak in pure (Indian Accent) English..

Why is Microsoft not adding the full cortana feel to UK. AKA the cortana voice from the game.

Because.. Er... Jen Taylor is American

It's OK, us people of the UK can understand what you Americans say....

So? What is it with America and England?

If something like a voice assistant is released in a location, it is expected to 'fit in' and sound like the country which it is released in. I know its the same language, but accent makes a lot of difference. Would you expect Microsoft to release an American accented Cortana in Australia? Or Scotland? I wouldn't. The Australian would get a non American generic Australian accent and the British would get a generic British accent

Besides, siri and google now all have regional accents so it would probably be a loss to them not to include accents

that sucks. As a halo player I will have the american voice selected at all times.

I grew up watching cartoons with American accents on Sky and Ntl, so... What makes msft think cortana is going to be a problem? As long as she calls pants, trousers and chips, crisps... We're good.

I wouldn't mind it in Scotland, as it understands me and I understand it Posted via Windows Phone Central App

Up until this point Australians have had to put up with UK voice support anyway. American, British, it makes no difference.
Let me choose a different voice option to enable Cortana, don't force me to have all the settings the same region.

I'd like a deep southern (US) accent for my Cortana please.

I second this, I would like the option. I can understand American as long as she can under stand my English

I agree with this. The America one is England with Dunkin doughnut, Ellen DeGeneres (who I love her show) ETC

Exactly Posted via Windows Phone Central App

THIS^^, UK Cortana will not be cortana really now will she.. Maybe rename here to Suzie or something..;)

Sticking with videogames why not "Laura"

Lara? Lara Croft perhaps?...

I second that and adding that is the same in spanish. What im saying here is that if I need to hear Spain accent that would be good to me if Cortana understands my Mexican accent or language. Heck even I would be fine if she talks English and understands my Spanish if that would let me have her with my country regional configuration.

I don't want her at all, Siri in the UK is male, and I'd like Cortana to be male as well. I hate recorded and digital female voices, they're so winy and bossy, I feel like any minute she is going to ask me to take out the bins :) Further to that many middle eastern countries wont want s female voice.

They just pretend they don't want a female voice so they don't get stoned.

Actually you can choose the gender for Siri and have been able to for aeons.

What are the biggest challenges you face when moving cortana to a different locale, and how are you coping with the regional dialects? the UK speaks English, but you have so many local variations per town.

For french language, we have a lot of variations in pronunciation for the same word between regions, not even talking about our Belgian or Canadian friends. Do you have some recognition technology for managing those variations ? By the way, we would be delighted to get a French Cortana next year !

With Cortana coming out in the UK in the next week my question to the team is how difficult was it getting Cortana to recognise hard to pronounce or understand users when asking for Welsh, Scottish and Irish town names? Did you have to teach Cortana Welsh and Gaelic for it work?

Post questions here. Answers will be displayed im another follow up article

Its all written in the article dude!

Also, can we choose what accent Cortana has, outside of the US? I know the British version will have a British accent, but I would quite like to have Jen Taylor speaking to me when I use Cortana.

Exactly what I was thinking.
Please make this feature available.

Ditto, defo want Jen Taylor... Anything else will be hugely disappointing

Yes, I would like to know this as well. Will it be possible to choose the US voice but leaving everything else UK. IF not, why did they no allow this (keeping in mind it is possible with Siri).

Same. I would much prefer Jen Taylor over a generic British voice - that's half the magic right there.

being able to choose the accent is extremely important. I'm not a fan of being forced one.

I'd much prefer an English accent over Jen Taylor but that's me ;)

I would also like to be able to choose Jen Taylor's voice for UK Cortana, do you have any intention of making her available to us British Halo fans?

Yes, will we get an option? I dont care for abritish accent, I want the REAL Cortana, i.e. Jen Taylor not some British voice actor

+920, I can definitely sell / convert some die hard halo fans into Windows Phone. Cortana without the voice will be just a name to these guys and other people (myself included). For example the cartoon Pokemon, which I grew up watching - saw a few of the episodes with the new voice actors and it just felt odd like something was missing.

+920 Seriously, my contract is up soon. WP8.1 preview has kept me interested mostly because of Cortana. If Jen's voice goes, I'm going to get an Xperia Z3, and I'm going to start pushing people who ask for my advice to Android.

What was the most difficult part of the project, the different regionalisation for the different countries and the team morale after the announcement at //Build?

Do you have any plans to launch Cortana in the MENA region? If so, is it a priority?

Exactly the same question. That would make us two, this question must be included in the final five.
:)

How do you make Cortana political correct when entering a new country? Or is this not considered?

What kind of challenges did the team face when preparing a possible transition to Canada? I have been using it perfectly here and I don't quite understand how it was not inmediate.

Cortana uses information from bing, and also utilizes most of it's services. Since these services like music recognition, around me,etc. aren't available in most of the countries including mine, what should we look forward to as features of Cortana.

Exactly what I was thinking, Bing doesn't work in most of the world, so Cortana won't neither.

Will there be a accent change for different regions and what about different regional information??

hi developers, i want to know that is cortana avialble for India? or inidian devices like nokia lumia 720 or 1320?

-_- tu rehne de! (just quit) Posted via the WPC App for Android!

LMAO
"Write his name in your Death Note L"

Excellent Suggestion! Now where did I keep that thing...

Dude please stop typing. You're making the rest of us look like flying monkeys. Didn't you read the article??? -_-

Getsuga Tenshou ))))))))))))))##****

In terms of priority is German one of the first languages that will be implemented after British English and Chinese? What are the main challenges for the "German" Cortana team?

Nope.... It should be according to highest spoke language. So I think after Chinese it should be Hindi.

Spanish would definitely make sense :)

I'm not bengali but fact is Bengali is the only Indian language that is spoken more than Hindi in the whole world, even more than Hindi. Next Hindi is not even our National Language. I think Cortana too should get an Accent like Google Now ie 'English (INDIA)'. & later concentrate on different languages of India.

I'm also interested in the German challenges since grammar could make the parsing of messages, notes etc. quite difficult.

It might take some time for Cortana to figure out the der, die, das issues.

When Cortana gets international, will the users be able to choose languages, or will it be dependant on the region of the device? For example will I be able to use it in English if my region is set to Germany, but my phone language is English?

I also wonder this, i study in germany, am French, but talk in english the whole day. would be nice to have the choice depending on the needs that day.

I also have the same question. I am Belgian, live in Germany but speak mainly English at work. I would have region set to Germany but language English.

This is a great question. I fondly remember how my old Nokia E71 would detect the language used in a given incoming SMS message or email, and would automatically select the correct TTS voice to have the text read aloud properly. English text? English voice. Spanish text? Spanish voice. For people speaking more than one language, it's a no-brainer, but I'm not sure Microsoft sees it. I live in Spain but have my phone set to English, and there are too many times where I'd like to switch languages around seamlessly, especially when dictating while in the car

I completely agree with this. The Cortana language setting should be independent of the phone's language settings. My mother is Chinese but live in Australia. I'd like her phone's display language to be in Chinese yet able to receive Cortana updates/news/suggestions related to Australia (even if it comes in English). Microsoft need to consider the fact that people who live in a particular country does not necessarily speak that country's language (as their primary language). Has this ever been considered in designing Cortana and internationalisation? Also as an extension of the above, is that I understand Cortana will have some cool new features for its Chinese market (not In US version) - such as tracking popularity of celebrity/topics in China. My mother will be a big fan of this, except how will Cortana handle it if she'd like these features exclusive to China, but also at the same time receive Australian-related suggestions (i.e. Nearby suggestions...etc)?

I second this question! I love the way we can change languages on the keyboard on the fly! Very useful for those of us that speak more than one language! The same should work for Cortana as well.

Has finding voice actors been a challenge for you?

Is there a possibility of Cortana getting touchless facility... Like in google now (Moto x) were we do not have to press any key or use headsets.. Just ask Cortana u there..? :P :)

Nice question! Posted via the WPC App for Android!

I'd like then to make Cortana to act for herself in some scenarios

Will Jen Taylor be providing her voice to different languages or some local sound alike?

Will cortana speak more languages? We heard her speaking Chinese I guess. What other languages can we expect her to learn as she goes to other counties?

Hast du die Richtlinien zu den Fragen gelesen? Nein? Dachte ich mir...

Is it true that cortana will have a British accent? If this is true then why call her cortana, why not Microsoft's random personal assistant? Although this may look like 2 questions it is in fact only one. Do you plan on changing cortana for everywhere other than the USA? If so that's a huge blow to Halo and WP fans around the globe.

Are you silly? That's three questions. And what kind of a name is 'Microsoft's Random Personal Assistant'? Don't be daft! Cortana is a good name; just because Jen Taylor is American, doesn't mean it's not still a good name that sticks. Why would you randomly come up with a terribly ugly name instead?

Well thought out questions? About what? If most phones are not allowed the update to 8.1, how can we provide well thought out questions? You're asking for input on a public forum about a product that hasn'tgone public for the vast majority of phone users.

So you have no questions about what it takes for Cortana to be brought to international audiences? Why it takes so long? What types of things they need to consider? How do different cultures change the way they think about Cortana? How their thinking or priorities has evolved? What the hardest challenge has been? What was the easiest? I think you can do better...

Yeah. motivation seminar by our Editor in Chief!.... Good one..

1. Is Cortana coming to Germany? 2. Can you guys spin off quiet hours out of Cortana so us international users can use it? 3. Is there a way for us users to help make Cortana better?

This might be part of GDR1

There is a feedback section on Cortana

You won't get official answers from these questions as they're half-obvious and some have already been answered in numerous statements by Microsoft, even months ago. 1. Yes.
2. Cortana is ultimately aimed to be available in most countries. Quiet hours is a cortana feature - why would you want quiet hours outside of Cortana?
3. Microsoft and WP have always had a feedback 'uservoice' thingy, and feedback section on their site.

Will be there eventually an arabic version of it ? even if took so long, but will be there ?
if the answer is yes, will be there other accents ? as you know arabic is spoken in 27 different country
if not, well ignore the last question and is there a reason why not ?
Edit : and one more question, can i use Cortana in other language while the phone's language is set to english ?
because i'm definitely not going to change the phone language to arabic or German

Okay so here's my question :
Are you going to be working with more companies such as foursquare to provide data to cortana and in a country such as India will you work with some local companies which have way more localised data than bing or foursquare?

+1520, although I'm from argentina, I would like to know if the dev team is willing to do this kind of things

They already have Foursquare integration, I believe wpcentral just did an article about that. I am getting recommendations on my phone right now

What about the voice of cortana in other languages, how are you proceeding ? do you try to make the voice as close as the voice of the local Halo's cortana's voice ? I think locations (restaurants, stores,..) are the most difficult things to get on a local, how are you gathering all thoses informations ?

Étant donné que Bing Cartes utilise Pages Jaunes pour ses points d'intérêt en France, j'imagine que Cortana utilisera le même service.

What are the biggest priorities your team has besides going international?

I would like to know why Microsoft can't do what Google did with Google Now, roll out a small set of features to each region then add the rest over time?

Well, sure they are doing it, otherwise once everyone has it, it would never be improved again.

Don't forget Bing isn't the most used search engine in the world, unfortunately.

That doesn't matter, Cortana is far more than a search engine.

Indeed, but it's relying on Bing.

Is there a reason for not optioning us to use the US Cortana while we're waiting for a local version ? A lot of people prefer English on their phones anyway. Yes, the experience won't be the same before fully localization version is out but it is MUCH better than not having anything at all...

I would like to know the answer to that too.

What do you think about the difficult to implement Cortana here in Brazil? I mean, we are so big as EUA or Russia, but we have so much accents in diferent regions... Do you think that Brazil is going to be a challenge? =)

Boa pergunta Also, do you guys have some list with the order of the Countries that will get Cortana? Who will get it first after the inicial languages between those expected for 2015?

A 'list of languages'? I doubt it's that fancy. Most likely they'll release each variant when it's ready and that's it. They probably have different teams working on different localizations anyway, so there's no reason why they'd backlog countries that are ready in favour of ones that aren't, but are higher up in a list.

Will Jen Taylors voice be available for UK users? Cortana is the voice of that we all know, not what Microsoft thinks is a "British Accent"

How is Cortana development coming along for Australia/New Zealand? Being English-speaking countries is/was it hard to tweak for our accents?

In terms of accents, contries like South Africa have multiple English accents - will the localized version of cortana for countries like that incorporate all accents, such as the pronunciation of various non-English names?

Sipho, you just made my day... you just made me imagine Cortana responding to my South African accent with quips like "Jislaaik vroumens, whatchoo think aai em, mos, nuh? A blerrie machine?"

If that were the case then Cortana in the US would also need to speak with a southern drawl, and accents such as Creole, Texan, Boston, Chicago, Wisconsin, New York, Valley (which would be quite entertaining or annoying), etc. The list goes on and on.

Do you think that Cortana will be "less effective" where MS doesn't have Bing data (Service)? Brazil here, how this is gonna work around these countries? Thanks.

I understand challenges around languages, accents, etc. But how does Canada pose an issue? Aside from the metric system for measurements, what stands in the way of an easy deployment?

Will Cortana be released to smaller markets like Denmark?

Ms denmark has confirmed this, but is it true?

Yeah, they wouldn't lie (here)

What are the factors that go into defining the context of Cortana's understanding of what's said to her?

How do they cope bringing it to the UK where within 50 miles a totally different accent is used.

nuance detection, like Siri uses.

2 miles more like You can tell what borough of London someone is from by an accent Almost every town and City in the UK as an accent, each country has a accent as well It's crazy how many accents we have in the UK, but I love it though

When doing your best to make Cortana an international personal assistant, what are the main processes you must go through?

Was there a particular data set that proved especially difficult to acquire and is there anything that customers can do specifically to enable specific results that you need?

Why restrict Cortana by regions and why not by the language of speech ?? What if a person speaking English decides to live in some non-English speaking region and still wants to use Cortana ??

Why does it take so long to introduce Cortana in a new country? What are the disadvantages of having multiple regions as a beta, or a part of the developer preview itself?
In India, Cortana has no problem whatsoever in identifying the accent, and connecting to local places. Switching regions to usa, and using Cortana is not entirely tedious, but.. I'm missing out on a lot of region specific apps because of this, and I also don't want to lose Cortana. India has a lot of region specific apps.
So, since its functioning well, why isn't as beta (of a beta) local version considered?

Great question! Posted via the WPC App for Android!

that's actually three questions, not one.

Yeah! Cortana can recognize my words! But, she just can't understand the Indian names. Maybe that needs some accent tweaking.

They need to first check in their home country firdt if the whole thing rolls out nicely & then they can manage it too.. But if different ussues come up in different countires wouldnt be easy enough to handle. HOWEVER, Its true that Cortana of English(US) understands Indian english quite well.. True that there are a few hits & misses that too will be squashed with proper English(India) accent. So wait & until then use English(US) for Cortana.

Will it be possible to manually select the language of Cortana to use (speech language) once it has been rolled out to more countries? For example I want to set my region to Austria for the store, but set the phone language to English. Will it be possible to use Cortana in English, independent of the region?

Good question, I think most users around the world do that.

that was two questions, not one.

Actually, if you read more closely instead of just counting everyone's question marks for them, you'd see that the second question here is just rephrasing and elaborating on the first

How will Cortana handle the accents found in the UK, such as Scottish and the various Welsh regions? Are accents treated as different languages in their own right?

My questions is: Which new features will be available soon?
Could they improve voice recognition?

Those questions are unlikely to get answered because:
1) Features will be annouced as they always have; when Microsoft feels like announcing them.
2) Of course they could improve voice recognition, that's what they've been DOING all this time. If they couldn't possibly improve it, then they may as well release it in all countries as-is, as by logical definition there's nothing more that can be done.

When uk gets Cortana will we be able to have weather in Celsius
Thanks

As an extension of that, I would like to see us have the ability to choose what SOURCE bing weather (and by extension Cortana) pull the weather data from. Bing gets its data from providers who are HOPELESS in the UK. I love bing weather's UI, hate its lack of lock screen support, and since Cortana pulls its data from bing, she'll be giving us the same horribly inaccurate weather data in the UK. Met office and BBC are FAR more accurate than any other 'international' service.

If I am English and living abroad can I choose English language for Cortana. I.e I am in Germany and want to use it for local stuff but in English speech

Do you have an specific order to add new languages to Cortana? Spanish is one of the most spoken languages around the world and there is no sign of Cortana speaks it

It can be sorted by most spoken languages or most spoken languages that use Windows Phone.

NO! The only question I have is WHEN I personally am going to get it so I can have some experience with it and how it will affect my use of it! Only THEN will I have questions!

Recently we heard that Jen Taylor will,not voice cortana in UK. So i was wondering on what basis you will hire voice artists....specifically how will you go about hiring when it comes to India? And a lil request can You Req Priyanka Chopra to do it? That'd be awesome.

I second your thought about Priyanka Chopra to be the voice for Cortana for obvious reasons:
1. Best Bollywood actress.
2. Had promoted Nokia Lumia series for a year or two.
3. International artist sung with PitBull & others.
4. Best, her voice is sexy, sane & classy as hell.

My question is: How does the regionalization, especially to other languages, impact the feature set and learning of Cortana? Do you have to "teach" the system the same thing for different languages, or does it just modularly swap languages with everything else staying the same?

Is every new language/region implemented from scratch or are you using language similarities to make groups of languages easier to implement (e.g. danish/swedish/norwegian or spanish/portuguese)?

When looking into local languages that are often full of more localised terms or slang, is there a learning mechanism in place and will it be possible to utilise Cortana to break down these types of boundary?

I was wondering if Cortana will be capable of listening to multiple languages simultaneously. In South Africa we often mix languages. I'm sure the same happens in a lot of countries / regions.

I'm Mexican and I'm used to receive messages and emails in Spanish or English. It is a pain if I'm driving and I get a message in Spanish while driving since I usually have to wait a lot of time before I can read the message. So my question is the same as this but for Spanish and English :P I'm thinking that this should have been answered before when talking about Canada (French/English).

Dude come on...Our country has 11 different languages. No way she'll EVER learn to understand all simultaneously. A workaround though (us WP are used to those aren't we), would be to group the Nguni languages as one language. siTswana and seSotho (maybe Sepedi too) as one language. Then English and Afrikaans individually. I don't know how closely related xiVenda and xiTsonga are. But I bet we will only get as far as English with language regionalisation. South Africa's a headache for tech companies.

India has 415 living languages!!!
out of which 22 are official languages!!! if Cortana has to be capable of understanding mixed languages wont it be a huge pain in ass for MS???

Woah. I thought that 11 was a lot. To answer your question; not as bad as it sounds when I say group the languages if you have an idea of the how I placed them in groups. The Nguni languages for instant are about 90% the same thing so mixing them shouldn't be that difficult and the 10% can be seen as synonymous words or something and there's just four of them.

I wish when cortana reaches India, she speaks in Jen Taylor's voice and NOT in Hollywood version of Indian English. Because currently the Indian English speach recognition system sounds wierd and stereotype. Not everyone speaks like that. I'm okay with the US English, and i found that in speech recognition system, when i select US English, it understands my indian accent better than when i select the so called Indian English as language.

Google recently announced that feature for Google Now, so the same thing for Cortana would indeed be cool.

Agreed, there should be an automatic attempt at detecting message language. After that, Cortan should be able to understand the command "read it again in French/Dutch/German/..." Cannot use the built-in sms reading as I receive SMS in different languages and it is not supported

How will you get local information for non US countries, say India, where Cortana (Bing local) is so weak or absent, and how long will it take?

My question: Are you thinking of replacing the older 'TellMe' windows phone 8 voice (which is used in Cortana when it has to 'learn' how to pronounce a word which was not pre recorded) with real speech synthesis of recordings like google now and siri? Are you working on making it sound more seem less and fluid? (not saying Cortana has a bad voice now, I was just wondering)

When you wil add russian language? It is second most used language in the internet))))

What a load of absolute rubbish!

http://en.wikipedia.org/wiki/Languages_used_on_the_Internet

Again if you read it properly I will stick with my original comment. http://edudemic.com/wp-content/uploads/2013/04/learn-about-languages.png

And quoting Wikipedia as a primary source of information isn't going to do anything to make the claim more credible.

Oh, I'm talking only about internet)) And I know Russian language sucks.

1. Can we expect to see Cortana in more languages (not English variations, Chinese neither) in this year yet?? 2. There are current work made by local teams in these new countries to make Cortana available there (like MS Brasil helping to get Cortana in PT-BR) or all the work is concentraded in the US team? 3. Taylor will record voice for another language or you think to use some kind of local celebrity to this?? I will love if was the second! :P 4. Do you think in to make Cortana available in every country still not native supported by making possible to speak with her in some of the languages she already understand?

Does Microsoft have plans to add Portuguese language to Cortana? If yes, when +- will be? Thanks

Why does Cortana sometimes show me specific news from my interests but whatever else that's in my interests is not shown?

Bing being the backbone of Cortana, I can imagine that it's a difficult task to expand Cortana to international markets without Bing. If I may ask, what are the steps taken by Microsoft to expand Bing to other international markets?

Exactly my thoughts. Bing local search is abysmal here. Cannot even search for supermarkets whose names appear on Bing maps! A search engine that cannot search its own data!. Cortana hanesses the power of Bing. Here, Cortana must be powered by vaccum energy ;-)

As we know Jen Taylor is voice of Cortana but when you expanding then there will be voice of local actor or just computer voice?
If yes then it will be more difficult to localized for each country.

It's been revealed that Cortana in the UK will not have Jen Taylor's voice (much to the dismay of many users, myself included). My question is this: will we be able to use English (US) speech settings so Cortana users in the UK can have Jen as the voice? Personally, I feel it just wouldn't be Cortana without the iconic voice.

Do you plan to have a voice actor for every different language or will you use computer-generated voices for some countries? I would love to have a real voice for Cortana here in Germany! :)

Will Cortana available in Ukraine?

I hope your team knows and takes into consideration that the Portuguese spoken in Portugal and Brasil is radically different.

They obviously know that --' But it would be very nice that Microsoft Brasil team up with Microsoft Portugal to bring both languages to Cortana and then work on the diferences, because they have a lot of similarities too.

That's right. If we can understand each other, I bet they could integrate Brasil and Portugal into one single region.

Are there any plans to integrate Cortana with other sources, such as Wolfram Alpha? I know you just got it working with Foursquare here in the US, so I am hoping Cortana is extensible

How do you find voice actors for the non US markets? Open auditions, Microsoft employees, etc?
How come you're not going with the "real" Cortana in the UK?
Will there be a way in the future to change the spoken language of Cortana while using your local language? (i.e. speaking on British English or in Swedish or whatever and changing the settings so that you get your answers in US English?)
Will the Bing Vision shortcut make its comeback?(not a question about the international roll out, but anyways.)
Can you explain the process of deciding where to roll out Cortana and when? For example which criteria do you use, user base, market share, etc.

I second that question, Wolfram Alpha is an excellent source. Siri already uses it.

Also, I realize this isn't strictly about International (at least not the Wolfram Alpha question). I assume there are other services in other parts of the world that people could greatly benefit from if they are somehow integrated into Cortana / Bing

And are you training Jen Taylor to speak all these languages?

Maybe fake Jen Taylors... You know... Chinese Jen Taylor? Italian Jen Taylor? Just throwing it out there....

Well you specifically mentioned Jen Taylor and asking to have her speak in "all these languages". You actually meant to say people who voiced Cortana in each language, I suppose. (Read my question down below -- Ctrl - F "astroXP") ;-)

:S...
*read in high pitched, obnoxious English butlerish accent*
"Well excuse me for asking your question! Clearly I didn't scroll through all the questions before asking! How rude!"
Sorry for asking :D. Hopefully, they'll answer mine and yours.

Really wish sometimes you folks researched questions before asking them here. Otherwise you just keep asking questions like your one which have been answered in loads of articles already. No, they have native accents in the works!

It was a halfhearted attempt at humor and a question. Would Jen Taylor learn all the languages? Otherwise it kinda lost some of its charm...

I would like to know something simple as When cortana comes to the uk will you set her to work automatically or are users going to have to turn her on as if the latter is the case then wont you be missing out on lots of user base?

she'll turn on automatically. Why would they only turn it on automatically for US users, when the goal is to localise it fully in the UK?

Because in U.S. It came with the 8.1 update but that's already out. I'm guessing the option will be set to off but hey its only a question

Hello! I'm from Brazil and I use the Cortana since its launch! Many options based onlocation did not work properly on my country and my use was only limited to the reminders and alarms. Currently I can search places that the Cortana can offer me the option of directions or call. In addition the new options as the "best places" already work perfectly in my country. The Cortana has been implemented gradually into new regions with the release of the functions? And what is the biggest challenge intranslating the Cortana?

Will Cortana always need an internet connection ?

It's already the case because Cortana is powered by Bing.

Not always. You can still control the system without conection, like calling people, opening apps, turning on/of settings...

One key problem with voice recognition in my experience is recognizing multiple languages at the same time. In some cases, you mix foreign words in your sentences (e.g. in German, a lot of technical terms are used in their English form). What are the challenges in implementing this?

yeah or also having to write mails in bilingual and not only in your mother language

Cortana will speak Norwegian??

how come your not using jen taylor voice for cortana when it comes to the uk !!

They need to put it for all windows phones not just windows phone 8 - 8.1

Will Cortana make it to middle east/Arabic world.

Everyone complaining about this had better reply with a well thought out response. Like the first post said...make it count.

Can Cortana get activated by voice in the future update like google now?

Is there any new features coming?If the answer is yes what are those features?

Are there plans to bring Cortana to Latin America soon?

What do you guys are willing to do in order to attract android/ios/non-smart phone user to wind phone using cortana? And what special features the team want to develop the most?

Why does Cortana have to be region specific in the first place anw? Can't you guys apply international English and release it worldwide first? And add locale as you move forward. Siri wasn't like this when launched was it? It's different I get it. But still.. It seems everything MS services are very US centric. There are other countries if you look at the map yea? And they use MS products too... with crippled services.

(btw there's a new messenger update)

Are we going to see finer control of location based reminders? Like the size of an area, for example a room in a hotel instead of the whole hotel.

It already exists to a home level but not to a rooms level yet..

Will we in the UK be able to have the Jen Taylor voice rather than the "British accent" we've been told we'll get.

I'd prefer Cheryl Cole as I have no idea who Jen Taylor is. Well, I've read who she is but it is meaningless to me.

Would it be possible to give Cortana a command like: -Delete all/specific alarms?
-Able to read out a web page/pdf/selected text for us.
-Make the screen darker/lighter (brightness) by 40%.
-Set the Timer for 10mins?
-What movies are playing nearby?
-Would Cortana be able to learn her master's voice and distinguish, else some friends are always ready to shout out keywords for Passive Voice Activation (Happens with my Google Now smart-watch) for fun purposes. Is it being considered to avoid such issues which google skipped upon.
Twitter: @karanthkanu

What is most important to you/your highest priority: localising Cortana to different countries, or adding more features to Cortana to make it better?

Do you have any plans to take Cortanas complexity to the next level anytime soon or only perhaps in the distant future. What I mean is she is supposed to be like a P.A. So a feature like let me know if/when "insert name" calls or messages. So if you miss it you get an alarm? Or pulling info from the notification centre that way if somebody sends you a message from an app like whatsapp which isn't cortanalized yet it could still be used to some extent again in the example of you are waiting for a reply. Or lets say you start your day. Cortana please confirm all my appointments. Boom sends out reminders to all your meetings. (real pa stuff). So far the work you have done is amazing and I really feel as I'm sure you do her potential is endless. So congrats. Oh yeah finally how about a Cortana alarm. Where you get a good morning followed by weather and meetings.etc sort of based on that whole jarvis experience from ironman. It's a good wake up. And a good show offy marketing toll :)

Spanish is like a random think situation, because, only here in Mexico we have a lot of accents and stuff, don't talk about whole Latinamerica, and Spain is another thing too! They have like a bazillion derivaded Spanish-like languages and their accents and stuff. Spanish ia going to be a real deal when comes to chellanging stuff, and like this, a lot more languages. How are you planning or how are you dealing whit this situation?

About the accents.. I'm from México too, Sinaloa.. I think is not the same to talk a friend/person and talk to a computer. I mean, is a little more formal/serious, so you need to modify your voice a little Even so, I already tried many times/days the USA language and it detects me 95% of what I tried to say. This considering my english is bad I have been in Monterrey, Baja California Sur, Guadalajara, Guanajuato and I think is not a big deal Check how @Daniel talks on the video and then how he slow the speed a little to Cortana - https://www.youtube.com/watch?v=20PZA0nUnf8

Well, let's see what happen next, I would really like to see how they ( the ones behind Cortana) manage all this situations, because not in all the places the people talks the same (regionalism and stuff). Also, about the video, I think is normal, after all, how you say, is different from talking with a machine than with a friend

Considering that English in Canada is extremely close to that of English in the US (with some British English as well) why was it not as easy as just flicking a switch for rolling Cortana out in Canada when it was launched in the US?

What about latin america, particularly Mexico, how many features available in the US or UK Cortana will be able to use?
And in what level of progress is this version, compared to the English beta versions?

In choosing to give Cortana a name and personality, Microsoft is creating a metaphorical PA in order to deliver information to the user. I'm interested why this decision was taken when the rest of the WP OS was designed to strip out skeuomorphism and unnecessary metaphors from the UI?

Apologies, that question want strictly about going international. If I could a different approach... Has decision to give Cortana a distinct, female personality created problems when trying to expand into new regions where attitudes to gender might be different from the US?

Like the problems Siri has? Whilst your question has merit I find it bizarre to consider that sexist members of a male-dominated society would consider a female voice on their smartphone as some sort of affront. I mean, it's a phone. It's a tool. I hope they're intelligent enough to separate a person from a tool, despite a woman's voice.

. Wouldn't it be a good idea if we could implement the speech recognition system by recording our regional accents to words or phrases we write?
We could have sort of a voice profile on OneDrive that we could implement. The voice profiles could then be fed to the "Microsoft voice recognition system" (or whatever the real name is).

Are there some kind of offices for each region? I am afraid that the English version of Cortana will always be more advanced than other versions. Will you provide "specials" like the world cup predictions in every country? How much time do you invest into analyzing how the people in the country "live"? Do you locate the team which works on specific regions in the same country and does the team always include native speakers/people who lived there for a long time?

Apart from the question about whether uk users can get Jen Taylor, I'm curious how you will handle correct name recognition/pronunciation for names that are not indigenous to a certain country. UK like many western countries is highly multicultural.. Recognising and pronouncing Sarah, Emma, Marie might be expected in English language, but what about Asian names for example? Up til now Cortana hasn't recognised my partners name only the nickname I gave in settings.

What I don't understand is why we do have to change our region to US to get Cortana. I do know that she is only thought for US atm and therefore not "optimised" for any other country. But cant we just turn her on in the settings and there is a warning, that she is still in beta and only available in English? I could live with that, but it's so annoying to restart my phone every time I want to buy something in store :/

We all know that you people behind Cortana is awesome. Just curious if she could have voice activation, and i hope regionalizing Cortana would be based in the windows phone market share. I think she should have more role in the os, like she works as a core, she is the help she will resend failed messages, she would wake you up,she would attend the call when you are away. Haa dreaming. Cortana has higher possibilities. She is cool. Make her awesome.

Especially voice activation when driving?

Cortana would be like a hub for instructions, requests as well as being a hub to supply information, actions etc as requested. And maybe before being requested....imho

would like to kinow when will be Cortana avalaible in Spanish spain and other spanish varieties , would be great having in spanish the assistant currently who got the preview release used the phone on english for use Cortana by example i live in Chile and when tried the preview release and i used cortana in english was incredible the accuracy in terms of response to user, we would like count with Cortana also in Spanish and probably of that way could windows phone get an big part of expansion in latin america and europeans countries like Spain too where windows phone had an grow up in terms of market share. also wish to ask if is possible that Cortana recognize two languages without having to change the phone language, ie i have many friends in the United States and they do not know spanish and write everyday e-mails on english would be great that if have my phone language in spanish and start to write via voice with cortana a e mail could recognize that i am speaking on english and write on english the text instead of get dizzy and get any stupid as final result, without having to change my phone language for do it. to me i wish a feature like that which would made to Cortana my definitive personal assistant

Goodman. English y español at once. +1020

yeah also forgot that cortana or WP recognize an foreign language in my SMS or e mail and if want that get read a loud the mail do it correctly in the language of the email, also would be great to me which i get mails on both languages too would be useful also i found an serious glitch in GDDR3 when is set up in spanish spain and the function of text to voice to SMS which contains values those are not read correctly and show or read the $1.500 as euros and not as chilean pesos would also fix those glitches?

Are there specific things that we, Windows Phone 8.1 users, can do to help Cortana improve?

Will Cortana be available through my desktop and tablet .

Hello..Cortana!please tell me how many gold medals did India won soo far in XX Common Wealth Games?

The UK Cortana has a British accent. Will there ne different accents for Cortana in different regions of Germany which differ eben more than AE and BE or at least a Swiss German and Austrian German version?

Let me form some of my beefs into questions: ;)
What challenges does development face with Canadian dialect?
Why does Cortana switch from Jens voice to the robotic one?
Why can't the beta allow us to not change our regions so we can still access our Xbox music accounts?
What barriers exist that don't allow Cortana to always be listening, much like Xbox one? Eg: Cortana, turn on driving mode.
Is there an intent to allow voice to command functions like"turn Bluetooth on/off" or voice recognition to allow us to say "Cortana, lock my phone" to restrict access so people can't snoop?
What about the inconsistent nature of smilies? Say winkie and it adds winkie, but reads it as winkieface. If you dictate winkieface, you get:
;)face

Will Cortana support Arabic language soon?

Why is Cortana locked by Country? It should be for everyone and with the language option...

Cortana is a long-term project, it will be months if not years before it's available worldwide. Is it possible to add a Cortana 'Beta' sign up, allowing users to access Cortana in regions it isn't available? Windows Phone fans will have access to a service they know isnt optimized or fully available in their region and the devs get information on user habbits from around the world. Win/win!

I second that suggestion.

Hey Cortana Team, I'm glad to hear that, you guys are thinking of us other people in other regions. Is it a most that Cortana needs to speak and understand the country's language, before Microsoft will release the Cortana functionality to windows phones in every country or will Cortana be release in some regions English only despite nationality different from English?. Now that Cortana is a huge project to release to the whole world and it therefore can be more then slightly late released in some regions. Are there any thoughts about separating some functions from Cortana to be standalone apps for Windows phone like "do not disturb" and other functions?

Cortana asked for my name, even checked how to pronounce it. What plans do you have around Cortana using my name during day to day use?

When are you going to stop playing around with rubbish features like Cortana and move the teams resources into fixing core features like I don't know, Xbox music, on an international level?

In the settings, do you plan to provide options for metric measurement system that's region independent?

My question is simple... Will south-america ever see regionalized content? To be honest most of the places we visit often have been thoroughly mapped out in foursquare so I don't see why we should not have acces to this information through cortana :)

yeah local scout and even the music recognition is only avalaible for certain markets but not in South America, and exactly south America have more possibilities for expand the market share in fact ie would be nice that could count with the functions avalaible and of that way remove soundshound by example.

Can we have an option to enable Celsius in Cortana? I am American.

This is because Cortana doesn't know which questions you might ask. Some questions may require the GPS (weather) and some may not (jokes, quiet hours). The team decided that having to switch on the GPS mid-app instead of before might cause slowness, inaccuracies, and errors. That is why location must always be on.

When Cortana comes to India it would be in Indian English, right? Because many are thinking that it would be in Hindi. Indian English would be appropriate

No, sir.Thank you, good sir.

Will Microsoft be working on a multilingual voice recognition, for languages like tunisian or french canadian (I guess that there are many other languages that do the same thing) that borrows a lot of English words into their own other language?
Say for example, that I search for a french artist while speaking to cortana in English, the results are very likely to be wrong, because the software tries to logically fit the next word as an english word, and this is bad.
Or (other example) you speak french, but sometimes you need to communicate in English to some Customer.
The xBox One does a good job at this (identifying different language words from a sentence), so I guess Cortana could do the same.

I live in Sweden and I am using Cortana the region way.. She works fine here, finds my closest McDonald's, show my towns weather etc.. So why can't we get it now? And make it possible to turn off web search. :)

Does Cortana's voice recognition take into account regional accents? Will this be something that will be worked on further? I'm from Northern England (Yorkshire) & I often have to speak in either a southern english or american accent for Kinect to understand me at all. Will Cortana be the same?

It would be nice to get the Bing Image of the Day someway into Cortana :) I miss that

Given the difference in language, will it be longer to get Cortana in Quebec than elsewhere in Canada? Or will you wait until you have a French version of Cortana before coming to Canada because of Quebec and other places in Canada that are French speaking?

You guys should rather be taking suggestions than questions.
Well, here's my question:
Why is it taking so long to release Cortana to other regions?
I'm in India and it just works fine for me. Yes it does have a hard time understanding me SOMETIMES, but it's fine, I can live with it, while you guys can carry or the development

Why wouldn't employing a strategy of global release as a standard English take prominent focus and then integration of languages and cultures follow? That way bigger usage and feedback could be generated and an competitive edge can be established? We are humans and adaptive creatures. We can handle English only Cortana and latter on have preferred languages. If we create a hype now more, bigger and better outcomes will follow for Microsoft. I am proud of your achievements but people are ready to help and watch Microsoft take their well deserved first place.

Even though I'm Colombian, I'd like to have an estimated date of Cortana being released in Spanish, since I believe it's the third, perhaps even the second most spoken language. Also being WP a second placer in most Latin American countries. I think Microsoft is missing this opportunity, and should deliver Cortana ASAP.

And how about adding a translation feature in Cortana. Like translate "..." from English to French. Would be something new

I take the subway to work and would like to know if there are plans to allows us to customize our "places" so I can be reminded how long my commute will be by train. Perhaps even extend this to people who walk or ride bikes to work. The reminder to leave home or work has been by far my favourite feature.

Can you give any hint on your timetables? How fast are you planning on expanding internationally with full language support and how big are you going? Can you give us anything on your planned growth for Cortana without being region specific? Thanks!

Why do we need internet connection to use Cortana for basic features such as local search?

Will Cortana work offline with any specific commands in the future?

Think about false friends in different languages.
Spelling of numbers could also be difficult (English: 123, one hundred twenty three, translated in German: One hundred three and twenty)

Good input! Another example: in English, half nine means 9:30 (or 21:30 if its PM), in German, half nine is 8:30 (20:30). (this false friend made me, a Swiss, wait an hour for my English friend ;-))

Why Cortona still have hard time answering basic questions like : - What time is it? - Simple calculation e.g. 4+5 (they show the result but in Bing)? - Which day is today? Is Cortona hooked up with say Wolfram which can answer these question very well?

I would like this as well.

Is there a way to enable Cortana but keep your display language to some unsupported region? When I do this, I already get the speech service (holding Search key) in English, since recognition is not available in this language. Why can't Cortana just be enabled in place of the basic English TellMe service?

Hey, I'm interested in how Microsoft look at the different sources of data to help with localisation arround the world? i.e in the USA Yelp seems to be a pretty big service and has lots of "crowd sourced" information from users of the service, but in the UK its hardly used and pretty useless. In the past Bing maps seemed to rely soley on single services like Yelp that dont lend themselves to great international experiences (so when you search you find hardly any reviews etc...). If you have any comments on how you pick and choose what services you agregate location data from in different areas or regions around the world and the challenges that might present would be interesting? It looks like with Cortana Microsoft needs to solve some of the issues inherant from relying too much on one source of location data. I guess things like you starting to leverage the information from foursquare is a sign of improvments coming down the line? Thanks, Ben.

When will Cortana stop being a beta form and how will it change if you go abroad?

Will Cortana come to countries where Bing is not supported in Europe?

Is Cortana speaking in different accents or versions in a language, like British and American English or Hamburgisch and Hochdeutsch? ;)

Do you consider Cortana for Arabic language? Since it's a widely spoken language.

Cortana uses Bing, Bing is us only. how will Cortana get her informations when there are no database ?!

Is there a core development group for each region where cortana is meant to become available? Say a Brazilian Portuguese development group in Brazil? Are they already working on a Brazilian version of Cortana? Regards

In India there are many dialects. & even if they speak English they all have very different accents. So how are they going to release Cortana in India? with what languages? N if only English then the accent problem... How they will solve it... N if they can solve this then it is a bit of tough task for them so it will take years for them to release Cortana in India.

Will we Windows Phone Users be able to activate Cortana by talking (ex. "Hey Cortana")

Cortana is being tried to sound more like a person than a robot, works great with the US English. But will they be trying to hire voice artists for different languages or even different accents? I personally love the US accent of Cortana but will I be forced to use India accent when it gets here?

What was the think tank like before arriving at Cortana? Did you consider other Microsoft things, like the MS Office Paperclip, Blinx the cat or Viva Pinata?

I want Cortana end word flow in my language...romana!!!

When is it coming to Canada? Lol.had to do it.

When its Cortana coming to India?

Seeing as Jen was going to originally provide a British accent in Halo CE, why can't we Brits (and the rest of the world) have a choice of accent for Cortana?

Recently, Google announced that Google Now would soon be able to understand different languages without having to change the language in the settings. Can we expect a polyglot Cortana for 2015 or 2016? Of course, this would come after the worldwide availability of the service.

I was upset to find the UK Cortana would not be Jen Taylor. What was the reasoning for this and will the voice be a selectable option, or will we have to set our locale to American to hear Jen's voice?

How is the process for Microsoft to "learn" Cortana to understand other languages and how are her answers related to other countries Bing adaptation?

Is cortana's region-specific data for Cortana based on Microsoft's existing features, such as Local Scout?
For example, if my region does not have Local Scout, should I expect that Cortana can't give me nearby business suggestions?
If yes, what are the complications preventing these features from rolling out? Using Local Scout as an example again, I can change my country settings to enable Local Scout and see that there is some local data... what kind of data would be missing, and what are the barriers preventing MS from getting the required data?

Really they need to stop all the talks and just release it.

The results of Bing search in France are pretty good, but when I go abroad, they are useless because ther are not related to the current location (In the phone and the I.E. settings location is enabled) Same I gave a try to Cortana changing country and language settings and I asked her for instance "Cortana find me a post office !" and the results were USA related, so I uninstalled quickly Cortana. . The results of Bing should be tightly linked to the rght location, are you improving this issue with the release of Cortana in France ? ( I hope ASAP)

Sticking to the whole Cortana persona, it's not a question but rather a request, it would make sense if those international Cortanas were the peole who actually voiced Cortana in Halo games and not some random voice-over actors. So Jen Taylor was Cortana in English, Erica Edwards should do it for the Latin American market, Laëtitia Lefebvre was the French Cortana in Halo 4. I know it is probably unlikely they will be hired to do that but my point is if Jen Taylor was considered to be Cortana's voice in Windows Phone (for obvious reasons) the same reasoning should be applied for all other languages. Just as people were glad the actual Jen Taylor would be the voice of Cortana in the United States, people in another languages would share that same feeling with the actresss used in their language. How complex would it be for Cortana to handle multi-language requests? Cortana will be able to understand many languages as times progresses but in a business world where no one person speaks just one laguage, think of multicultural USA for instance, being able to speak in English to Cortana and later on in another language (think of the user's native language) would be killer feature over Siri and Google Now. So let me rephrase my question, how likely is it for this to happen with today's technology and Microsoft's research studies?

I second your request for a polyglot Cortana, but unfortunately it won't be a "killer" feature because Google has already announced such a thing for Google Now.

I did not know that. Have they mentioned an ETOA?

It's expected for this summer. The user will be able to choose 7 languages.

Marcus, Sandeep: Do you necessarily have to have Cortana working in, for example, Spanish to extend its functionality to, for example, Latin America? What are the key technical aspects that prevents Cortana from being released worldwide? Is it not an option to open Cortana worldwide 'as it is' for now and gradually update it with regional/local features? Thanks in advance!

Does "localizing" of cortana also include dialects (limited to maybe country specific, for example austrian- and swiss-german additional to standard german) and local differences in behaviour considered polite/appropriate for a personal assistant like cortana?

MIcrosoft has said that Cortana is coming to India soon. Will it support Hindi?

I guess people would like to use Cortana all around the world. There must be something challenging that interferes with the rollout process. Bing as the left hemisphere of Cortana still suffers in a lot of regions. I use it on a daily basis but I have to reach for google many times. Yeah, the question: Is this rollout mostly a content ( quality and relevance of the results provided by Cortana ) or language ( Pronunciation, proper voice recognition ) driven process? If you are able to support some Chinese dialects and local needs you must be over the hump. If it is a linguistic challenge do you think it is possible to get Cortana in English regardless the region?

I know that Microsoft probably dont care about us,but it would be fantastic to have Cortana in some of Balkans language(eg.Croatian,Bosnian,Serbian,Slovenian),so what are our chances

Hi Cortana team! If someone was building an app based on location and user input, how large of scale would they need to essentially have similar integration into Cortana like Foursquare? Essentially become an interest?

first of all great work and keep up !
Our request is please add a feature so that we are able to use Cortana(English) in different regions while providing us the localized info on region we are located as soon as possible if not lacalized info at least Cortana in english with quiet hours.
Please add or change striking eye catching good animated Cortana's avatar :p MY question is: Are you guys at Microsoft have any plans to launch Cortana in MENA region with localized arabic language?
Why not consider hiering good voice actress from regions with various language to launch Cortana around the world ? will your team add the function for activating cortana over voice same as Google now ? thank you

Is there anything preventing you from releasing Cortana with the same "regional language" as another country, but with minor tweaks (as a stop-gap before the official release)? For example, giving Canada the US English Cortana but convert all the units from Imperial to Metric

Why is cortana tied to regional setting? Old TellMe was only tied to Speech setting, so we could use any Tellme language regardless of region setting. Why doesn't Cortana work that way? It's pretty obvious that many countries will NEVER receive native language support and that is understandable and it's not really a problem, because we can all speak English in the 21st century. So why are we being forced to change our region setting into US? Let us simply use American Cortana with ANY region setting.

Thank you for this question I also asked the same question but only after you, there were just too many questions to go through to see what was asked first. Nice one.

Is the voice of Cortana, the same in Chinese?

So a question about scaling. I understand the difficulties in converting a speech technology between languages e.g. English to Chinese, that's an obvious one. But what's the delay in scaling between the English languages (so US to UK)? I appreciate there must be some differences such as currency conversions and sports (e.g. Asking cortana to follow a football team in a different country), but these things you already know - you have apps built that can offer up answers. Please explain what's involved

In case Cortana is learning German: is she going to able strong dialects, for example Swiss German, or will I as a Swiss have to talk high German?
Question two: Will I be able to stay within my region, but switch languages?

I don't know if the question has been asked before but here it is mine. Since many of us used Cortana through preview for developers in their phone a ot of information about the places near them were asked. What if you could Bing give answers about their region and not US based?? Since Cortana is learning from Bing and the users the transfer of Cortana to other regions would be easier. And least in my thoughts.

What voices will you use for Cortana in other markets? Will you use Cortana's voice actors for every country, so everyone could recognize Cortana's voice from the game in their own language, or will you continue to use the default and, must say, unappealing synthetized voice of Windows Phone? Thanks!

Have you (do you plan to) incorporated any colloquialisms (like slang) to Cortana in either her understanding of languages or in her responses for specific localisations?

All I would like to know since Cortana is going to be released in the UK soon and since I live in South Africa would it be possible to change location as I did with the US Cortana to take advantage of the metric system? (weather most importantly and miles to kilometers) I feel the language is very close to South Africa. It would be nice to have UK settings sort of include countries that speak English that is very similar to theirs. Also regardless of what country we set Cortana in, could it be possible to change the accent to my preference? For example I maybe using Cortana UK but I would like an American accent for her and being able to use non American region to get her accent working just how you get to choose on Here Drive.

Will you have the option to select another language for Cortana's voice other than the region that you're in? I live in Sweden for example, do I have to use Cortana in Swedish (if it ever get translated) or can I use English instead?

USA to UK, two changes; date format and spelling colour with a u. So why the long wait ? ;-)

Grey/gray Honour/honor Favourite/favorite Probably more but they're the other main ones lol

Cortana is still in the process of being able to drink tea and watch all episodes of Doctor Who.

If you India as a competetive,market for windows Phone as an OS itself, why is it not put on priority for any of windows phone features.
For India how will Cortana give that feeling of talking to a humanoid if you give it indian accents.

Why not have it in English worldwide,it could be a fine way to test it.

In future,what are the topics/services that we can find in the cortana notebook(like the latest addition of location based services using foursquare)?

My question for the nice devs that work on Cortana. Will there be a icon next to the music icon for scanning QR codes? Other apps don't work that well. And thank you all for awesome things you guys bring to Windows Phone!!

Why cant you make the Usa version of Cortana make available to everybody? Or maybe at least somewhere in the settings with a special information that this is a) beta and b) only US (English) optimized. Oh and btw does Cortana understand other languages like German or is this a whole new process? Do you make the same afford to let Cortana sound natural in any language or is this "limited" to us English? Would you just translate your sentences Cortana says or will every Microsoft team in their country will have to make up their own phrases? Are there languages Cortana cannot understand?

How will the team deal with the challenge of giving cortana her personality in countries (like India) where still many people (like myself) haven't played HALO?

Will Cortana in WP have the same voice of Cortana in Halo in other countries? (for example: in USA Cortana's voice is the same of Cortana in Halo. In Italy Cortana has the voice of "Donatella Fanfani", will it be the same in Windows Phone?)

are they planning on making it possible to add custom commands? for example i would like to call a friend named "jon" but the way i pronnounce it is different than the way it is written, so it could be handy if cortana was able to add custom words with their respective sound to execute from voice command, it was possible in windows vista if i remember correctly, if i wanted to say "hello" and make cortana understand that thats my way of saying "whats up" it would be really useful

What mechanism did Microsoft team has implemented on Cortana to make her so 'alive' with every question we have asked her, even with different accent languages around the world?

well, I'm not saying how it works usually, but technically in detail.

How hard was it to make cortana speak different languages with different accents eh? :)

Cortana is slated for a UK release imminently. As the UK has many different and varied regional accents, not least Scots and Welsh, but Geordie, Scouse, Yorkshire, West Country etc. has the Cortana team taken statistical samples of dialect in an effort to avoid misinterpretation?

Can we expect to have the ability to choose the Cortana's language without changing the region and stuff like that? I can't use the Store properly now that my region is changed to the US.

Are you considering voice recognition like the "ok google now"?, It would be very useful while driving, is very hard to reach touch buttons without looking at the device.

How about instead of Cortana being region-locked, make her language-locked? As long as the language is set to English (for now), Cortana will be made available to the user. Then maybe you can tailor the services based on the region? This way, we can gain access to region-specific apps and at the same time be able to use one of Windows Phone's greatest features, Cortana, which has very useful features (such as Quiet Hours). IMO this can help WP gain more users because English is considered the universal language after all. Is this too farfetched though? Can this happen?

What is the source of the information that you use in Cortana? And what kinds of verification do you have in place to ensure the authenticity of the information? Is there anyway we can contribute?

What about countries like India with variety of languages spoken and accents differ from state to state... With so diverse communities how would you be dealing with people's expression of the same thing in variety of ways in a single major country???

I really do believe Cortana engine is using some machine learning solution, and I hope it's using Azure machine learning features for that. Based on that, I would like to suggest: - To create and make available some kind of software/website where we, international users, could "teach" new words with our accents - Make a public API to Cortana which would allow us to connect new services into cortana - As Cortana engine is located in only one place (some central server exposed as services), it would be easy to create new "views" for it, i.e. for Windows or XBOX

There is already now the public APIs! Already in WP8, its speech engine could learn and improve its recognition capabilities through the usage of the users

Hello Cortana Team, when you faced some problems during implementing Cortana in a different language and culture (i.e. Chinese) did you and perhaps the system behind it learned many things, so perhaps future languages and implementations can be accelerated? Perhaps even only for interested users like in an alpha? The advatage would be the training in the language and the patience of the testers.

We know Cortana uses thousands of backend servers to crunch data. When going international do you use local servers to number crunch or does all that info flow back to the U.S. ,for the servers there to do the heavy lifting. So for example when Cortana comes to the U.K, do you bring up additional servers in the U.K to handle Cortana?

What was the initial reaction of the natural voice team when the Cortana idea was first announced to them, was it one of excitement or dread, after all Cortana has demanded a massive increase on work load and organization.
Will Cortana initiate a conversation if the search button or Cortana button is used in the future, presently Cortana listens and responds, will she/it greet the user not only by name but with relevant information according to user pre set selections, news, weather, emails, txts etc

Will cortana for India include all voice commands as are in U.S. version? Because there are differences in speech commands e.g. message typing by voice isn't available in Indian English speech.

Why Microsoft isn't releasing Cortana world wide just like Siri? (in English ofc)

Because Cortana is for everyone not for a single slang of English like Siri....they are really working on it

How is possible to make Cortana understand and answer questions about local proverbs and facts?

Will Cortana support regional languages like Hindi, Italian, Japanese, Spanish, etc. I'm okay with English, but I think being able to talk to Cortana in our mother tongue would make her more of a human personal assistant than a Virtual Assistant. If she can, then will she be able to handle all the Indian languages? No, rush.. Just bring this feature later on maybe. For now just English will do fine.

My question is pretty simple.
As we know the voice behind cortana is Jen Taylor... I wanna know if her voice is for US version only or you have to find different voices( from different artists ofcourse) for obtaining different accents of different countries or you will just manipulate her voice in different accents ( dont know how ). How this challenge is taken and whats your approach ?

Any plan to add voice activation? and how should we say to activate it? IOS Siri and Google Now already have it also they use "Okay Google"/"Hey Siri" . Thank You

Can we get Cortana in English, regardless of our location? Some of us would rather interact with their electronics in English.

Can Cortana ignore or answer calls on my speech as..like ..ignore the call..will it be able ..

What will Cortana's voice be in other countries (like Germany)? Will she use the current WP 8.0 voice? Or will we get the german voice of Cortana from Halo? Or will you do some wizardry and make the english Cortana voice somehow sound like german?

What's more tougher for you guys... Making Cortana chat more friendly and answer more unproductive questions... Or allowing it do more and more productive tasks for users???

I would prefer asking cortana with one touch, instead of pressing search button first and later mic. Also I wonder if cortana will work when there is a downtime or Internet connection is lost.

Hold the search button down - she opens up in speech mode.

About Cortana in portuguese language; is there a possibility that it not only will have the Portuguese (Brazilian) version, but the Portuguese (European) too?

Who have you got to do the UK voice as your not using Jen Taylor? And also why are you not using Jen Taylor in UK...we love halo over here too!

Can Cortana reminders be integrated in some way with Outlook tasks?

As was said in the forums, the UK cortana should use the voice actress who played Lara Croft ;)

I'm in the UK. Football (or soccer as you would have it!) is huge here. Will Cortana be able to tell me who my team is playing next? What their last result was? And what their position is in the league? Handy stuff if you want to win Britush hearts and minds!

If Cortana comes to India will or be available in Hindi or English and if not in Hindi what are the barriers. I see many of indian peoples would think to jump off their roof if you release it in Hindi (for the joy obviously). Technically You can make Cortana to speak Hindi by text to speech but not sure about voice recognition part. Is it already implemented or you're at least thinking for the same? We would like to see Cortana with more location specific features but you know native language is always preferred and Hindi is amongst top 5 largest. So Are you working or planning to work in near future about above mentioned concerns?

& anyone can correct me if I'm wrong.

Someone can correct me if I'm wrong.

Is there a way so we can choose how cortana sounds, eg a toggle from English accent to the American (or any other language)?

Is it possible to make cortana available worldwide in english. I dont mind speaking to her in english even if that,is not my native language bit o mind having to set my region to US.

Is there any chance to have Cortana in other countries in English if not in the national language?

Cortana uses Bing for searching and for some other service (like prediction), but outside the US Bing is still in beta and many features aren't available. So when Cortana will be released for other countries we will also see Bing to get out from beta? if not, for us (outside the US and with Bing in beta) will be there some missing feature?

Since Cortana is loosely based off of the English-speaking Halo character and the digital assistant is voiced by the same voice actress, who will take on her voice in parts of the world that are not English-speaking? I'm given to understand the Halo series was subtitled English in the other countries where it was released.

The feature I am must excited about its Cortanas ability to work with homeautomation hardware. I know ms works close with insteon homeautomation to make the hardware work with wp app and cortana. However each country has many different hardware solutions for homeautomation. Will there be partnerships with hardware makers in other countries to add windows phone and Cortana support to make this feature available to a broader audience outside the united states?

Brazil is one of the biggest Windows Phone markets... here, WP sales is a LOT bigger than iOS ones. One of the biggest WP mid range phones competitor is Motorola's Moto G (wich took over almost all brazillian midrange market - like my mom, dad, and sisters and almost all of my friends got one). Now that Microsoft+Nokia is trying to hit this market with Lumia 635 (and 730, 530 in future wich haves the same price tag range that Moto G's one), they need to get a highlight feature to get attention to Windows Phone devices(!!!). Voice Assistants are not a known and used feature here in Brazil, the little group of iPhone owners, don't use Siri because it's english-only...
Google Now is trying to take this market here because it features the same features that cortana has in PORTUGUEEESE, but with no personality to convince people to use it!! So please, bring Cortana to Brazil (or at least consideer it). Would be an amazing move to get NEW BUYERS and grow an even bigger comunity here in Brazil... :D

...also is in plans to reduce "loading" screen when pressing search button on 512mb devices??

I really want to know what's happening whit Cortana in Spanish? Are you gonna use just one Spanish for all Latin America and Spain like the Spain Spanish or the Mexican Spanish, or every country will get his version? And If you're gonna use the real voice of Cortana in Spanish like you're doing whit Jen Taylor for English USA? Please answer mi question, I really want to have an idea of how will be Cortana in mi country (México). And sorry if I write something wrong, I don't have a perfect English :/

Yo soy mexicano About the Spanish Mexican and Spain, it must be different. I help (via Connect from MSFT) to translate Windows 7 to Spanish, and they tell us to use Neutral language, not the Spain one. So, they check that differentiation I don't think the voice of USA can be the same for other countries. Just imagine Russia, Chinnese, India, etc.

Wow un compatriota :D thanks for answer sunco :) now I know I won't have a Cortana from Spain jajaa and hope they use the real voice of Cortana in Spanish :3 that will be so cool *-* but if not, at least I hope a natural and sexy voice jeje xD

Hi, I'm Brazilian and I can tell that most of the qualities of our personal assistant are fully usable even if I'm not in U.S. territory , as you know . So, my question is why Microsoft has not yet decided to release Cortana, keeping Bing as the default search on all devices outside the U.S., but letting Cortana settings independent of the language and the telephone area, letting Cortana help me, but keeping my phone in portuguese?

Why you don't read more about Cortana? Microsoft has explained a long time

If cortana doesnt get localized to own language what questions are relevant - I don't understand the limitations in this. So typically "Americans only".

Why Cortana does not have an option to chose metric units? I use Cortana outside U.S., more specifically in Portugal, and I speak fluently English, so I use her on my daily basis, but annoys me to death having everything on imperial units...

Is Jen Taylor the only person giving voice to Cortana for all the regions ? I want to know, when Cortana could understand all the accents in future, would it reply with the same accent ? I read somewhere that Cortana in UK would reply in UK accent. Is this true ? If it is, would the same be implemented for all the regions ?


quiet hours is the feature that I need. Would appreciate if that feature would be independent. As I do not see Cortana being fluent in Finish any day soon...

So does this mean there will be a localized local scout function in areas that aren't currently covered for local Scout(other then the navteq maps(never liked the name here)

Cortana should absolutely be international. Completely. I mean, multilingual, able to continue assisting you abroad, translate, and so forth. Initially, I assumed Cortana spoke other languages - a great way for me to practice speaking Japanese/Spanish/German, I hoped. I also tried, but she obviously did not understand. Most of my music is Japanese and I can't use voice commands to play any of it. The point is, Cortana must be global for Microsoft to expand and gain recognition.

A recent rumour suggested that Jen Taylor would not be the voice of Cortana unless one lived in the US. Personally i think since Cortana is a character, if English is your language, then it should remain Miss Taylor. Afterall, there's no visual link to the character, and if she then doesn't sound like Cortana either, what's the point of the name? So, my question is, *if* this is indeed the case, will Users at least have the option (similiar to Voice-Packs for GPS) to at least select Jen as their Cortana of choice? As a New Zealander, the last thing i want is Lorde as my Cortana voice :o/

Beyond programming, what are the barriers to global release?

When regionalizing cortana, what are your considerations for language accents. For example, between US English, UK English. Spain Spanish, Mexico Spanish or LatinAmerica Spanish. Also how do you decide what language to do next? Would love for you to choose spanish.

I think they considered the user base, the impact. Maybe low markets but with potential. Also it depends on how fast the local team works I guess Am waiting for Spanish - México btw

define latin american spanish, because i am sure Ms thinks that all south america speaks like the mexicans do lol

Many questions about how hard, what issues, which countries etc.. In how many languages are the team working right now? Did you have a goal to, let's say, Feb 2015? I mean, how many languages is your goal? This is from present: about USA language, how many words did you have? I know Cortana must say some of them even if there isn't on the saved dictionary yet of course What is the most aggresive focus right now? Partners (tripadvisor, foursquare, etc), improve language recognition, local/city stuff, bing, etc I'm from México and ready to use when it gets here (Spanish - Neutral - ES-MX)

Also another question that came to my mind: Will Cortana be voiced by her respective dubbing actors in other countries?

Will Cortana manage a bilingual user? I.e. English-Spanish

the same i wonder and wish have

Please, avoid the "universal Mexican Spanish" in Hispanic America, because all of these countries have heavy differences when it comes to language, eg: The same words considered in Mexico as cursing or harsh words, are common words on several other countries... Don't regionalize us to Mexico, we don't talk like them, we don't even think like them... we don't have the same taboo words like them...
The best way is to categorize by country using the RAE dictionary, because they study the Spanish language as one with every different use of every word, and if some words have different meaning across our countries, they have them detailed...
Thanks you team, you are great!

also each country have their own local academy of the language chile has one argentine etc http://en.wikipedia.org/wiki/Academia_Chilena_de_la_Lengua the argentine one who rule the correct use of the Cervantes Language in their respective countries where is spoken http://en.wikipedia.org/wiki/Academia_Argentina_de_Letras and so on

1) Are you implementing Cortana on a per-country or per-language level? Reason I ask is that some countries, such as Canada, are officially bilingual (English and French). Are you electing to focus on one language or the other? Another example is South Africa, which has 11 official languages. 2) How/will Cortana support the globetrotters amongst us (frequent international travellers)? Things such as: will it create appointments in the correct time zone, can I continue to use my New Zealand culture settings, will it adjust it's search to results to be more aligned to the country I'm in, etc. One more. Not so much a question but an ongoing gripe that I hope MS will hear: when will Bing start proper country based search? It's clear that, when I use it from New Zealand, that Bing is an American search engine. For example: I'm in Wellington, NZ. Search for "Miramar" in bing.co.nz. Miramar is a suburb where Peter Jackson is located (director of Lord of the Rings and The Hobbit). Compare with Google.co.nz. Huge difference. Bing has been downright embarassing on occasion, when I've used it amongst co-workers. Point is: unless Bing improves I'll continue to avoid it for anything search/knowledge related and stick with Google.

Love Cortana. Daniel can you ask the team of the possibility to use cortana to dictate whenever a keyboard is available? IE I can type in emails and sms, but I would like the ability of typing in other apps such as whatsapp or baconit etc etc.
I think that this would offer huge value!

Agree with this... I used a lagdroid for two weeks and that feature was really good(actually the only good one) and sadly... Scroogle's voice recognition was incredible with the Spanish language, MS voice recognition on Spanish fails me a lot...

I would like Cortana to have a voice activation phrase for touch less use

You are selling snake oil... the Mexican neutral doesn't exist, can you say "pito" and know what I'm saying? Can you say "chichi" and know what I'm talking about? The second word is used the same way in 3 different countries... But on your country that word is taboo...
Just on Windows Phone my regionalization for language is español (México). On wp7 I had my country, but no... On wp8 Latinoamérica is Mexico... My Prof of this case? The censorship in several words, words that were use commonly, but since Latinoamérica is México, everyone talks like that.

Will the other English versions of Cortana for instance the UK still be voiced by Jen Taylor?

How dependent are you on Bing being localized for the region and for getting localized data?

Kotana team, "Was English invented in USA?". Thank very much for not answering!

Cortana is undoubtedly the best personal digital assistant ever. And when speaking on internationalization arise some questions. Here are a few: We know that the world is full of languages and different variations. As for example the Portuguese-Portugal and the Portuguese-Brazil. Most of the services provided, as translators, covers only one of the variations, but once that Cortana also speaks, the different language variations are important. So the question is, if Cortana will be differentiated in different languages and pronunciation. Cortana is also excellent to collect information about events, news, traffic (part of discover in the Cortana's notebook) and also make predictions. Another question is whether she will be able to expand your search to other sources, because, for example, there are events that are advertised only on facebook, web pages, among others, to cover regional events and to collect all the information for the different topics of your notebook. Thank you very much and congratulations for the excellent work

Will Cortana eventually say my name?

How hard is it really, to optimise Cortana for different regions? What are the kind of things you need to change to make Cortana suitable for, say, Vietnam or Ireland?

Would it be possible to release an "international" release of Cortana, e.g. a Cortana that speaks English, but will work in all countries/regions? See, I'm from Denmark and even though Cortana may someday in the future hit DK with a Danish language release, then I'd much rather use an English version. However, I still want my currency, time, location etc. set to being in Denmark (e.g. and therefore I don't just want to take the UK release, when this arrive soon). So would the above be possible?

Can Cortana recognize different languages in the same phrase? For example if my region is set to Italy and I ask to her to perform a search, but the phrase has an english term, Cortana recognize correctly the english term?

Will different regions have the option to use the real Cortana voice or one localized

All I want to know is wheter they are planning to give Quiet Hours to everybody...eg. as a separate app or something. I higly doubt that Cortana will learn finnish sometime during the next 10 years !!!

My questions: How did you manage to give Cortana a personality that fits about any body (and not just the geeks with the hots for the Halo character)? How did you manage to get the most optimized most commonly accepted personality for a personal assistant? Will she grow a different personalized character to each single user while using her services?

Not so much a question as a tip or idea. I'm from South Africa and for Afrikaans accents, languages like Dutch and Flemish are very close pronunciation-wise as Afrikaans. I know it wont be a priority, but many Germanic based languages have similar sounding "g" or "ch" sounds. The throaty G. Good luck and best wishes, love using Cortana.

Q: Will Cortana ever become multi-lingual? That is, will she be able to switch languages on command? If my phone is set up for English, could I have Cortana text someone in Spanish? As a web-based service, it looks like an achievable feat.

Would there be a South American or Latin America or a Spanish language Cortana any time soon? I live in Chile, which is a country well organized, transportation, climate, addresses, and so on, are really well controlled and organized which would make easy for Microsoft adjust Cortana to work with this Spanish speaking country... What would be the impediment for not bring Cortana here? ...Thanks...

When are we getting some of the features offline??

Team: First of all, I love Cortana and all the possibilities with her. Just one question though. Cortana is supposed to learn from me right?? Every morning when I go to work she tells me it's time to go because of traffic earlier then I leave home. This is because she wants me to take a different route then the one I always take. I was hoping she would be smart enough to start to understand and learn my route(without any tolls) but she does not. Am I doing something wrong or is she just looking at the fastest route??? I hope she can learn my preferences. Thanks and keep up the awesome work you guys and girls are doing Regards
t

I would like to ask: What are the factors that you consider in other to bring Cortana to a certain country??? I mean.. I live in Chile, a South American, Spanish speaking Country, it is a country that is well organized, it has good transportation, addresses, and climate controls .. So Cortana could easily be molded to be use here than a country whom is not well structured and developed... So, what you guys take more in consideration in order to bring Cortana to a certain country???? In my case a Spanish speaking country..... Thanks

In Brazil it already works really well, really accurate. I just keep thinking about why they can't let people have Cortana (even in English) around the world, without changing the whole OS language. I think Siri works like this (I think).

According to computer, " Sanskrit is the most suitable language for computer". So it's proved that , Hindi is best fitting language for Cortana. Also India is the second largest hub of Window phone platform. So why if you can make it ready for China but not for India ? Do you want Indians boycott you in this region & usher iPhone more?

Are there plans to make Cortana available within the United States in Spanish or other local languages? She is the only reason I keep my phone in English and having options would feel great.

When are we going to get to update our facebook status through cortana..this is a pretty old feature on Siri and it's a must have one for our windows phone as well..!!

Will there ever be an option to enable multiple languages at the same time? I live in Quebec where we speak mostly french but I find myself doing searches in both English and French very often. For instance, I may want to ask a question in French but include the name of an English street name, person, location, TV Show, business name, movie title, etc.

Why doesn't the team just release Cortana but with regional measurements? As long as the voice understands me I will be happy with it. The whole accent thing feels gimicky to me and loses the meaning of having "Cortana" as an assistant. I'm not against the accent thing as MS can keep updating her with sound packs. All I want from Cortana is give local search results (which it does) but with the metric system that is all.

How difficult is it to have a decent voice recognition software of a different language? For example Spanish, is that the reason why we probably won't see Cortana very soon in Mexico, Latin America, Spain, or other spanish-speaking countries?

Hi Cortana tram. I'm very thankful for you efforts to make Cortana international. My question is:
I'm buying Windows phone and wanted to know if Cortana team is really working on making Cortana international or its just a rumor?. Because it is really important to me to know the truth to decide whether I replace my Android with a new Windows phone or not. Thank you. Posted via the WPC App for Android!

Why the strong focus on locale? From what I understand, there are two main attractions to Cortana: 1/ managing your phone/notifications/general queries, which only takes input from the user. As long as his English is good enough, it should work for everybody.
2/ responses based on locality, which is clearly locale-dependent. I get that this part takes a lot of work. The problem as I see it is that people are not able to do 1 while they're waiting for 2. To be honest, I'm fine with Cortana being American and I'm fine being stuck in Belgium and not being able to use the localized part of Cortana for some time to come, but I do miss point 1. All the while Cortana could've been learning while now I can't even install the app. Isn't this a missed opportunity?

Cortana in Spanish will be released first for Latin América ir for Spain

Since you people are regionalizing Cortana why not we the Africans follow the regions of our colonial masters? Especially in Nigeria we use English this also applies to countries like India etc.

but if makes regionalized versions would affect to apps ie is apps only in spanish spain and need set in spanish to get it installed same with french (france) etc many applications are not bilingual in terms of IU and only can be installed if change the phone language in the matching of the application , same happen if want nokia mixradio on other countries outside USA, if we have regionalized or ultra centered phones could not be able of open certain apps which their locale be en US and my phone is on ES -es

OK WPCentral Team. This is the question I desperately want MS to answer. I think it is good enough to be one of the ones they address... We get and understand that MS wish to ensure a service/feature is performing to a minimum standard before regional release (Apple Maps anyone). However, like with the Dev Preview, many WP users are early adopters and willing to provide good feedback to MS. Given other regions like Aussie owners can just change region to US to unlock Cortana - why not Add Cortana via way of a BETA App or sign-up for unreleased versions? People tick the box that they understand it is in Beta, may not perform optimally and is a WIP for this region. This sets expectations accordingly. MS get more testers and data/feedback. Early Adopters get to play with Cortana and keep their region settings - and everyone is happy. Thanks. Sheeds.

Good point Sheeds. Also, if tomorrow Chinese is activated only for China on Cortana what'll happen to so many Chinese speakers around the globe? Point is, they should globally launch everything with a caveat that currently Cortana understands only the US accent. Tomorrow the caveat may say currently available for the US and the UK accent and Chinese. So you choose the way you would like to interact with Cortana.

Totally behind this, Sheeds. Although I've changed my region settings to US, I'm annoyed that my AU credit card can't be added to the wallet, so I'm unable to purchase anything from the app store (and it also knocks out the Telstra billing option too). Early access to a new feature while not having to fiddle with other settings or miss out on parts of other features would be great!

Well at least we are getting the 'Alpha' in the new developer update. AWESOME.

In order to making cortana available in more regions, integration with third party services like Foursquare and Here is important. We saw first step of Foursquare integration today, but, do you have any plans to integrate such services deeper, and using more services? Also, just one note: Ability to set default units (Celsius, Kilometers) instead of default ones is a welcome feature :)

Totally agree with being able to change the default units used

That capability i think would not be possible, when you choose the region of your phone on the language setting gets inmediatelly set the units, like C or F miles and kilometers, euro,dollar, peso, so on i have my phone set up on english and here transport shown me in feets the units althought the here drive is on kilometers , since Cortana is core of windows phone 8.1 can not control units individually just per OS set up

Will you guys make Cortana's accent native to the respective English speaking country? If so, it'd be pretty terrible for India...

Since you people are regionalizing Cortana,Why not we the Africans follow the regions of our colonial masters? Especially in Nigeria we use English. Cameroonians to use French etc

Since you people are regionalizing Cortana,Why not we the Africans follow the regions of our colonial masters? Especially in Nigeria we use English. Cameroonians to use French etc

Since you people are regionalizing Cortana,Why not we the Africans follow the regions of our colonial masters? Especially in Nigeria we use English. Cameroonians to use French etc

Not a question but a suggestion.. Always supply Cortana with jen Taylor's voice and when Cortana is set up make her speak in both native and Jen's accent and let the user decide what they like best. PS Indian female voice in cyan is very not Indian. It sounds like someone is trying very hard to speak English.

UK is fine. But F China. With all the stealing of technology that they do they don't deserve Cortana. They'll just reverse engineer her and name it Chairman Mao.

Will Cortana speak other languages like a robot or more human (English USA).

Will Cortana work as well as in the USA ?

Can we have Cortana in English in France ?

Can we get Cortana in English but French as phone language

Here's my take... Current situation when asking Siri about any eating out going out place in Bulgaria is that she answers "I cannot look for places in Bulgaria" and I get it because they're is no DB behind her containing the data. In Microsoft's case Bing already contains a lot of this information. Cortana is currently limited solely by the phone configuration and not the country. My question is why are Microsoft limiting Cortana to have users change the locale of their phones to the US in order to get the experience?

Is there any limit on what Cortana can do? For example if I live in a connected house and have my Lumia device connected to it could I ask Cortana in her passive listening state to turn on the tv or turn the heat on etc... Will she be able to know just my voice to distinguish from others? Could I tell her to open the browser on my phone or tablet and then direct her to websites without having to touch the keyboard or most of input device... And of course navigate sites or photos etc like enlarge email etc.....

Is there a reason why Cortana can't have a different languages in a single region. What I mean is that what if I am in South Africa, say, and I speak French? Will Cortana be able to speak to me in French, but still give me the regional settings of Rands and Metric? I somehow, maybe incorrectly, seem to thing that my language and region are going to be the same. I pick US, I get US English, if I pick UK, I get UK English. And, if I pick China, I will get a Chinese dialect. Also, what if I am traveling? If I am a British guy going on holiday to the US. I still want my pounds and metric system, along with my British sounding assistant, but I want to get the US benefits of the apps and services (say Netflix or those taxi apps) there. I would think to set my region to US (for the apps and services), but my language and formatting to UK (for the voice and currency)

Hi Team, I am an English gent, living in Australia. My accent is not a regional English one (i.e. not North, East, West or South) it's fairly "proper". Since I am in Australia, I have my phone set to the Australian region. How do you go about getting Cortana to understand a proper English accent when it's expecting to hear an Ocker Australian accent? This is quite important for people living in South Australia who don't have the strong accent you hear in the Eastern states (think Melbourne, Sydney, Brisbane). Do you have any capacity to build in a setting telling it what accent you speak, that might be different to the rest of the phone settings?

When making Cortana for UK, did you consider adding jokes and phrases from different areas of the UK? Such as being able to respond to "Who's the gov'ner" or Cortana responding to "How are you" as "Having it large mate". It would be very unique to have a personal assistant that is your typical Londoner, or optionally very posh or Scottish, etc...

When Cortana gets rolled out to non English speaking countries, will there be an option to change the language to English? Or other languages?

Going International has many lvls, US -> Europe -> Denmark -> Faroe Islands. I've been using Cortana even though I'm not from or in US. My biggest limitation has been Bing Maps, its coverage is not so good in many parts of the World. Could Cortana get an option to chose lets say Here maps, or maybe mesh it together? That and international units would make Cortana much more user and feature friendly ;)

Considering most countries in the world have a range of different accents including U.S. How will regionalization be handled? How many languages are scheduled for Cortana and will we be able to switch to desired speech voice?

that is why was BETA for get the accents, modulation,tempo,pitch of human voice and tune to a human voice the system

Cortana just started hooking into Foursquare. What other 3rd party web services, particularly ones that are most popular outside the USA, are the team looking to hook her into?

That's exactly what I do, but now I don't make dumb app purchases, because I have to really want the app to switch. I just want my keyboard to be UK/Can English so I can use WordFlow to type Colour instead of color :P

Just don't know what the problem is with a lot of you guys, change region and language on your phone and you have Cortana,i'm using it in Italy and it works fine, ?!

My question/comment follows bhagyesh's. I lived in both Africa & Europe before moving to the US. A lot of countries, especially English speaking, have their locations (navigation) & some businesses mapped. Also, weather information for these countries is also available. I think with these, cortana has enough data to get started & be deployed, even if her accent will be American or British.

I'd like to have some insight on the linguistics side of how Cortana works. For example, what kind of choices are considered as examples of natural speech for each dialect. I know that with dialects, the phrasing itself can vary a lot.

Why Cortana has to be US only at first? Cortana Team can get helping from users outside US to provide information about its country.

Now that Cortana can speak real British english with a real accent, will it have different local accents when it goes international?

I am very much moved about personal assistant in phone after watching movie " her" . So when will cortana get those feature like "OS1" like reading mail, massages, and other thing. Why dont cortana take a big note.. It just fell me after few words. Make cortana integrated to office so that we don't have to type aggain.

It would seem to me that one of the most challenging obstacles to releasing Cortana in a new region is local language/dialect voice recognition. Microsoft has a fairly long history of offering voice services in the US, including its acquisition of TellMe, which presumably provided a vast repository of voice samples from user queries with which you could refine your voice recognition algorithms. When Cortana is opened to new locations, will you be starting from scratch and building up such a repository for honing the local language voice recognition, and if so, will users be able to give feedback to say "That wasn't what I meant"?

Just for the record there's a free app called Indigo that in the meantime it can replace Cortana while it's region locked. :)

When is MS remeasing it for Sweden.

Cortana beta takes five stars for me.. Waiting to open it world wide In American English.

India has the best market ground for wp then why is Cortana not introduced here along with the UK release????? My friends are really interested and also dejected that I use Cortana by changing the region.. They might even switch to other devices....

It's better to ask cortana all these questions...

I'm all for a market specific and a localised language version of Cortana released in different countries, which is a great idea as people in said countries may not speak english at all. However with-in that there are people that do speak English and would rather prefer the real deal with Jen Taylor's voice from the Halo series. Where as some would prefer an British Accent for example... so my questions to the teams are: 1) Will we internation users outside the USA get the ability to change the Voice of Cortana to the real deal without having to faff around changing regions in the settings? (not everyone uses farenheit for temperature you know! :P). I feel that her voice is unique to her character and any deviation from that would not give that sense or feel that you are actually communicating with "Cortana", for instance several high profile animes changed their voice actors although the drawing and quality remained the atmosphere (or I guess emotional connection?) was no longer present - it felt it no longer had that "spark". 2) With Cortana going international and the melting pot of different dates such as relgious events / dates (such as Diwali, Eid, Hanukkahh so on), independance dates, cutural events how does the team plan to address this? (i.e make Cortana go Happy 4th of July! do you want to see the events around you - [with the user prompted if they want to be notified of such events in the local area + the ability to fine tune this when they set up Cortana or via settings, I believe Siri or Google Now does not offer this depth of localisation])

I love your second comment. The ability for Cortana to be local-sensitive would make a huge difference in delighting the user. The Calendar app already pulls public holidays as part of the system. It would probably take a bit of work to initiate and automate customize greetings on such occasions when the Cortana page is openned or the search button is being pressed.

It would indeed delight users and plus it would (in my opinion) make windows phone even more personal. I imagine it would take abit of work to implement, the beauty of software is that it is malleable.

Is the Cortana capability being enhanced to make all the features of smartphone work through voice command including entering text to any application.

Thanks to the Cortana team and WPCentral for facilitiating this Q&A! First question: Would Cortana include intelligent country geofencing? The scenario of this issue is as follows: Whenever I'm in Kuala Belait, BRUNEI and ask Cortana about places around me, she would display suggestions from Miri, Sarawak, MALAYSIA which is the border town about 45 mins away even when local (in country, 5 mins drive) options are available. Second question: Any chances for the Universal Skype Translator or Bing Translator to be integrated into Cortana as how the music listening feature is currently available? It helps travelers a lot without launching an additional app on the phone. Suggestion: Allow some form of crowd sourcing mechanism to help speed up Cortana's database particularly local suggestions of places, information (store opening hours, etc) Would it be possible to teach Cortana the proper way to pronounce non-English words? It would greatly help towards making the geofencing reminder feature work better with our own favorite places. For example, a coffee shop called kopitam would not be easily detected by Cortana's voice input as the local pronounciation would be different than the US-English pronounciation. Thanks guys and keep up the great work. Firdaus

Can Cortana be a speaking Wikipedia one fine day in the future??

I am still waiting for my provider to rollout 8.1 and Lumia Cyan, so I have not experienced Cortana yet. Obviously, languages and culture are things that can divide us. Certainly many of the questions have focused on language as a component of internationalization. I am interested to hear about some of the challenges you face with regard to culture, in particular, sports. Are there plans for Cortana helping me follow my favorite team, whether it's football or... football, baseball, cricket, or whatever.

Why give 8.1 in the first place if didn't want to provide all features along with it????

My question is If cortana will be available in china in chinese language then will it be available in India with Hindi. If yes that's ok and if no then why not.

Will cortana be able to speak in native language when it launches in a country? For ex. will it be able to speak in Hindi when it launches in India? I know cortana already speaks chinese wondering about other languages

Bro I asked the same question . right above

Yeah..its beta version,why cant to release it worldwide and you can release the next version whenever and whichever country you want?

Maybe one day Cortana might make it up here in the north (Canada)...but I highly doubt it

Seem very long time for Vietnamese supported

When we are going to see all windows phones accepting hotword like "Hey Cortana" to activate Cortana from at least start screen, don't say it requires special hardware because google is providing same feature with like( single core 1ghz cpu ) cheap phones. Also always listening mode even with screen lock during charging.

Why are you not getting original Cortana voice of Jen Taylor to all other regions, we can't speak the US accent that fluently, that doesn't mean we can't understand it. We love the voice of original Cortana, without it, Cortana looses its personality. Make Cortana understand regional accent but speak it in voice of Jen Taylor.

What has been your progress regarding India !!!

Bulleted Overview of the Process of "Regionalizing" Cortana Hi Marcus and Sandeep. Thanks for taking the time to address the community. My question is this: Can you provide a detailed, step by step acccount of the process that the team follows when bringing Cortana to a particular region. I am not asking for the minute nuances that may vary on a case by case basis, but rather the A-Z overview of the process from conception, to execution to completion and maybe sustaining when you and the team(and whatever other teams are involved ie Bing) are establishing and tailoring Cortana for specific regions. I envision a bulleted response to this question would be most effective for my, and maybe others understanding if possible. (and if chosen) I think the answer to this question will provide the community with a deeper appreciation for the process and also provide us with a frame of reference to which we can refer as regions wait in eager anticipation for Cortana's much desired arrival! Thanks and I'm looking forward to the responses. Jason

What is the possibility of having Cortana passively listen as well as the possibility of having her seamlessly integrate into the windows ecosystem (Windows Phone, Windows, Xbox, and possibly windows in car)? Thanks!

THIS IS IMPORTANT.... (this is my last sentence in other words the brief conclusion : we don't need a cortana who speaks an ugly indian or Australian accent Cortina's obligatory purpose is to understand what we are saying in that accent not to reply in that ....since many of the speech recognition is already implemented in Tellme I don't understand the reason behind the delay) Original comment
Microsoft already has speech recognition for many languages including English India and English uk .... So what are they working on? Only thing they should do is add the already available resources .... If they are delaying because they are adding different accents FOR cortana that's DUMB I would never use a cortana with an ugly indian accent ..... Everyone who knows to speak English enough to use cortana , can also understand normal US accent and if they miss a word its already shown in text ...... Once again to make my point clear we don't need a cortana who speaks an ugly indian or Australian accent Cortina's obligatory purpose is to understand what we are saying in that accent not to reply in that ....since many of the speech recognition is already implemented in Tellme I don't understand the reason behind the delay

Are you planning to make Cortana speak in Hindi in India or just Indian English, as majority of people he