The Coship X1 is a premium feeling, water-resistant Windows Phone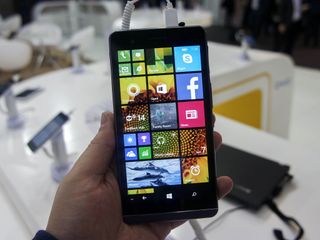 Coship BVC is one of a bunch of new ODM partners for Microsoft and Windows Phone and at Mobile World Congress we managed to snag one for a first look. As is becoming less unusual, Coship offers the X1 in two varieties: One with Windows Phone, one with Android. The two are identical in terms of the hardware, just offered with a choice of different software.
Specs wise we're looking at:
5.5-inch HD or Full HD display with Gorilla Glass
Qualcomm Snapdragon 410 CPU
2GB of RAM
16GB internal storage with microSD expansion
13MP rear camera with dual-LED flash
5MP front camera
2600mAh battery
There's a good mix of affordable hardware and premium design and construction. The back of the X1 is glass, the sizes are rounded off with a metallic (but not metal) type of finish and it looks really nice. Oh, and it's water and dust resistant. Something not exactly common in the Windows Phone ecosystem, but the X1 can take a dunking and come out unscathed.
As Coship BVC isn't an OEM, but an ODM, there's a chance that this phone may eventually appear in selected markets around the world with different branding. Similar to how the Blu Win HD just launched in India under the Xolo badge. If it does end up in your part of the world, it might be worth taking a look at. It's not the highest of the high end, but there's definitely some 'flagship quality' features. And you can drop it in the toilet without destroying it.
Windows Central Newsletter
Get the best of Windows Central in in your inbox, every day!
Managing Editor - Tech, Reviews
Richard Devine is a Managing Editor at Windows Central with over a decade of experience. A former Project Manager and long-term tech addict, he joined Mobile Nations in 2011 and has been found on Android Central and iMore as well as Windows Central. Currently, you'll find him steering the site's coverage of all manner of PC hardware and reviews. Find him on Mastodon at mstdn.social/@richdevine
Hey nice specs there :) for a mid+*

Yes. Pretty nice specs. Glad to see other companies stepping into the market and providing alternatives.

At least we can finally say "we have a waterproof/resistant phone too"...

They should all come waterproof in my opinion...separate yourself from the competition.

Absolutely. We all get caught in a rainstorm from time to time. Well, at least in my part of the world.

Actually, back in the WP7.0 days we had a Toshiba model that was waterproof. The IS12T.
..........
http://www.gsmarena.com/toshiba_windows_phone_is12t-4076.php

that's a very good looking phn. i didn't know Toshiba made that. i though Sony was 1st waterproof/resistant Phn. How EVIL, Overrated, .................CrApple's iJUNK got so far ahead is unreal.

It was the first officially with expandable memory, and it was Asia only.... Remember, at first MS/Samsung wouldn't recommend using the slot on the focus??? Then later they came out with a list if compatible cards.... SMDH..... Ohhhhhh has it been a long road of BS with WP...

Man they should make another one..that device was so awesome! (though a bit pricy)

Unfortunately, Toshiba isn't on my master list of ODM/OEM's.

Doesn't matter if no one has ever used it. I'm tired of hearing about new phones and then that's the end of it. They lost the phone as not having an SD card slot btw. Posted via the Windows Phone Central App for Android

somthing apple do not have: waterproof phone
but windows phone gets waterproof lol

Something WP does not have: Market share,
but Apple gets market share.

Do I see the first Windows phone with glass back there ???

Yeah. So does it sound good to you?

And if not ??? Are you going to make any changes in it ??? ;)

Seriously I don't understand your reply.
I'm not in favour with the glass panel. Fingerprints are magnetic towards glass. ;)

Just kidding mate..... ;) I guess you are right about fingerprints..... :)

Samsung Omnia was a pretty decent wp phone with glass screen.

and after omnia 7, with the best colour adjusted screen for windows phone (but for photos was the worst). i still have one for backup. massive one, pure ironbrick and wp7.8 is fast and startrek as hell.

i agree. i wonder how much that cost? i do like it a lot. not bad. still way better than iJUNK6/6+ CRAP.

Lol that username...... :D

It tis funny combined with the anti-apple rants...

Junk to you but precious to the rest of the world. On the other hand, even a water resistance WP is not going to do well.

I have an iPhone 6 that I've become rather "bored" of...They may take my money

If it is priced similar to L640XL, it would be a better deal obviously.

If I knew it'd be in the post.

How do you know it's affordable then?

So you're a smartass because someguy11 didn't assume you're perfect? Shouldn't you be working at the verge?

A windows flagship? Hahaha. Almost. Haters gonna hate that snapdragon 410

True. And yet, isn't it only the fifth Windows Phone to have 2GB of RAM? I can only think of the Lumia 1020, 1520, 930/Icon, and HTC One M8 preceding it.

Forgot the Samsung Ativ SE.

Haha you right. Though S410, is not actually that bad. It was Qualcomm's first 64-bit mobile system on a chip. If it had a better processor then yes you could classify it as one of the flagships of windows phone. Would be interested to know the price and availability. I might just get one

I like it. I wish I could buy it. :/

I guess Xolo is looking at this too... To bring it to India...but looking back at this MWC I guess it is a record number of WP devices out there...even if most are in low n mid tier...but still nice to see the momentum..just hope Windows 10 just opens the flood gates and gets OEMs like LG, Motorola and Lenovo to get some nice devices out there...

I wouldn't count on Motorola. Albeit now part of Lenovo, the Motorola team keeps a close relationship with Google and they won't be ruining that for a WP, I'm pretty sure.

The Nexus 6 will probably be the only one built by Motorola...i guess...or I could be wrong...but I don't quite get what Lenovo is trying to do with Motorola...they themselves are building some nice devices but Motorola isn't doing so...they had a real chance to hit the ball out of the park with the 2nd gen Moto E...but it is an utter disappointment...considering the device was built under the watch of Lenovo as the parent company

Lenovo bought Motorola for the same reason as Google, for their patents :). Moto helps Lenovo with the sales as Motorola is a known company that many of us remember :)

Exactly! And close relationship with Google or not, we can't really deny the fact that they did make a few (or couple?) Windows Mobile devices back in the day so it's not like they haven't ever touched anything Windows on their phones.

Surface style/quality Lumia would be my preference :-) Edit....with wireless charging and SD card.

It will be coming with the Flagship for sure...i read on the verge today...stephen elop has said they are taking inspirations from the Sp3 for the next flagship...with productivity features...maybe a big screen with a stylus...hope for a 940 n 940xl

You can see all you want, from as many different manufacturers as you want, but if the phones are not in the hands of the people, it doesn't matter.

I agree with what Fractured said.

That's a very real problem...i have seen some good WP devices go under the radar due to lack of marketing and awareness...thats a challenge for Microsoft now...how to sell these phones after trying to slowly overcome the problem of getting them to build the devices

A flagship that is unique, refreshing, stylish and a true top tier flagship will be required for aspirational and marketing purposes.

As long as it's not 512mb.

Indeed. Look at the pathetic market share of WP till date. WP has lots of OEMs, but all not doing well. Sad.

L740 with 5" and these specs at L730 price would be fking nice.

That really looks like an interesting device.

Good to see mid range devices starting to flow into the market.

So , WP 8.1 supports SD410?
I didn't know , because I've read here in WC that WP supports just 200/400/800

Kazam also has a Snapdragon 410 cpu phone announced here.

Probably Update 2 will add that.

Maybe but this is running Update 1.

maybe update 2 will run in true 64bit mode and unlock new features available with 410

No one has seen this already...

That's right. GDR2 doesn't support the 410 too. Without seeing the settings info page I don't believe this...

It's not the first device with 410. There have been other phones launched.

I like the idea of water resistance. Just in case. Although, in 15 years of cell phone use I have never experienced water damage. It's bound to happen someday.

Better knock on wood... Murphy's law...

My Symbian phone died because of tea -_-

Such a shame. Such an iconic device deserves at least a pool full of tea.

It still an awesome phone, Nokia 701

Back in 2007, my feature touch phone's touch died just because of a cake.

How the fuck?
Did you cook it??

The cake dropped on the touch screen and I didn't even notice. Later I cleaned that screen and whoa! Touch screen never worked after that.

Why did you go to Boston? The British also famously lost their new England territories to the tea party in that town.

Is this 1st windows phone with Snapdragon 410?

No, kazam has it too
Probably GDR2 brought support for new hardware

No. The dev site have no new supported SoCs in GDR2
https://dev.windowsphone.com/en-US/OEM/docs/Phone_Bring-Up/2.1__Applicat...

That is the best windows phone released in long time. It have different looks, FHD screen, 5.5 inch variation, Good selfie cam with ok back cam, 2 gb ram with a mid range Chipset and water resistance. And I think it will be affordable too. Unfortunatley it wont be available in Australia.

You never know. Voda, Optus, Telstra and Virgin may not carry it, but you could no doubt get it unlocked online somewhere.

The Microsoft Store is probably gonna sell this device so you can get your hands on one from there hopefully :)

The Australian microsoft store doesn't sell phones...

That phone actually peaked my interest a little.... Decent specs. Not quite my 930, but it got my hopes up.

Once in the toilet, I never touch again

Just wipe it off on your shirt, then go make a sandwich...lol

Clearly, they haven't seen your toilet.

That reminds me, I had bought my mom her first smartphone and she loved it. Carried it all over the house. Well, she was cleaning the toilet, flushed down the toilet cleaner and the phone went in and down the drain...never to be seen again, lol. She howled like a wounded dog. Lol.

Water resistant is not same as water proof. Means can get caught in rain. Not drop in toilet.

This can be dropped in the toilet.

[s] Can it also be dropped in a "pit latrine"? Developing world disease I know, but I may be going to India to avoid being asked "wann kommst du nach Indien?". And since this is not an OEM, but an ODM, I may decide to O W N it if it would survive a "pit latrine" test. I am not a racist, I do not study race, but you can call me a womanist, because I like to study 'em. Baba Yoruba ni mi o! [/s]

It has IP67 which means: -It doesn't collect dust inside of the phone and -it could be submerged up to 1m ( yes it will work in the toilet without a problem)

The real question is, would it work after being dropped in a pit latrine? Developing world diesase /s.

Lots of new WP manufacturers. Microsoft should have dropped those licensing fees a long time ago. The os being free is a big part of why android has become so universal.

Agreed, though I would caution following Androids steps.. Customers practiced much patience with all of Android missteps in the past that WP will never get the chance to get away with..

We have practiced patience to the point of Buddhism.

LOL
Windowsphone monks :)

Oooooooooooooooooom! Ich habe die Erleuchtung gesehen. I have seen the light! Mo ti ri imole, okuku parada!

Patience! Hmm...
Waiting for the GDR1 for the past few months even after promises were broken two, three times.

Patience is the wife of Goodluck, and as I hear, they are both transforming Nigeria. Those blackies can not even have enough of Patience as I hear. If not for BookHarry though... Ti o ba je omo Naija, joo, ma binu. Apara lasan ni mo nda o. E ma ran Boko Haram si mi o. Ng ko ti fe ku. O si kun bi ogoji odun ti mo si fe lo lori erupe. E seun!!!!

@Jimmy Hallmark It's the only strategy possible against an OS that free enough to allow the OEMs to modify to their liking and to play along a most important AppStore. Even Apple with it's large sale volume can't overtake such a strategy.

Interesting that "Family Room Tile" is present..

Amazing phone!! I'm impressed!

Impressed? I hope there would be no war again between the new world and the motherland. The British were fond of impressing people into their navy. They still do it albeit subtly... They are just too "de fine" for my liking.

That phone design remind me of Xperia Z3... Amazing..

I think we have rain of wp devices at MWC 2015

Is that music and videos hub?

No, it's a folder containing Music and Podcast that has been renamed "Music + Video"

That's only a Live Folder named "Videos Hub" with some apps in it. Nothing new to see here.

good to see so many brands are showing their interest in WP. and surprisingly this one have some awsome specs and looks nice too.

Wow, this is what the doctor ordered for Windows! Deliciously close to high end.

Can it be flashed with either OS? I would definetly get one for my wife since it would be an upgrade or lateral for her. The ONLY thing I hate about WP is the lack of Torque Pro app. So far I've been able to avoid buying a cheap tablet that would be used for nothing else. Being able to commandeer her phone and load Android for performance testing would be great.

Why don't you just buy the Android version?

I thought it was clear that I want to avoid buying hardware that has no useful purpose except to run 1 app a few times a month. It would be cheaper to buy a crappy Andorid tablet than this phone if I wanted a device that was useless 99% of the time.

There's one called obd auto doctor looks like it connect to the computer system of a car using a Bluetooth adapter for obd. http://www.windowsphone.com/s?appid=68fcb70d-c259-4e1d-8158-27735854493c

Onscreen buttons?! No thx.

Regarding the title, "The Coship X1 is is a premium feeling, water resistant Windows Phone", it's missing necessary hyphens. It should be "premium-feeling, water-resistant Windows Phone".

#GrammaticalNinja, which is a good thing! So am I! ;) We rock!

That's the author's typographical error, not mine. I copied the title verbatim into my post. I only focused on the (still) missing hyphens because I've seen Windows Central writers mistakenly omit them hundreds of times before.

Great specs for a midrange phone! Also liking the looks of it so far. I'm curious to see a video review of this phone.

Very comparable specs to the 830, what's the price tag on this bad boy? I'm intrigued.

This is much better than the 830 in many ways! Ram, screen (fhd version anyway), and ffc blow it out of the water. Chipset goes to this phone with a slight advantage. All the l830 beats it with is the camera (most likely).

Ooohhhh, very interested now. Can't wait for pricing information.

I like these specs!! I think I may have found my new replacement ;)

I would buy that or the 640 xl. Please have updates on this phone and hoe to get it to the US

it looks good, but I will wait for a Lumia phone running W10. It is the only way you have software updates guaranteed.

Ok Great to ses an other Windows device

The most impressive Windows Phone at MWC. I like the design too. Posted via the Windows Phone Central App for Android

Other than processor, its better than 930, no?

Camera falls short, both in terms of MP and optics. But so long as you don't need Lumia photography features, and don't plan on playing graphically intense on max graphics frequently, this is a fantastic phone.

The 930 has a better camera.

I think that is swim's point.....

Nice! More and more windows phone support is coming I see. :)

SWEET! Thinking about this! :D

Any guesses on the pricing?

Water-resistant, I'm sold. Thats all windows needs for their flagship, water-resistance. Specs dont matter too much with Windows phone, though the 810 chipset would be nice too.

Finally! We're starting to see more manuf take some chances with the WP environment! I am really liking the waterproofness of this device.

What is an ODM? Most commentaries describes some companies as OEM.

Original Design Manufacturer. See my comment below for more information.

@arunlobo Thanks very much! I just don't hear or read about companies with that description.

Its an ODM not OEM. An ODM makes phone designs while an OEM takes the designs from ODM and releases them to the market. Coship is an ODM (although it probably is also an OEM) and (likely) won't release this phone directly; instead different OEMs will make phones using this design.

And you thought it's a typo? Lol.

If the hardware is the same, why can't they make a dual boot phone?

Better specs than the 640 XL. Interesting that a random company I'ven ever heard of can pull that off so easily.

How resistant are these water resistant phones really? Like xperias from sony. My dream is to be able to bring a 1030 or 1540 into the beach and take underwater photos while snorkling.

Why not Snapdragon 800 at least, 32 gb of internal memory cuz phone memory is quite important too. Other than that, specs were acceptable.

Snapdragon 800/801 is old now and nobody made phones with the earlier design from Wistron Tiger. WP 8.1 does not support 805, 810 or even 615 processors and so there is no option but to settle with SD 410. Also, this is meant to be a higher mid end phone for small OEMs. This phone supports Retina display not full HD as mentioned in the article.

Microsoft is to lazy to update their software to support more recent Snapdragon and other SoCs. Currently, 801, 805, 810 are in the marketplace! By the time they upgrade for the 801, 805, 810; the current SoC will be 811, 815 and 820! Microsoft always at least a year late on the SoCs for some reason!

Late cuz of engineering is not good enough

Awesome specs. Just wondering what will happen if a company buys the device(to put android) and ditches WP.....I mean if they wish they can sell both versions. But what if they don't.......
This could happen. -_-

Glad to see some "flagship blood" back on WP other than Microsoft or HTC. All we've seen so far are very much midrange at best. And the first water and dust resistance, too!!

Love the phone, Qi charging would be a nice addition so I could reuse my Lumia charging equipment. Will look into it if it comes over to the UK.

Wireless charging, in a shallow fish tank. Hello!

Specs are good...and also water resistant...

Ehrmm that's a dummy phone right?

Should this become available in the US, I'm interested.

I'm really beginning to like that 5.5/5.7" screen sizes. I love my 1520, but it is, at certain times, just slightly too large. Accessing menu items listed at the top of the screen is my main complaint. The phone mentioned in this article looks like a really good fit, as does the Lumia 640XL. However, if the successor to the 1520 is 6 inches, I'll still take that over anything smaller. :)

Really nice, First decent speced WP device....

This device looks sweet. Wish microsoft brings out a flagship with waterproof feature.

Qi charging would make this phone just about perfect except for snap 400

The first water resistant WP is not from Microsoft or Nokia , it should have been from them , I think Microsoft must make various types of WP , why not make the cheapest phone without even a camera , I think there is a market for that

such a shame that there are only two models we can have fHD screen

What is that downward arrow just besides the back key.?

Unless there's sh*t in the toilet...

Nice! Hope Microsoft store gets it because I know the big 3 carriers in the US won't

Hope it'll also come with LTE.

What's the CPU frequency?

Sounds like this company heard people asking for a Sony Xperia Windows phone and stepped in. The specs are almost identical to some of the Z phones. Smart move...

Yeah, nice looking device. Wouldn't mind owning one. About time MSFT made all Lumia specific Apps available for all other Windows devices.

That actually looks like its pretty decent quality.

I'm pretty impressed with the specs. Hopefully the build quality is as good as it looks.

Don't forget about the 64-bit processor. A first for Windows Phone it appears.

Is the Snap410 currently supported by WP8.1?

Looks like a really nice phone. More manufacturers should offer the dual OS of either Windows or Android.

This seems nice I like the specs. I f I never had a 1520 I would of tried this especially if it had a Full HD screen to utilize the graphics capabilities of Windows phone. Am a note 3 and 1520 owner and game for game the 1520 distroys the note 3 in Graphics hands down check BIA 3 as just one example.

this is almost a flagship phone for windows! :D

Water and dust resistant. Nice. Both Coship and Kyocera would be fools not to be the first to market with this type of WP device. It's a niche market but it is also a gaping hole. I hope it comes to the U.S. I would definitely pick one up.

Me, I don't want a CoShip, not even a CoSupertanker. All I want is a CoPlane especially a CoSuperjumbo. Gerrit MicroHard?

If Mr Elop and his ex Nokia staff do it right they could have a Microsoft Flagship smart phone made out of the same Metal the Surface pro 3's case is made out of Folks maybe it will look like that Killer black/grey design Windows surface concept Surface smart phone that was on the web about 2 years ago remember the Nokia N8 smart phone that had a great looking case. it was a Metalic smart phone that came in colors. The Nokia was a Pretty smartphone that I wanted window phone 7 to be inside back then. These guys can make a nice smart phone out of metal

omg i totally want this phone now!!!

"As Coship BVC isn't an OEM, but an ODM....." What does ODM stand for?

OEM - Original Equipment Manufacturer ODM - Original Design Manufacturer

That phone looks so good. Keep it coming
Windows Central Newsletter
Thank you for signing up to Windows Central. You will receive a verification email shortly.
There was a problem. Please refresh the page and try again.