Spider-Man and Batman come to life with Cover–Comic Reader for Windows PC and Phone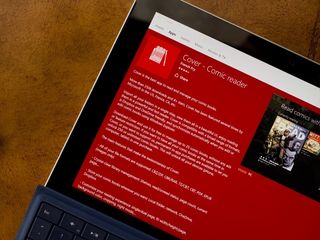 Cover-Comic Reader is a simple app that pulls your digital comic book collection under one roof to make it easier to enjoy and manage. Available for both Windows PC and Phone, the app has straightforward commands and supports a broad range of file formats.
The free copy of Cover-Comic Reader supports libraries of up to 25 comic books and an in-app upgrade ($1.49) will extend that limit to 250 books — or you can pay $2.99 for unlimited storage support. Cover-Comic Reader has support for comic books locally stored or stored on a network, on OneDrive or Dropbox.
We took the Windows PC version of Cover-Comic Reader out for a test drive and found it to be a user-friendly option to enjoy your digital comic book collection from the comfort of your PC, tablet or Windows Phone.
The first order of business with Cover-Comic Reader is to establish your library sources. The opening page will display the comic title you currently are reading and thumbnail images of your library collection. There is a library button in the upper right corner of the main page that will allow you to import files from a local storage folder, OneDrive, Dropbox or a network connection. The cloud access is a great option for your Windows Phone or tablet where storage space may be limited.
Cover supports a range of comic files, including CBZ/RAR, CBR/RAR, 7Z/CB7, CBT, PDF and EPUB file formats.
Once you have selected your file source, the library will be populated and you are ready to dive into your comic book collection. App commands are available from the menu button that rests in the upper left corner of the screen.
Commands for the main library display include selecting/unselecting books, mark books as read or unread, tag a book as a favorite and toggle between online and offline modes. Settings for the app can also be accessed from the menu and includes options to change the background color (black or white), enable the manga mode and several layout settings for the reading screens (borders, stack pages, etc.).
The reading display does support dual-page display and has a set of commands that are independent of the library display. These options include a night mode setting, tagging a book as a favorite, pin a book to your Start Screen, adjust the fit of the comic, toggle between one and two page views and enable the manga mode.
Selecting the night mode will pull up a slider that will adjust the brightness of the display. The manga mode changes the reading direction from left to right to right to left, optimized for the Japanese style of comic books.
Page turns are done by swiping at the screen and keyboard controls are available for the times you are using Cover-Comic Reader from a non-touch PC. Graphic quality is nice and comics were displayed in natural colors and easy to read the text. Should you need to zoom in to read the smaller text, the reader can be pinched to zoom.
Simple Comic Reader and Library
I grew up where comic books cost less than a quarter and the selection could be contained in a single, spindle rack at the drug store. Today we've got complete storefronts are dedicated to comic books. Or should I say graphic novels? Needless to say, I'm a relative newbie to the digital comic book realm and found Cover-Comic Reader to be an easy introduction to these digital publications.
While the layout is simple, I would like to see it eventually take on a Windows 10 appearance. The slide-over menu works, but a menu bar running down the edge of the screen that can be expanded may have worked better. I think it would not only help with the eye appeal of the app but also help new users get used to navigating around the app.
While I concentrated on the Windows PC version of Cover-Comic Reader, the Windows Phone version was not much of a departure, save a few layout differences due to the smaller screen.
While the free version is limited to 25 comics (just so you can get a feel for it), the in-app upgrades are a reasonable charge for the full capabilities of the app. If you are in search for an easy-to-use, free comic reader, then Cover-Comic Reader is worth checking out.
Download Comic-Comic Reader for Windows PC and Phone (opens in new tab)
George is the Reviews Editor at Windows Central, concentrating on Windows 10 PC and Mobile apps. He's been a supporter of the platform since the days of Windows CE and uses his current Windows 10 Mobile phone daily to keep up with life and enjoy a game during down time.
Tiếc là không có tiếng Việt ( Vietnamese )

Really, do you even know what he said? If it was something about your momma sure..

i use this app often very good one. 'While the layout is simple, I would like to see it eventually take on a Windows 10 appearance.' I have read on their twitter page they are working on the windows 10 version. https://twitter.com/nanelillo/status/692916473153638401 and https://twitter.com/frenchfry/status/694083802134634496

I've been waiting for this for a long time. Was using One reader til now. Gonna give it a try.

Do people still read comics? I thought it's history in itself.

Not anymore after Cinema. People still think they're fans just by watching a comic based movie. DC/Marvel.

Not at all. Their popularity may wane at times, but comics have never done away. Posted via the Windows Central App for Android

Grown ups might not read but I'm sure children still keep reading

Can someone tell me how this works? I downloaded just now and find it empty.. I think it is some kind of comic viewer (like pdf viewer) ..if that so than can anyone tell me where can i buy some comics and add those to my OneDrive folder and read those. (if i got it right, this is not the comic store..right?)

You have to buy digital comics online, just Bing it, and you'll find a lot. I think that Marvel.com is a place to start :-)

I don't believe Marvel works that way. I'm fairly certain you have to use either their app or the Comixology app to view their comics, which neither exist on the Windows Store anymore. That's what I would love to see on the Windows Store, a native Comixology app. I know there used to be one, but they discontinued it for some reason. Right now I have to run DuOS on my SP4 to get to the Android app. Not that it's difficult, I'd just prefer a native app. Either Amazon hates money (they own Comixology) or they're trying to drive everyone to Android and their Fire devices. I'm guessing the latter.

Hi Arman, It's just a reader for the moment but you can buy comics here : https://imagecomics.com and then add them to your onedrive :)

You can buy a good amount of comics from Amazon's Kindle store. Comixoligy also sells digital comics on Amazon. Posted via the Windows Central App for Android

I like this app a lot. It's great on tablets and on desktop. The biggest problem I have with it is that it can take a while to start if you have a large library. Otherwise it does a great job of keeping track of what I'm reading.

I just recently got about a couple thousands of comic books from a friend. Tried all available readers but needed a good organizer. This one was indeed the simplest and most convenient BUT had no way to organise them as a catalogue.
To save people some tome they should go straight to Pico Viewer. Not only it has amazing tools for adjusting what you read but has selves and categories etc that you can make and even auto refreshes each folder you added with a single click. You are welcome :P

Also important, it is the snappiest and fastest where some other viewers even fall to open files from time to time. Pico just spreads them all open. p.s. I have no affiliation with neither of the mentioned apps :P

I've been using Cover on my Surface RT for a few years now. Well worth the $2.99 for unlimited reading. Really, my only complaint is if you have a huge library (I have roughly 150-200GB stored on my OneDrive) it takes forever for it to go through and pick up the thumbnail covers for the entire library. Other than that, it's perfect.

Might give this a try since i collect alot of comics.
Have Comic Rack aswell but, well worth a spin

My #1 most used app on my Surface 3. Def worth the unlock value of $2.99.

Tried Comicrack?
Wanna know the pros and cons :)
They actually back them up in the cloud? Not removing them from local right?

For those diyrs out there a way to host them remotely https://brettlwilliams.wordpress.com/2011/07/27/the-bookbox-a-localized-... thought it was a neat way of doing things

One of the best universal windows app. Fully unlocked & using it from a long time. Windows need such great & simple apps.

I really want a marvel unlimited app! Looks good though

I started to read my first comics with this app. It's great the way it shows your collections, the covers and pages when reading. Just don't know why the purchase section shows me an "error when connecting with Windows Store" that doesn't let me buy any of its storage plans (My comics collection is really tiny right now, but anyways...). Nice app! ;)

I bought this aleady, and it is the best comic reader on Windows Store.

I wish freaking Comixology and Marvel Unlimited would publish UWP APP's already, thought they've stated they aren't working on any thing at the moment Comixology allowed it's windows 8.1 APP to die at the start of 2016.

Hey guys, I'm the designer of the Cover windows app. We're releasing soon the UWP version of the app, but we need your feedback first. So we're starting a beta phase that you're free to join! If you'd like to try the app and help out, it's right there: http://eepurl.com/8P7l1 Thanks all! Alexis
Windows Central Newsletter
Get the best of Windows Central in in your inbox, every day!
Thank you for signing up to Windows Central. You will receive a verification email shortly.
There was a problem. Please refresh the page and try again.