Creative Sound Blaster AE-9 review: Incredible PC audio with a hefty price tag
Creative turned 30 and celebrated by releasing a high-end soundcard and DAC audio solution.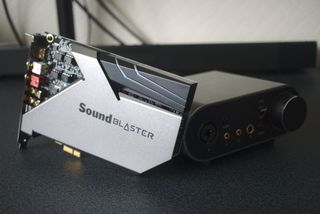 Soundcards used to be a requirement to enjoy games and media on your PC, but as motherboard manufacturers began to include better onboard audio, soundcards became less viable for the average PC owner. Today, soundcards are still more of a niche, only being picked up by serious audiophiles or those who require advanced features not offered by the motherboard.
The new Sound Blaster AE-9 follows suit, packing some serious hardware, but commands quite the price. The PCI-e soundcard is capable of 32-bit audio, and the companion audio control module (ACM) comes with a built-in microphone amplifier. Should you consider installing Creative's latest PCI soundcard inside your PC? TL;DR: yes, you should.
Creative Sound Blaster AE-9
$350Bottom line: If you're serious about audio, you'll want to consider the AE-9 for your PC.
For
Amazing audio
Quality components
ACM with mic pre-amp
Good-looking design
Swappable op-amps
Against
Pricey
Requires 6-pin PCI power
Mic input
Audiophiles will love the Creative Sound Blaster AE-9
So what makes the Sound Blaster AE-9 so special that Creative charges so much for a soundcard? If you're unfamiliar with the AE series, this package comes rocking a 129dB dynamic range using a hi-res ESS SABRE 9038 DAC, supporting 32-bit 384KHz playback, alongside Xamp headphone amplification. What all this means is the soundcard and accompanying ACM has all the necessary tech to create crystal clear audio.
But that's not all. Just looking at the specs sheet is mind-boggling. Creative bundled numerous processing tech onto the card, including an Acoustic Engine, Dolby Digital Live, and even DTS Connect Encoding for analog outputs. The soundcard and ACM are well-designed, sporting a premium silver finish. The soundcard is connected to the external ACM via a link, but houses the following ports:
Front Left
Front Right
Rear
Center / Subwoofer
Optical-out
Optical-in
Op-amp Pair 1 (Single DIP)
Op-amp Pair 2 (Dual DIP)
Between the ACM and soundcard, you'll be able to hook up all your favorite audio hardware. To make all this work, Creative uses an ESS SABRE-class 9038 DAC, as well as high-grade Nichicon "Fine Gold" capacitors and swappable op-amps. Utilizing premium equipment, from headphones and microphones all the way down to transistors makes for a premium audio experience, and it works with the Sound Blaster AE-9.
Creative even works to eliminate outside interference, namely, your power supply. When pushing your GPU and other components to their limits, you may encounter what's known as ripple noise, which is amplified along with microphone signals. To shield against this, the company's ClearLine technology to emulate the benefits of a desktop mixer by eliminating voltage rail interference along the microphone path. It's clever stuff and works to make you sound even better.
Alongside the +48V phantom power button, volume and status display, SBX button, and control knob, the ACM has the following ports:
XLR / 6.3 mm Microphone-in
Headphone Impedance Selector Switch
3.5 mm Microphone-in (Mono)
3.5 mm Headset / Headphone-in
6.3 mm Headphone Jack
AUX-in (Left / Right)
Lastly, we have discrete 5.1 channels and 7.1 virtual surround sound to play with. The Sound Blaster AE-9 is fully kitted out. The sheer number of available ports allows you to connect a bunch of equipment.
Creative gives you all the tools you need to manage your audio too. The ACM houses buttons and knobs to adjust volume, switch between outputs, and even configure headphone impedance. Should you need to configure something a little more advanced, the Sound Blaster Command software is the destination where you'll be able to change literally everything on the Sound Blaster AE-9. From profiles to EQ manipulation, the Command suite does it all.
Image 1 of 2
Supporting up to 600-ohm headphones, you'll be able to use more budget-orientated headsets up to audiophile rated cans. As well as nailing the more critical main features, Creative even went a step further and included extras like Scout Mode, which allows the software to enhance specific audio tracks within games, namely footsteps. It worked more often than not, and when it did, it was incredibly useful.
I tested the sound output of the Sound Blaster AE-9 with the Sound Blaster Katana soundbar (opens in new tab), SteelSeries Arctis Pro headset (opens in new tab), Sennheiser HD 650 headphones (opens in new tab), and Plugable Performance Onyx HS53 headset (opens in new tab). For microphones, I used the trusty Behringer C-1 (opens in new tab) hooked up to the DAC directly to make use of the built-in ghost amp. The resulting sound quality of the Sound Blaster AE-9 is simply incredible.
Whether you're playing the latest games like PUBG and need to hear absolutely everything, especially when there are other sound effects currently being played, or want to enjoy your favorite collection of synthwave (Dance With The Dead's Neo Tokyo remix sounds superb), the bass, lows, mids, and even highs were not distorted at all when paired up with the Katana, Arctis Pro, and HD 650. The more affordable Onyx HS53 didn't sound as good as our other test cups, but that's to be expected.
You're only going to want to buy the Sound Blaster AE-9 if you own premium headphones. Unfortunately, using a condenser microphone with the ACM wasn't equally impressive, though it was more difficult to hear any noise coming through, it's not perfect. Compared to a rather budget-friendly mixer and pre-amp module, it was difficult to tell the difference, which is not what you want to see in a $350 premium sound setup.
It feels as though Creative could have spent a little more time on the input side of things with the AE-9, though for all things output it's phenomenal. The accompanying ACM with various controls makes it easy to switch between headphone impedance, manage volume levels, and output. Creative's software suite — when you actually need to use it — is also very good.
The Creative Sound Blaster AE-9 has only a few minor drawbacks
While it's not really a drawback of the soundcard since it requires additional power not supplied through the PCI slot, you will need to have a spare 6-pin PCI cable from your PSU to hook up the Creative Sound Blaster AE-9. If you already have a high-end GPU, you may not have a spare connector, which will require you to pick up an additional cable for your power supply — something to bear in mind.
There's also the price, which is way beyond the budget of many consumers and PC owners. That said, if you're using high-quality, premium headphones and other audio equipment, you'll not see money as an issue when looking for a soundcard or DAC for Windows. It truly is worth the asking price, however.
Should you buy the Creative Sound Blaster AE-9?
If you want to take your PC audio experience to the next level, the Creative Sound Blaster AE-9 is worth considering, especially if you can overlook the rather high price. The advanced features like a built-in microphone AMP into the DAC, as well as ClearLine technology and the ability to customize how the sound is pumped to your favorite cans, makes it great for streamers, gamers, and audiophiles.
The built-in audio on your PC motherboard is usually just good enough, but sometimes you want to really get immersed in games and enjoy movies how the production teams intended. That's where something like the Sound Blaster AE-9 really makes a difference. What's more is if you already own an older Creative soundcard, the company is offering 15 percent off the Sound Blaster AE-9 if you wish to upgrade.
Audiophile Quality
Creative Sound Blaster AE-9
For those who are serious about audio

PC Motherboard onboard audio quality has improved immensely, but having a dedicated sound card like the Sound Blaster AE-9 unlocks a whole new dimension of sound.
Windows Central Newsletter
Get the best of Windows Central in in your inbox, every day!
Rich Edmonds was formerly a Senior Editor of PC hardware at Windows Central, covering everything related to PC components and NAS. He's been involved in technology for more than a decade and knows a thing or two about the magic inside a PC chassis. You can follow him on Twitter at @RichEdmonds.
Top-notch fluff piece, guys. Creative has been making second-rate equipment for gullible consumers for thirty years (wow, it really has been thirty years) and we're supposed to believe this is some wonderful device because of the reams of marketing terms the author enthusiastically lists but doesn't really understand? Come on. "Creative even works to eliminate outside interference ..." Dude, audio equipment is supposed to do that. To paraphrase Chris Rock, that's like parents bragging about feeding their children. Also, soundcards and DACs aren't separate things. All soundcards have DACs - that's how we get the sound out of the computer.

Andrew G1, are you saying this doesn't do things any better than what's built into the motherboard? Serious question. I do a fair amount of audio recording. I assume the biggest improvement would come not from better electronics, but from a better sound room or acoustic padding (don't really use much of that now), but if I can reduce some noise or increase the dynamic range of the recordings via better electronics, that could still improve the audio quality of my recordings. Currently, I only use the motherboard hardware. $350 is steep, but maybe reasonable if it would yield a perceptible quality improvement to my recordings (post processing, meaning dynamic range is very important to edit the audio without crushing the sound to the point that it sounds muffled).

Now that I've read the rest of the review, and the note that it's not much better on the input side than even a budget mixer and pre-amp, so probably not for me, but if you didn't already have those, then this could make good sense. No motherboard I've seen includes 48v phantom power. That's a base requirement to even use most condenser mics (they need some noise-free external power source, unlike dynamic mics which don't need 48v phantom power), which includes many of the higher end mics. Condenser mics tend to pull in all sound at all frequencies, dynamic mics will not capture the higher frequencies as well (but this also means in a noisier environment, the dynamic mic might actually be better by leaving out some ambient noise).

ssssshhhhhhhh it is ok. You can keep on using your on-board audio from your motherboard. Nobody is mad at you. If you can't tell the difference than again don't get butt hurt on the rest of us that can. But don't get all but hurt on the rest of us that can afford better hardware. hothardware did a blind test if people can hear the difference on this sound card vs on board. Guess what almost all of them did. A chicken ain't nothing but a bird bro. So just relax.
Windows Central Newsletter
Thank you for signing up to Windows Central. You will receive a verification email shortly.
There was a problem. Please refresh the page and try again.