Crumble Zone - a fast paced, asteroid smashing game for Windows Phone 8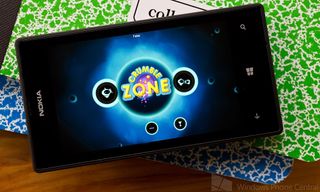 Crumble Zone is a new arcade game for Windows Phone 8 that calls upon you to save a tiny planet from impending doom. You play the role of a tiny green alien who must protect a planet from wave upon wave of asteroids. You also have a variety of comets and meteoroids that presents a serious concern as well.
As you destroy the various dangers hurtling from space the explosions generate gems and diamonds that can be collected to unlock special weapons that will give you a slight edge in protecting the planet.
Crumble Zone is the first game from the developer, Rebel Twins (opens in new tab), to land in the Windows Phone Store. It makes a very good first impression and hopefully this won't be the last we see from Rebel Twins.
Crumble Zone Main Menu
The main menu for Crumble Zone offers options to start a single player game or a multiplayer game as well as options to access the game's settings (the "…" button) and view your achievements. Settings cover sound and music levels, Facebook and Twitter links, and the option to view your gaming stats.
Crumble Zone Settings Menu
The two player game is a simple, timed game to see who can blast the most asteroids and collect the most gems and diamonds. Each player controls an alien at opposite sides of the screen and you shoot into an asteroid field that is moving through the center of the screen.
Crumble Zone Multiplayer Game
The alien will automatically move from side to side and all you need to do is tap your half of the screen. It makes for somewhat cramped game play and the multiplayer game is probably better suited for a larger screen. Unfortunately there isn't a Windows 8 version available to enjoy multiplayer game on a tablet.
The single player game is better suited for the smaller screens of our Windows Phone. You are tasked with protecting a planet that sits center screen. You control a tiny alien that orbits the planet and shoots missiles into space to blow up asteroids, comets and meteoroids before they can smash into the planet.
Crumble Zone Single Player Game
Game controls are positioned in the left and right corners of the game screen. You can rotate the alien around the planet with directional arrows located in the left corner of the screen and your weapons controls rest in the right corner (one to fire your main weapon and another to fire any special weapons you may earn).
Asteroids are the smaller objects heading towards the planet with the comets and meteoroids being the larger targets. Asteroids move at a slower pace while the comets and meteoroids move with a little more zip. Comets and meteoroids also explode with a little more gusto that often takes out the smaller asteroids that are in the area.
Crumble Zone Meteoroid Explosion
Oh, and one shot doesn't necessarily do the trick. Game play reminds me of the classic arcade game Asteroids (opens in new tab) in that when you shoot a target it simply explodes into smaller targets you have to deal with. Crumble Zone's game play will definitely keep you busy shooting down dangers to your planet.
Crumble Zone Damaged Planet
As you take out the asteroids, comets and meteoroids the explosion may generate gems and diamonds that will fall to the planet. You'll need to move your alien around to collect these items for points and to unlock special weapons that will help you protect the planet. You can also unlock a planetary shield that will assist your efforts as well.
There are levels of play that automatically advance as you successfully defend your planet. As you progress through the levels, the pace of play increases adding to the challenge. Overall, Crumble Zone is an entertaining, challenging, addictive game for Windows Phone 8. Graphics are eye appealing, game play easy to pick up and the game is just a fun way to pass the time with.
There is a trial version available for Crumble Zone that allows you to play the single player version through the first three levels. The full version will cost you $1.99 and you can find Crumble Zone here in the (opens in new tab) Windows Phone Store.
George is the Reviews Editor at Windows Central, concentrating on Windows 10 PC and Mobile apps. He's been a supporter of the platform since the days of Windows CE and uses his current Windows 10 Mobile phone daily to keep up with life and enjoy a game during down time.
I tried this game, pretty unique. Lots of fun. Almost bought it, but im in golfed in dead trigger 2 right now which Windows doesn't have I might add. Thats taking up most of my gaming time right now.

I'm engulfed in how there is golf in dead trigger. Is it a mini-game? :P

Yeah, you go around and shoot zombie golf balls. Its totally awesome dude!!

I'm in gulfed with what you did right there ;-P

I'm in gulfed with what you did right there ;-P

So many games this week. I spoilt for choice. And i like it ;):)

Only if it was a "fast paced ANDROID smashing game" lol

Lol + 1000000000 saw that too :-)

Bought this game and love it! The music is awesome and game play is addicting!

Addictive.. It's ADDICTIVE!

Devs, Brazil is waiting for your games...

I will give this a try on my L928. What I don't understand is why so many apps are not made for both windows phone and also the surface. I would be much more inclined to buy games for the Surface 2 then for my phone. I understand the programing is different for the two but is it that hard to do the other? I'm asking that because I truely don't know, not because I'm trying to be rude.

I like this... Bought it to support the dev and because it is just that awesome. I hope this dev team brings more to the Windows world.

Why does it say True at the top of the screen through the menus?
Windows Central Newsletter
Thank you for signing up to Windows Central. You will receive a verification email shortly.
There was a problem. Please refresh the page and try again.