Cuphead for Xbox One is pure eye candy — with a punishing edge
Cuphead is finally around the corner for Xbox One and Windows 10 and while beautifully crafted, its ruthless gameplay isn't for the faint of heart.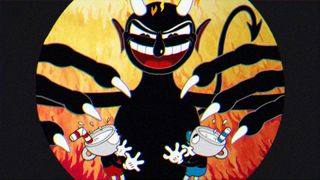 Since its reveal at E3 2014, StudioMDHR's Cuphead has become somewhat of a flagship for Xbox One's indie efforts through the ID@Xbox program. Despite several delays, the game has maintained a passionate following and now looks to be one of the biggest titles to hit the console this fall.
After scaling up alongside its reception, Cuphead has significantly grown from its initial vision, with influences from both boss-rush titles and fast-paced platformers. Now, it appears Cuphead has finally received a release date, with a debut expected for both Xbox One and PCs this September. Ahead of its release in the weeks ahead, we were given the chance to get hands-on with a pre-release version of Cuphead. Providing an idea of how the game has progressed leading up to launch, we spent 30 minutes in its wacky retro world, while discussing the game's evolution with its creators.
Old-school art in all its glory
Blending a unique 1930s cartoon aesthetic with fast-paced run and gun gameplay, Cuphead has already garnered a passionate following, simply for the distinctive nature of its presentation. The project has always been heavily defined by its visuals and while gameplay lies crucial to the experience, many are still seemingly attracted to the title solely for its artistic direction.
Without a central studio, Cuphead is produced by a small team across the globe, comprised of artists and designers who wanted to support the dying art of traditional animation. Remaining authentic to the era, the project was approached with hand-drawn animation in mind – an approach rarely seen on this scale in the games industry.
Speaking to a producer on Cuphead, Marija Moldenhauer, she explained that Cuphead's animation was drawn at 24 frames per second (FPS) – a standard used by animators during the period. After scanning in the cells and being digitally colored, these are introduced into the Unity engine, for use in the game itself that runs at over double the framerate, at 60 FPS. By utilizing this approach, the game retains the fluidity and precision of a high frame rate platformer, while still offering an authentic presentation for the period. Around 10 layers of images are then laid upon one another and using a parallax effect, create scenes with depth.
While this stylization stands out among a majority of indie titles, the retro approach also opens new doors, adding a huge amount of creative freedom to the experience. Animations of the era were renowned for their unusual themes and this was also taken into account when designing the characters of Cuphead's world. With this, the team was able to create a diverse range of enemies and boss battles, without the worry of jeopardizing the game's tone.
On a visual level, it's hard not to walk away impressed after a first hands-on with Cuphead. The time and effort invested into ensuring authenticity across the experience is truly commendable and is a huge reason behind their success prior to launch. Whether this same level of creativity and depth can be expected across the whole experience is yet to be seen, but StudioMDHR hasn't been hesitant to delay the release to improve the final product up until now.
Quick combat without a second chance
While Cuphead's visuals follow standards established almost a century ago, under the hood StudioMDHR likens its gameplay to retro platformers of the late '80s. When first conceptualized, Cuphead's premise supposedly revolved solely around eight bosses, with a simple selection screen to jump into combat. However, after the reception to its debut, the project rapidly scaled up, making way for a more diverse experience than its creators initially planned. Platforming levels are now spread throughout the game, the number of bosses has almost tripled, and generally more features are in place add to the longevity of the experience.
To preface, it should be noted that Cuphead is significantly harder than your average side-scrolling platformer. Linking back to its old-school platforming roots, its gameplay is purposely punishing – you won't be smooth sailing through its levels. Enemies deal heavy damage and without health regeneration, you'll be out of action after only a few hits from incoming foes. The developer has implemented some features to guide players along the way, such as sparse checkpointing and minor progression, but you can expect to die a lot while adapting to the layout and flow of each level.
To succeed in Cuphead's combat, you'll need to become proficient with the basic movement options and abilities offered from the outset. Players can jump, duck and dash throughout levels, while simultaneously focusing your fire. This gives players a fair amount of control and flexibility over their play style, provided they adapt to the control scheme.
The options in Cuphead's offensive abilities have also expanded since the initial unveiling, with progression systems associated alongside them. In most combat situations, players will switch between two equipped weapons and a chargeable super ability. However, your various abilities and weapons can now be switched out and upgraded between levels, though an in-game shop. The currency for these upgrades can solely be earned by finding them in the world – sometimes requiring advanced platforming to reach obscure locations. Although progression isn't set to be a major part of Cuphead, it appears to be another extension of gameplay upon its run and gun core.
What to expect from Cuphead at launch
Despite the time and resources poured into Cuphead, the game is set to cost $19.99 at launch. Speaking to Windows Central, Moldenhauer said the game is expected to last three to four hours for advanced players, a couple more for average players, and "upwards from there" for less skilled gamers. While significantly more indie titles will offer more content for this price point, the culmination of Cuphead's refined art style and gameplay are shaping up to justify the price.
During our session at Gamescom, Moldenhauer also shared the team's current stance on enhancements from Microsoft's upcoming flagship console, the Xbox One X. While more than 100 titles have already been announced with improvements to leverage its additional resources, StudioMDHR is focusing efforts on the launch for now. However, due to the game's art style, a high-resolution overhaul would require some significant work. From the studio:
While it could be argued that Cuphead's art style won't lend well to graphical improvements, as one of the most anticipated games of this fall, it would be a strong title to secure under the Xbox One X's offerings. Even the PC versions only support up to 1080p, therefore a lack of enhancements wouldn't be hugely surprising.
Overall, Cuphead is shaping up to be one of the most promising titles hitting Xbox One this year and while StudioMDHR has taken its time, it's already clear this investment is paying off. It appears that multiple delays have not only resulted in an expansion in the breadth of Cuphead's content, but both its platforming and combat feel equally as tight on Xbox One. Although high difficulty was something I didn't expect going into the experience, this is now one of the main traits of Cuphead gameplay.
Cuphead should release on September 29, on Xbox One and Windows 10, taking advantage of the Play Anywhere program. Versions should also be available on Steam and GOG at launch, with expansions to both MacOS and Linux currently in consideration.
What do you think of Cuphead? Are you planning to pick up the game next month? Make sure to drop your thoughts in the comments.
Get the Windows Central Newsletter
All the latest news, reviews, and guides for Windows and Xbox diehards.
Matt Brown was formerly a Windows Central's Senior Editor, Xbox & PC, at Future. Following over seven years of professional consumer technology and gaming coverage, he's focused on the world of Microsoft's gaming efforts. You can follow him on Twitter @mattjbrown.