Cut and Hack, the hacking simulator from iOS and Android is now on Windows Phone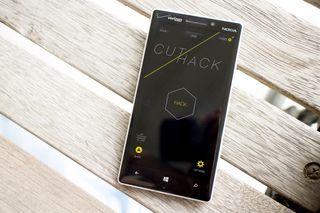 We're always glad to see developers bringing over their games from other platforms to Windows Phone. Here's yet another one. Cut and Hack is an abstract hacking simulator. Combined with a storyline of being a hacker, the main objective is to rush and slice all the geometry shapes with perfectly drawn lines. It looks great. Head past the break to see some gameplay with our Nokia Lumia Icon.
Features:
Test your accuracy, speed and reflexes in unique stylish game
Hack your way through various color schemes, shapes and randomly generated cuts
Achieve 50 levels and follow a decision-driven story
You are a hacker. Geometry shapes represent systems that can be hacked by you. Cutting along the lines inside the shapes as precise as possible, "hacks" the system. The more accurate you are, the more points you get. After every cut, the game lets you know whether the cut was poor, average, or elite.
Each round is 60 seconds. There's a timer at the bottom of the screen. You can earn more points with multipliers. If you act fast, the multipliers keep increasing. You can see your multiplier amount at the top left corner.
Scores are based on megabytes. At the end of the round, you see how much data you've hacked. After reaching a certain amount, you level up, sell data to a corporation, and face the consequences. Selling data gives you game credits. You can use them to equip augmentations to boost your hacking skills. This includes improving your precision, getting more time for hacking, and multiplying your score right from start. Credits sometimes show up in the middle of the rounds. Tap on the yellow icons if they appear.
Cut and Hack is a free download from the Windows Phone Store. There are ads, but any in-app purchase removes them. The most affordable option is 1,500 game credits for 99 cents. It's definitely worth checking out. Give it a try and let us know what you think in the comments!
Windows Central Newsletter
Get the best of Windows Central in your inbox, every day!
8.1 Someone had to say it :-)

Ten thus forming and making me the juubi jinchuriki

Hahaha naruto lover like me :D

A game available here in Brazil!!

I'm about to faint :p But seriously though,Congratz! :D

Omg Really....Its a medical miracle whooo

That is definitely not how hacking works....lol

Still fun, though. I like how they implemented it here

Lol. I like that the XP is megabytes. But yeah. Was hoping for a little more story than just "you're a hacker". Lol
But I'm still actually enjoying it.

It really is! It's how I broke into the IADC's IRAC to discover the true identity of Diana Prince. Because those overlarge glasses totally had me fooled.

When I got it the 1500 credits pack was for free ^^

Great game, creative and fun to play

Game looks futuristic and fun.. Aiden Pearce would've proud of this.. :lol

I found the game after writing "Watch Dogs" in Marketplace's search bar :D

When I get my Lumia 930, when I've taken living images with the Nokia Camera app, - will I be able to see the LIVING images on the Photos app, or will I have to go into the camera, and then go to the camera roll?

Your living images will be accessible in only the most off-topic apps. Downloading this game now.

Fun game.. Finally some quality stuff coming to WP and not ridiculously priced.

Nice game. Thanks for the news.

When available in India with Xbox live?? :P

Wow this game is gorgeous. Would love to see an entire mobile OS look and feel like this