Cyberpunk 2077 world map: Night City and list of districts
Take a tour of the pleasures and perils of the futuristic metropolis.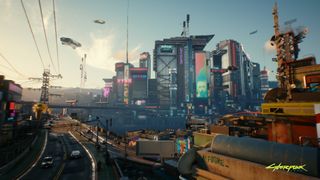 (Image credit: CD Projekt Red)
Cyberpunk 2077 is set in Night City, a sprawling open-world map absolutely packed with missions, characters, and threats. The city is divided into six districts, each with its own distinct visual style and atmosphere, with the vast desert outside of Night City called The Badlands serving as a seventh zone.
Here's a list of all the areas to explore and a bit of information about what you'll find there.
Cyberpunk 2077 districts City Center
Megacorps dominate the City Center, who rule from brutalist fortress-like skyscrapers. Greed reigns supreme here.
Cyberpunk 2077 districts Heywood
Heywood is dominated by the primarily Mexican gang, the Valentinos, whose heavily-tattooed members are found in its bars and clubs and mark the area with graffiti. They particularly congregate in the courtyards around El Pinche Pollo. While it's not a safe neighborhood, there are some secure spots like City Hall and the Night City Police Department. It's also absolutely packed with gigs, including punishing a corporate agent who killed an innocent teen, stealing a guitar, and taking something from a corpse in the basement of a funeral home.
Cyberpunk 2077 districts Pacifica
The Voodoo Boys gang rules Pacifica, which started as a vacation resort but has become a husk of its former self due to disinvestment.
Cyberpunk 2077 districts Santo Domingo
The skyscrapers of Santo Domingo have become vertical slums carved into tens of thousands of tiny apartments. While the district was meant to be a beautiful suburb, it's home to power plants, factories, dirty yards, rundown streets, and people who wish they could live anywhere else.
Cyberpunk 2077 districts Watson
Watson's Med Center was once the best place in Night City to modify your body. Still, deals between its employees and the cyberware obsessed gang Maelstrom tainted its reputation for security. It's also been targeted by a netrunner looking to steal data from a coma patient, and heavily armored police have had to secure the place to keep out rioters.
The megacorp Araska has squeezed the life out of this district, which is now home to low-income employees working in its few remaining industrial factories. It's Little China area is also home to an impoverished Scavenger outpost. Watson is considered the worst neighborhood in Night City.
Cyberpunk 2077 districts Westbrook
A hybrid of Las Vegas and Tokyo's entertainment and red-light district Kabukichō, Westbrook is a place where Night City residents come to spend money doing things they're likely to regret later. Areas within the district include Japantown and Charter Hill, a destination for both tourists and locals to flaunt their wealth. While the district is relatively safe, it can still be dangerous after dark.
Cyberpunk 2077 districts The Badlands
The vast desert outside Night City is terribly polluted and filled with oilfields. It has less noise and light than the city, making it easier to both hide and hunt.
The abandoned motel Dollop of Sunshine serves as a gateway between The Badlands and Night City. It's run by Millitech corporate soldiers, who coordinate smuggling operations and take care of illegal immigrants. Their base is outfitted with high-end tech, including a radiolocation van used to track smugglers throughout The Badlands.
The world is your oyster
Which district of Night City are you most excited to explore? Tell us in the comments section, and keep checking back for more Cyberpunk 2077 guides.
Welcome to Night City
(opens in new tab)
Modify yourself.

The developers of The Witcher have turned their attention from fantasy to science fiction with Cyberpunk 2077. Play as a cyborg mercenary searching for immortality by fighting gangs and powerful corporations.
Windows Central Newsletter
Get the best of Windows Central in in your inbox, every day!
Windows Central Newsletter
Thank you for signing up to Windows Central. You will receive a verification email shortly.
There was a problem. Please refresh the page and try again.