'Daddy Was A Thief' is now a universal Windows app after a year with iOS and Android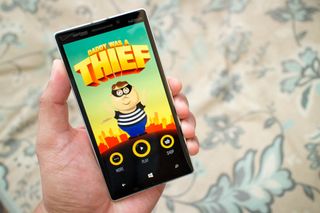 Released over a year ago on Android and iOS, the game 'Daddy Was A Thief' is now available for Windows Phone too. Since it is a universal app, you can also play it on your Windows tablet or PC. This is not another endless runner game. It's actually an endless faller. The goal is to keep smashing through floors to escape after a bank robbery. It's a great little time-waster. Watch our gameplay video.
Features:
Smashable obstacles: walls, furnitures and more! Gain as much destructions as you can! Crash through walls, floors and watch the pieces fly all over!
Playable thieves and crazy power-ups to unlock
Different every time you play!
Just one finger control! (swipe up and down) Quick pick-up-and-play
Many achievements to earn
Daddy was just recently fired, so he decides to rob a bank to keep his wife and kid happy. After a failed attempt, he jumps unto the rooftop of the building next door to escape.
Daddy automatically moves left and right. He changes direction whenever he hits anything. The game only requires two actions. Swipe up to jump and swipe down to stomp through the floor.
Several things will try to stop Daddy. Avoid getting hit by missiles, gunfire, or lasers. The laser shrinks down Daddy, which makes it harder for him to break down floors. Getting shot by anything else turns Daddy into a skeleton, which ends the game. There are also old ladies on some floors who will kick Daddy back upstairs.
While it may seem repetitive, there are a few elements in the game that keeps things different. For example, some floors are filled with water, so Daddy actually has to swim down. There are also casino floors that turn Daddy into a pinball.
Landing on some things speed things up. For example, landing on a hot tub will crash through several floors. Landing on a fridge puts Daddy in an ice cube that causes bigger damage to floors.
Try to land on people and furniture to earn coins. Collecting coins in the game help you get upgrades and power-ups. You can use the coins to change outfits or utilize rockets and other things to make things easier for Daddy. For example, a rocket that gives Daddy a head start costs 1,000 coins. Some power-ups are only available after a certain amount of experience level.
With this type of game, we expected to see in-app purchases, but they're nowhere to be found. Earn those coins by playing the game, instead of spending real money.
'Daddy Was A Thief' costs $1.99 at the Windows Phone Store. Since it is a universal Windows app, you can also download it from the Windows Store for your tablets or PCs. We're having a lot of fun with it and we think you will too. There's a free trial available so you can check it out before taking out your wallet. Go download it now and let us know what you think in the comments.
Thanks for the tip, Lance_WPCentral!
Get the Windows Central Newsletter
All the latest news, reviews, and guides for Windows and Xbox diehards.