Daniel Rubino talks to CBS Radio on the Nokia Lumia 1020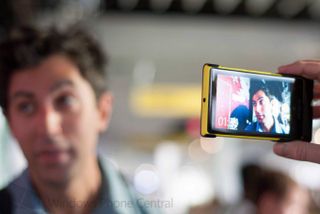 After officially announcing the Lumia 1020 in New York City, Nokia is back in front of the mainstream news. From local news stations to major networks, it's going to be hard to ignore 41 megapixels in a smartphone. But when it comes to anything Windows Phone related news there's only one authority. You're reading it right now. So who better for local NYC radio station WCBS 880 to talk to than our very own Daniel Rubino?
Producer Rob Hawley grabbed our favorite editor-in-chief for a sound bite on the program Dishin' Digital with Paul Murname . The program is part of WCBS 880, the flagship station for CBS Radio News (which happens to supply news to more than 1,000 radio stations throughout the United States).
What did Paul want to know from Daniel? His thoughts on the audience for the Lumia 1020. The clip also features audio from Nokia CEO Stephen Elop.
Want to listen to it? Go to the Dishin' Digital site and play the story titled Nokia Camera Part of New Windows Phone (should be the second story right now).
You rock Dan.
Windows Central Newsletter
Get the best of Windows Central in your inbox, every day!
Nice! Can't wait to here it!

It's neither "here" nor "there". I'm sure you'll "hear" it in due time. ;)

.... Didn't even notice my typo :)

Don't worry Khaled, we got your back!

Kicks dirt on Daniel shoes.

Did you read it? It's radio :)

So wait...there's no video?

Something MS invented, its coming in GDR2 can't wait to try it out.

Or I should say recording

That's cool! When will it air?

Where is video , i dont care if that even radio

LMAO @ the "video" posts!

Anyway, who'd have thunk it... Daniel Rubino-- Supastah!

Looking forward to listening to it.

Nothing pulls up on my phone browser

Same here. Irony 101, lol.

change settings to desktop view and not mobile. it worked for me

Lol, the website doesn't render on a Windows Phone. Ironic.

This happens a little too frequently, unfortunately...

I knew him when he had a really awful haircut. Our boy is all grown up now.

I just got "shipped" email from at&t for my 1020. Can't wait.

Its ok navidee, we will most likely get a free camera grip with ours.......and also not have to pay tax. Lol

Dan, you had about 10 words.

LOL, I was getting to the end of the clip and was like o.O where is Dan?? Then the 10 words came along.

Works with my Lumia 925. Way to go Danny Boi


good luck wpcentral getting popular :)

Wow Daniel. 15 seconds of fame. You did fine, but i did radio as a career years ago and i couldnt stand chopping interviews down to snippets like that where introducing you takes more time than the comment.

Few seconds of radio fame.

You rock Dan!!! We're not worthy! We're not worthy!!

Kinda anti-climactic...but Dan is awesome in the TalkMobile segments

Poor Daniel, has to work as a Nokia salesman now...

He doesn't look Impoverished to me❕

It would be cool to have video footage of the interview...

What happened to the WP podcast?