Dell Mobile Connect brings your texts, calls, and more to your PC
Along with new PCs and monitors, Dell is also debuting some new software at CES 2018.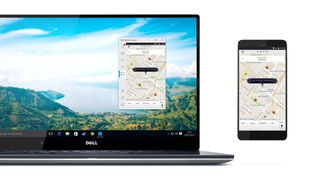 There are already a number of third-party apps and services that profess to help you keep up with what's going on on your phone while you're working on your PC. Microsoft even offers this to some extent by letting you reply to texts via Windows 10 notifications and Cortana. Dell, however, has come up with a solution for its own PCs that, if it all works as advertised, goes a little further.
Called Dell Mobile Connect, the software will surface phone calls, SMS messages, and app notifications from your phone, on your PC. You can even see notifications from third-party IM apps like WhatsApp, Facebook, Instagram, and more, letting you reply without having to shift your attention from your PC to your phone. Taking things a step further, Dell Mobile Connect also lets you use mirroring to control phone apps on your PC.
Dell Mobile Connect uses Bluetooth and WiFi direct, and Dell says you shouldn't miss any notifications so long as you stay within wireless range. And because your data moves directly between your phone and PC, without going through the internet or a router, it ostensibly remains secure.
It's a small addition, but it's one that can come in extremely handy if you get tired of shifting attention between several screens. Dell says that Mobile Connect will come factory installed on XPS, Alienware, Inspiron, and Vostro PCs starting this month. The service will work with both Android and iOS, but it's unclear if there are any limitations on either platform.
Windows Central Newsletter
Get the best of Windows Central in your inbox, every day!
Dan Thorp-Lancaster is the former Editor-in-Chief of Windows Central. He began working with Windows Central, Android Central, and iMore as a news writer in 2014 and is obsessed with tech of all sorts. You can follow Dan on Twitter @DthorpL and Instagram @heyitsdtl.
But is it a UWP app or a legacy x86 program? And if it is an app, will I be able to download it on non-Dell devices? Hoping for a yes to both.

Its a uwp app.. its easy to find in the store but you cant download it on an old Dell pc..tou should buy a new one in order to use it

Where does it say it is an UWP Store app??

It is a UWP. It's in the store, but dell has it locked to certian devices. I tried to download it this week on mine.

Sounds like Blackberry Blend but for other devices.

No Windows Phone 10 support?

Indeed, Windows phones already do this stuff so there's no need for an extra app. My notifications from my phone already pop up on my PCs.

Most of the 'features' introduced are already baked into WM10. You get notifications, Cortana SMS, SMS via Skype linking and SMS backup, call notifications, App notifications, pickup where you left off via Cortana, etc. Even the 'remote screen' thing is possible with the Project my Screen App, or 'Connect' and using MiraCast. (The later is quite handy and I'm surprised more people don't use it to run WM Apps on PCs.) I'm glad to see this feature for non-WM10 users, it is just sad that it has taken a couple of years to catch up.

Catch up? You may want to catch up with what has existed for years with 3rd party apps on Android. A lot of people just aren't aware of it. Samsung has an app that does mirroring over usb or bluetooth. Pulse is an SMS app that synchronizes your text messages to virtually any device. Pushbullet will sync SMS and all your notifications to your PC. IMO, Pushbullet is a better app than this Dell app, because you don't need your phone within bluetooth range or using wifi direct. Cortana SMS sucks. Cortana is also available on Android and iOS, so everything you mentioned can also be done on at least Android. I tried it on my Nokia 1520 and Android phones, and it's terrible compared to the other options available. MiraCast may require additional hardware.

How do you connect your Windows 10 mobile to your Windows 10 laptop. I tried it a couple of times but could not connect it. In the settings on my laptop it says, "Windows is trying to determine the features of this app." And it's currently not available. I don't understand why this happens, especially when my laptop runs the latest version of Windows 10.

whats' windows fphone 10? cancelled...thats what it is!

I've been debating switching from iOS to Samsung just to get this kind of functionality from SideSync. I'd be pleasantly surprised if you can send iMessages from it or if it's available to non-Dell PCs. I'd be willing to pay for it if it does work. Easily.

Sidesync is a bit of a dog. On My SP3 it spikes the CPU useage to 10% at least and sits there. All befiore I use it. Then I need to kill the instance and because of that, I have to reconfigure it every time I use it. I gave up and do not bother. Good idea very badly implemented.

From what i've heard iMessage is capable for Cortanas notification sync.

Take a look at Pushbullet. It does everything this does and probably works better. I was going to compare, but I am not going to buy a new Dell PC just to try it. The only caveat to Pushbullet is it costs $4.99/mo if you want to use it to send more than 100 messages per month. That's why I use Pulse SMS. Pulse is $0.99/mo or $10.99 lifetime, and will sync to Mac, PC, wifi tablets, web browsers and more. Then I just use the free version of Pushbullet for notifications which allows me to see the notification on my PC and clear it from my phone, end calls I don't want to answer, etc. SideSync is one of those apps that's nice to have in your back pocket, but not sure it's worth buying a Samsung just for that. I rarely use it, but I do love my Samsung phones (S7 edge and Note 8).

Yonic, I do believe you will be able to imessage...but it will be ONLY for dell computers.

ONLY for NEW Dell computers:(

Not unexpected, but still disappointing. I'm so tired of these garbage companies trying to trap you in their ecosystems. I am in no rush to replace my surface book, but when I do I'll remember this and steer away from dell.

Why would Dell spend time and money making an app only to release it on all computers? It's a value add that makes their own computers more compelling.

My question is it going to be released for dell computers that were sold before 2018

I tried to instal the app but it only works for laptops from 2018

I think, and from what Daniel has told me too, is that after CES and sometime later this year us dell users will get access to this. If not, I am going to start bombarding Dell with emails etc demanding this be released on older devices. Lots of dells sold before 2018 has the same or faster internals than the older ones.

There must be platform limitations. Or Cortana would support SMS linking from mobile on iOS.

Why the heck is Dell doing this, and doing it now?

Why not, it's a USP many OEMs don't have at the moment. Maybe they are working on a companion device.

We are on the threshold of some releases that seem to be important enough in their minds to be kept quiet for now. I am guessing that because the computer tech industry is so cutthroat and because the walls have ears not to mention negative campaining trying to derail a product before it is even released, they feel the need to time the release of information carefully since the market is so sensitive. I expect we will be getting hints about things through things like patents, software being made available for support of products being released soon as well as other sources that we can only do our best to "Read Between the Lines" fostering speculation and a certain level of uncertainty. But because of the reasons stated above, it seems that the "uncertainty" cannot be avoided, all we can do is try to keep perspective and try not get riled up with less than all the facts.

@Dono Newcomb, well said.

Microsoft should also try to improve this Cortana feature. Has so much potential.

Cortana is on Nadella'***** list. Will not be around in a year.

When they get it to work as smoothly as these features work across iPhone, iPad, and MacBook, call. Otherwise, Not Ready for Prime Time.

Cortana can only send SMS and find your phone if it's Android... iOS is tricky because of iMessage and other protocols not universally supported. Dell sort of hacked this up to mirror your phone's screen - the device is unusable while 'tethered' to your PC.. it's definitely better than no PC inter-connectivity at all.. but less than ideal.

What this post fails to indicate is that it's only restricted to only devices purchased from Jan 2018. This is wrong

This is NOT wrong...that is the case right now!

What a crock! My PC can keep track of my phone calls? In practical terms, so what? I have a phone to do that. I can switch it to vibrate, I can look at the list of numbers/people who have called. Why do I need that on my laptop? I do not need this, it's just a diversion from the lack of a W10 mobile phone.