Dell shocks world, releases 8107 OS update for unlocked Venue Pro?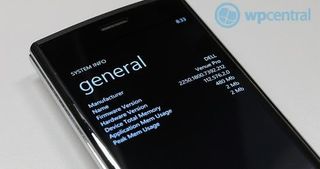 In what is undoubtedly a very pleasant surprise if you're an owner of an unlocked Dell Venue Pro, you can now reportedly upgrade your device to OS 8107.
For those unfamiliar, OS 8107 addresses the disappearing keyboard issue as well as other security fixes and patches. In addition, prior to receiving 8107 the user will be prompt for 7740, a previous update which also addresses some bugs e.g. voicemail notifications and Exchange 2003 email errors.
We received numerous reports of the DVP getting the update (although our is just showing 7740 as being the latest). If accurate, this is great news for Dell owners, especially as the OEM has unceremoniously dropped out from further smartphone development for the foreseeable future.
Hit us up on comments if your DVP has received 8107 in the last 24 hours.
Thanks, Arnout and Sven Z., for the tips!
Daniel Rubino is the Editor-in-chief of Windows Central, head reviewer, podcast co-host, and analyst. He has been here covering Microsoft since 2007 when this site was called WMExperts (and later Windows Phone Central). His interests include Windows, Microsoft Surface, laptops, next-gen computing, and for some reason, watches. Before all this tech stuff, he worked on a Ph.D. in linguistics and ran the projectors at movie theaters, which has done absolutely nothing for his career.
I just got this update an hour ago (Ottawa, Canada).
Man, DVP is a really slick phone, got it after selling my dual boot HD2 (as soon as booted into wp7 crapdroid stopped existing for me, and to support the great WP7 platform i bought the DVP)
Anyhow, awesome screen, elegan looks, physical keyboard (for those who use it on WP7.5 anyway)= fantastic gear

Good to hear some positive experiences, what with all the bad press it got about updates, supply issues, etc

Once at&t releases the update I'm doing the WiFi trick..

We use Dell at work, and our Dell reps use to have Blackberrys and now they have Venue Pros. With Dell handing this out to a lot of their employees, I think you will continue to see them get updates like this, which is good for everyone outside of Dell who has one.

what does it mean for those of us still on 7720, I am using a Tmobile DVP, means we have to wait on the carrier right?

Well, I updated my unlocked DVP 2 days ago, left a comment in the previous post. I saw a few more fellow posters leaving comments for their DVPs. So, nothing new here for us unlocked DVP owners :-) Anyway, I'm happy with DVP getting the 8107 update though. I still a slight lag in the Gmail sync - not sure if that's just me.
Btw, I'm using T-Mobile SIM, with no data plan. I'm happy with Wi-fi's.



Still no update for HTC surround on TELUS :(

Doesnt seem to be out for US unlocked or carrier devices yet.

Gr8,
I wanted to write this from a month. WP7 Rocks not a problem with that. OS is brillient.
how many carriers and how much of a choise is out there.
All time i look at O2, Orange, T-Mobile ,3
Huge android choises available, TitanII not availabe for us, Lumina 900 not available any thing which is needed is not available with carriers. Nothing is beeing done to address this.
Strange only one phone sticks out today Lumia 800, the only new phone in town. Gr8 phone owne one. but too small a screen.
It just gives a person who is searching for Windows Phones a feeling that this might just colapse, with no phones on the market.
Nokia with only one decent phone on the market its makes choises very limited. I Understand why dell just pulled it out. why None of the manufacturers are willing to go WP7 fullswing.
What is the issue Licensing costs, or Patent Cover costs.
Specs on Android are higher than Wp7 still why no phones on market. what i mean to say is it should be lower in cost to produce.
Kind Regards
Vinay

dvp is still the lambo of wp phones. lumia is simply a ferrari

I hope it comes to the att locked too.

Just updated mine last nite, although I've never had any disappearing keyboard issues, anyways I LOVE my DVP I've had it since last October and it works great, no slowdowns no matter how many apps I install.

With all this excitement for the DVP, has anyone got a firmware update for internet sharing? If I does I swear I will sell this radar immediately and get me a DVP.

Love my DVP. I have had it for almost a year and it is a beast. Dell also has great customer service.

Does the DVP work with AT&T?

You can Call Dell Mobility on this number:1 (800) 308-3355 and you'll have an option of choosing either the AT&T or Tmobile unlocked variant for $269

Last 24 hours? I got mine nearly 2 days ago when 8107 started rolling out. They better keep supporting it but to be honest, once Apollo hits ill be changing phone anyways..

Still no update here on my factory-unlocked AT&T band DVP.

I just had to restore to a backup because of some issues I was having, and to my surprise it updated to 7704, then 7720, then 7740 (which is what I was at before), and then gave me 8107.

no update for unlocked att band dvp...

No update here at the moment

Nothing on this end for unlocked T-Mo variety.

If Ottawa has it, how come mine in Toronto does not have it. 'Where is my freaking update'?

I received it on mine as well. Thanks Dell!

Got mine today morning in India (unlocked)
I seriously dont understand why this phone got such a bad press. Its fantastic

Haven't still got the 7740 as well as 8107 update for my unlocked T-mobile Dell Venue Pro in India. Any idea when it's going to be available?. Thanks

Still no update for my DVP

Update showed up tonight here in Phoenix, AZ, yay!

The update has just arrived for my DVP in the UK.

Fianlly, my update has arrived!


Update arrived this morning for my unlocked Dell Venue Pro with AWS frequency bands (T-Mobile version) in the USA.

Installing update now on my unlocked AT&T band DVP in Raleigh, NC.

Installed the new update last night. (unlocked dell venue pro, t-mobile, New York )

Guys! how can I install it? I have an official unlocked T-Mobile DVP, still on 7.10.7720 .. I live in the Jordan (Middle East) and every time I try to update it says (up to date).. can you help me please.

lol i just post the same as you xD..i need help with that too!! please anybody!! :(

hi everyone, i'm new here and also i'm new on wp7 XD but anyway, i just got this great phone about 3 weeks ago, and let me tell you, it's the bets phone i got so far..but i have a question, my dell venue pro it's unlocked (t-mobile) and it came with WP 7.0, i connect it to the computer with the zune zoftware so it can be updated and first make an quick update, then it updated again but thatn one took a lot more time, then i could use it normally, but i don't know how i'm stuck with the 7720 os version, how can i updated to 7740 and then to 8107? because when i connect it to the zune software on my pc, doesn't show any updates :O
(sorry for the english xD)

Anyone else still dying for T-Mobile to push this update through?!
Windows Central Newsletter
Thank you for signing up to Windows Central. You will receive a verification email shortly.
There was a problem. Please refresh the page and try again.