Developers of Parcel Tracker abandon Windows Phone due to no revenue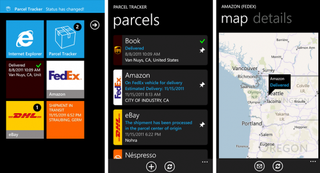 RIP Parcel Tracker: 2010-2012
We have to paint yet another bleak picture for one of our favorite apps on Windows Phone: Parcel Tracker. The package tracker app was featured numerous times on this site and we always gave it a thumbs up, but evidently that wasn't enough as the app has been removed from the Store.
The developers have evidently sent a news-update thru the app to current customers letting them know that development has stopped and the app has been withdrawn. While current users can still use the app when it comes to Windows Phone 8, you'll be out of luck.
The developers cite that most users never bought the app and therefore it wasn't financially lucrative enough to support it anymore. As we've heard from some devs before you have to be in Windows Phone dev as a hobby right now.
Much like Carbon we find the timing unfortunate. Although Windows Phone 8 is far from a guaranteed hit, if there was ever going to be a massive push for Microsoft's next "big thing" it's going to start next week. We're not sure why the developers couldn't branch off into Windows 8 or even reach out to any Windows Phone sites.
To that latter point, we can say we've never heard from the developer for updates, promotions or any form of PR about their app, which in our mind is just bad business. There's a reason why we do app promos, mention price drops or bring your info about apps and a lot of it has to do with how much the developer wants to engage the Windows Phone community. Would any of that have saved Parcel Tracker? Maybe, maybe not but even we forgot they existed with the thousands of other apps that have come out in the last few months.
Parcel Tracker was indeed one of the better apps for international users as it supported a plethora of shipping companies far and near (the list was seriously huge) and for that we're very saddened to see 'em go.
PackageTracker steps up to the plate
But this is Windows Phone so we'll go and use the other great tracking app: PackageTracker. The app fetches for $0.99 and has all sorts of bells-n-whistles including a snooze function (no tracking alerts during certain hours), multiple-pinnable Live Tiles, gorgeous interface and other nice options. Only downside is that for many of you outside the US you won't find the limited selection of shipping companies to your liking.
Have an alternative you like? Let us know in comments. Otherwise you can grab PackageTracker here in the Windows Phone Store.
Thanks, oursooner314 and Paul B., for the tip
Windows Central Newsletter
Get the best of Windows Central in in your inbox, every day!
Daniel Rubino is the Editor-in-chief of Windows Central, head reviewer, podcast co-host, and analyst. He has been covering Microsoft since 2007 when this site was called WMExperts (and later Windows Phone Central). His interests include Windows, laptops, next-gen computing, and for some reason, watches. Before all this tech stuff, he worked on a Ph.D. in linguistics, watched people sleep (for medical purposes!), and ran the projectors at movie theaters because it was fun.
Sucks that another dev leaves, didnt a twitter app leave too.

Yeah, Carbon. The post references it.

Don't let the door hit ya, where the good Lord split ya!

First time I heard of this app but was sad to see Carbon go excellent twitter app

The other day the Carbon app prompted me to buy it. I was like "Um, no."

Stupid. Why do the people who already paid have to continue to get screwed over by developers abandoning apps? It's not much money obviously, but on principle, it bothers me. That's now something like $10 I've paid for apps I can't download, between this, Carbon, and MiniSquadron (and ParcelTracker is so much better than the competition too).

Yeah, this is a flaw with the design of having a single store that controls "your" apps. It is also a flaw in the design of web services. They can shut off at any moment without notice. In the old days you bought a disc and goddammit the program would work forever whether the company bit the dust or not.

Still enjoy my Titanic adventure out of time even though Cyberflix is dead

Why did a certain company practically abandon a large group of their customers not providing another generation of their OS? Because they decided the revenues would not be worth the effort. :-)

Why did a certain company practically abandon a large group of their customers not providing another generation of their OS? Because they decided the revenues would not be worth the effort. :-)

I use Shippin' Buddy myself. At first it was bad, but I went back a few months later and boy was it really updated! I've been using it since and haven't looked back. Going to check out PackageTracker as well.

This will prove to be a mistake - simply because of the corporate saturation that MS already has, now that MS has some real devices like the surface and wp8, there is going to be a push for business apps as it is a seamless transition for IT corporate world to introduce these devices.

They can always come back, I suppose.

Someone else will fill the gap and hit it off well. Given the events in the coming days/weeks ahead, now is a great time to stick it out. At the very least, develop for Win8 and port it over. Win8 presales are high than Win7 presales according to MS.

Leave, FU pay me.. I need my revenue back

An opportunity for another dev just opened up!

Sucks, but i hated using that app. I always just opened the tracking page in IE and pinned it.

Ding ding ding ding..... We have a winner folks.
Why pay for something that can be acheived very easily for free. I agree it isn't good to see good devs go but there product didn't provide a lot of value.

The value for many of us was the *push notifications*--I'd like knowing when something is delivered. It's push versus pull--I like my smartphone to work for me, not the other way around.

UPS sends me a txt when I get a package delieved. I'm sure FedEx has the same service but I dont get much from them to look for it

I buy the idea and I always buy apps to support developers. This app worked with 2 postal carriers... The Norwegian and USPS...

For someone like who does a lot of online shipping, this app was really handy when it came to keeping track of many different packages and it's nice to have access to my tracking history.

Saw that in the app yesterday. Love this app, its been on eof the few pinned to my home screen since I got my phone over a year ago.

Now you can try PackageTracker which I think is a great app and the ability to use it for free for a limit of 3 current packages.

GET PACKAGE TRACKER ITS THA SHIZZNIT

This is really sad. Definately one of my favorite apps.

Been using Package Tracker-works great.

I'll buy out their dev account and the code to Parcel Tracker if they will sell it to me. This is no bullshit.

Damn, I really liked that app. Strange timing though--I think they should have stuck around for a bit longer to see how the next gen is going to work out.

Used this app for a long time. Paid for the app too. Sad to see them go.

I only shop on Amazon.. So amazon.com tracking works fine.

It's a standard text that you can sign up for free even if you don't just use amazon. If you have a tracking number from UPS or FedEx, you can set it to send you text alerts.

Foolish time to abandon with Windows8 forthcoming but the $99 yearly fee will cause hobby apps to disappear especially if an app can't be monotized thru ads. 99-cents is not enough $ to create revenue and MS should have kept the min price of apps at $$1.99 or $2.49. People will spend $8 for a pack of cigarettes and whine about $5 lost in apps used for 18 months!

It's unfortunate but yeah, in a weird way people are super picky about which apps they'll pay for. Crazy.

99 cents is plenty - if you have a large enough user base. The problem with a $1.99 Oor $2.99 minimum is that it makes the platform less competitive (not good when you're trying to catch up).

Why pull the app so current owners or should I say renters can still use it? This is a huge downside to WP because you can't back up the apps you supposedly bought. Soon as I upgrade to WP8 I will lose several apps which I paid for.

Their annual fee was probably coming up ($99/year), so they didn't renew. Push notifications may require an azure server (I think) which means monthly hosting costs. At the end of the day you paid $1-2 and got your money's worth of use... I've bought games and software in the past that was $100 or more that ended up being really bad (Spore, I'm looking at you) and with online activation it makes it difficult to sell (not that I'd ever bother selling games).

Packagetrackr.com is my #1 tracking site for both phone and desktop use. If this app connected to that site, I would have supported it. Nice app, but I'm vested elsewhere already.

Really?
As a marketer - it REALLY isn't THAT much better in the Apple ecosystem.
You can't just push an app onto ANY app store and expect it to make money by just being there. You have to let people know it's out there and push - HARD.
But the problem is with "utility" apps - if you have a FREE version and the carrier has their own website, why WOULD anyone pay? In the US, it's FedEx, UPS, and the US Post Office as the big three. All three have a type of app and/or a website.
The utility of the app has to be REALLY compelling to get people to BUY what is essentially already FREE. And to be honest... if they were handing out FREE Honda cars versus PAID Mercedes cars... which car would "sell" the most?
FREE.
Freemium/-ish is a REALLY tough model. It works for Gilette and HP... but for apps, you need to move a lot of volume and provide A LOT of utility to overcome what is already available for FREE.

I can't wait to get my surface tablet & its real app support ...i know that win 8 will bring more apps to WP but damn its been a hard two years .

It really has been a rough two years.

Worth it. I took a chance with WP7 when I bought my focus. I wouldn't go with anything else now.

I've been using Package Tracker for the better part of a year now. I really hope the same failures that best Parcel Tracker do not effect the Dev(s) behind Package Tracker.

PackageTracker usually has ads that help them keep up with cost. I think that having two apps that perform the same function is tough. People usually download the apps with the most reviews and PackageTracker just happens to be 1st.

Really saddened by this news. I purchased this app the day it came out and loved using it. Much, much better, and easier, than pinning web pages. I exchanged at least a dozen emails with the developer for bug fixes and suggestions. He was always print to reply and really worked hard at making Parcel Tracker the best it could be. Like YouTube, parcel services change the way they do things every other day, making an app like this a real chore. We did lost an important developer today.

Did not even know about this app. Bad advertising!

I don't like to see a developer leave, but then again, it's their job to either make the app worth purchasing. That's hard to do when there are plenty of free or cheaper options available. Most of my orders come with a clickable link in the email, and I can subscribe to notifications for delivery... or check manually. Push or pull is always an option through most carriers now.

Wish Microsoft would just allow local backups like you can on iOS.

I bought it. Don't blame me. Did anyone else notice the server maintenance is October 25-26. Coincidence?

Honestly, I could care less about this because generally when you purchase something online they send an email with a tracking link; I click it and it redirects me to the info I need. Some developers need yo think about this type of thing before making specific types of apps. While I appreciate hid hard work, if im already in the email that contains a link to shipping info, it would take me even longer to leave it and launch an app. That's not to say I wouldn't ever use it, it just means 8 out of 10 times I'd use the link. I didn't use it, but once you entered a tracking number would it update dynamically? If so, its truly a loss

Yes it updated every time a parcel was scanned and sent a toast notification for every update and updated the live tile to indicate the number of updates since you opened it last.

No body needs it.. With eBay app amazon app you can track your products there

That doesn't work the same as tracking (at least for me outside the US). Ebay only tells me if it's sent or delivered, but if I want to know where it is in between I need to use the tracking number on a 3rd party website.

true because I love the ebay app on win 8 pro I'm running in my corporate domain. Ic ant wait until the 26 when it allows me to register it

+1 for PackageTracker, it's been pinned to my start screen since I got my phone. I love being able to glance at my phone and see where py packages are and when they get delivered. I use the free version since i rarely have more than 3 packages to track at once, but I make sure i click on the ads every so often to make sure the developer gets something from my use of it.

Is there a weekly app feature on this site? Maybe grab all the apps sent in thru the week and drop us a big article with impressions on a bunch of newly released apps? Might be a nice Sunday feature for the site. Generate publicity for all those hobby developers?

I loved this app. So disappointed.

As someone about to take the leap and join the windows phone community, its news like this that is very unnerving and makes me question my decision.

When we see this type of thing, instead of jumping to the conclusion that somehow the platform is bad, ask yourself how often would I really use this app? If it's very rare then in all reality, the developer should ask himself/herself should i be charging for this app or make it free obtaining cash via ad hits. I think that's the mistake with developers on this platform is that all want is cash yet many of the same apps on Android are free.......i read it all the time, "why do we have to pay for it, its free on Android"

If they are a US dev they probably would have done better with a ad supported app but WP s not a viable platform for non-US devs. It is a very useful app and will be greatly missed by international users especially.

This.

It's a very small use case that you get so many packages that you would need an app like this let alone pay for it.

It's not even hard feelings toward the dev but they will be hard pressed to make a dent on Android or iOS with the functionality and niche appeal of this app. There are ways to track packages without an app and apparently push notifications is not something most people want to pay for when you can get emails and texts sent to the directly from the shipping company for free.

Putting out mobile apps is like playing the lotto, only a few hit it big unless you carve out a space/need that isn't being served. Just because you CAN make an app doesn't mean you SHOULD. Same goes for anybody starting a brick and mortar small business: most of them fail. Trust, not every iOS and Android developer is swiming in their own Scrooge McDuck-sized money bin...

The whole point of the app is updates on the live tile and toasts. I know emails and texts are an ok way to get updates but I'd rather have get my info from a live tile..

wow, you really missed the point here. the argument being made is that the majority of customers (i.e. people who aren't you) will opt for the free alternative unless they're being offered excellent value. parcel-tracking apps offer poor value, and as such while SOME people will purchase it the conversion rate would be far lower than other apps. without an ad-supported version, that's trouble.

Well, already disappointed with Package Tracker. Parcel Tracker used "push", hence the need for a server. Package Tracker uses a background task, so it checks every 30 minutes even if I don't have a delivery for weeks. More important though, do developers realize that devices like the L900 have a limit of 9 background tasks. I always try to keep my count to 8 although I have at least another half dozen apps trying to add a background task. And there is a bug which will disable all your background tasks once you exceed about 26-28 in the Advanced section (check the forums for details). I have deleted 7 apps that I would have liked to keep, but have to make sure I don't exceed 25 background task apps. Already missing Parcel Tracker.

I hope the packagetracker app for windows 8 gets ported to wp8, I love that app on my desktop, so much cleaner than parceltracker.

I prefer package Tracker anyways but sad to see them go. If they can't get revenue in wp7/8 how can they in android and iOS when there's already of hundreds of these kind of apps

Windows 8 apps will be very lucrative with a user base in the hundreds of millions and windows 8 apps are highly compatible for conversion to windows phone 8. I say all that to ask what they hope to gain by leaving. The Android and iOS gold rush ended two years ago. Stick around, release a windows 8 and windows phone 8 app and piggy back off this Microsoft momentum

I didn't even know this app existed! I was using Shippin' Buddy! I am buying this app before it gets taken down!

Noooooo. I really love this app!! I paid for it. Does anyone know of an app that does the same thing?

It must be developers feel let down and choose to support no matter what. Only good reason I can see.

Shippin buddy has always been my favorite package tracking app for WP7.

That's just great since this was only 1 of 2 apps that I have bought, and the other one (Prime TV) desperately needs updates, yet the developer won't answer e-mails and hasn't ever updated it since I bought it.

I think users should get their money back when a developer pulls an app.

I wonder if they've heard of Windows Phone 8 and Windows 8... their timing is way off here, oh we'll, looks like ill be getting my package tracking elsewhere.

This is the first time I hear about this app, and I've been following all the posts on wpcentral.

I don't know if this app is in other phone platforms. Windows phone doesn't have a large amount of the marketshare and as good as the app is it is probably not something that a lot of people are excited about downloading as opposed to games and other such apps. I'm sure they could have marketed the app better as well but the app itself isn't something that grabs a large demographic.

I never heard of this app. I always used PackageTracker and love it. But I do support the platform, and having choices and competition is always good.

sad to see them go, I use this app ALL THE TIME! I paid for it and got my money's worth. I guess I'll have to find another...

I have it and I think I paid for it. Well that sucks. It was a great app

Does anyone know if buying the Windows 8 version of Package Tracker gives you the Windows Phone version also?

maybe these developers who make apps like this one that's just an alternate source for something the companies already provide via web links or automated email or text service should approach these companies about creating an app on the various platforms for a fixed dollar amount. Just a thought because as many have stated when you have all of these alternate means of getting the same information, the chance of mass adoption, especially for any major profit are,"Slim Pickings"

What a fool Leaving. His app was bugy anyway. Go to android were buggy apps are

Glad I never paid for it. Because it gave you 3 free use. Anyway has 3 is good.enough has if I rarely send shipment package

The day Microsoft announce Nokia Lumias won't get the WP8 update, the platform lost ALL momentum which took 2 years to build up. It's now basically a dead platform. Maybe, Surface, Windows 8, WP8 will revive it, but it will take 2 more years to regain the momentum. And then Microsoft will do yet ANOTHER platform reset. Microsoft just DOES NOT get the smartphone business. They will always struggle in my opinion.

This is what frustrates and makes me want to go back to the iOS eco system. Why is it that the app needs to be removed from the store?
Existing customers who have already purchased the app should be able to download even if development has stopped. With Apple's App Store, even if the app has been pulled, the download is always available to those who have purchased it...why can't Microsoft do this?

Sad but true, there's next to no money to be made from Windows Phone development. Especially once you take out the annual fee that developers have to pay to Microsoft. Until that changes, expect this to keep happening.

This is why I'm sick of paying for Apps....
I've paid for both Carbon and this, and now once I change my phone to WP8 I can't use it?!? No more paid for apps for me....

The article references this app being able to be used in Windows Phone 8 by those that already purchased it. How is that possible? It it gone from the marketplace, but it needs to be redownloaded on our shiny new lumia 920s...

Nevermind. The lack of a comma in that particular sentence made it seem to say the opposite of what it is actually trying to say. Punctuation for the win!

I never used that app, but I had used Tracky, which now won't load when I try to open it. I guess I'll try Package Tracker

Good for Parcel tracker devs, get out on time. Windows Phone sucks!

And LOL at you suckers that bought the app from Microsoft. What happened? "Oops, sorry! No refunds."
That's right, with Apple, you'd have downloaded the ipa file through iTunes, the app and you could've saved it and installed it anytime you wanted to, even if it was taken down. OR, even if you hadn't downloaded the ipa file, you can still download and install old apps that have been taken down, because you bought them.
How is that for an awesome service? Microsoft's garbage platform cannot match anything of Apples, you don't get basic security, you pay and you get nothing, they can take it down anytime they wish and you cannot do a thing about it.
Microsoft sucks! Terrible designers, terrible engineers.

Thing is I hate icons, it's dated. And Iphone 5 looks like a dildo. Then again I appreciate your concern for our money.

Oh, that's a shame, I use it often, but have to admit free version suits my needs, don't need to have more than 4 parcels. Probably they marketed poorly, since if they didn't allow full free use up to 4 parcels I would have bought it.

I'll agree with others that the functionality "Parcel Tracker" offers is of limited value considering other options out there, but I can understand the developer's frustration too.
Developing for WP7 is - for me - more an expensive hobby than anything I expect to make me money with. $99 for a year's license, and my app has sold... $4 worth in 4 months. iOS hasn't made me much money either, but the sales there at least cover the $99/year license fee and a little bit extra. Android sales are about as dismal as on WP7, I think Android phone users don't like to pay for things as much. 8)
Granted, I know my app's targeting a very niche market too on a platform that currently is only a fraction of the smartphone market... but I love the WindowsPhone OS and wanted to port my app anyway.
I know my app runs better on WindowsPhone than it does on iOS & Android. Still, it can be discouraging. I'm hoping WP8 will take off, and I know my app will run fine on that, so we'll see.
To that end, I'll send in a note to WPcentral to see if they'll consider posting something about my app. An earlier commenter had a good idea, of a "weekly list" of notable apps, that might be neat to see.

Microsoft NEEDS to definitely subsidize (may not be the right word) and support developers, until the platform becomes self-sufficient. Especially in case of good, professionally designed apps like this. They have the muscle and the cannot afford having potential customers think the platform's future is not assured.
MS, put your money where your mouth is.

Get your facts. The tracking app needs a server for push notifications, which has to be paid.
I guess this is the reason why the app was pulled, because even if the app would be there to download, you cannot use it anymore, because their server is down.


Laaame. This is the only app I've ever paid for and it's the only package tracker I actually like using. Meh. This and Pulse are two of my most-used apps on WP7, so it really sucks to see them go.

Sucks to see this app go, but I understand the developpers. I have the same issue with my apps.

Problem is, Package Tracker is pretty much worthless if you live outside of the US...

In case anyone hasn't noticed yet, the developers received an overwhelming response and decided to keep the app running!
Windows Central Newsletter
Thank you for signing up to Windows Central. You will receive a verification email shortly.
There was a problem. Please refresh the page and try again.