Voice to Text made simple with the Dictation App for Windows 10 Mobile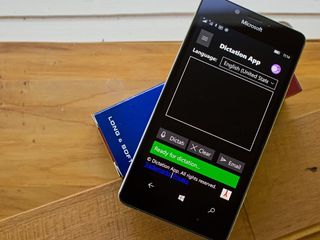 The Dictation App is a simple means to convert voice to text on your Windows 10 Mobile phone. The app uses Cortana's voice recognition engines and cloud-based services for more accurate conversions and lessens the impact on your phone's resources.
The layout of the app is somewhat minimal and the voice to text conversions is fairly accurate. I did run into issues where my Southern accent tripped the app, but not as often as I expected.
The Dictation App has a free trial version with the full version of the app priced at $2.49.
The design of the Dictation App is not very complex with most of the app's features covered in one screen. Control buttons line the bottom of the screen to start your dictation, erase the text and email the dictation. Just below these control buttons is a status bar that alerts you when the app is idle when speech is detected, confidence levels and more.
As you speak, the text field that takes up most of Dictation App's display begins to populate with the written words that are spoken. Even though the developer recommends speaking at a slower rate, I found the app transcribes your spoken words at a decent pace. While you may not be able to talk at an auctioneers' pace, the Dictation app kept pace while speaking in a normal tone and pace.
The Windows 10 Mobile app also interprets words such as coma, period, colon and others as punctuation marks. If you need a line break, saying "new line" generates the new paragraph.
In testing the Dictation App, I read from books, spoke gibberish and made up things to say. I laid on my Southern Accent heavily and even mumbled through my hand. While there were plenty of miscues by the Dictation App, I was pleasantly surprised at the conversion accuracy. I did find that the app struggled between text and numerical forms of numbers. I would say "4" and it would register as "four" or vice versa.
When the Dictation App does misread what you are saying, you can tap the text field and edit the dictation as needed. When all is said and edited, the dictated text can be emailed to yourself or others. There is also the ability to highlight, copy and paste the text to other apps such as Word.
Along with the dictation feature, the app's main page has access to a help screen (the menu button in the upper left corner) and a language selection. The language you want to work with must be supported by Cortana before it appears in the drop-down menu.
I can see the Dictation App coming in handy for times you do not have a pencil and paper or simply not in a position to write something down. Create a Live Tile on your Windows Phone Start Screen for easy access and when those random thoughts hit you while driving, the Dictation App can help document those thoughts.
There is room for improvement with the Dictation App such as the ability to save the document to a .txt file. The accuracy of conversion is good, but there is always room for fine-tuning there as well.
Overall, I found the Dictation App to be a good voice to text Windows 10 Mobile app. There is a free trial version available and the full version of the Dictation App is priced at $2.49. The trial is not ad-support and with no indication in the Store description, I suspect it is time-sensitive.
Download Dictation App for Windows 10 Mobile (opens in new tab)
George is the Reviews Editor at Windows Central, concentrating on Windows 10 PC and Mobile apps. He's been a supporter of the platform since the days of Windows CE and uses his current Windows 10 Mobile phone daily to keep up with life and enjoy a game during down time.
The app does look to have some good features, but I think it's just as easy to tell Cortana to create a note, or to open OneNote (or any other app) and tap the dictation button built into the keyboard.

Yes. How is this really that different from the voice dictation into any text box?

Wow, another app for the happy few in 0.7% marketshare. -7 Okay. I would add: 'Down the drain' marketshare.

My gosh, we get it. Let it go.

It's just a small reminder. LOL

You're not as funny as you think you are.

You must have such a life.

I am just waiting for the day Google and Apple decide they no longer allow Microsoft apps in their stores. Then MS wiil get the final blow thanks too genius Nutella.

Yeah. They should be fool to do so. This never gonna happen anyway!

Well, my advice to you: Stay away from stockmarkets than. Brexit was never going to happen too....

Former disgruntled employee?

¿Nada? Suenas a un tipo bastante amargado, desesperado por atención.

"Nada" means "nothing." I think you meant "nunca" which means "never." I'm from Chile, so Spanish is my mother tongue, but you could have looked up the right word in about one minute. Please stop trolling. You're not funny and you don't even look smart but rather the opposite.

I am not trolling. Its my opinion. Time will tell.

Enjoy your phone platform of choice, stemhead. Your need to mock those who prefer WinMo is classless.

You know so little.. My platform of choice is Windows Mobile and will be.

Then SHUT UP! NO ONE CARES! Only those with a weak argument will unceasingly force their point. Take a walk in the countryside and remind yourself that there's more to life than market share!

Thanks I was wondering how long. It's not long enough

If this is a UWP, I can definitely see myself using this for work! Part of my job involves summarizing or transcribing interviews, and that tends to take about four hours for every hour of recording... This sounds much faster, and is at a better price than other dictation software packages, too.

What difference it makes whether its uwp or not?

My Windows phone isn't a work phone.

Ok. My point was mainly that being uwp does not guarantee that it's available for desktop if that's your use case right? It's up to dev to make that decision. And it can also be available for desktop without being uwp.

It is a UWP, works on the PC as well.

So...why not use OneNote. It already does this.

I am confused, what is the little microphone on top of the keyboard for??? Then again Cortana sucks at speak recognition. LOL

There has never been Cortana and neither of its functions available in Poland, and voice recognition was removed at the premiere of Windows 10 Mobile. Windows Central could implement the same mechanism as YouTube has, which instead of this and similar articles would pop up a message saying "this content is unavailable in your country", so I wouldn't waste my time :)

You know which button to hit in the app to suggest features ;)

What's the difference between this and keyboard's dictation button?

Either way trial version wouldn't install so that's 90 seconds of my life I won't get back.
Windows Central Newsletter
Thank you for signing up to Windows Central. You will receive a verification email shortly.
There was a problem. Please refresh the page and try again.