Dictator: Revolt – wielding unlimited power from the comfort of your Windows Phone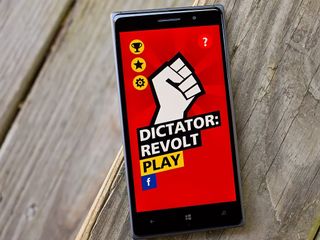 If you are looking for a simple, somewhat amusing Windows Phone game to pass the time with consider Dictator: Revolt. You play the role of a young dictator who must make wise and timely decisions that will impact the stability of your government and most importantly the balance in your treasury.
Available for low-memory Windows Phones the game has had a fair amount of success over on the iOS and Android platforms. In playing Dictator over the past few days, I can see the appeal the game has and Dictator: Revolt should do well on Windows Phones. However, the lack of a trial version my hold this Windows Phone gaming title back
Dictator: Revolt wastes very little time with its main menu. Options include access to your gaming achievements, rating the game in the Windows Phone Store, accessing the settings (Sound/Music levels), viewing a brief help screen and viewing your daily challenges. You will also find a link to the game's Facebook page.
Game play has you receiving representatives from one of six factions of your kingdom's society. They will have requests that you can either grant or deny. Whichever path you take will impact your popularity across the board. Most of the decisions will cost you money and you begin game play with $1,500,000 in the bank. Should your popularity rise high enough, you'll start to earn money back from your factions.
The six factions include:
Police
Oligarchs
People (in general)
Opposition
Army
Family
You can only receive one group every twenty-four hours and their request range from reducing the mandatory work hours to allowing students to show up for exams drunk. After each decision you make, a report will be generated reflecting your popularity from each of the six groups.
The game does a nice job of tossing out tutorial windows to explain gaming details and mechanics throughout game play. The goal of Dictator: Revolt is to survive as long as possible before you run out of cash or the people revolt and overthrow your government. Your months in office (or moves) are reflected at the top of the main screen along with your current treasury balance.
You will also face conspiracy plots and demonstrations that will require you to take action. Some of the actions are simply appearing at the demonstration to show support while others have you forcing protesting farmers to the local swamp to drain it.
Your popularity can rise high enough with a faction where you earn money but it can also fall to the point you lose money with a faction of your society. The game, while full of far fetched situations, is one that often requires you to balance your decisions simply to stay afloat. In such times, you do have an advisory button at the bottom of the decision screen that will show you how each choice will be received by the six groups.
Should your treasury account hit rock bottom, you do have the option to buy an additional $500,000 through a $.99 in-app purchase. Otherwise, your government will be overthrown and you'll need to find a friendly country to seek asylum in.
Overall Impression
Dictator: Revolt is a fun Windows Phone game for the times you are in the mood for something different. It isn't an action oriented game with tanks to shoot or puzzle to solve. It can be challenging to keep your dictator in office with each faction of your country being demanding.
The obvious downside to the game is that Dictator lacks a trial version. At only $.99 the game won't break the bank but it is always nice to see a game have a trial version to let you try things out before buying. Other than that, there isn't much to complain about with Dictator: Revolt.
At last check, Dictator: Revolt is pulling down a 4.5 Star rating in the Windows Phone Store, which is about right for the game. If you give Dictator: Revolt a try, let us know what you think of the game in the comments below.
Download Dictator: Revolt for Windows Phone ($.99)
Windows Central Newsletter
Get the best of Windows Central in in your inbox, every day!
George is the Reviews Editor at Windows Central, concentrating on Windows 10 PC and Mobile apps. He's been a supporter of the platform since the days of Windows CE and uses his current Windows 10 Mobile phone daily to keep up with life and enjoy a game during down time.
Lets the complaints about the price start now

$.99 is way to cheap!!! :D

The problem it seems, it is a paid game and with IAPs as well.

What would you say if your boss asked you to work for free? ;)

It's horrible for 99 cents and the massive in app purchases. I tried the game and its mediocre at best. It's good windows is getting applications but st least be good reputable games and not one's like this Posted via the Windows Central App for Android

This game has XBOX achievements or not?

Why would it have Xbox achievements?

You could safely say "no". Only big studios with money to burn can gamble on getting their money back for such things.

Tbh I prefer this Achievement brand curation rather than its devaluation by opening it to shitty games.

I don't feel like Game Troopers is a big studio and they always integrate achievements. But MS needs to make achievement integration easier. Android and iOS have gamecenters.

Cant wait for tomorr0w!! Who with me? Hehee :D

I am... My L520 is ready for it..!!

I must have missed it. What's tomorrow?

Tomorrow is the start of the rest of your life!

Umm...we're getting the Insider update for the so far unsupported devices?

Solution to the Solutions that we searched for the Solutions in Windows Phones :D

Microsoft will release the next build of Windows 10 for phones on friday, which mean tomorrow. Unfortunately, the build is not available for Lumia 930/Icon :(

Hey, same here. 1020 too :D

I will be overdosed. So I'll wake up in a couple days

Haha hope you dont sleep forever dude

Why if it's just a mediocre game that I'd nothing special. Posted via the Windows Central App for Android

I played this and the animations are very superb that I wish the Windows 10 team takes some inspiration from it. But that's just me.

When I used to have an Android phone, I used to have this game. Very enjoyable.

I donwloaded it but it doesn't work :/

Your not alone. Won't start on my 1520. What phone you have?

It's funny how George says "Windaz" e.g. "Windaz Centr'l" and "Windaz Phone" :P :P

Bought it, game is not starting. Lumia 1520.

Very detailed with an awesome voice to boot.

Windows Central Newsletter
Thank you for signing up to Windows Central. You will receive a verification email shortly.
There was a problem. Please refresh the page and try again.