Digital Xbox One version of Call of Duty Black Ops III removed from Xbox Store and Amazon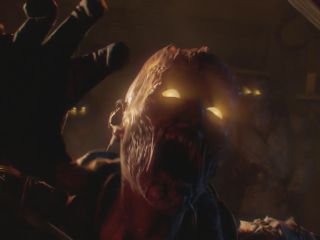 If you wanted to pre-order the digital version of Call of Duty Black Ops III for the Xbox One, your choices are now limited. Those pre-orders have been removed for the past several days from both the both the Xbox Store and Amazon.
This odd occurrence was first reported by ICXM. People who have already purchased the digital version of the game from the Xbox Store and Amazon should have no problems downloading it when the game launches on November 6. Kotaku has contacted both Microsoft and Call of Duty Black Ops III's published Activision for comment, but at the moment, neither are offering an explanation for this move.
Activision's statement says:
Microsoft's response to Activision's statement is even more vague:
It's worth noting that this is the first Call of Duty game in several years that doesn't have a Xbox timed exclusive on its post-release DLC content; Black Ops III's expansion packs will be released on Sony's PlayStation 3 and PlayStation 4 consoles first. If you really want the game on the Xbox One digitally, you can still get the "digital deluxe" version, which includes the base game, the Season Pass of post-release content, and more from GameStop for $100. Otherwise, you will have to get the game via an old-fashioned disc from Amazon and many different retailers
Get the Windows Central Newsletter
All the latest news, reviews, and guides for Windows and Xbox diehards.
YoloSoft and Cashivision fighting?

Oh well. Halo is a far superior shooter anyway. Although Treyarch's Zombies mode is immensely fun.

This has been going on for 7 days now, amazon and game UK 2 days ago. Well.. Xbox one pre-orders are leading over PS4 version seen at VG charts.

Digital sales don't count in the charts either, so for the xbox one to be leading, really shames the physical disc loving PS4 owners.

Many wonder that this is the reason for sony's dark move of cutting Xbox one version short. Just saw that amazon removed Xbox one from platforms available.

If this version still has Halo style jumping I wasn't going to buy it anyway and it would be the first time in more than a decade I haven't bought CoD.

You're not the only one, I think Microsoft were wise dumping the exclusivity to the dlc, as a vast majority of people I know aren't eager to get the latest CoD, and no one I know plays advanced warfare 3!

Well at least their trying to prepare for overwhelmed xbl servers buy limiting presale

No doubt just a sneaky way to sell the deluxe version (more $) and not having to sell it at wholesale to amazon etc (more $) and them stick their profit margin on top of that. Wouldn't put it past Sony to have pressured Activision to do this to pump up sales for the blue team by limiting how team green can obtain the game.

So Activision say it's not them, MS say it's not them? What's going on!

No Activision said they didn't remove it but that doesn't mean they didn't make Microsoft remove it due to exclusive bullshit. Think about it if Activision admitted to removing it for that reason alot of people would be pissed so they're not saying it. Plus I wouldn't put it past them to do something as that.

Lame game anyway! Hasn't changed in forever.

Most anticipated game? Trolololol

"and is the most anticipated game of the year." LOL that's funny.

Sad And true. Most developers would sacrifice children to have 10% the sales Activision gets each year.

Could just be a similar glitch to the one that saw FarCry 4 removed from the store last year.

If Activision didn't, and MS didn't, who else could it be? cough*sony*cough

Witcher 3 GOTY...COD needs to die

Screw Activision and Call of Duty. I'm so done with this franchise. The only ones I'll even consider are the ones made by Infinity Ward. So this Trey Arch game means nothing to me. But all the talk about it in the gaming community becomes really annoying to me.