Reach for the lasers - Digitally Imported client Beem Plus now free until March 1st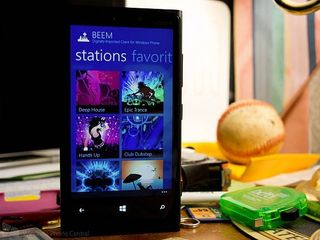 If you're a fan of 'addictive' electronic music, odds are you use or have used the Digitally Imported website at one point or another. Digitally Imported (di.fm) started out in 1999 and has been a big source of electronic music for over a decade – amassing a loyal set of users and fans. While there isn't an official app for Windows Phone, we've had two killer ones: Beem and Beem Plus, both from developer wunderkind Den Delimarsky.
Beem is being put out to pasture, but the good news is that Beem Plus (which just got an update) is free for the entire month of February. Why the change though?
Time can be a scarce commodity when you're doing an internship at Microsoft and still wrapping up your undergraduate research. Since Den likes both trance music and building apps, Beem and Beem Plus have been projects of Den. And unfortunately, the amount of free time that can be dedicated to projects like this has been decreasing lately. Some changes need to be made, changes that only end up benefitting users.
So why is the free version of Beem getting the boot? A few reasons actually, the biggest being the unification of projects under one publishing roof. Additionally, the server infrastructure was not adequate for a free niche application, which would sometimes cause service disruptions for users. You can still download it, but why would you when you can Beem Plus for free?
Going forward, Den plans on releasing a free, ad-supported Beem Plus application by March 1st. Which is also the day that the Beem Plus app currently in the Windows Phone Store will cease to be free. So stop reading this and go download the application if you're into EDM.
Quick recap: Beem Plus is a kick ass Digitally Imported client. It got a big update a few weeks back that added some cool features. For example you can record a stream and upload it to your SkyDrive account, ringtone support for short EDM tracks you record, and Last.fm integration!
Beem Plus is available until March 1st for free in the Windows Phone Store, download it here, use the QR code below, or swipe to the right if you're in our Windows Phone Central application.
Thanks for the heads up Den!
Windows Central Newsletter
Get the best of Windows Central in in your inbox, every day!
Just downloaded this app... What an awesome app!

I love you!!! This is probably going to be my new favorite app!!!! Hellz yeah BABY!!!!!

This app is pretty neat. Works better than nokia music in my opinion, but only for the EDM afficionados.

I hope 15 gigabytes of data can support my new habit. <3
This is a good way to discover new artists.

I used 18gb on T-Mo last month, but that was with video too. ;). This and Audiocloud. LOVE !!!!

At&t generously allots 3GB per month. Beem eats that for breakfast and sh*ts it out by lunch. I turn it on in the morning and listen most of the day. It is addictive and it has cost me in overages numerous times. Damn you, Beem.

One reason I should use this instead of TuneIn Radio?

It's way faster, the stream starts within a second of pressing.

Both are Good, they're the best. Mixtapes is also good.

Mixtapes is pretty awesome. Especially if you are a jazz fanatic as I am.

Thanks for the recommendation. I've been looking for a source for new jazz!

So what is the difference between Beem and Beem Plus?
Beem Free will disapper and only Beem Plus will remain with ads but for free???
What happens if i keep my free version? Will I be able to still use it after the 1st of March?

Just download Beem Plus today, right now in fact. Once you download the app it will be free for you forever, no matter if you get a new device - so long as it is linked to the same Microsoft Account. Starting March 1st, Beem Plus (the one you just downloaded) will cost money for anyone else who hasn't already downloaded it. Beem (free) will cease to exist on the Windows Phone Store on March 1st. Another app (basically Beem Plus) will take its place, but have ads (that makes it free for you). Does that clarify it for you?

WOW !!! , what an Outstanding little app , I've just downloaded it and randomly started a station called "Hardcore" , and it's Freaking Awesome ! to say the least .. it started streaming right away & the Audio quality is great ..
so ya . it's definitely a must have app .

When I first loaded Beem I kicked the tires on several stations. One day I tuned in to Epic trance, got distracted and left it there. Soon thereafter I began sending Epic Trance flowers and jewelry, asking it out on dates. I resembled Pepe LePew "Mmm Mmm Mmm mon Cheri. Let me take you to the Kasbar and we will make sweet love my little turtle dove". Then, like a guy having a *** dream with lots of wet kisses, I am awakened by the slobbery licks of a black lab which turned out to be a love letter from At&t informing me that I had exceeded my data limit so we are going to relieve you of some of your money now. Beem is a high maintenance gal but damn, she shore is purty.

My Appdeals app just alerted me to this, have been using beem for sometime now, love DI.FM.
Got this immediately.

I'd pay for it anyways... This is my GOTO app for music listening....

Haven't heard that in years!! :P

Isnt there a real DI.FM app coming also?

TuneIn Radio is also worth checking out, and has also been out much longer than Beem. IIRC it was released under a different name soon after WP7 launched & then changed the name to TuneIn Radio some time ago.

And tunein has much more stations not just di

Seriously?? I did not know that about Tunein. Cool beans.

I used to listen to di.fm all the time on iTunes before I knew what apple really was...i missed it. Thanks for sharing this app :D

I've had the free version for a while. It has a breakbeat station!

Nice App. Burned through 1GB in an hour but nice.
Windows Central Newsletter
Thank you for signing up to Windows Central. You will receive a verification email shortly.
There was a problem. Please refresh the page and try again.