Digivolve your home screen this Wallpaper Wednesday
Don't let your home screen fall into a rut — switch out your wallpaper!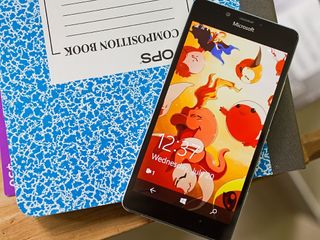 Wallpapers are important. They can give our phone a new feel, even if only for a little while. Some of us change wallpapers as often as we change shirts (sometimes to match), while some of us set one wallpaper and forget it, and that's a shame. A good wallpaper can be a pick-me-up, can remind us of better times (and upcoming times). They can show off what's important to us, be it a picture of the grandkids or an emblem of your favorite house in Game of Thrones. In an effort to brighten your screen, and maybe your day, we present an offering of wonderful wallpapers to grace your smartphone.
If you've got a wallpaper you use everywhere, share it in the comments below! We're always looking for something new. Now get your wallpaper picker ready and see what's in store this week.
Gabumon by WeelJustWeel
Gabumon's shy, relentlessly devoted, and clever. He's also a vaccine-attribute Digimon, meaning he's the Digimon I'd want around my systems. This wallpaper shows that fierce protection and loyalty as Gabumon prepares to defend his friends. The glow also adds a beautiful depth to it.
Minimalistic Digimon Wallpaper Collection by Ferecium
There are a lot of Digimon we all wish were partnering with us, and while I wish I could showcase every one of them here, I don't have the space for them. Luckily, this gallery from Ferecium features all our favorites from Digimon Adventure in a beautiful minimalist style. From Koromon to Paildramon, you can showcase them all on your desktop.
Minimalistic Digimon Wallpaper Collection by Ferecium
Fairymon by moremindmoremel0dy
There are a lot of strong women in the ranks of the digidestined, and in Digimon Frontier, they went beyond helping their partner digivolve: they became Digimon and fought themselves. And while Frontier only had one female digidestined, Zoe Orimoto was awesome. She was smart, she wasn't afraid to call out the boys, and her Digimon was graceful while still kicking serious digital butt. Oh yeah, and did I mention the awesome outfit and the wings? Could I get a pair of those?
PS. Digimon Frontier had the best theme song.
Fairymon by moremindmoremel0dy
Makino Ruki by Riza23
And speaking of kick-ass girls with awesome outfits, Ruki Makino from Digimon Tamers (or Rika, for those of us who grew up on the dub), has the market cornered on cool digidestined. Her single-minded determination, her dry wit, her simple but killer outfits, and the coolest Rookie partner ever, Ruki can shut down opponents with a single look, and if not, a Diamond Storm will take care of things in short order.
Choose Your Partner by moremindmoremel0dy
While your starter doesn't quite so much in Pokemon (and even less so in Pokemon Go), in Digimon, your starter well and truly becomes your partner. Another perk of Digimon over it's more popular cousin, while Pokemon evolve and stay evolved, Digimon will regress back to their lower levels to conserve energy, make travel easier, and gosh darn it, they're just cuter! I mean look at those mon! LOOK AT THEM!!
Ara Wagoner is a Writer at Windows Central. She's addicted to music and video subscriptions. When she's not writing help and how-to's, she's running around Walt Disney World and singing show tunes. If you see her without headphones, RUN. You can follow her on Twitter at @arawagco.
OH YES OMG YES, when I saw the notification saying "Digivolve your home screen"

Yeah, I knew that would get a few squees from the audience. Di-di-di-digimon! Digimon! Di-di-di-di!

I still play the original Digimon World for Playstation one from time to time, I simply HAD to get some of these, haha

Loved the original Digimon series. The new one is a complete BS.

havent you seen Digimon Tri movie series

This reminded me of Pokémon Go :(

One of my favourite series of all time. Can we at least hope for Digimon Go?

Digimon Go would be nice. That way, I get to walk around with a Digivice, since I don't have a Poke'Dex.

Our Xbox platform should be the answer to Pokémon GO and their devs and not the wallpapers. Play hard with Xbox and Windows PC games and don't be just satisfied with wallpapers
Windows Central Newsletter
Get the best of Windows Central in in your inbox, every day!
Thank you for signing up to Windows Central. You will receive a verification email shortly.
There was a problem. Please refresh the page and try again.