Nokia City Lens (beta), discover local interests with augmented reality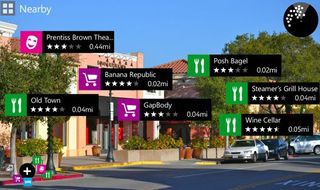 Nokia's Beta Labs has just made public City Lens, an augmented reality experience for users to find local points of interest. Much like Local Scout, but more realistic, City Lens provides a more user friendly overview of what establishments are located in the vicinity. Instead of guessing which building is which (should signage not be effective enough), Nokia Lens slaps a label on each to help you out.
Landmarks, restaurants, hotels, shops and more are listed in camera, list or maps view. This adds more options for the user, which will be handy should you not wish to wave your handset around at that exact moment and look like a tourist recording a video. Your location is loaded, much like any other app with similar functionality, and this can then be shared with social networks. Favourites can also be saved for more convenient access - pretty neat.
Nokia Beta Labs is interested in receiving feedback on this experience, so be sure to download Nokia City Lens from your Lumia Windows Phone. City Lens isn't listed in the Nokia Collection so you'll need to open the link from your Lumia Windows Phone or scan the QR Code below.
You guys know how much we love augmented reality here at WPCentral, so we strongly recommend checking this out.
Source: Nokia Beta Labs (opens in new tab); via: Engadget; thanks everyone who tipped us!
Windows Central Newsletter
Get the best of Windows Central in your inbox, every day!
Rich Edmonds was formerly a Senior Editor of PC hardware at Windows Central, covering everything related to PC components and NAS. He's been involved in technology for more than a decade and knows a thing or two about the magic inside a PC chassis. You can follow him on Twitter at @RichEdmonds.
Finally! Now the us need music and TV.

Wow this is a very cool augmented reality app, except now I want to go and walk around London just to see what I can find

I'm thinking this technology could be used to find people, pets, or your car in a crowded parking lot. Just imagine the possibilities.

Right that's a good thought

I like the finding your car idea. How many times I have gotten lost in a parking lot is ridiculous. A dev needs to get on that.

That's actually very good idea there.

can't get compass interference to go away.. i've done countless figure 8s.

I was able to do it on the first try. Try tilting it a little and then doing the figure 8 at a steady pace. If that doesnt work, try un-installing then re-stalling the app. If THAT doesnt work then well...it is a beta app hahaha. Hopefully it works for ya though.

Whoa... I thought I just saw a glimpse of wp8...

Another app that would work well with what MS has already. If they figured out some way to merge this with local scout, this would be sick as all hell. I know they are just getting started, but the ceiling for this stuff is pretty damn high.

I was pleasantly surprised to see it work with stuff in Waterloo, ON - figured it only accounted for the major cities. Now turn-by-turn arrows on your screen, that would be intense! As for supplementary enhancements, I can see it locating your friends' check-ins.

Its working in London (ON) as well, but im finding that the database is a little out of date.

Boo I want this on my trophyyyyy

We don't get anything we're from Verizon. Aka. Android Country. I just want Verizon to get more WPs. Hoping by the end of the year they will have more of a selection. One is not enough.

For some reason this isn't working on my wife's Lumia 900.. I get an error when I try to download it.

Are you trying to download it on your PC or mobile? If PC, it wont work. You have to go to the Nokia Beta Labs site (betalabs.nokia.com) on your (wife's) mobile, register/login and then click the link to try it. You will be sent to the Marketplace and will be able to download it there.
I just looked to see if you can get it in the Marketplace without going through this process and its not there, the only way (I know) is to go through Nokia Beta Labs.

Omg that is one of the coolest apps i have ever seen

Will it work if I sideload Nokia collection?

For non-Nokia Lumia users give Wikitude a try, also nice app ;)

I tried it when it first came out, and it's a really good app. The reason why I eventually uninstalled it is because the points of interests are not really up-to-date. It would be awesome if they could intergrate it into an existing POI system. But I'm not sure if that's even possible.

Lovin this app. Im going to Vegas this weekend too, can't wait to try it out over there!

This looks cool and very useful for travelers

This app is pretty impressive, i like how it shows a ton of restaurants/sights in the area vs local scout only finding a few or up to 20..

This should officially replace local scout at some point or make it Nokia Local Scout...

Impressed by this so far, if this is a beta, than i cant wait for an official release..

NOkia, where dem folders app?

Wikitude does the same thing with augmented reality. That being said, I personally think I like this better, it's a lot cleaner.

Edit: Sorry, double post.

the page says "app not found"

See my post above (reply to someone having trouble getting it on a Lumia 900).

@crushing destroyer Yeah, I registered with Nokia Labs. I clicked on the link, it sent me to WP Marketplace to download the app. And it said error everyone I tried it. If any knows how to fix this, or what I'm doing wrong please email me xgcr0n1n@hotmail.com.. Thanks

Why so complicated? Use the WPcentral app on your phone, and you're just one click away from the correct download page. City lens works nicely, btw

Make sure your browser is set as mobile

To install this app in your Lumia - open this page in a PC and scan the QR code using Bing vision from your phone. It will directly take you to the marketplace download page and install. That's it!

Its giving download error but I kept trying and it worked. Ignore the error and keep trying and I used WiFi.

This is on the lumia 710 also?

All Nokia WP devices, so yes, Lumia 710 as well.

Its not nice, for the others devices

Why does this app have to be a nokia exclusive. This app is so basic, AND on the windows platform, why not available for all windows phone. i can understand the exculsivity hogging from a business standpoint but from a users perspecitive its just preposterous, ineffcient and a step back with regard to the ideal of the windows platform "getting people connected". It's now "getting islands of people connected for no particular reason".
So please Nokia, stop with the me and start with the us.

Come on, please, honestly... While I can understand you want it, think about it. Does it make sense for a company which developers made an app to make it available for competing brands? Nokia is not in the giving stuff to competitors business, and that's fair, I don't see HTC or Samsung apps on my Lumia.

Are you serious?
Other manufacturers got their own collections of apps as well. Nokia just happens to make actual quality apps and a lot of them. Nokia isn't here to benefit other WP manufacturers, they wanna race back in top and they are spending big piles of cash every quarter to make that happen.

This app is pulling data from Nokia owned Navteq company that costed Nokia 8.1 billion euros back in 2007. They should be giving this to all for free you say?

They are not in for a charity and neither should they be. if that was the case we would probabl not see these apps or those that Nokia got exclusives. You should be thanking them for WP to sel anything and bringing the apps to the platform.

Great app! Oh and yeah, nothing for free to other companies.

Loving it! Just installed it & it's amazing. Hope final version will be released soon with more great features!!!

Holy crap. I am in Ketchikan Alaska and this app actually works great. Bring on more Fin goodness...

I'm having the same compass interference problem as above, I have tried to do the figure of eight for minutes at a time, with no result.
Nokia Lumia 800 with Windows 7.5

Finally figure out the compass interference calibration on a nokia lumia 900 windows phone ... the trick is to do the figure 8 with only your wrist....
don't use your whole arm to do the figure 8.