Disney Expedition updated, adds FastPass+ support to the mix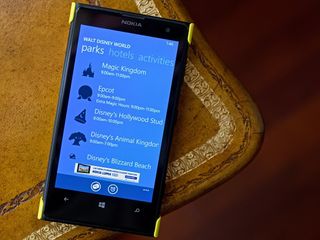 Disney Expedition is a wonderful Windows Phone app to help you survive a trip to the theme parks of the Walt Disney World Resort. This would include the Magic Kingdom, Epcot, the Animal Kingdom, Blizzard Beach and more.
Disney Expedition was recently updated to version 2.5 and brings Fast Pass+ support to the Windows Phone app. What is FastPass+ support you ask?
FastPass+ allows you to schedule a time to ride an attraction or view a show. Disney offers the service at no charge and through the Disney Expedition app you can make, modify, cancel and view all your FastPass+ reservations. The FastPass+ service is available for all the Walt Disney World Resort theme parks.
Along with the FastPass+ support, you still get a boatload of features with Disney Expedition that includes:
Detailed lists of attractions, characters, shows, shops, dining, and guest services
Official wait times for rides and shows
Disney Character meeting locations and times
View upcoming times for parades and other shows
View restaurant menus with prices
Schedule an alarm reminder so you never miss a show
Search feature allows you to search for that special character, restaurant, shop, etc.
Filter and sort to meet your needs such as height requirements, type of ride, distance from your current location and many more
Locate all guest services such as ATMs, baby centers and the nearest restroom
View Disney maps and generate walking directions to activities
Get driving directions to any park
If you are planning a trip this summer to Walt Disney World, the Disney Expedition app can save you from a few headaches. The FastPass+ support should definitely come in handy and the restroom finder is priceless.
Disney Expedition is a free, ad-supported app that is available for both Windows Phone 8 and 7.x devices. You can find Disney Expedition here in the Windows Phone Store.
Note: To activate the FastPass+ feature, you will need to upgrade the free version of the app ($2.99 IAP) which will also remove the ad banners.
Windows Central Newsletter
Get the best of Windows Central in your inbox, every day!
George is the Reviews Editor at Windows Central, concentrating on Windows 10 PC and Mobile apps. He's been a supporter of the platform since the days of Windows CE and uses his current Windows 10 Mobile phone daily to keep up with life and enjoy a game during down time.
Does this work with Disneyland in SoCal?

We are waiting for Disney to support Disneyland with the My Disney Experience app. Currently they only support the Walt Disney World resort

You cared enough to click, read and comment. ;)

@Why Not, it is for 7.8 too! Enjoy! :P

I used this app this last weekend. Finding places to eat/menus, bathrooms, shows, shortest lines, using the maps, etc. I can't say enough about how useful it was.

I also used it last weekend at AK for Mother's Day. It worked flawlessly and, in my opinion, is more useful than the slow and bloated official Android app.

IMO the most slow an bloated app is their website, what a waste of time trying to plan a trip using their junk!

Yeah I got the app alert that it had been updated while I was at teh park.. FP selection and browsing works flawlwessly

This app is a must have if you're an annual pass holder. Just another example of a 3rd party app doing it better then the official ones.

I find it interesting that Disney is one of the few large corporations that seems to actively support and care about Windows Phone... They're always bringing new releases and maintaining them, rather than letting their apps rot. Others take note!

This is actually third party. However, it's actually better than the offical disney one on other platforms.

Like scumdog said, it's actually a third party app. But you have a point about Disney. I imagine, at least initially anyway, it's probably money from Microsoft driving that support (just a guess) to pull the younger population into the ecosystem. Great idea. Would love this from other popular game companies too, but I imagine that don't want devs to become dependent on extra payment to continue development, updates and support.

I would like to see a similar app for Disneyland in SoCal. I have been using Mouse wait but it needs updating.

J, We would love to support Disneyland as well! When Disney supports it, so will we!!

This app had some sort of problem with their account, so when I ran it just now (which I haven't in forever), it prompted me to download a different version from the store. Then you end up with two identically-named apps installed and the new app has no record of my previous in-app purchase for ad removal. Doesn't exactly give me the warm fuzzies.


This was beyond our control. We did try to get paid users moved over to the new app w/o having to pay again. We are still working on this with the Store, but so far no luck. We are deeply sorry to those that supported the app before it moved.

Disney in Dec '13 .. my trip consisted of This app on my phone (wait times), Official app on my wife's android phone (slow, rather useless) + logging onto internet on a tablet to use web interface ( which also sucked and was extremely slow) to schedule fast passes. Overall 2/10 for disney on that trip in the technical department.. and those 2 points came from the Magic Bands where my CC was linked to them and made it easy to pay for everything.

The magic bands are pretty awesome just wish they would let them work like that for pass holders and not just people staying at the resort. I also wish the yellow band I got matched my 1520 better lol

Very, very, Very surprised when found this app in the store!!! SO USEFUL. and reliability and smoothness out due the android app I used last year on my Evo. Going to 3 parks next weekend I cant wait to use the fastpass+ tool :D

Will be fully test driving this next weekend for Star Wars weekends.

Figures this would come out today and not last week while I was on vacation at Disney World. :(

Sorry you did not know about the app. It has been out for over a year now and has supported FastPass+ since May 5th.

This is amazing!! I just switched from Android yesterday (to Lumia Icon), and my Disney vacation is two weeks!

They don't support Windows phone. Their Android and IOS apps suck shit because they are bloated pieces of crap. You do not want Disney developing a Windows phone app.

Although the post above says it's "free, ad-supported" -- when I try to use the FastPass+ function, it says I need to BUY the app. Is the post incorrect? Or do I have the wrong "version"?

I'm glad I found an Disney WP app!!! This is awesome for a future trip:)

Hopefully Disney will take note of the effort put into this app and the support for it, and will actually develop the real My Disney Experience app. This is an awesome start, but My Disney Experience is truly the ultimate tool when going to WDW.