Yes, you should do a hard reset for the best Windows 10 Mobile experience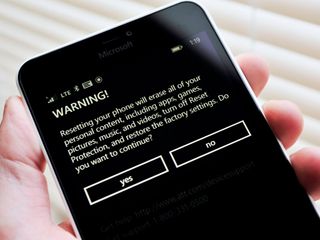 Yesterday, Gabriel Aul stepped out from the coding confines of Microsoft to talk about Windows 10 Mobile and the next Insider build. Windows 10 Mobile build 10240 evidently has a severe enough bug to prevent its distribution to Windows Insiders, leaving people on build 10166 instead. The good news is an even newer build is coming, likely in a few days – so either later this week or early next.
This intro brings me to something I and many others have noticed when using these builds: do a hard reset (aka master reset) for a better Insider experience.
I realize that this is a rather cumbersome task, especially if you have lots of game saves and customizations. However, if you want the best experience it does seem doing a fresh install or hard resetting after an update is your best bet. Wiping away the old and letting the OS do its thing on fresh hardware is a superior experience.
Certainly you do not need to do this, and many Insiders are doing just fine with in-situ upgrades. So this is 100% voluntary, just like the Insider program.
Nonetheless, even from my personal experience I have seen a dramatic difference. For example, my Lumia 1520 and Icon both have Windows 10 Mobile installed but only the Lumia 1520 has been hard reset. The difference between the two phones is night and day with the Lumia 1520 being good enough to use a daily device and the Icon, well, let's just say I dread doing a soft reset.
Of course, I do not expect this upgrade situation to carry over to the final 'RTM' build later this fall. However, for now this is your best option for a more authentic Windows 10 Mobile experience.
Interested? Let's talk about how to do a backup and then how to hard reset your phone to wipe it.
Back up to the cloud (Optional) – Windows Phone 8.1
Go to Settings
Backup
apps + settings
Back up now
Back up to the cloud (Optional) – Windows 10 Mobile
Go to Settings
Backup
More options
Back up now
How to Hard Reset – Windows Phone 8.1
Go to Settings
Go to About
Scroll down to and press 'Rest your phone'
Answer 'Yes'
You can optionally not erase your SD card to keep all your music, photos, and videos.
How to Hard Reset – Windows 10 Mobile
Go to Settings
Go to About
Scroll down to and press 'Rest your phone'
Answer 'Yes'
You can optionally not erase your SD card to keep all your music, photos, and videos.
How to Hard Reset – Hardware keys (Lumia)
This method is good to use if the OS is unbootable
Turn off the phone.
Press the Power key to turn the phone on.
When the phone vibrates, immediately press and hold the Volume Down key.
Release Volume Down when exclamation mark ("!") appears on the display.
Connect the phone to the wall charger for the remainder of the reset process.
Press the following keys in order: Note: Nothing will change on the screen while entering the sequence of buttons.
Press the Volume Up key.
Press the Volume Down key.
Press the Power key.
Press the Volume Down key.
The phone will automatically reset.
During the reset, there will be two gears rotating on the display for up to 5 minutes, after which the display will go blank for about 30 seconds.
Resetting the phone erases all user data, although your SD card can optionally be spared
Should you restore?
So the next question is should you do a restore? That is, should you have backed up your phone and use the Windows Phone restore tool to bring it all back?
You can although you may have mixed results. If you absolutely must, you can try this method. Personally, I would just start over and begin to reinstall your apps and restore accounts. If you have a micro SD card installed all your photos and music are returned with the fresh OS, saving you time.
Remember to also use OneDrive to save any photos or videos.
When?
The last question you may have is when you should do this master reset. You could update to Windows 10 Mobile and then do it, which is probably the best way. Optionally, you could wipe it on your current build of Windows Phone 8.1/Windows 10 Mobile and then upgrade.
Alternatively, you could go all out and wipe on the current build, upgrade, and then hard reset again. I guess that final way would be the ultimate, but I am not sure it is necessary.
Finally, I am not sure you need to do this every time there is a new Windows 10 Mobile build. From my experience, it is crucial from the 8.1 to 10 jump, but not as important from 10 to other builds of Windows 10 Mobile. Your mileage may vary.
The important takeaway is this: If you think Windows 10 Mobile is running slow, your Start Screen takes a long time to load, certain apps do not open – you may want to try a master reset.
Have you done a master reset while using Windows 10 Mobile? Do you recommend it? Let us know in comments what your experience has been like!
This article is being reposted in lieu of today's update Windows 10 Mobile update to build 10512
Windows Central Newsletter
Get the best of Windows Central in in your inbox, every day!
Daniel Rubino is the Editor-in-chief of Windows Central, head reviewer, podcast co-host, and analyst. He has been covering Microsoft since 2007 when this site was called WMExperts (and later Windows Phone Central). His interests include Windows, laptops, next-gen computing, and for some reason, watches. Before all this tech stuff, he worked on a Ph.D. in linguistics, watched people sleep (for medical purposes!), and ran the projectors at movie theaters because it was fun.
Using 10166 without a hard reset. Lags here and there, some apps like pin.it won't install and battery drain is a lot. Never did a hard reset. Should I do it now? Or wait for the next build?

Either. Or both. Regardless, yeah, you should do it at some point.

I would do a hard reset tomorrow provided they let me download languages needed for Cortana to work. I am tired of doing a fresh WP8 install and then upgrading to the newest preview.

I had the same problem. You need to install the Windows Insider app to be able to download the language files.

To tired stay on 8.1. Tester's shouldn't be tired. Tester's TEST!

How'd you get 1.6TB of OneDrive...

Office 365 will give you 1 TB... I got it with the HP Stream 7

I received an email from Microsoft regarding the 10tb.. they have now taken back the "unlimited storage" offer and have bumped all users down to 30gb. 10gb (free plan bonus) 15gb (camera roll bonus).. both of which expire in july.. leaving me with the now New basic of only 5gb storage.. They hooked us in.. and took it away.. classic bait and switch.. even android offers more free storage.. not sure if ill ditch my windows phone when its time for renewal now..

I tried the hard reset 8.1 update2, upgrade hard reset 10 and then restore from back up. There is a lag fest regardless of restore from back up or not on my 1020. All apps that I have tried take time to open. taps take a long tme to respond which makes you tap a second time instinctively assuming that the first one did not register only to realise that your second tap had almost made an in-app purchase. It lasted all but one day with me before I reverted back to 8.1 update. The only thing I liked the most is the looks maybe future builds I might try it again. Things that didnt work for me in resotre from back up are the layout at start screen didnt have the exrta row which made the restore look weird, most apps wouldnt install for which I had to manually look for each in the store, the rest were not avaialble for W10 some setiing were not available eg chaging things in dark theme, search box in the settings page would not show the about section or the reset info so I had to manually look for it. Battery drains like there is no tomorrow and also sometimes the battery shows that it is low when it is full. In all I dont think I am ready or the W10 is ready for me ATM

Agreed. Fresh install on L735, still laggy, so won't update my actual 735 just yet.

On the last build every time I do a master reset I get a sad face reboots and does it again. At least for me its easier to downgrade to 8.1 and upgrade to newest build. Daniel do you have any idea why this happens? Posted via the Windows Central App for Android

howd you fix that? my 635 keeps doing the same thing and i dont know how to make it stop.

i did a full reset on a 930 with the last insider update and ran a lot smoother, no real lags but on occasions does fall over when going to the store. Also the data sense keeps popping up saying ive used my data when it shows i have 1.2gb left to use.... all in all a sweet piece of kit on my 930

I fell you.. Have the same annoying bug where it pops up all the time. I switched it to unlimited data to avoid it.

Seems that in the newest build data sense will set any limit at 500 MB no matter what you chooses. I really hope that next build will solve this problem.

For me the dreaded part is that all my WhatsApp messages would be deleted as there's no cloud save feature compared to WhatsApp in iOS; something I don't know why can't be a feature until now

@Daniel Rubino How would you say battery performance is after going 10, especially on that 1520 you did a hard reset? Can anyone else comment on battery performance of L535 on Win10. I want to update my L535 to 10.

My 640 xl touch stops responding when I get or make calls. Is it a known issue? What do I do? HELP MEEEEE!!!


I have got the same issue on my 930 - touch stops responding after making a call. Hope it will be fixed soon with the next build.


Sir, could you please help me? My query is the last reply to this comment. Please. :(

Battery drain stays after hard reset too. For Start screen loading issues, I recommend using 8.1 style wallpaper, not full background.

I always hard reset twice after every OS update. Then the OS works fine. And do not install the preview on your daily drivers.

Do a hard reset! I updated from 8.1 to 10 and it lagged like Hell! Finally did a hard reset and voila it is good enough as daily driver. But the Lumia apps can't be downloaded again!

I had a huge battery drain when I did the upgrade without a hard reset on my Icon. It went away once I did a hard reset though.

On my second hard reset, still lags and crashes

Hi, just chiming in. I've been using as a daily driver for myself an 830 without issue (well, mostly: Mail/ (work) Gmail sync problem and Groove Sync problems exist). My brother, partner, and mother each use 830, One M8, and 640. The experiences were all non-optimal - speed, general odd behavior of apps, and just quirky stuff. On my partner's 830, his was so unusable at one point he just gave up taking pictures (while he was visiting NYC for the first time!). Anyhow, I ALWAYS do the hard reset because, like Windows, it just ensures that you have removed potential artifacts that may linger and cause problems after an in place upgrade. The upgrade process works well, as does the roll back feature, but you can't deny the experience difference of a hard reset. On all of the mentioned devices I eventually convinced them to hard reset using the same method prescribed here. Sure, it is time consuming and a little bit of a pain, but this is testing software. As for my family, they all wanted to use what I was using so they took the risk of updating their daily drivers. AFTER hard resets, most of their grievances disappear particularly those centered around performance, battery, and heating. I'd certainly recommend it ASAP regardless of when a new build is available. New Build > Update Phone (don't sign in so you dont get your apps redownloaded yet and don't restore backup) > Hard Reset Phone > Sign-In > (optional) Restore Backup. It won't resolve all problems, but it will resolve those tied to an upgrade and certainly makes the phones listed usable as daily drivers.

I had to do a hard reset and no restore.

On my 930 it didn't change a thing to be honest. Thought it'd be better, did go through the annoyance of setting everything back up - and it's exactly identical with regards to lags and stutters. So no, in my experience it's not worth the hassle!

I had to hard reset my 930 when I first update to 10166. It runs very smoothly, although my two mais issues are:
• 70% of the time when I make/receive calls, the touchscreen stops working, forcing me to soft reset the phone (the phon still functions properly, with tiles flipping, notifications coming in; it just won't recognise my finger)
• which brings me to my next major issue: Right after I soft reset, my phones keeps 'loading...' the Start Screen for 5-20min until it functions normally again. This issue happens every time the phone is turned off and then on, or reset. (mind you that during the loading time, I can access the action centre, settings, or open any other app from within the notification area).
Question is: Should I hard reset again or is this just a bug of this particular build? Anyone experiencing something similar?

I did experience the same behaviour. Ended up restoring on 8.1 when my brightness became stuck at a very lwo level. Now on 8.1 brightness is still stuck at low - don't know if there's something "stuck" in the firmware somewhere or if it's a hardware problem, but I'll go at the warranty department with it.

I also didn't do a hard reset and it was unusable. Just getting to the home screen was an excercise in frustration. Constant loading screen and resets. My touchscreen would become unresponsive at the login screen and I would need to do a reset. I just did a hard reset and it seems to working a lot better. Get's to the home screen immediately. I will have to see if I still have the self reset and touchscreen freezing issues.

Happened to me when I upgraded from 8.1 on my 1020. I had problems with everything, and when I couldn't fix the Mail and Calendar problem (can't sync), I decided to do a hard reset (though I did restore my backup) and have been using it as my main phone ever since. There are some quirks, like losing the Glance screen options, but glance is still enabled, a non-functional mobile hotspot, and some bugs on the Action Center. Not sure if those are bugs from the build, or quirks because of some residue from the backup. I might try a reset without restoring a back up, and just reinstall everything manually. Off-topic: Is that you? Because you're a good looking guy.

DO NOT!!!!!!!! I DID THIS AND MY PHONE IS BRICKED AND I CAN'T REINSTALL WITH RECOVERY TOOL!

WPRT 2.1.1 should fix it.

I suggest you better do a Hard Reset, I just did Yesterday and My Lumia 720 (512 MB RAM) works just fine and is very responsive now.. Earlier I had the same problems of App crashes, Apps not opening and laging, etc. After Reset the Home Screen also turned out to be more organized by default with some apps preloaded which earlier were not installed before hard reset. I am still struggling with just one problem of SD card Scanning error everytime I Switch ON the phone the Apps intsalled on SD card becomes unavailable. Its a problem I had in Windows Phone 8.1. Its not solved yet.

Myself, i would do a hard reset

What's the difference between updating from current 10 build to new 10 build, then hard resetting, and don't restore from backup.
VS
Reverting back to 8.1 with Recovery Tool and then updating to new 10 build that way. What's the difference?

I was hard resetting my 720 before upgrading to this build. And the thing is that it is not starting anymore! The screen with the wheels comes, and then it shows its proceeding, and the bar fills to say 25%, and the process stops and a sad smiley... :-( like this shows up. And the process starts again. Been three days since it is happening. What should I do?
I don't know if recovery tool would work. Coz the phone restarts again and again, and I believe the tool would be needing the phone to be connected all the time, but restarting the phone will disconnect it from the pc. :-\ P.s. I did the hard reset with physical keys.
I was on the build previous to the last build 10166 or something like that. I mean, including this latest build, I was on the last third build. Please help. :(

I recommend. Resuming bug on wm10 on 1520 seems caused by an upgrade from 8

I am using the last one and it's usable on daily drive. Next build must be something way smoother than this to satisfy me, because biggest issue is speed.

10166 to 10240+ is a rather large jump, so I think you should expect those improvements.

in build 10240 not many changes ( i installed in my lumia 640 xl and 930 ) but not much . only store work fine hope next build which will roll out as daniel told above 10240 ++++ build should have some changes

You installed an unauthorized build, so your saying can't be taken seriously.

Doesnt matter. It's still the same build, same OS aman.

10240 wont have big changes, only speed, UI and stability fixes. It doesn't matter whether or not it is an unauthorized build... it still is the build they would have rolled out if it didn't have a bug that was stopping it. They said W10M is mostly feature complete, just refining now and then they'll be good to go launch it in November.

Depends if it is like the Desktop/Tablet OS of 10240...

On win 10 it's settings-> system-> about

I have HTC 8x and i want to use windows 10 on it what can i do?

I don't recommend the app store on windows 10 is criminal if you want your apps keep them as some of them wont download in the new store yet due to bugs and more

Once again, at least from my experience, it works better after a hard reset.

Even after a hard reset a lot of apps won't install. I rolled back to 8.1 :/

I've seen a hard reset make a huge difference in this regard specifically. I had a whole lot of apps that simply wouldn't install. Did a hard reset and the only one that has an issue is "transfer my data" when it tries to update. (lumia icon)

When I did the Hard Reset on my HTC One M8, I lost the settings EXTRAS. However, I do agree with performing a hard reset just to get optimal performance.

True, that is one thing that can be lost. Hopefully that will come back soon. To avoid that, you COULD revert back to 8.1 and then direct upgrade to the next latest build.

How is it possible that there's not any video (even on YouTube) showing HTC one m8 running Windows 10? There's gotta be difference between HTC and Lumia devices..

I also have the NL 925 & LUMIA 535, & the HTC One M8 by virtue of higher specs runs superbly ( just missing my double tap to wake & a better camera). With that being said, I'm going back to Microsoft when the Flagship phones arrive.

But why? Any explanation why hard reset is necessary?

I thought it was self-explanatory, but a clean install tends to wipe out any errors, bugs, or issues with migrating data and settings after the upgrade. This is nearly always the case with an OS.

There is always the app cache.

Nobody says it is necessary. You can do it if u want to optimise your Windows 10 Mobile experience.

Running fine .. Just the store and app licenses are annoying. Cant dload some app

it will fix it - in next build

yup . after every update i prefer clean install ( cotacts ) - already integrated into ms a/c i don't do backup + if my phone saved in cloud storage i delete it here : https://onedrive.live.com/Options/DeviceBackups love fresh install with recovery tool mostly but when outside then hard reset

There is always the option to start fresh after a reset.

yup . it ask you wanna restore or new

Not insulting, but work on your grammar. Aage tere he kaam aaegi.

Yeah I cant help but to agree seeing as 8.0gdr3/black was about the last time nokia did a good transitional update that didn't require a factory reset(unless you used wireless charging ofcorse)

Precise description, I'll definitely give this a try!

still not able to update to build 10166. I can't figure out what am I doing wrong.

How does the 640 XL handle the OS??

I hear fine, although that device is on 8.1

excellent . it;s in first list to get update windows 10 in sep -oct

Clean install worked but was disappointed with camera....during video capture it flickers a lot, no living image on storyteller. Some apps didn't work- weather, news etc at beginning. Store shows it still downloading the app but in fact the app is already installed- confusing. Always loading and resuming.

I assume you're using the Camera app to capture video, not the Lumia Camera. If so, try disabling digital video stabilisation in the Camera app's settings, and that should get rid of the flickering, or at least it did for me. (Lumia 640)

Works great on my 640XL, though I did just have to do a complete restore as there was some kind of bug in what I can only assume was the cache. Store stopped working (wouldn't open) and certain apps just wouldn't function properly. Did the restore and all is well. I use this phone as my daily driver and have minimal issues. I believe this next update will make it quite useable if things keep trending as they are. Just remember it is still a rough preview so there are a few things that will drive you nuts. I can't get copy/paste to work between apps often. Mail can be flaky. Wifi is not even working right more often than not. I've had my alarm just not work one night. Woke up and it was still in the "set" stage, about 1/2 hour after it was supposed to go off. Can't set many of the ringtones like my messaging. ​Edge is pretty rough at times. My touch can be flaky. That's just a few of the oddities. But, I'm all in daily and working just fine without any deal breakers.

Thanks I'll probably just wait till just before rtm to use insider program on it.

The problem is that I did reset my phone, but when I went to W10M, I couldn't install IM+. It's basically the most-important app for me, beyond the music player. Withotu it, I couldn't stay on W10M, so I went back to 8.1 Sucks, but I had no choice.

Well I'm using my Lumia 635 on the insider program.and I'm honestly surprised how few bugs there are. I'm using it every day and itsgreat

On earlier builds if I hard reset my 925 I would end up with an OS with no Start screen, no way to access Settings, and no phone radio. The only option was to restore to 8.1 then upgrade to 10 again. Has this issue been fixed with the most recent builds? I haven't hard reset for that reason only.

Same issue on my 830, but fine on 640 and 1520. I am just waiting for next build and hope it squashes bugs.

Replying to myself. Did a hard reset today, Win10 came back with full functionality. The only thing I had to do was manually set my cellular data access point.

I will hard reset when i get the next build.

I'm waiting to the next build to do a hard reset.

I fucking recommend it. Wimdows 10 runs like butter. Man if i had not reset my phone then this phone was a pain in the ass

I'm doing hard reset immediately after upgrade process is complete. In my experience there is a big difference after hard reset regarding speed and functionality of my phone.

I didn't hard reset yet and this the second build i use on my only daily driver and the issues i have are battery drain and overheat sometimes so I'm not convinced it's worth to hard reset

You'll only know the real difference after you hard reset.

I'm sticking with the upgrade method. My Lumia 1520 is on 10166 and the only real problem is the start screen not coming up for an extremely long time after changes. I figure Microsoft needs data from upgraders and I really don't want to wait to restore 60gb of data on a metered internet.

My 1020 has the email and sms tiles disabled :(

do hard reset or try soft reset by simply power button + volume down

I had the same issue, just unpin them and repin solved mine problem..

not completely convined by hard resetting, went from 8.1 to 10149 with no issues then to 10166, this presented loading issues on start screen. i did the hard reset and restored. it then was better but not fixed for about two weeks. still loading but only for 5 minutes or so. then a week later it reverted back to basically not loading at all. i nearly hard reset but instead turned show more tiles off, removed everything then turned more tiles back on then just a limited start screen. i only have a screen and a half and since then i have seen the loading screen for 30 seconds in total over the last two weeks.

That's what I did with the last build on my older phone. The phone felt like new after hard reset. Won't do it on my main phone though because backup on Windows Phone 8.1 never works. It just gets stuck at 20%.

Everytime hard reset was painful. but we insiders were signup for this pain and to make things good for others..

We will miss photosynth...and some other cool apps, if hard reset our phones. Maby we should wait for autumn?/

"You can optionally not erase your SD card to keep all your music, photos, and videos."
Daniel, please include this: If you have games or apps installed in the SD card, these wont be available after you hard reset. I corrupted an 64 micro sd card because of that. I had some games installed in the SD card. After I hard reseted I couldnt acess these games. So I tried to format the sd card using the Wnidows 10 Mobile tool. After that my sd didnt work anymore.

The bugs I've detected are as follows. No notification sound on email and sms . Calendar not showing date only day. Wallet not connected to carrier , some apps not compatible. Intermittently the sd card is not been found,

I am using HTC 8x and it is not gona update what would i do? :(

The last time I upgraded I did a full reset and couldn't add my work email account (Office365) because the Outlook app doesn't support Intune. I had to go back to 8.1 and re-install the preview again just to get my emails. So won't be doing a full reset until they do support it.

Done hard reset and it helps, from 166 to 240, now on 512 and not yet done it, sees how it holds

10166 been extreemly buggy for me with call/dialer hanging for 5 minutes sometimes and other general issues. I tried it for 5 days before i had to come back to windows 8.1. 10166 is no way near daily driver in m y case.

I've done this before when I rolled back from the first Windows 10 Mobile preview and I did NOT like having to install EVERYTHING again, so basically, I would only do it as a last resort.

Really can't confirm this. A hard reset helps for a while, but it gradually becomes worse again. I have to do lots of soft resets because the phone often crashes. Lock screen and Start are really problematic.

I want to update it at windows 10. :( plz tell me.

I did it but nothing happened :(

Other than losing a few game saves I really do not understand why people would choose not to do a factory reset.

I feel like with any new major change on any OS it is good to do a reset. Start fresh and clean like Outkast. Good Post!

Is anyone here to tell me the right way of update? :(

I've done the hard reset each time so it's a fresh install on the last two updates. Huge noticeable difference in how it performs. I'm running it on a 640 as my daily driver right now as well. My 1020 was too sluggish even after hard reset and my battery is going as well. So that phone is now a pocket camera and WiFi device.

1520 here with 10166, had a few issues, did one hard reset and nearly no problems. Some apps hang, and sometimes the camera crashes but having been using it on my daily it's been fine.

Going to wait for next build to arrive and do a total wipe before, then install new build

I recommend NOT restoring from back after resetting. I had a horrible bug on my Lumia 930 where after taking a picture or restarting the device the Start Screen would not load. I would have to switch between the camera and the Start Screen multiple times really fast until the Start Screen would finally load. I reset and restored from Backup twice, and still got the bug. Now that I have reset without restoring, the bug is gone.

What happens if an app saved in SD card and had done a hard reset. Do the app works fine?. I assume that phone memory holds some of the app data. Any ideas?

I find it's worth hard resetting after any update. My 735 slowed hugely after gdr2 and also the new settings weren't available either. Hard reset completely fixed it.

Personally, the the only reason I have stopped doing a reset on Windows 10 Mobile, is that the one item I absolutely need to be able to restore is backed up SMS'. However, thus far I have found that it takes MANY hours (if not a couple days) to get all the messages restored in W10M. Whereas as in WP8/8.1, it only takes 20 to 30 minutes to restore everything. If I had a SD card I could back everything up to, I'd certainly take that route, but not really an option for my Lumia 920. Once it gets closer to RTM, I'll probably take another shot at doing a full reset.

Is win10 working fine now? Should I install on my regular use phone?

Last time when i did a master reset i lost the settings apps on my spare 520. And was not even able to do a hard rest! So i tried The key method but failed to do so! My last resort was LSRT and reverted back n then installed the os again. So form that experience i dont want to hard reset any more.

Thanks Daniel, this is just what I needed!! I use W10M on my daily driver which is a Lumia ICON. This latest build has been ok, much better than 10080. It's been hard for me to decide what to do with this as I have done a hard reset on it MANY times. When I had the 10080 build on it I ended up reverting back to 8.1. Forgetting to turn off the automatic updates after reinstalling the Insider program and it updated back to 10080 overnight on me. Surprisingly, it started working much better!! I did not have the Start screen loading issue anymore. So I dealt with it for a bit and then we got the 10166 update. This build works much better on my ICON but there is still a lot of little annoyances that I could deal with. I have recently been contemplating whether or not to do another hard reset on my ICON since upgrading from 10080 to 10166. Wasn't sure if it was my device or the OS. I have had many hardware issues with the ICON (even with WM 8.1 on it) and had it replaced twice by Verizon. This is my third ICON device now (can't wait for cityman to come out!!) and still not happy with it. So far it's the worst phone I have ever owned but at this point it could be better if the OS was more stable. So I think i'm going to wait for the 10240+ update first and see how that plays out. As one mentioned earlier I hope the EXTRAS come back!!

Anyone know if wiping will have me lose Glance Background (the old version, I guess it was labeled as beta)?

Yes. At least I lost it, after doing the hard reset.. :(

Had to reset each time I've tried to update or it wouldn't work properly. The last build prior to 10166 I had to hard-reset twice to get Messaging working. This prior time I tried to update in place and ended up needing to hard reset because the phone gave me a sad face when something went horribly wrong in the upgrade process. At least after that reset, just about everything works or works after uninstalling and re-installing the app. I'd love to be able to do the upgrade without needing a hard-reset, but at least things have worked a little better and I can backup my texts to SD card in the meantime.

Daniel, I feel it's prudent to mention during the install and after a successful install the phone must be left alone on a surface that dissipates heat effectively; if it's running warm. My 920 ran really warm after install although it was on my laptops's lid and when I tried to unlock it hanged. So I left it alone for 45 minutes on top my laptop's lid (which is brushed aluminum). After 45 minutes my laptops lid was rather warm (where my phone was) but the phone was cool to the touch.
Therefore I imagine some failed installs or lag after install could be attributed to the phone running beyond its normal operating temp (+background tasks) hence the shut down mid install possibly resulting in bricked phones.

Yes, update to latest W10M build, then hard reset, grit teeth and just wait out the still-laborious, still-baffling ministrations of the Store. There will app updates, signs of updates, hidden updates, false updates. . . . . signs and wonders, dogs and cats, etc. After a day or so things will settle down and the phone will work better and faster. I know these are Technical Previews and all, but is there any need to purposefully obscure information about which version of an app you actually have, so that you can at least guess if or whether you should also be looking for an app update? And given the advice and practice of Insiders repeatedly updating and resetting their OS's, why can't we enable Developers Mode and locally save the latest versions of the Apps so we can sideload them from there and so we won't have to burn bandwidth and burden the Store each time there's an update?

I tried to use Windows 10 mobile on my Lumia 930 and 925 without reset, but it make the phone unusable, to much lag, very slow and completely unusable, but with the full reset, it make things very different, so definitely if anyone wants to experience the windows 10 mobile the right way, a master reset is a must. Posted via the Windows Central App for Android

Although there might be a better experience after hard resetting, the whole point of the insider program is to improve the OS by fixing features and squashing bugs. For the same reason that they removed the iso files from the websites, I think it would help to refrain from hard resetting to improve the upgrade experience (and obviously reporting bugs in the Feedback app).

Just don't wanna loose facebook connect hard resetting my phone. I really like the organized style of bringing everything from facebook to my contact list.

Can we expect to see the BT/Cortana issue fixed? I can't not have Cortana in my car.

I have no issue on my 1520 with build 10166, no need hard reset for me :)

After hard resting and not restoring will I need to install all apps manually?
Or it will load everything, incl. email settings after I sign in with my Microsoft account?

Even if you don't do a restore, it should reinstall apps automatically.

Currently running build 10166 on my Lumia 1520 after a hard reset. Daniel's right, a hard reset really makes the overall experience better. I still haven't found any major issues, so I'm using it on my daily driver. Windows 10 Mobile already feels fast and responsive, I'm sure no one will complain after a few bug fixes. Still waiting for other new features though, especially on larger devices. Fingers crossed :)


On my Lumia 830, I had initially tried as an upgrade and had many problems including the crash loop of the start menu. After doing a hard reset, my phone is performing dramaticly better. The big surprise is the battery life. It's improved dramaticly from both 8.1 and doing an upgrade.

I had very little success restoring 8.1 after a hard reset when upgrading to technical preview and I would caution against it. 8.1 settings don't seem to play way with Windows 10 install. See my thread in the forums. Its Dead Jim. and Its 8am, my 1520, 10149, I'm goin' in.

Is it okay to install windows 10 in 512Mb RAM devices?

Sure but expect a little pain. Posted via the Windows Central App for Android

They should cosider giving us an option to do a local back up for windows 10 mobile on PC ...


10166 point-blank fails to install on a 435 (bought as a test machine) so hopefully whatever comes next will actually work.

So after updating from 8.1 to 10-166, the start screen wouldnt load so I did a hard reset. It fixed it and everything ran well for a while, but these past 2 weeks I've seen a degradation in performance; the start screen wont load again (spent 10 minutes yesterday rebooting my phone over and over trying to get it to work again), apps all of a sudden fail to launch (you click the tile, and it simply wont launch the app), etc. I'm in need of the next build, or another hard reset, which I'm not about to do...

So when will windows 10 for phones come out then?? Officially..

Daniel: While i agree with performing a hard reset, I believe the vast difference between performance on your 1520 vs the Icon is more of a hardware issue. We have yet to receive a TP build that runs well on the Icon. They have made considerable improvements, but still many issues.

As long as they loosen the 10 device limit per Microsoft account and music restrictions, that's great. You can run up a lot of device auths and can only remove one device every 30 days. No bueno. Posted via the Windows Central App for Android

I had to do a master reset on my 830 since when 10 came up the screen was doing funny things and i wasn't able to run any apps. Reset and reinstall worked fine after that as a daily driver

This build is decent, but every time I receive or make a call on my 1520, after the call completes the screen freezes and only a soft reset will correct the issue. It's super-frustrating, so I'm hopinh the next build addresses the issue.

Suffer from that too with my L1520

I do recommend it every time one upgrades and find their phones not responding properly. Did it twice and my phone is on the roll since then. Oh.... I restored from my backup on OneDrive. Starting up afresh on everything is cumbersome and time consuming and depends on how much data or how many apps u need to re-install.

I've tried not resetting in most builds and it was nothing but troubles. Do a hard reset after every update now and each build works great.

I do recommend hard reset , it's been the only method to download the preview build, my OS has run smooth fluid

10166 on my 830 kept my glance backgrounds with no hard reset. I just let the phone do it's thing upon logging in after the upgrade and let it sit over night. Everything was there and working from 8.1. From what i've read, these settings are gone with a hard reset. So, no. I do not recommend a hard reset at least for 830 on 10166 if you want glance background and glance settings to work.

Re: Hard reset. May, for many of us, is must.

Not able to open store in Lumia 520

Upgrading from to 10166 on my VZW Lumia 735 resulted in some strange items in the notification listings in action center that seem to be related to built in email and maybe other apps. It was not clear if i was on still on Denim or Cyan as i received a welcome to Cyan message. Also I think i lost HD Voice as i no longer saw an option to enable it under the SIM settings. Hard resetting my device left me in a state where i could not launch Visual Voice Mail. Even calling VM was a hit or miss proposition. I rolled back to 8.1 for now. I am hoping the next build works much better both for upgrade and with a hard reset.

I highly recommend this! My upgrade experience from 8.1 to 10 was so bad, my 920 was barely usable. But a hard reset made it 1000 times better!

On my 822, factory reset takes a very long time on windows 10m. Don't know if its the same for everyone. I'm only concerned about a few games that dont allow cloud data saving.

Guys when is windows 10 mobile out?

The backup never works for meon any of the preview builds

...if only someone could tell me how to update the Lumia 530 :( It runs out of space about 60% into the "Preparing to install" and then loops.

Remember to enable SMS backup too in the settings unless you want to loose those too...

My biggest problem with 10166 was a few app problems and batter hit was major, by 6pm, my phone was yelling that my battery was very low (yes, confirmed no programs running in the back ground), after rolling back to 81. when I go to bed around 10-11pm, my phone is still at 40-50%, same use... It was a major hit for me... and I need to restore, too much going on to have to reset things, I did backup, wipte 8.1 and restore if that counts for anything ?

My 635 with the preview OS is strictly for testing , that all I do with it , it's clean with about two downloads from the new store. I use my 640 with 8.1 for everything else until we get the Windows 10 mobile OS final build released to market.

I will wait and see if the next build requires it or not.

Is Mix Radio available in WinMo 10???? I went back because of this... I use it for hours in my work =(

Hard reset makes some things in Settings / Extras disappear like Glance. This procedure is NOT advised

I had to D a hard reset to get Outlook working again..
Since then its been OK. have to aoft reset at times

Did you contact Microsoft about this or is this only based on experience. As a good journalist it would be nice for you to have some official word about it and not going by experience. And actually if the purpose of the Insider program is to give feedback to MS, well I think they would want the upgrade from 8.1 to be tested without hardresetting...

Remember, no more HERE apps in Windows 10. If you master reset, they're gone. If you use Here Drive and Here Maps, not so bad, new microsoft app has you covered. If you use here Transit? You're boned. Nothing to replace functionality, and given the app gap for Windows, you most likely wont get anything until Microsoft decide to fill the gap.

wish i had known this before hard resetting. can someone post the links to the xap files in store so we can reinstall?

OMG! I see that gold Icon and I wanna die!

Need help. While resetting, I got a screen of death. Now, its on an infinite loop. What do I do?

I always hard reset once, sometimes twice, and find that it runs much smoother after.

I think that's what my L925 needs right now, but i really don't want to do it. Just have deal with the bugs

Speaking of backups... Is there a way to do backups of living images and recorded with Lumia camera?
As far as i know one drive only saves normal images. Are there actually any easy ways to watch them on a computer?

The back up is all well and good but my 1520 has had failing backups for months now.

I'd only recommend the hard reset if you have two phones. I've done it while having just one phone and it bricked. I needed to recover the 8.1 software with the Lumia Recovery tool, which took some time. Now I'm here waiting for the final release.

I did it (hard reset). The improvement in the performance of my test phone (L1020) was marked. Just do it. Everyone else is!

What firmware # are you running on your Lumia 1520 with the Windows 10 Preview?

I did a hard reset on my 830 and although the phone is working beautifully the action centre of only showing notifications for a few apps whereas Facebook, twitter and others don't show.
Any suggestions please

Using 10166 on 525, never did the reset . Works like butterlysmooooth . No lag till date. Only flaw is startscreen wallpaper not changing. Rest all crisp and clear.

Is the build fine? I test it in January and a lot of bugs with blurry app title. Is it reliable now? I wanna try but it must smoothly with few not to important bugs instead.

Would do it in a blink if it wasn't for the lame backup implementation, all my game progress would go poff.

I wish sync was working properly. My history, calendars and emails now live separately on desktop and mobile now. That was a really neat feature for W/WP 8.1.

Using it on my 920 as a daily driver after the hard reset. One issue that I am frequently facing is – the touchscreen gets unresponsive most of the times after any call ends. The only way to recover from this problem is to do a soft reset. Is it a common issue with everyone? The other problem is with "Show more tiles" option. When I turn on this, the start screen keeps on loading and loading. I have turned it off and is working absolutely fine after that. Reminding you again that I have done a hard reset.

Same thing happens on my L920 as well.

I definitely have had a better experience without restoring.

I have a lumia 920 which gets stuck after the gears loading part then a smiley face appears and the whole process repeat and still cant use my phone.This problem started after hard reseting my lumia 920

I was forced to do hard reset in my wp10 cuz of IMBA LMAO bug... Each time when I want to go to home screen I was unable to do it, cuz the phone shows me blinking "loading" and nothing else... My one option was to open settings from action center(the only working thing then) and then I was able to make hard reset... I made backup offcourse... After reset I try to bring my backup... I did... But I got the same system fail with start screen... And I reset once again... This time - clean... And then worked... That was one of the biggest system fails in this wp10... ( sorry for my bad English if I have some mistakes :) nobody is perfect. :) )

Don't hardreset!!!! THIS BRICKED MY PHONE!!! THANK YOU, DAN! :)

Recovery Tool will save you, it's reanimated several bricks for me.

Interestingly my L920 actually began acting much worse after hard reset. so much thatI`m actually thinking of going back to 8.1 and then again to win 10..

using tech preview on my 735. hard resetting is advised every 2 or 3 weeks time. i noticed, the loading screens and bugs happens more the longer you use the phone.

I have to say Dan, thats article needs courage to give to the masses.... Now i know the masses here are a bit more educated in regards to windows but thiss... I like. Your article is like ordering an army to drop their weapens in fornt of an enemy, and a huge number of the soldiers will obay.

A hard reset fixed a bug I was getting preventing me upgrading from 8.1 to 10. Thanks Daniel

I found that there was a big difference after starting from scratch. But about a week in and all the bugs came back!

The OS performance does, in tried and true Windows form, get worse as time goes on. Some things never change.

I've just done the full reset, from 10166 as talked about here in this article, and everything looks so much better on start up for not having backed up.

a hard reset sounds good but In a few months a clean install. I'll wait few few months to a year before I update.

Installed 10166 on my Lumia 920....what a disater. It almost bricked the phone but not quite. Tried to rollback using Windows Phone Recovery Tool AND Lumia Software Recovery Tool. Could not proceed beyond 2 or 3 steps with either tool. Finally decide to do a hard reset and voila!. Functionality started to comeback! It seemed like it took all day for all of my 98 apps to update and still 30-40% are not functional. Bluetooth still doesn't work and neither does my data connection.Some of the tiles do not have an icon, just blank, but still have the original functionality, i.e, Google Mail, Yahoo Mail, Truedialer.... For the most part I am able to use it as a daily driver I usually have a wifi connection for data transmittal. Hopefully the next update will solve some of these issues....or maybe and hard reset???

Let me do master reset first, then i'll tell you if the problems was disappeared

I am having to soft restart my phone several times a day. I didn't do a hard reset when move up the W10 insider builds.

Running the latest build on the 1020...I think part of it is to do with WiFi and how it freaks out when you move from an area where you were connected to WiFi to data connection.

after reset phone..my phone 1520 can connet to wifi

Hey Daniel!I updated my phone to build 10166 about 2 weeks ago.There was a little bit bugs.I did not master reset my phone.If I reset my phone now does it will help?Thanks

I upgraded my Icon without a hard reset, and have had no problems. The battery actually seems to last a little longer now.

Help! I can't uninstall any apps! When I restarts my phone, the uninstalled apps turn back from the death and just stay on the app list.
And it seems like I can't hard reset :
+ when I choose to hard reset my phone from the settings app, it restarts like a normal cycle: just the same like the pre-reset stuff, nothing changed. the buttons way to hard reset can't solve anything too.
+ even when I plug in my PC using WPRT 2.1.1 to reinstall firmware, it says error and my phone still like normal state, nothing changed.. Nokia Lumia 525 - WIndows 10 Mobile build 10166

Dan, I don't think the rtm build will make the upgrade process easier. I had the same hope, sort of, from Win 10 and we saw that there was no difference in the insider build and the GA build. A friend's updated from Win 7 to 10 and he says his PC is running pathetically. Since I doubt that he is savvy enough to get back his apps and settings after a refresh, I don't know what advice to give him. Microsoft is being overly optimistic if it believes that Win 10 will work well on systems after an upgrade, it won't. The majority of people are going to love the OS only when it comes preinstalled on a new device.

I'll give it a try. I gave up twice on WP10 builds because the experience was terrible with lagging etc. The desktop Win10 is excellent so thanks for the tip.

after a hard reset, it turned out that the 2 gears keep on dancing....i think it's forever! the cycle goes on and on. after "the suppose-to-be-updating-gear" thing is doing the "thing-you should-call-updating", the word "NOKIA" appeared on screen, and there goes again the "dancing-gears" cycle ...thought as it was a loop under a spell... what shall i do with it?

reseted about 5 times ...each time new problem...latest one is touch screen not working...so cant reset anymore...

I made a hard reser and the phone work so wel to me, but I back to 8.1 becouse cortana wasn't working!

It is a good suggestion. I have reset my lumia 830. All missing APPs come back to my lumia 830 and it runs very smoothly like that I have experienced on the PC (upgraded to Windows 10). Many Thanks to Mr. Rubino.

Done an hard reset on my 520, after upgrading from 8.1 to build 10166. Same lag as before reset, something worse, like People Live Tile; texting and edge slow. I'd to give up. Back to 8.1 for now, this is my primary device and I need all the available speed. Win10 is still too young and too ugly for such a little device (Tiles too big even in small mode!!! Seems like Home screen is optimized for 5" and above selecting the 3 rows mode; too sad) But remember lumia 520 is the best seller Microsoft device for now. More optimization is ESSENTIAL.

I've hard reset the Icon many times during before upgrade and I've even used the recovery tool to restore Windows 8.1 with all of the updates and the Icon is still a pain after upgrading. Therefore, in my experience, hard resetting the Icon may have help but it's still horrible.

When they released the W-10 for all phones or at least for Other model like BLU WIN HD I really like W-10 but they need to add more model in the insider program

I did a reset yesterday and didn't do much, so am i clean enough for this upgrade?

Will Hard Reset delete all the languages I download In the Phone??

If anyone has this problem - Check here below http://answers.microsoft.com/en-us/insider/forum/insider_wintp-insider_i...

I just updated my Lumia 535 denim to windows 10 but there is no vedio app there why and numbuzz is not working too why huh

I think I need to do this on my L920 running 8.1. Backup has failed for past 4 months and apps keep crashing..

If you are just on 8.1 - try going to one drive and deleting your backups. I had the issue where it wouldn't backup and that fixed it. Once you do that and you can do a backup, I would back-up do your hard reset then try to restore. You should be running smooth after that.

I completely recommend it. I figured it out by myself and it's totally worth it.

When I hard rest, everything is in Vietnamese :-) Good thing I know where stuff is to get back to English (I've had to hard reset enough to have most every setup item location memorized). Oh, and Recovery Tool is a must. The alternative can easily be a brick.

I and to do 1 hard reset when I went from 8.1 to 10166 to have a usable experience. But I just went from 10166 to 10512 using normal update process and everything is good. so far more stable than 10166 beyond the known issues.

So going from Windows 10 build to newer builds should hard reset too? .... I may have to opt out if thats each version

Number 1, you do not have to do a master reset on every build, it is just a suggestion to get a more authentic OS performance,
Number 2 if you have used the windows mobile recovery tool in the past it should have saved your download version and down grading back to 8.1 is just a few minutes, ( at least it did for me, I have a very slow Internet connection and the last time I rolled back it took mere minutes instead of half the day to download again) in fact it took about 5 minutes in total to do the rollback.
Number 3, I have done the insider updates both ways, without hard reset, and with hard reset, doing the hard reset has given me a true sense of how the update is working, without the hard reset it just took the bugs I had and compounded them with new bugs, making lots of new baby bugs, mean little suckers with no direction.
Number 4 I've done restore from backup and start new, I have found starting a new scenario made my phone run a lot better....
No more numbers, as with all advise you have to find what works best for you, after all its just advise, but I have found out that with advise when there are more yeahs instead of nahs then there has to be something to the yeahs. I also understand the all consuming time it takes to reinstall everything,, it just plain bites, but I have found that with these new builds half the apps that are downloaded from backups are either out of date and you have to reinstall anyway or they aren't working correctly and you have to uninstall and reinstall them. And sometimes the store says it's installed when it's actually been uninstalled.
So do yourself a favor and some time and aggregation and start everything nice and new.
This is just my opinion and as with all opinions of this nature should be weighed against your own experiences. I might just be an idiot that knows very little. Posted via the Windows Central App for Android

Not going to happen, I hate master resets.

Have managed to install W10 on my work Lumia 735.....woopwoop!!!!....onto day 3 now and although I use this solely for business with only a handful of business based apps I'm truly impressed. Only 2 little niggles' to note at present, it won't let me click on Quiet hours' in the notification area, the moon keeps flashing and secondly, my handset completely froze on me today, so much so I had no other option than to remove the battery, replace then restart the phone, been working fine ever since plus have just recently installed the latest update to W10, took an absolute age though.....is it true the size of W10 mobile is close to 4gb ? If so, not good for handsets on 8gb with no SD card expansion available......

Things are running much better after my reset on AT&T Lumia 920. I noticed it has lost all the new windows sounds and is now defaulting to all the crummy AT&T alerts and text message sounds. Hopfully just a glitch but also noticed there is an AT&T map program that now cannot be uninstalled. Just checked the store and noticed 25 downloads on the way so hopefully that will bring back the new sounds.

After master reset, build 10512 installs apps, but when you go to launch the app, it just goes to the store. Every app downloaded does the same. It downloads, installs but isn't there. Build 10166 was so mucch better in that regard. I had no real issues.

Using 10166 now I try to hard reset but it's will show sad face and keep on rotatating wat can I do

Bricked my 1020. I'm in an endless loop where the gears come up to reset, then 5 minutes later a ':-(' face appears and it restarts. Plugged it in to WPRT 2.1.1 but it can't discover the phone (although no computer has discovered it since 8.1) so no help there... Any idea how to fix this??? I successfully did the hard reset on 10149 and it made huge improvements, but tried it on 10166 in the hopes i could get the 10512 update (it kept failing to install for 0x80073712) and it's failed miserably....

Did it yesterday... I'm on 512 and it was almost unusable. Severe lags here and there, apps that won't open, black screens, etc. I was skeptic but ended up suprised with the boost in performance after reset. Thanks for the tip, I was thinking about going back to 8.1 before that.

Hello, I hard reset my phone, and everything is gone. I can't get to my settings, I dont have a store, I dont have any contact info. I can not dial anybody, not receiving text messages. The only apps I have a re skype, cortana, facebook, a vz navigator. HELP!

Don't panic! windows 10 mobile isn't fully fixed yet. The good news is you can go back to 8.1 the way it was before where everything woks properly before you had issues with it. http://www.microsoft.com/en-gb/mobile/support/faq/?action=singleTopic&topic=FA142987 this link will give you all info you need. It includes a recovery tool which basically wipes your phone of windows 10 and reinstalls 8.1 it's designed for all devices that are compatible with windows 10 that have run into an issue and want to go back to their previous 8.1.

my power button does not work how do i hard reset then

I have a ver serious problem regarding lags, hangs, in lumia 540. after 1 month of complete smooth usage i tried window insider for win 10. it again seems very smooth and no lag. But after getting offical update it starts lag, hangs a lot. Apps are not updating , some time app store says error. sometime clicking on notification it hangs completely and i am forcely restart the phone. I did 2 times master reset but prob. sustained. It completely ruined my window experience. Please help me.

I am doing hard reset. I am hopeful that after hard reset it will be a fluid exprience with lumia 640xl. when will call recording feature be available ?

My name is Ann from canada!!!! i just want to share my experience with everyone. I have being hearing about this blank ATM card for a while and i never really paid any interest to it because of my doubts. Until one day i discovered a hacking guy called Donard. he is really good at what he is doing. Back to the point, I inquired about The Blank ATM Card. If it works or even Exist. They told me Yes and that its a card programmed for random money withdraws without being noticed and can also be used for free online purchases of any kind. This was shocking and i still had my doubts. Then i gave it a try and asked for the card and agreed to their terms and conditions. Hoping and praying it was not a scam. 3 days later i received my card and tried with the closest ATM machine close to me, It worked like magic. I was able to withdraw up to $3000. This was unbelievable and the happiest day of my life. So far i have being able to withdraw up to $30000 in one week without any stress of being caught. I don't know why i am posting this here, i just felt this might help those of us in need of financial stability. blank Atm has really change my life. If you want to contact them, Here is the email address davidnoahackers66@gmail.com . And I believe they will also Change your Life. emnail: davidnoahackers66@gmail.com

**** PHONE, NOTHING WORKS, ABSOLUTE JOKE,, TAKE IT BACK OR SMASH IT AGAINST A WALL... MY 15 YR OLD PHONE COULD AT LEAST SAVE A NUMBER SOMEONE HAD CALLED ME ON... THIS BAG OF *****, YOU HAVE TO HAVE A PEN AND PAPER TO WRITE IT DOWN THEN PUT IT INTO 'PEOPLE'.... HOW PATHETIC

I have Lumia 640XL, I recently upgraded to Windows 10. Facing some issues so want to perform a hard reset. I just want to check, if I reset it to factory settings what OS version I will get Windows 8.1(mobile OS when it was bought) OR I will get it to latest windows 10. Please provide answer.

Hi, I also have Lumia 640XL. After upgrading to Windows 10, my keyboard didn't show up at all, and the phone kept restarting every 10 minutes or so. Also, my old SMS messages and contacts were gone. I did a factory reset (Settings / About / Reset your phone). After that you get to the factory version of Windows 10 (not the original 8.1). The only downside I have now is that some apps that I installed on Win8.1 are not available for Win10 (I can find it in the store, but it says my hardware isn't compatible... but it was compatible when running win8.1, weird, I know...). Other than that, now everything works smoothly (I hope I don't jinx it, it's only been hours since I reset :))
Windows Central Newsletter
Thank you for signing up to Windows Central. You will receive a verification email shortly.
There was a problem. Please refresh the page and try again.