Doctor Who: Legacy developers announce plans for Windows Phone version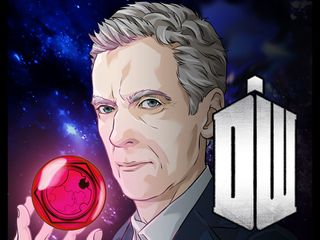 Fans of both Doctor Who and Windows Phone will be happy to learn that Doctor Who Legacy, the puzzle game from developer Tiny Rebel Games, could be coming to Microsoft's mobile OS sometime in the near future. The game was first launched for iOS and Android devices over a year ago
In a new interview about the game on our sister site iMore, Lee Cummings, the co-founder of Tiny Rebel Games, stated, "We're actually happy to announce that we're in talks with Microsoft about doing a Windows Phone version of the game." No other details about those plans have been revealed.
The developer has been adding content to Doctor Who: Legacy constantly since it was first released in November 2013, adding in all of the Doctors and many of the TV's shows companions and monsters from both its classic and current eras. It has even added characters from the recent Titan Comics comic book series. Check out the interview with Lee and Susan Cummings on iMore for more info on the game.
Windows Central Newsletter
Get the best of Windows Central in your inbox, every day!
Dont screw this up MS, just not this one.

How would MS screw this up?

Its MS, theyll find a way.

Just what i thought. Another stupid pointless post.

I think the devs will / or wont screw This up .. I dont see how ms could possible fuck around with that

Of course they could. Wibbly wobbly timey wimey.

I agree, MS has the genuine ability to screw things :)

He's 12 different aliens that protect the universe.

Me too, never heard of doctor who

Really? I didn't think anyone could say that. Blimey, are you in for a treat. Best start watching soon, there is a MASSIVE amount for you to catch up with.

He's an alien that can travel through time and space who regenerates after dying. One alien, with 12 different faces so far. With each new regeneration, his personality changes as well, but he is still the same Doctor.

You mean 14 faces so far (the War Doctor, and the Valeyard are faces this alien has had, after all). :-)

Have you counted the 13th current doctor? Apart from the war doctor.

The current Doctor is the 12th. He's the 13th life of the being who (usually) calls himself the Doctor thanks to the War Doctor who was been 8 and 9. So not sure what distinction you're drawing. The Valeyard is a future incarnation that not much is yet known about.

If you have Netflix you can watch quite a few of the classic episodes and all of the new series that began in 2005 up until the end of last season... Great show if you love scifi, humor, and a little cheesiness in your tv shows.

Weirdly, no classic episodes on Netflix UK. I suppose it's because we've all seen them, but still...

Do yourself a favor and do NOT start watching Dr. Who with the classics. If you do, you'll quickly turn it off. Start with the new series (which is awesome), then once you have an appreciation go back and watch the old ones. I love the new series, but have a hard time watching the old stuff. Currently I'm still on the first Dr., and I'm not a fan, but am sticking with it because I know that great things come to those who wait.

I would start with the eighth Doctor's TV movie as that establishes a lot of the themes explored in the new series. And Paul McGann is awesome. And "Night of the Doctor" gives you an amazing payoff if you start with the 1996 TV movie.

1 alien with 12 different forms

14 so far. He's also taken the form of the War Doctor and the Valeyard.

It's a British sci-fi show about a man called 'the Doctor', who is a time travelling adventurer. It's popular in the UK, and all around the world (it's also the longest running sci-fi in the world, at 51 years old). The programme name 'Doctor Who' is a phrase that comes from a commonly asked question once he introduces himself as "the Doctor".

Thank you for that briefly explanation

Well, I am for one. A possible future incarnation at least, the 19th to be exact. And it's not "Doctor Who" thank you, just The Doctor.

Time to start watching TV! one of the best and the longest running sci-fi shows. Well worth it!

Who cares denim is all we want sick and tired of these noncens news.......

Right! Get denim for Christmas, improve one note, Skype and office for wp than what we have on android and iPhone..MS we your customers are sick and tired of coming soon tag!!!!

It's getting really really really annoying these type of comments. I wish we could delete them.

Exactly! They should just keep posting constant updates saying that there is no update to Denim yet! Everything else is fluff!!! C'mon Windows Central!

This is the biggest news to hit WP. If it gets approved by The Doctor then what better news could there be for WP?

All I want is to scroll through comments without some douche whining about what he considers "noncens" news and applying that unilaterally to all others. Speak for yourself, not "we". Douche.

Awesome! I'm a big Doctor Who fan, been waiting for this for ages. Still may be a while off, but it'll be great when it arrives. Also nice to see more and more games head to Windows Phone!

It could arrive any time. We could well find out tomorrow that it was released for WP in 1958. Wibbly wobbly, timey wimey.

I liked Tom Baker he was nuts!

A first thought that it is a app related to medical something...ha ha ... What a mistake ..

I think the content of this article could be vastly improved by including a brief description of the game and some screenshots. Thanks

It's a match-3 puzzle game with lots of collectible characters and story content. Check out my review at Android Central if you want more info.

Will we ever live to read the words "on WP first"

it happened with Gravity Guy 2 from MiniClip..

This one could be released on WP first. Wibbly wobbly, timey wimey.

This is awesome! Love the Doctor!

Finally! I've played it on my Nexus 4 when I had to send my 925 in for repair, and it's the only mobile game I enjoy playing (for more than a day or two)

Cool can't wait I love doctor who

Nice but honestly there's never been a good Doctor Who game. C'mon, Telltale, make it happen.

More good news Minecraft, plants vs zombies on gold deal and now Dr Who coming to wp.

I'm so happy! I will definitely be playing this when it comes out on Windows Phone.

Thank you Jesus! Finally.

In a recent livestream they confirmed it will be coming to Windows Phone and PCs (presumably as a universal app) in 2015.