Download file sizes for the Windows Technical Preview for Enterprise revealed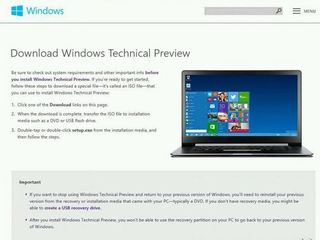 If you want to download the upcoming Windows Technical Preview for Enterprise (also known as "Windows 9", "Threshold", and now "Windows TH", from Microsoft, get ready for a rather long wait as the files will be on the large size (unless you are lucky enough to have a 1 Gbps connection at home).
Thanks to what was apparently an accidental leak by a Microsoft website employee, we now know not only the download URL for the Windows Technical Preview when it goes live (complete with a tiny screenshot showing the new Start menu), we also know that the 32-bit version of the ISO file will be just over 3GB, while the 64-bit version will be about 4GB.
Microsoft is expected to launch the Windows Technical Preview for Enterprise shortly after it holds a press event in San Francisco on September 30th. Once that happens, people who choose to download the ISO file will have to place it on a DVD or USB flash drive and then click the 'setup.exe" program to begin the installation process on their PC.
Of course, since this will likely be lots of bugs in this build, many people might want to go back to their previous version of Windows after testing the Technical Preview. Microsoft warns that they will have to do so via the recovery media that came with their PC as the onboard recovery partition on their hard drive won't be able to do that job.
When do you think Microsoft will pull the trigger on the Windows Technical Preview for Enterprise download?
Windows Central Newsletter
Get the best of Windows Central in in your inbox, every day!
Yeah the filesizes are similar to Windows 8. They will take less than a minute each to download.

4hours for me to download on 2mbps network, just give me link now, cant wait till 30

I think it will take me half a day to download those files... :p

I have 60 down at work. Won't take long.

Someone will upload them to a torrent sure and I'll download then with 10 MB/s.

In general I've found the downloads for betas and pre-releases for Windows to be a bit slow on release day, likely due to everyone trying to download it at once.

Are the leaks really accidental??

Rarely are they accidental

They are accidental only if someone gets fired for it.

We shall just dual boot the windows.

Its a great idea but after that u can't remove one

You can definitely remove 1 dual boot OS and keep the other. Just use a tool called BCD Edit.

Yes you can, go to your older OS, start disk format utility, delete the partition with the new OS. Start system configuration utility and remove the new OS boot option. Simple, you've now removed the unwanted OS from your system.

You're new to this, aren't you?...

Set it up on Hyper V to try it out :)

That's my plan as well. Easy and powerful.

Don't bother. Install in WMware

You mean VMware. Anyway, Hyper-V is free too, so why don't you just use Hyper-V. Even as a VCP I use Hyper-V.

When you have used a program for a long time and it just works you don't feel like learning to use something else. At least that's for me, that's why I will use VirtualBox. Also, when emulating WP I remember Hyper-V did some annoying things to my network adapters that bothered me. I eventually fixed that but just thinking that Hyper-V will do some annoying things puts me off.

Those annoying network changes are required to allow Visual Studio to debug your WP app in the VM.

Not true. They are required in order for the phone to be able to connect to the Internet. I was able to change the network changes back later on. I use different apps to remote control my PC and those hyper-v changes to the network settings made it so that the apps such as PC remote stopped working.

Hyper v worked fine for me...... Coming from a person who's been using the over priced VMware for 4+ years and it was simple to setup

I can see how switching from non-free to free makes it worth it. But for me VirtualBox is enough for now. I think that I will give Hyper-V a go right before I fully switch to Windows 9, like a week before I know I will be wiping windows 8 anyways. But for now, I prefer VirtualBox that lets me use apps such as PC remote pro without issues.

HyperV is more "integrated"

+929. This is my plan of attack

What about that l of the windows 9 phone for Developers Preview?

That hasn't ever been mentioned by WPCentral... And please stay on topic.

Calm down, he's just asking. Now that Windows is converging to become one OS, I think that's a fare question to ask.

Actually his question was very much on topic considering Windows 9 is supposed to be a big step in combining the platforms.

Pretty sure it has been said that the ARM/Phone preview for 9/Threshold/TH will be January, leading to an intended April gold release across the board.

This release doesn't really give us any new clues as to when WP9 preview will be out. With their previous PC operating systems (going back at least as far as Windows 2000) Microsoft release the first preview about a year before the OS is officially released, whereas they don't seem to be releasing Windows Phone previews anywhere near as early. Which makes sense as a desktop OS is a much more complex beast and requires far more testing. If I had to guess I think we'll see WP9 announced at the Mobile World Congress in February with the dev preview released very soon afterwards. The would give plenty of time for testing before officially rolling it at around the same time Threshold is released.

Which is only a month after what CDJay said

Looking logically there will be no Windows Phone 9 - it will all just be the same name so when it is available it should be on all platforms together. If this happens on time and so simplistically, I will eat my socks.

I will eat my socks if Microsoft somehow manages to make ARM and phone platforms run exe files.

I need someone to explain to me why legacy apps can't run on ARM chips......in simple English, of course ;)

It's easy. Desktop apps are x86 code (x64 is basically an extension of x86 so it uses the same kind of code). x86 code is processed by Inte/AMD x86 CPUs. ARM CPUs are different, have a different set of instructions, they speak a different language. So, apps in x86 language can't run on ARM because ARM doesn't understand that language, and viceversa. You could "translate" code on the fly but that takes a lot of processing power and is usually very slow, hence why it's better to write apps in the code your CPU speaks, but that's why x86/ARM remain incompatible: they simply talk different languages. The Windows 8 app model kind of fixes this by allowing app packages to share code and using a language that both x86/ARM will be able to understand. That's a gross oversimplification but it's just so you get the main point. WP9/W9 will combine those languages into just one (right now Windows 8 and WP8.1 still talk somewhat yet not too different languages) so W9/WP9 will be able to use the same apps (kind of, not really, it'll be a package with different executables, but you'll only buy once and use on all devices). Did that help?

Then start cooking them because you're going to eat them. You seems to have a basic misunderstanding: Windows 8 and WP8.1 both support the ARM platform. It's the only one in WP8.1, it's an alternative in W8 just like x86. W8/WP8.1 share about %70 code at this point (WP8 was at about %33, just the major OS parts), they've been moving them closer together for the past 2 years now. Microsoft won't just wave a wand and magically make things work: they've been at this for a long time and it'll be finally code-synergized in Windows 9 / WP9 (which is why it's likely it'll just be called Windows, cos there won't be different versions, just devices with different levels of capabilities, kind of like DirectX levels). Phones won't run exes. Exes are part of the desktop, they're x86, period. Microsoft's ARM platform doesn't support x86 exes, it never will (other than code translation on the fly which is expensive and power hungry and slow and it makes no sense at all). Phones and tablets will use the same ARM version and this same version will be supported on x86 versions of Windows, effectively giving us apps that run on phones, tablets and desktops adapting to how much screen space they have available. This, by the way, is not a mystery. This IS going to happen in W9. There is no doubt about it.

Sounds like you're complaining about the file size but I would consider the size as normal...

+920, was expecting much higher number.

I was guessing something around 10GB

I was expecting 40, because really a decent 1080p bluray rip is 10GB...
And people download them all,the time and mostly with speeds far lower the 1gbps...

It's exactly the same size as Windows 8 T/D/CP, so I'm not sure what this article is trying to say.

What they are trying to say that is that alot of people don't have high speed internet connection. And it could take a while for them to download it.

This is true. Not everywhere in the world will one find a 10mbit connection. It takes 10hours for me to download 4GB; that's 1GB per 2.5hours.... I would have to give up 75% of my father's salary if I wanted anywhere close to a 25mbit speed even... That's the way our greedy country is set up.

Well I live in India.. And I can download 1 gig in about half hour.. So yes you can do it.. Provided you pay your bills.and now even 100mbps optigal fibre is here.. Pay more get more.. Simple..

Question is for how much. In my country I get a TV and Internet with 100mbs connection for 25€.

Luckily I've 25Mbps connection but I guess still it takes 45mins or so as I remember downloading 8.0 which 3GB file.

Luckily I have a 100mbps connection ;)

Soooo, big files = longer download times?? Stop the presses!!

True, but it's worded as if this size is unusual. Windows comes on a DVD, so of course the download is DVD-sized.

Yeah, it's around 500mb more as windows 8.1

Smaller than Xbox One game sizes!

Yea, bizarre article really.

I'd go as far as to call it small, I've downloaded games on Steam that are many times the size.

It is pretty small of a download. Forza 5 is roughly 40 Gb, BF4 was ~38. This is miniscule compared to those.

I have 152mbps internet in the UK, but in my experience it wont download any faster than someone on a 20mbps connection, simply because of Microsoft's upload speeds with everyone trying to get it at the same time. All it means is that I can continue to multiplayer on the xbox and download a boxset through Sky at the same time. I'd say everyone is able to set it going and fo to bed waking up with a completed download :)

Hahaha Fifa15 is a lot bigger at 10GB ooppss! lmao XD

To put on my tab or not...

They'll be low as this is designed to run on anyhting from a dirt cheap tablet right up to a monster gaming rig. Any CPU from the last decade should be fine (it'll have to run on those crappy last gen Atom processors!) and it'll probably only require 1GB of RAM, though I'd hate to use a machine with less than 4GB. Lastly it'll need 10-15GB of space to install, perhaps a little less or a lot more, depending on how much RAM you have; the more you have, the more harddirve space Windows likes to use.

We would install it on Virtual machine. Virtual box or VMware. Yeah excited ;)

and do what sit in Starbucks with that shit and showing off. mac is just good from the hardware only. of apple Microsoft launch their laptop together. i will definitely buy it. #MacSurface.

Oh well well well mac as a whole Is lot more batter than alienware hardware let me yell u

Mac OS is shit,I have used it and I know it doesn't even do half the work that windows can do

Macs are excellent. So are PCs. Both have their pros and cons.

Yeah they're excellent workstations. Adobe CS runs smooth as h*ell on most of them, and one thing they can do is sadly a must for me soon, compiling of iOS apps. And yeah, that's even WITH Xamarin. Xamarin requires a Mac on same network to compile the code.

What is this, 1996? Macs run Adobe CS like crap for decades now, beachballs everywhere. They optimize it for Windows and push out a port for the already performance inefficient OS X, no idea where you got the idea it runs like butter on OS X, it's painfully clunky comparing to PC. I use it on both every day. I guess Apple marketing really works, huh.

They are so excellent they come with the Bash bug built in!!!!

If Macs are so wonderful why do most of their users install a diminished version of windows on them while Win users care less about installing Mac OS on their PC's? Likely be cause you can't run everything on a Mac. I use AutoDesk Civil 3D, you can't install it on a Mac. You can get AutoCAD but not the higher end stuff. Useless platform.

Different build material and use case. Try a Razer Blade for comparison with the Mac and then you have a fair comparison.

Holy cow dung you have some crazy dreams

Mac is shit! Windows can do a lot more things.

For god sake, I can't even scroll down/up a window in a mac :v

There are no "windows" in Mac.

There is if you use Boot Camp.

As a former MacBook pro owner, trust me: No, you don't.

Mac OS sucks, big time. Too confusing and lacks too many applications.

programmes* apps sound too iOS.

Not an Apple fanboy. But have you seen Yosemite? I suggest you review your facts before posting trash like this. Both are great operating systems. But then you are entitled to your opinion. Peace...

Cookies to all of the above for originality.

At least Windows users don't have to worry about the Shellshock bug, or a company that refuses to even acknowldge bugs in their OS, let alone actually patch them.

So we can keep the preview for as long as we like?

There will be a kill switch after a few months once the next preview or beta version is made available. That again might expire a few months after RTM.

They usually time out after 60-90 days or so.

Well, TECHNICALLY if you don't mind not being able to download store apps, you could keep changing the date/time to like 6 months ago and it would let you keep it forever. My friend had the Windows 8 preview for a year before having enough money to buy the full copy.

But if he'd have bought the full win 8 when it first came out he'd have only needed £25, if he waited a year he'd have needed £290. Why did he wait? Lol

That's a long time to save up $40

Windows threshold.....waiting for the torrent with kmspico :) :)

Don't be a cheapskate. You get the previews for free and upgrade will be free too. Oh wait, you've lived your life off stolen stuff!

Dude in some countries we cant buy,im from iran,i want to buy.but i cant,we are blocked,and we cant have acounts in web money services like PayPal,so the only option is crack !!

It was nice of them to hand out valid Windows 8 keys for free last time, but I doubt they're going to make that mistake again! :)

Why is it a surprise that the Windows installer is ~4GB? It's been this size since Vista since that's about the size of a DVD

Yes since vista it is max 3,76 gb on 64-bit

Ermmm ... 4GB - 3.76GB = 240MB difference at most. And since we've not yet seen the RTM size of Win9, it's hard to truly compare the two. Note: pre-releases usually contain code, symbols and features that don't make it into shipping product so betas etc. are usually larger than the corresponding RTM package/image. Since later versions of Windows contain a large number of features above and beyond Vista, it should be no surprised at all that newer versions' release packages/images should be larger than Vistas.

I'm gonna wait for this..

What? 1GBps connection? :o

Thats 1Gbps not 1GBps... There's a difference :)

...as 1 bite is as 8 bits (8 binary digits) ;)

1 bite is the broken Apple(geddit?) It's spelled as byte. So 1Gbps will be almost equivalent to 125MBps

umm.. well... sorry about that... but I know if that is byte, not bite lol
and exactly, 1GB = 1024MB, so 1Gbps will be the same as 128MB/s.

Everyone in South Korea has 1Gbps internet.

What exactly are you whining about? 4Gb since when that's a lot?

the revolution should begin. go Microsoft.

Interesting that it just days 'Windows Technical Preview'. I.e. not Windows (something) Technical Preview.
Maybe the OS is simply 'Windows' from here on.

Bugs or not, I am going to install it on my primary PC on primary partition... Because when you are with Microsoft you love to live on the edge

I thought I'm the only one lol

As will I :) life's too short to not take risks xD I love my Microsoft.

Clickbait article. Thank you. Every Windows OS since Vista have been (more or less) that size.

Eagerly waiting for it :)

I gotta a spare laptop. Specs are good enough. Lets go bugs and beta! I am Beta man!! Lol!

54 mbps is just enough for the download to complete. people should stop complaining about the size and wait for the iso.

Uh...didn't understand :-\

I'm probably gonna install it in a VM

So it would take me 4.7mins to dl About 14.3 MBps.... I'm paying $114 for 105mbps, but I never see it fall below 125mbps. Great...4mins and 43 seconds is so long! I could see if it was a slower connection how it would be a pain. My 114 bucks is being slit amongst 3 others. And they work when I'm up and about. For them it might take awhile. I'll dl for them and have it ready to go.

Mine is 100kbps and taking 10 hours to finish. Lol

That's a lot for 100mbps
150mbps for 50 € ;)

49€ for 120Mbps connection with 200 TV channels (50+ are HD) and free phone calls for any land number.

£40 GBP ($65 USD / €51 EUR) for 152mbps (including telephone), but we will all be downloading at the same speed, since Microsoft's upload speeds are slower than our download speeds.

i would get it on day one and get to know it xD can't wait

I want i want andd i just want

I think this page and the one previously leaked make it pretty much certain the thing week just be called Windows. The wording is pretty clear and I like it.

Do I have to buy the windows when the final version is out. Or I will get it free after I have tested the preview?

Wasn't possible with W8 preview before. You need to do backup or just do dual boot/ run it in VM.

Possibly, if you run Windows 8.1

I have this feeling nothing major was changed in the Metro side, focus now is desktop. Will keep an eye on the updates. Unless that happens, will not download WTH yet.

Yep. I hope the new team remake some of the metroUI as well.

You all guys are blessed with speed even at 5mbps. Here in the Philippines, advertised as 2mbps. I got a 2mbps around $45 a month, But you can get a hurting 300kbps max. Don't ask for upload speed. It's horrible.

I'll basically just wait for the torrent and download it during ungodly hours. Haha

2mb is about 250-300kb download speed, I see no problem!

Correct. Speed is usually measured in Kb/s(kilobits per second) or Mb/s(megabits per second).
And there difference between bit & byte. 8bit=1byte.
Therefore when they say 2megabit/s that is equal to 2*1024/8=256Kilobyte.
So no problem is there.

Titanfall is ~50GB to download via Origin. 4GB sound ridiculous.

Hey, Wolfenstein was about 55. And I'm not downloading that over my metered internet.

The problem is not the size of files nowadays but the slow speeds (or even throttled connections), outdated infrastructure (copper instead of fiber) and unreasonable priced data plans.

A good 4 hours and some for me that is.

Any thing for my surface rt, will is be 100% dead when windows 9 comes out?

The rumor is it will be free to upgrade to Win9 anyway so it doesn't matter.

My connection speed is 512k. It may take more than two days

Actual speed we get from 512 kbps connection is about 50-60kilobytes/sec.
Speed is measured in kbps and storage is measured in KBs.
So the difference is 8 bit=1 byte.

That's nothing! I downloaded Autodesks Product Design Suite at 16.5Gb a couple of months ago! Granted I have a 60Meg Fiber link!

Well watched the whole "how I met your mother" series ~35.5 gb

How come anyone would commit such a "mistake"? I don't get it MSFT employer: Oh snap I accidentally click and made the change on the site before to set a timer that auto-generates the following changes... come on :/ 3GB? I often download this space in 12 minutes

You download space, wow what's it like?

Yes, I just downloaded the whole solar system

I might just skip this release to tired of preview software

I am going to buy this once its out..not going to touch this....

If you use Windows 8.1 Pro then you have Hyper-V, just use the Technical Preview in a VM.

10 Min for me to Download :)

I've been wanting to reinstall my OS anyway so I'll try it for a while. File size isn't that big.

No THanks. How will they explain the name to non-English speaking people?
And that ISO size is normal, John.

4? Wow, that's pretty light

Those file sizes are so normal it hurts. Downloaded in 5 - 10 minutes.

So this is the final UI, for preview? Was expecting better cohesion. Afraid to call it 9. Should have been 8.2

Similar to how 10mb xap/appx file becomes 80 MB after installation.

Aero icons are still there :-(

Nowadays thats tiny with 1TB hard drives! I can download that in 3 mins.

Lol you don't need a 1 Gbps connection, after I read the first line I was expecting the size to be equivalent of 10 DVDs :P. Anything above 10 Mbps wouldn't take long at all :P (unless you sit there staring at the downloaded % lol - go read a book, play outside or go to work it would be done by the time you finish unless you have a unstable connection), if anything those with download limits should be the ones to worry. Besides not many do have 1 Gbps connections....

Just wondering as a Windows 7 user, could I use this technological preview as my main computer? For gaming (mostly steam, some origin), browsing and light work? Or should I never try this and wait for the final built? And does Microsoft keep updating the preview until the final built or do I have to keep installing new pevieuws as there proces goes on? Just wondering, never tried something like this. Just used the Windows my PC came with, before end of life status I always had a new system so never had to change OS. But threshold looks so fucking brilliant that I would love to have it. As long as I can do everything I do on Windows 7 with it. If I can't, then I wil try it on my old Vista laptop. I don't care if that gets broken. Posted via Windows Phone Central App

I wouldn't if I were you, Tech Previews tend to have catastrophic bugs that can cause data loss. If you want to give it a try then I would try it in a VM until the Consumer Preview.

You can't. This version is not even feature complete yet and it's full of bugs. A lot of apps and games won't work on it most probably. Stick to Windows 8.1 for now. Final version of Windows 9 is still easily at least 6 months away

Windows 8.1 will work brilliantly on all your devices.

Get the final version. This is a desktop OS, and a very early build, so it's likely quite unstable.

O god it still looks so ugly!!!!!
All you people telling me this is just a preview and they will change the UI... I don't believe any of it! From preview to final has never seen huge UI changes. This transparent taskbar with shadow and glass effects together with a flat start menu is so fucking ugly... I can't believe a billion dollar company designs such shit. Even a website from the average Joe has more design behind it

Looks like you never followed the development of Windows 8 from Developer to Consumer to Release Preview to RTM. There were huge changes.

I followed, but they were not as huge as for me hoping they make the whole desktop interface flat.

I think it looks nice. Beauty is in the eye of the beholder ;-) Posted via Windows Phone Central App

At least your complaints aren't as clichéd as some. Remember that beauty is in the eye of the beholder, but if the majority of people hated it, MS wouldn't sell it.

Can we update from preview to final? That is my main question!

Nope. Never could. You'll never will. If it's anything like the launch for W8 was, we'll have 3 more versions til final.

Are the leaks really accidental?? Windows TH | The official name of the new version of Windows called Windows TH ? http://www.4g-bd.com/2014/09/windows-th-official-name-of-new-version.html

I don't know, I see the size prety normal. Just to compare (hey don't hate me for mentioning the competence!) with another upcomming OS the Yosemite size is around 5.1Gb.

I downloaded win 8 technical preview because it was a revolution compared to windows 7- especially in terms of speed. They would have to announce something alot niftier than a nice start menu to convince me to test threshold.

Don't forget you can natively run apps in windows. The fact that you don't have to "fix" windows 8.x anymore is worth it to me. I'm still on 7 on my main desktop because windows 8 on desktops sucks (especially with 3 monitors)

For all of you who thinks the size is small, please remember this is the enterprise version which is for businesses and schools and such where size matters as they have to install it on hundreds and thousands of computers. The version targeted at home users still most likely be a bit bigger.

Enterprise = more features than that for consumers => Enterprise is larger than Core or Profesional.

I really don't care about the file size. I just want to get my hands on it xD

4 gigs? that's not that big. What did you expect? A 2mb OS?

It's still the same as Vista. So good for them.

4gb will take me less than a hour with a 20mb fios connection, burn it as a iso in a DVD.

U don't need a 1Gbps connection to get this fast. My 75/75 connection will have this down in minutes, all depending on how clogged the server is of course.

Will windows 9 be a free update?

To Win 8/7 users? Who knows, it's been said it will but nothing is official until the full release and what M$ says about it.

I would imagine they're more likely to give it to win 8 users than win 7 users. Or they'll just make everyone pay, because they're like that.

32 bits version, is Microsoft re-inventing itself!!!

Windows 9 download is smaller than ios 8. And you can do so much more with Windows. Makes me wonder what the heck is up with Apple.

It will take me 15 minutes on Vodacom

I'll wait for consumer preview. Lol

3-4gb ? Nothing new, Even a slipstreamed (with current updates) of Windows 7 x64 is a little over 4gb... Base WIndows 7 disk(no updates, no sp1) is 2.32gb and base Windows 8 Pro(again, no updates) disk is x86 2.37gb and x64 3.33gb Size is about right...

Looks like it's been pulled

It can't be pulled if it was never pushed...

Cannot revert back easily, keep that in mind.

Less than 10 minutes for me.. Just get the download link live and ready...

I going to setup a Virtual Machine...

I have a 100 mbps connection so it shouldn't take me very long to download.

Even if you have 1GBps connection, you probably wouldn't get a full gig to this site anyway even if you were the only user downloading it at the time. I'm sure they have bandwidth limits per user on their download site.

please give a link to download windows 9
Windows Central Newsletter
Thank you for signing up to Windows Central. You will receive a verification email shortly.
There was a problem. Please refresh the page and try again.