Download this: New Bing logo and lockscreen wallpaper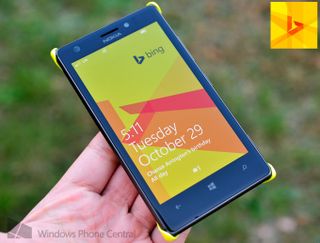 Earlier today, our sister site iMore covered the recently updated Bing app for iOS 7. The new version brings the familiar Metro graphics and new logo to the well-done search app. One of the eye catching new aspects is the load screen when you launch the app. It's one snazzy design—so much so we commented on it on Instagram.
While those on the iPhone may not appreciate the fine work of Microsoft, we know you folks do. That's why we decide to get a copy of it and toss it on to our SkyDrive account.
Just click the link below (or if using our app, swipe to the right and hit More > View Links) to download it to your phone!
Daniel Rubino is the Editor-in-chief of Windows Central, head reviewer, podcast co-host, and analyst. He has been here covering Microsoft since 2007 when this site was called WMExperts (and later Windows Phone Central). His interests include Windows, Microsoft Surface, laptops, next-gen computing, and for some reason, watches. Before all this tech stuff, he worked on a Ph.D. in linguistics and ran the projectors at movie theaters, which has done absolutely nothing for his career.
Ya, Way!!!
Don't you people know by now what mobile platform Microsoft supports the most? One guess, it's not Windows Phone.

Really true Skype HD calls, better Office and Better Skype and Bing all are released for iOS or Android and after that we receive it in the end. Microsoft offers better services to competitors than their own OS

Nope, I have "real" Bing wallpapers everyday, fresh, new!

Unfortunately we don't get the gif support.. Sigh

Cool. Its pretty beautiful

Thanks for reminding us its Chanse Arrington's bday.. :-)

Damn if only there were more colors

You will always find the complainer.

And you always find flatterers too

That's why there is paint for the less photo editors or PhotoShop for advance photo editors who can change the color instantly.

Its my new wallpaper. I love it. But I agree with others that more colours would be nice.

Big Bing Ding Ring Sing Xing Ting Wing Ming Ping +920

That's what the fox says!

I hope they will change the bing logo in the search soon!

Yeah, I'm hoping they do that also!

Got a higher resolution of it?... This is blurry on my 925 at only 432x767 :/

yeah, me too, it's blurry even on 480x800 screen resolution.

Try this. I replicated it .https://skydrive.live.com/redir?resid=BC7FD413870078DC!115

Thanks its a better one now

I love this!!! Matches my yellow L1020. But the picture doesn't look that sharp. I want this in hi-res q.

Hmmm, seems it was the app Simple Calendar making the picture look bad.

It's really low resolution.

It *did* come from an iPhone, lol

But it's like .jpeg compression problems.

Yeah, obviously. That doesn't change the fact that I'd like a higher resolution version.

They should just change the search capacitive button on future windows phones to the Bing symbol. Since that's essentially what it does . ... Bring you to a Bing search

Problem with that is there's the average consumer who has no idea what Bing is so that would just confuse them. Therefore the search icon resonates better.

Yeah but the current search button is just a sideways magnifier... Who is the say the average consumer even readily gets that? In that case, the Bing symbol kinda looks like a right facing arrow which would aesthetically match the left facing back button. I know they're getting rid of the back button (rumored) but hell, it could work

Almost every website that has built in search says that the consumer readily 'gets' the maginfying glass icon. It's been in use for the longest time, all the way back from the 'search files' feature in Windows 95 and possibly even earlier.And I'm not sure if they're getting rid of the back button, but rather they're considering making it optional as a hardware button (but it would still be mandatory as a software button at the OS level).

Daniel, your new photo is cool! ;)

Not work by a designer, cause the MS logo in the bottom is not even the same distance from botton and left, which makes it seem made by an amateur. Still looks nice though, just woudnt use anything that skewed myself.

I noticed that. That and the low resolution bothered me too much.

Where's the RAW version? ;-)

There's a load screen? How quaint :)

Right on! I'm not much of a fan of yellow, but I loves me Bing :)

Suits my yellow 820, I'll try it for a while before the inevitable return to bing image of the day.

Holy smokes, you truly have to be a fanboy to put this on your lock screen!

I just like the graphics. Honestly, you could open it up in Paint and just copy/paste over the Bing logo.

That Microsoft logo though

OMG, did Autodesk buy Microsoft now? This logo looks almost as bad as the new Autodesk origami logos.....

http://www.autodesk.com/industry/media-entertainment/film-tv

Um thanx for sharing that with us....DAM YOU BING WHHHYYYYYYYYYYYYYYYYYYYYY!!!!!!!

I would download it buuuuuuut I have a Windows Phone central background so .....

Too bad this is a low rez "retina" iPhone format. Need 720, 768 and 1080p versions for WP8 devices which have TRUE high def screens!

Oh wow! iOS getting the refreshed Bing before Windows Phone?! So surprising, I can't believe it! (Sarcasm levels over 9000)

Can somebody please tell me what case this is in the photo? I have seen it in lots of Windows Phone posts. Thanks.

That's the wireless charging case made by Nokia for the Lumia 925.

Doesn't the bing autowallpaper of the day bring the new logo to the lockscreen? Also, there should be more sort of live wallpapers on wp like some classic animated stuff, like on android, not essentially linked to some app like facebook.

can someone make a glance background logo fo the new bing logo?? =D

I like it.. Gona put it on lockscreen when the auto updated bing wallpapers are not of my taste ;)

When will the "new" bing be available for us? With the update 3?

I would think so, Windows 8.1 and RT 8.1 got the new Bing branding in the update.

I dont want to be a microsoft fan, I just like nokia and its commitment, giving away apps is like giving food, clothes and shelter to street guys than giving it to his own children,, hmmm

We need more wallpapers like this ! I love it, thank you.

When are they going to actually FIX the current BING lock screen baked into the OS so it actually UPDATES THE LOCK SCREEN TO MATCH THE ONE ON BING.COM FOR THE CURRENT DAY!! HAHA

Why would I want to put a bing or any other product logo on lockscreen?
And why there's a entire article about a wallpaper?

We posted it to get you to ask these questions in comments. Mission. Accomplished.

I am using the wallpaper right now. Really colorful and nice.

Why thank you, WPCentral!
Windows Central Newsletter
Thank you for signing up to Windows Central. You will receive a verification email shortly.
There was a problem. Please refresh the page and try again.