Dragon Portals for Windows Phone 8, solve the puzzles, free the dragons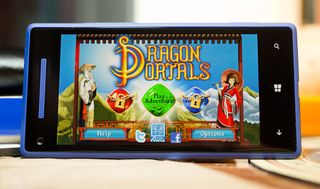 Dragon Portals is the latest Windows Phone 8 game from 10tons that is a little on the scaled back side when compared to other games the company has recently released to the Windows Phone Store.
And that's not a knock against Dragon Portals because it's a fun, challenging puzzle game to have. You are tasked with freeing dragons from the holds of dark magic. You do so by solving puzzles to free them before they crash into the ground.
Dragon Portals may not have the oddity of King Oddball or the shoot 'em up action of Boom Brigade 2 but it's a nice addition to the Windows Phone gaming library nonetheless.
The main menu for Dragon Portals has options to play the game, access the help section, view the game options and view 10tons Facebook and Twitter pages. As you progress through the game, a survival mode and islands mode become unlocked.
Gaming options include sound and music levels as well as the ability to disable the tutorials and reset your game's progress. There isn't a multiple players option with Dragon Portals so you'll need to be careful if a friend decides to try their hand at the game. You may lose your progress.
Jumping into the main adventure mode you are tasked by solving the game puzzles before the dragons fly into the ground. Dragon Portals has over seventy levels of game play that are spread across a map of the gaming world. From the map view you can view your achievements and jump from level to level as they become unlocked. You can also select which earned powerups you would like to use.
The puzzle game itself has a bit of a Bejeweled feel in that you are trying to match three or more same colored orbs to remove them and keep your dragons flying. You create the matches by dropping orbs down from one row to the next to allow for the matches to be created. The game screen has your elevation banners scrolling along the right edge of the screen, your score in the lower left corner and your progress bar running across the bottom of the screen that fills as you complete the matches.
Movement is a little on the tricky side. You can only drop orbs down where a match can be completed. You can also slide orbs vertically if it will drop an orb into a match. You moves orbs by swiping at the screen and the urge to move an orb upwards can be tough to overcome.
Along the way, powerups become available that you can choose to help you conquer each level. The first few seven or so levels act more as tutorials showing you the various aspects of the game. After that, Dragon Portals really picks up steam and you need to create the matches at a faster pace or your dragons will crash into the ground.
Mini-games will pop-up on occasion in between levels that allows for a break in the fast paced puzzle solving action. The few that I've run across extend invitations to participate which you can always decline if you want to stick with the main action.
As far as the two additional game modes are concerned, the survival mode allow you to choose a powerup and try to keep your dragons in flight for as long as possible. You can sacrifice up to two dragons but when the third hits the ground, game over.
The Islands Mode is similar to the Survival Mode but set to one of four island themes that progressively become unlocked as you conquer each island.
I think the only nit I have with Dragon Portals is that 10tons didn't add the player profile option to the game. It's a really nice feature on other 10tons games to let a friend try their hand at the game without interfering with your gaming progress. Other than that, Dragon Portals is a challenging puzzle game that has fantastic graphics.
Okay... so there's another nit to the game. Nothing to do with game play but there isn't a trial version for Dragon Portals. The full version is currently running $1.99 and you can find it here (opens in new tab) in the Windows Phone Store.
Windows Central Newsletter
Get the best of Windows Central in in your inbox, every day!
George is the Reviews Editor at Windows Central, concentrating on Windows 10 PC and Mobile apps. He's been a supporter of the platform since the days of Windows CE and uses his current Windows 10 Mobile phone daily to keep up with life and enjoy a game during down time.
George, can you give us a review of the Kalevala game also? Seems great but haven't dared push the buy.
On topic, Dragons = owns = must be a great game. Easy math. :P Btw, Kalevala is a Finnish national ....hmm, I don't know the word, story?

Sure.... I've got Sparkle and Azkend 2 on the list as well. Really enjoying Sparkle right now... great way to pass the time.

Sparkle is a really good game. The studio is bad att having trials, but sparkle I could try, and later buy.

Darn it, just because you reminded me about Sparkle I been playing some hour or so.
The graphics is nice, but after awhile all the colors make you "blind"....that is my conclusion.

10Tons? Nuff said. Take my money.

Will wait for a review i know its cheap but no point wasting money if i won't play it.

Just a heads up a few games have received a price drop, ie: plants vs zombies now £2:29. Mirrors edge £1:49 and a few others...
Windows Central Newsletter
Thank you for signing up to Windows Central. You will receive a verification email shortly.
There was a problem. Please refresh the page and try again.