Dream Track Nation and Tiny Plane ditch Nokia exclusivity, now available on all Windows Phone brands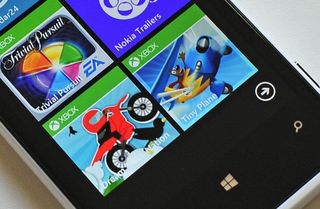 With all the excitement over Tetris Blitz releasing on Windows Phone 8 last week, we almost missed that a couple of former Nokia Windows Phone exclusives have now become available to all Windows Phone users. Perish the thought!
The games are Dream Track Nation and Tiny Plane, both from PowPow Games. They clock in at $2.99 apiece and run on both Windows Phone 7 and 8 hardware. More Xbox Windows Phone games is always a good thing, but the low production values of these titles might temper excitement a bit…
Head past the break for details, Store links, and a full list of the remaining Nokia exclusive Xbox games!
Dream Track Nation (Windows Phone 7 or 8)
Price: $2.99 – 23 MB – Store Link
Dream Track Nation is a two-dimensional, physics-based stunt racing game. Players drive left or right by touching the edges of the screen, while tilting the phone rotates the vehicle. Courses include such locations as Texas the Moon and feature huge winding loops and lots of opportunities for air time.
The game has two modes of play: time trial – a race to finish the level quickly, and star hunt – in which players must collect stars before crossing the finish line. There's also a track editor with online course sharing.
On the downside, Dream Track Nation's physics and tilt controls are terrible. Vehicles often flip and float around the track with very little rhyme or reason. The tracks themselves aren't too hard, but the loose gameplay really limits the overall fun factor. See our review for the whole story.
Tiny Plane (Windows Phone 7 or 8)
Price: $2.99 – MB – Store Link
Want a low rent, harder, and more expensive version of Jetpack Joyride? Tiny Plane is basically an endless runner, only with flying. Pilots will steer by tapping the left and right edges of the screen to angle their plane's noses. Planes need to be refueled periodically, which can be accomplished by landing on runways.
Tiny Plane does have the addictive coin collection mechanic that these games often feature, but coins can only be spent on new planes. There are no optional missions to complete, making it hard to stay interested for very long. It's a challenging game too, as certain obstacles are all but unavoidable. See our review for more details.
Nokia exclusives update: current exclusives
Here's the full list of Nokia exclusives.
DaVinci Pinball - Released: April 23, 2013
FIFA 13 - Released: July 8, 2013
Mass Effect: Infiltrator - Released: May 22, 2013
Monopoly Millionaire - Released: April 23, 2013
NBA Jam - Released: May 22, 2013
Real Racing 2 - Released: May 22, 2013
Storm in a Teacup - Released: April 3, 2013
Tiger Woods 12 - Released: May 22, 2013
Vampire Rush - Released: April 3, 2013
Former exclusives
Zuma's Revenge
Blobster
Dream Track Nation
iBomber Defense
Jet Set Go
Parking Mania
Picnic Wars
The Sims: Medieval
Spy Mouse
Tiny Plane
Trivial Pursuit
Yahtzee
Zuma's Revenge!
Paul Acevedo is the Games Editor at Windows Central. A lifelong gamer, he has written about videogames for over 15 years and reviewed over 350 games for our site. Follow him on Twitter @PaulRAcevedo. Don't hate. Appreciate!
Good, can game developers afford to stick to Nokia exclusives when Windows Phone already has a low but growing market share?

Presumably Nokia payed EA handsomely enough for the timed exclusivity. A developer wouldn't do it without some kind of incentive.

Nokia had a deal with EA .. Or else these games might not have come to WP at all

Nokia has a 90% WP share. So, yes.

Great news !!!! But not so great games!!!!

Dream Track is pretty cool, in a weird kitsch way.

Yeah yeah yeah..... more games to all Windows Phone models................
we are getting a lot of news about games on WP... I want to know why no one is complaining about the poor performance of the games on WP???
Temple Run just closes from time to time... no reason at all...
Tetris Blitz released last week closes everytime when we finish a game... don't mention when the game freezes............
is impossible to have fun with that!!!

I've just reported to Microsoft (using the link in the "rate this app" session on the Marketplace) about the poor performance of these two apps... but I alone won't make any sound....
We need to let them know that is not fun! What is the idea of having a lot of titles if none of them works 100%???

PS: Tested those games in Nokia Lumia 620 and Nokia Lumia 820 but read a lot of that problems in forums over the internet.

I complained about both of the games in this article - Dream Track Nation in particular does not perform properly on WP. As for Tetris Blitz, those bugs don't seem to affect everyone. But we'll certainly try to address them in our upcoming review.

Thanks... I feel alone complaining about that...
I LOVE Temple Run... and it drives me mad when I try to play... now Tetris Blitz is making me want to throw my phone into the wall =p
Luckly... my yellow Lumia 820 is to pretty for that :D

Temple Run Oz works well for me...have you tried that? Maybe I'm the one who's missing what doesn't work right?

Temple Run Oz works fine... but I like the first one.... and that one is the crushy one =p

Come on !! We Need Some BIG GAMES !!


First they need to make the games that already exist run better on WP...

The Sims Medieval has already lost its Nokia exclusivity. I also tipped about these games, about a week ago.

We must have missed that. Email or tweet gaming tips to me directly, bro!

Just need those 1 gb ram only games to get on 512 :/

Im in Canada, using an unlocked ATIV S on Virgin and I have been able to download Sims: Midieval for the past 2 weeks or so.

These may be the two of the top 5 worst windows phone Xbox games. So glad I bought them full price as Nokia exclusives and recommend them to anyone else with Xbox achievement OCD.
Windows Central Newsletter
Get the best of Windows Central in in your inbox, every day!
Thank you for signing up to Windows Central. You will receive a verification email shortly.
There was a problem. Please refresh the page and try again.